This old fashioned cucumber dill salad is refreshing any time of the year. It is the perfect side dish for summer BBQs, and simple family dinners. I love that it only takes a few minutes to toss together!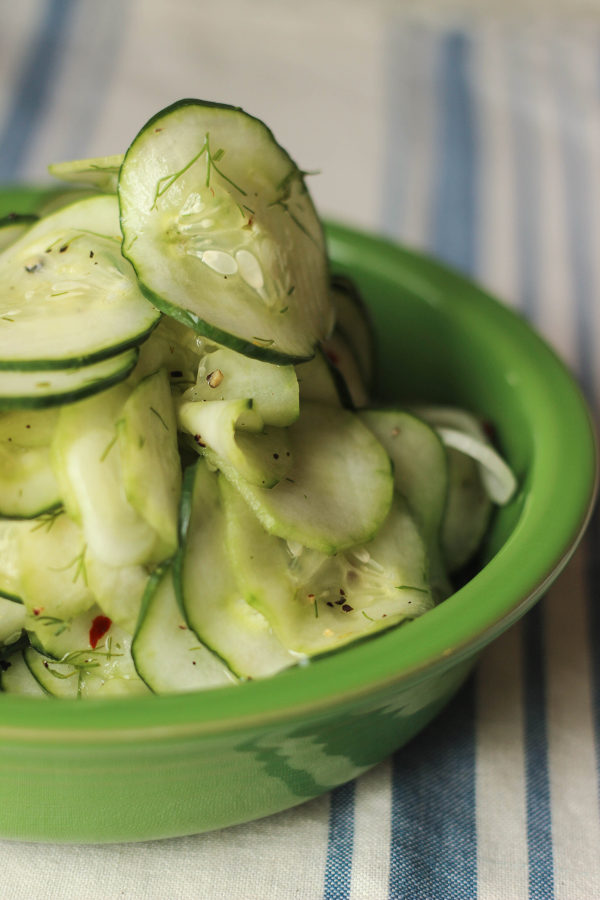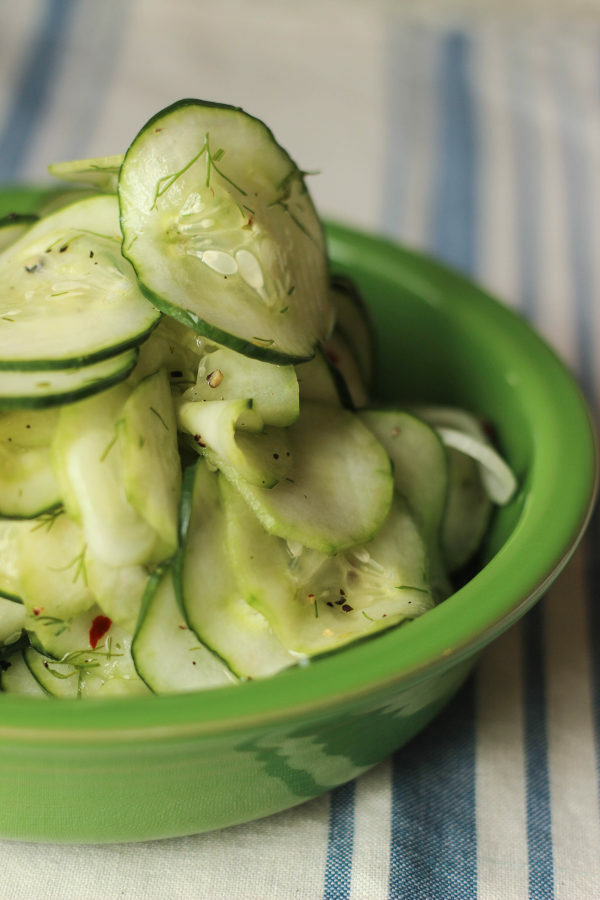 My Mom's Simple Cucumber Dill Salad
Every summer my mother grows piles and piles of sweet, firm cucumbers. They are so much tastier than the ones you buy at the store.  I don't remember a single childhood summer that didn't involve many servings of her quickly pickled cucumber salad salad.
My version of her classic has become one of my signature summer dishes.  Once cucumber season is in full swing we almost always have a dish of cucumber dill salad ready to pull out and serve with dinner.  Sometimes it's the primary side dish and sometimes we use a batch that has marinated longer and use it as a pickled relish.  Either way it is a delicious contribution to our summer table. Jonathan often doctors it up to be extra spicy and steals the leftovers for a snack to take to work.
Removing Edible Food Wax From Cucumbers
If you buy your cucumbers in the grocery store they come covered with edible food wax.  This can make the skin feel slippery and tough.  You can run your cucumber under hot water and scrub it with a rough cloth to remove some of the wax.
I often give in and just peel the poor abused vegetable.  If you have never had a home grown cucumber you need buy some at the farmer's market.  The flavor is extraordinary and nothing like what the store has – even in the summer.  Get ready to have your mind blown!
There is Extra Nutrition in Cucumber Skins!
Wherever you get your cucumbers, try leaving the skin on when you can.  They have nutrients that you don't want to throw away.  If you are new to eating the skins, try mixing it up.  In the photo above I peeled half the cukes and left the other half au naturel.
Learning To Experiment With Recipes
One of the amazing things about preparing your food is the freedom to experiment.  This recipe just begs for it.  Love dill more than life?  Add extra.  Need some spice in your lunch?  Amp up the red pepper flakes.  Crazy about sweet onions?  Go half and half with cukes and onions.
Remember if it turns out too tart just add some sugar, too sweet, add some vinegar, or if it's too strong add a little water.  You can tweak it any direction you please.  Above all else: PLAY WITH YOUR FOOD.  Because life is more fun when you do…
More Summer Side Dishes to Love!
If you liked this, you might also enjoy my popular Hawaiian Macaroni Salad recipe.  It is the perfect creamy side dish all summer long!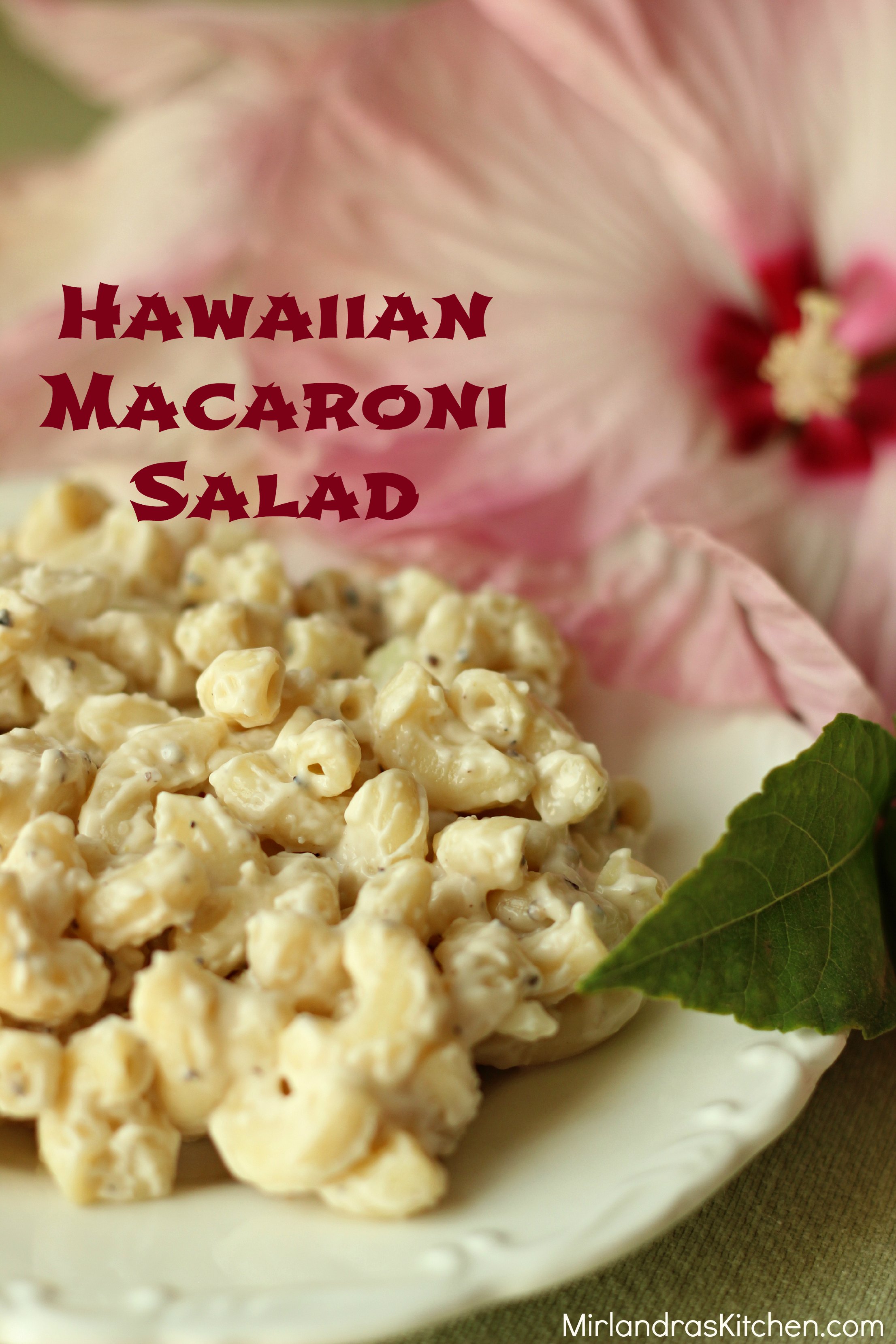 Cucumber Dill Salad
Ingredients
3

cups

thinly sliced cucumbers

10

thin slices sweet onion

optional for those that don't like raw onion

1

Tablespoon

fresh minced dill weed

leaf not seeds

1/2

teaspoon

fresh ground pepper

1/2

teaspoon

salt

1/4

teaspoon

red pepper flakes

1

cup

of vinegar

1/4

cup

sugar
Instructions
Slice cucumbers and onions into a medium bowl. Using a slicer on the thinnest setting is the best option.

Add everything else and stir.

If you have time, leave the salad to sit for a few hours in the fridge before serving.

The salt causes the cucumbers to release their water which dilutes everything. Before you serve check to make sure it is still salty enough for you.

Share with a cucumber lover.
Notes
I like to make this a few hours before I serve it so the cukes can marinate in the dressing. The leftovers will get stronger every day you keep them.
Nutrition
Nutrition Facts
Cucumber Dill Salad
Amount Per Serving
Calories 110
Calories from Fat 9
% Daily Value*
Fat 1g2%
Sodium 308mg13%
Potassium 71mg2%
Carbohydrates 23g8%
Protein 1g2%
Vitamin A 37IU1%
Calcium 17mg2%
Iron 1mg6%
* Percent Daily Values are based on a 2000 calorie diet.
This slicer is the closest to the old Japanese style one I have.  They cost is very reasonable and it works way better than the $125 one I had from OXO briefly.
I use slicers a lot in the kitchen and I really should get some Cut – Protection gloves.  I can't recommend a specific product here but Microplane has made a lot of products I love and they might be a good place to start.  If you are getting your first slicer it would not be a bad idea to get a pair of these: