This Sheet Pan Chicken Tikka is one of my favorite new recipes.  It gets rave reviews and is easy and fast to make.  The flavors are fantastic and the recipe is flexible so I can use whatever vegetables I have on hand!  (It also might be one of my favorite ways to eat cauliflower!)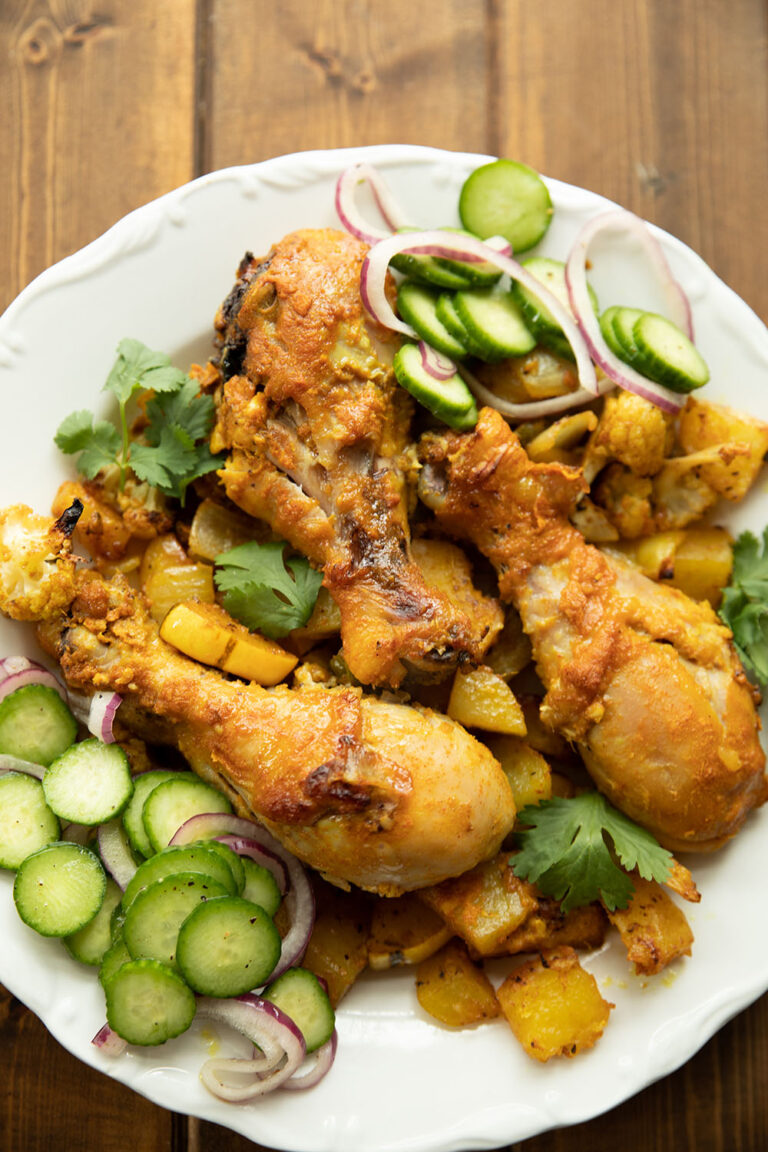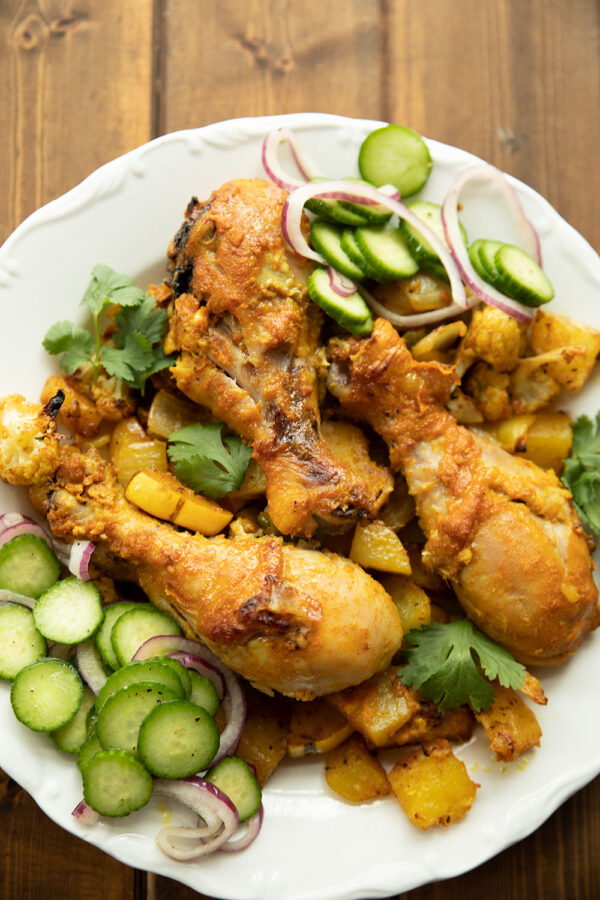 Why Do You NEED Sheet Pan Dinners?
If you have a laid back few hours every night to make dinner just stop reading now. This is not for you! For the rest of us, Sheet Pan Dinners are a 7 day a week lifesaver. The gold standard of a sheet pan dinner is great flavor, juicy meat, plenty of veggies and nothing else you HAVE to make for the meal!
It just takes a few minutes to toss everything into one pan and then I turn the oven on and go back to my busy life. When the timer goes off, dinner is ready!
If you want to get really fancy you can make a fresh cucumber salad to go with this chicken sheet pan dinner. Or maybe you could toss some rice in your rice maker. But the magic is that you don't HAVE to.
Is This Chicken Tikka Recipe Kid Friendly?
If your kids like flavorful food they should like this. While the spice set is Indian it can be adjusted mild or spicy to taste. It is colorful and fun which my kids like. My daughter picks all the veggies out and my son loves to eat the chicken legs.
I also think of this recipe as a starter curry for kiddos! It has some of the mild flavors and colors of curry. If they enjoy this you can try introducing mild curry and then spicier ones as they get older.
An EASY Cauliflower Recipe
Do you ever feel like you just woke up and cauliflower is THE thing to eat? This recipe is one of my very favorite easy cauliflower recipes because the vegetable is so flavorful, tender and a bit crispy at the edges. You can't beat that!
The Magic of Yogurt Marinated Chicken
Marinating chicken in yogurt and spices is a surefire way for juicy, tender chicken! It also mutes any spice you add so you have a bit more freedom to add flavor without making anything burning hot!
This is one of my go to methods for grilling and now roasting. My husband does not like any kind of yogurt but he loves it as a marinade.
What is Chicken Tikka?
The word "tikka" in food refers to a style of cooking from India where pieces of meat or vegetables marinated and baked in a clay oven called a "tandoor" or cooked on a skewer.
I used to confused Chicken Tikka with Chicken Tikka Masala. The difference is all in the sauce. Chicken Tikka is marinated and then baked or grilled before being served with rice. Chicken Tikka Masala is marinated pieces of chicken that are cooked and then put into a creamy, savory tomato sauce and served over rice.
Both are delicious but I don't serve Chicken Tikka Masala as often because a heavy cream sauce is more of a treat in our house than an every day dinner! (Lord knows I'm TRYING to not buy half gallons of cream at Costco every two weeks!)
Sheet Pan Chicken Tikka
This Sheet Pan Chicken Tikka is one of my favorite new recipes. We have trouble not stealing bites off the pan as it comes to the table!It gets rave reviews but is easy and fast to make. The flavors are fantastic and it is flexible so I can use whatever vegetables I have on hand! (It also might be one of my favorite ways to eat cauliflower!)

Ingredients
To Marinate the Chicken:
1/2

cup

whole-milk yogurt

1

jalapeno

seeded and minced (leave seeds in for extra spice): see note

2

Tbsp.

minced ginger

2

Tbsp.

minced or pressed garlic

1

tsp.

salt

1/2

tsp.

ground cayenne pepper

1/2

tsp.

ground turmeric

1/2

tsp.

ground cumin

1

tsp.

paprika

1

tsp.

garam masala

2 1/2

pounds

chicken thighs or drumsticks

bone in and skin on

Cilantro leaves to garnish if desired
For the vegetables: You can use any combination of veggies you like – use a max of 6 cups of veggies
3

tablespoons

olive oil

plus additional to drizzle

3-4

Yukon Gold potatoes

peeled if desired, cut into ½" chunks

1

pound

1 small or half a very large head cauliflower

cut into 3/4-inch-wide florets

8

oz

delicata squash

rind on, ½" slices

½

sweet onion

cut into ½" dice

1/2

tsp.

kosher salt

½

tsp.

coarsely ground black pepper
Serve With This Simple Cucumber Salad If You Like
1/2

English cucumber

sliced thinly

4

thin slices of sweet onion or purple onion

separated into rounds

1

pinch

salt

5-6

grinds fresh ground black pepper

coarsely ground

2

tsp.

lemon juice

fresh squeezed – from about ½ lemon
Instructions
Put the yogurt and all the spices in a gallon Ziploc bag. Mix and then add chicken. Toss to coat. Refrigerate 2-12 hours to marinate.

When chicken is ready preheat the oven to 425°F.

Line a half-sheet (13×18-incwith foil or use a sturdy sheet pan that can take scraping. Drizzle oil on to coat the pan.

In a large bowl combine 3 Tbsp. oil with the veggies, salt and pepper. Toss together with your hands until everything is evenly coated. Spread evenly on a sheet pan.

While dinner is in the oven combine the salad ingredients in a small bowl and toss to coat. Let the salad pickle at room temperature while dinner is cooking.

Roast the veggies for 20 minutes in pre-heated oven. Stir with a spatula.

Tuck the chicken legs into the veggies in different places. (You want to spread them out so as they cook they season the veggies too.) Squeeze any remaining marinade out over some of the veggies.

Roast veggies and chicken for 20 minutes.

Stir the veggies again and cook an additional 10-20 minutes until the chicken is at least 165 F with an instant read thermometer and the veggies are golden brown and tender. (If the chicken is done but the veggies are not crispy enough remove the chicken to a plate and return the pan to the oven to broil the veggies two minutes at a time until they are crispy enough.)

Serve dinner from the sheet pan with small spoons of the salad and a sprinkling of cilantro to garnish!
Notes
Adjusting the Spice Level:  Jalapenos are tricky because they are all different levels of hotness.  The yogurt does help to even things out but if you are cooking for kids you may want to try this recipe without the jalapeno or just use a few pieces the first time. 
For a "Taco Bell" level of mild I use the cayenne and one seeded jalapeno.  If I leave the seeds in and slice the pepper before adding it I get a few levels hotter but I can still eat it and I don't go in for very spicy food.   
My husband loves spicy food so I usually roast the jalapenos in with the dinner and he picks them off and eats them.  If you do this be aware that the food they are near will be more spicy.  
Nutrition
Nutrition Facts
Sheet Pan Chicken Tikka
Amount Per Serving
Calories 511
Calories from Fat 108
% Daily Value*
Fat 12g18%
Cholesterol 4mg1%
Sodium 759mg32%
Potassium 895mg26%
Carbohydrates 26g9%
Protein 6g12%
Vitamin A 1746IU35%
Vitamin C 28mg34%
Calcium 106mg11%
Iron 6mg33%
* Percent Daily Values are based on a 2000 calorie diet.
More Recipes You Would Love!
Cheesy Hatch Chile Chicken Bake
Hawaiian Grilled Chicken and Pineapple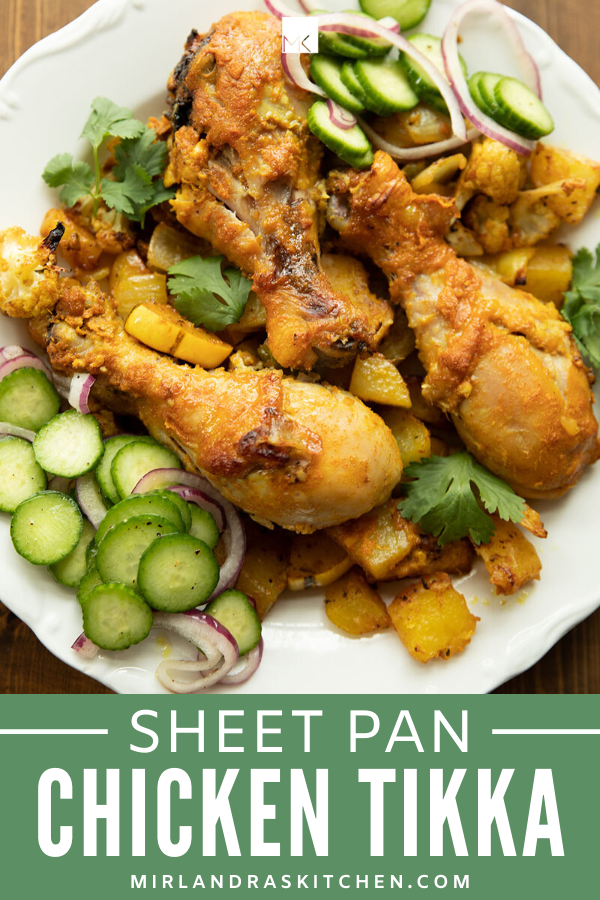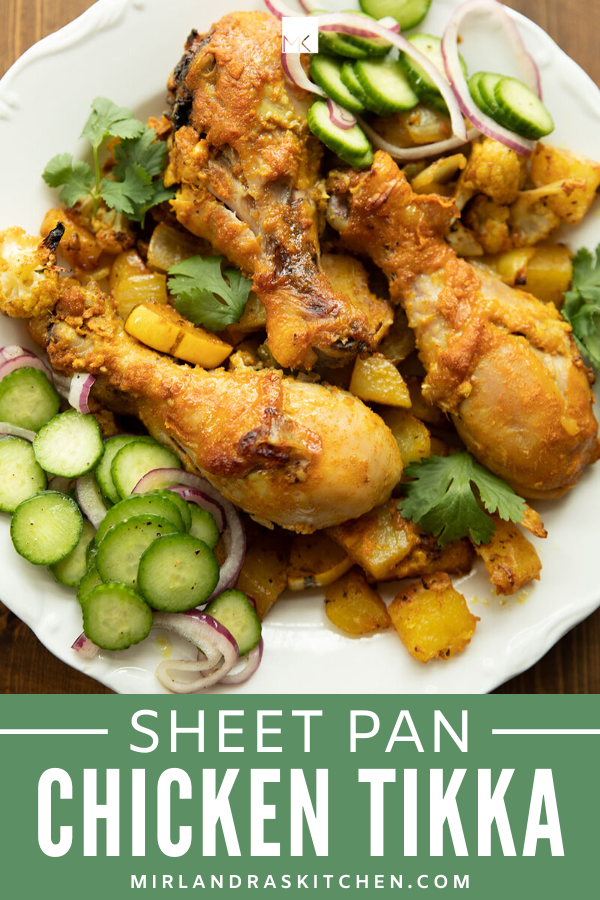 This recipe is adapted from here at Smitten Kitchen. I'm indebted to Deb for her wonderful food and writing that makes me happy to be a reader!