This Huli Huli Chicken is simple to throw together, healthy and flavorful. It is a great freezer meal, big batch meal and kid or picky eater meal.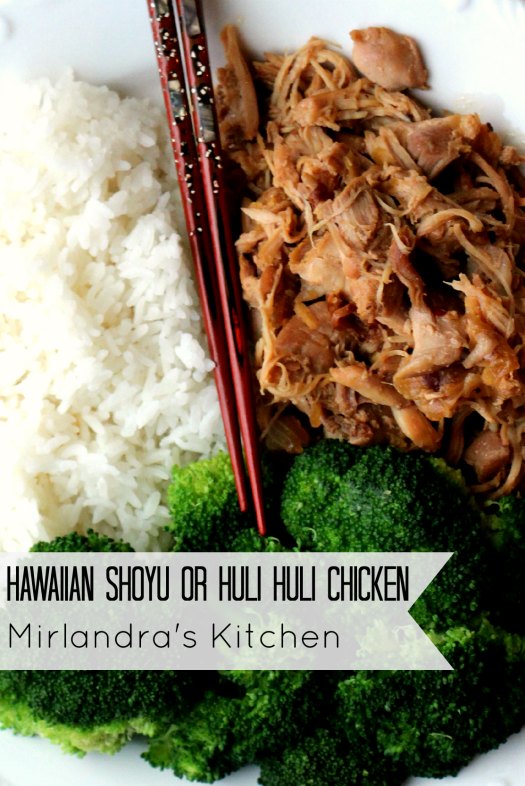 Days like today I wish I lived in Hawaii. It would always be warm, there would be no accountants, and I would have my fill of Huli Huli Chicken!!!
Since I live in Idaho and since I suspect you still have to deal with tax preparation even in HI, I developed a super yummy chicken recipe I can make at home on the fly. I may not have the beach but my dinner would make even the pickiest eater look twice!
This recipe is as close as I can get to the delicious Sweet Shoyu chicken Jonathan and I used to order at Local Boyz Hawaiian Cafe for years and years. If you ever visit Corvallis, OR take time to grab lunch there. It's delicious!
Huli Huli Chicken and Shoyu chicken are both versions of Hawaiian chicken that have sweet hints of brown sugar and pineapple with Asian undertones of ginger and soy sauce. The chicken is succulent and surprisingly easy to prepare!
It needs stirring for a few minutes while you gather everything together but after that you just let it simmer on the stove until it's done. If you are lucky enough to have leftovers freeze them for a meal down the road. You won't regret having such a tasty and healthy meal ready on the fly!
Traditionally serve this with some sort of teriyaki or soy sauce, steamed white rice and Mac Salad. I always serve some broccoli too. If you need to spice it up serve sweet chili sauce on the side.
See? Taxes come for us all but at least you can have yummy vacation food for dinner tonight.
Note on the cooking pan:  I use a 15.5 quart Le Creuset
goose pot to cook the chicken.  It's very big and it has a wonderful heavy bottom which promotes excellent browning and flavor.  If you don't have this kind of pot I would suggest browning the meat / onions in cast iron and then transferring it to the a large soup pot with a heavy bottom for the rest of the cooking.
Hawaiian Shoyu or Huli Huli Chicken (Local Boyz Copycat)
Total Time
1
hour
5
minutes
Ingredients
1

Tbsp.

canola oil

1

Tbsp.

sesame oil

3

pounds

boneless / skinless chicken thighs

1

large

onion

1

Tbsp.

Knorr chicken bouillon

1

Tbsp.

garlic powder

1/2

tsp.

black pepper

coursely ground

1/4

tsp.

red pepper flakes

1/4

cup

brown sugar

1/3

cup

fresh ginger

peeled and grated

2

cups

pineapple juice

1

cup

low sodium soy sauce
Instructions
In a large dutch oven type pot (preferably Le Crususet), heat canola and sesame oil over medium-high heat.

Add the boneless/skinless chicken thighs to the oil without cutting them up. Stir as needed while the chicken browns.

Peel onion, slice it in half and thinly slice both halves. Add that and continue to stir as needed while the chicken browns.

Meanwhile, peel the ginger and grate it using a microplane or other grater.

Once the chicken is browned and the onions have softened a bit add the ginger and everything else. Turn the heat down to a simmer and cook uncovered for 30-45 minutes until the meat can be shredded easily with a fork.

Use a slotted spoon to remove the meat from the juices and shred with two forks. Place the meat in a serving bowl and add about 1 cup of the juices back into the meat. If you want it really juicy you can add some more and serve it with a slotted spoon for those that want theirs partly drained.

Serve the chicken with any or all of the following: rice, mac salad, broccoli, soy sauce, Yoshida Gourmet Sauce, sweet chili sauce or fresh pineapple slices.
Notes
Don't be afraid to cook with sesame oil if it's new to you!  I never liked the way it smelled or looked so I avoided it.  Just a little goes a long way to subtle flavor that enhances this dish without making it taste like sesame at all.  Like any oil there are lots of different levels of quality.  It's fine to buy a cheep bottle in your local supermarket for this recipe.  I have found it at Winco for under $5 plenty of times.  Now that I do SO much Asian cooking we buy it in large cans at HMart other similar stores.
Free Simple Weeknight Meal Plan!
Sign up here for your free plan and start rocking dinner!