This delicious strawberry buttercream tastes just like springtime berries swimming in heavy cream. It is a beautiful pink buttercream that is easy to make and perfect slathered on chocolate cupcakes or vanilla cake or even an almond flavored layer cake!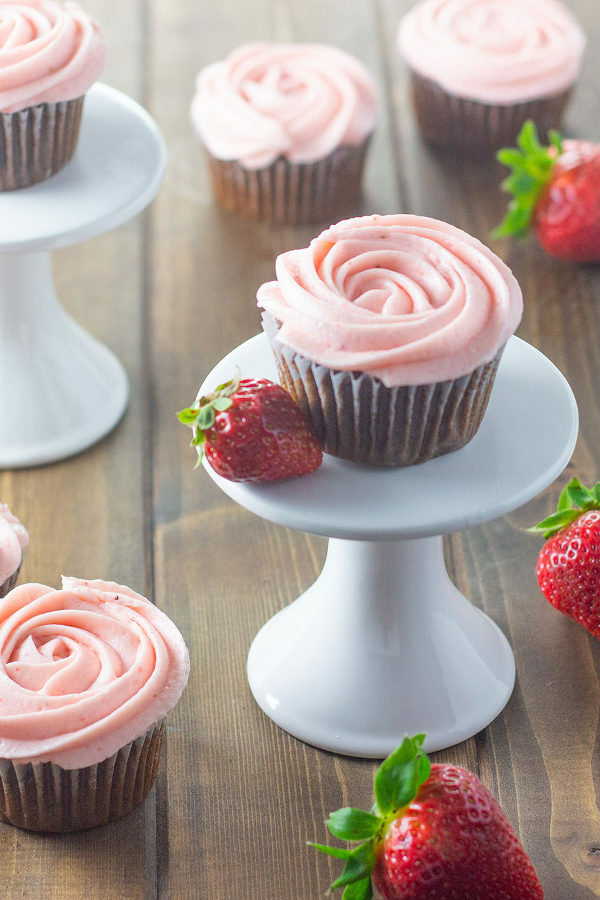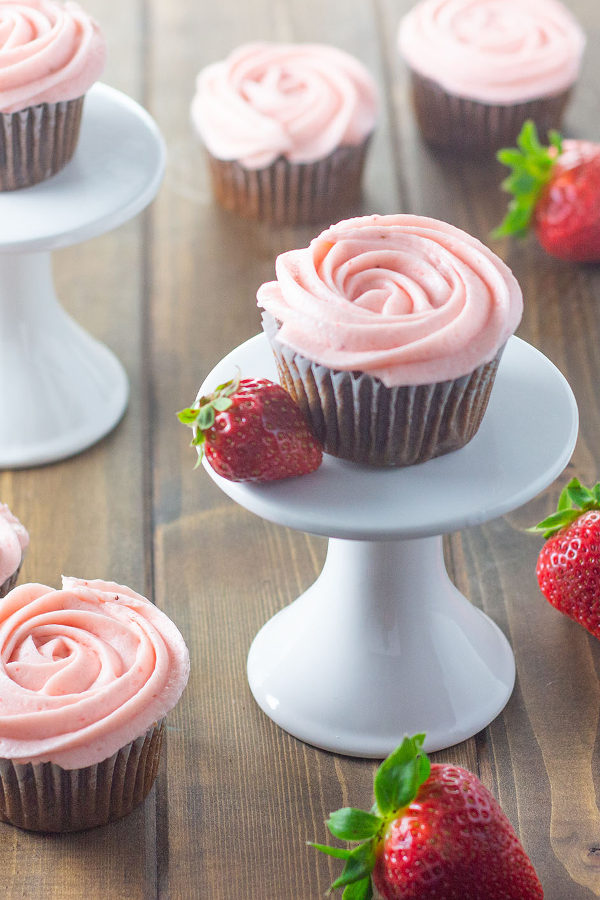 The Best Fresh Strawberry Buttercream
Red, ripe strawberries are one of the early signs of spring and pretty much demand to be used in a nice fresh strawberry buttercream. No matter how blah the tail of winter is, a nice slather of buttercream full of fresh berry puree makes me smile!
We go to a lot of big parties and I often end up bringing dessert for a crowd. When I'm in a hurry I use this jazzed up chocolate cake mix recipe paired with a homemade buttercream like this strawberry one. The results are epic, the cupcakes get scarfed, and I'm the hero. Thanks box mix and strawberry puree! It is a fast, easy project that I can get done with two little kids underfoot and nobody knows I didn't slave all day on it!
Strawberry Buttercream Frosting Tips
Don't frost a cake and leave it on the counter for three days. The fresh berry puree won't last outside of the refrigerator. Go ahead and store your frosted baked treats in the fridge and only bring them out for a few hours to serve them.
Don't leave frosted baked goods in the sun. This is pretty much true for all cakes. It is 100 F and the sun is beating down no buttercream is going to survive. Keep that delicious goodness in a cooler or it will melt into a gooey puddle. Usually on a hot summer day I can get away with leaving frosted treats in the shade for an hour or so but I don't like to push it. Use good sense here 🙂
Measure! Too much strawberry puree will make your frosting soupy. If it is too runny you won't have much luck keeping it on the cake! Don't worry if there is extra puree – you can always stir it into your milk, lemonade, 7-Up etc. It will be delicious! I have also frozen it in ice cube trays and added it to lemony drinks later.
Don't skip the real vanilla. I know vanilla has gotten up to be about $.30 a teaspoon – crazy town, huh? But it gives a beautiful depth of flavor. Don't use imitation instead – it just doesn't cut it!
Other Treats to Try
Fresh Strawberry Buttercream
This easy, fresh strawberry buttercream is sweet and full of bright strawberry flavor! It is perfect on chocolate cake, vanilla cupcakes or even almond layer cakes.
Ingredients
1

cup

salted butter

8

cups

powdered sugar

1-2

Tablespoon

heavy whipping cream

1

teaspoon

vanilla extract

1/8

teaspoon

salt

1/2

cups

strawberry puree from about 1 cup of strawberries
Instructions
Enough frosting for one 10" cake or 24 cupcakes.

In the bowl of a stand mixer combine everything but the strawberry pure. Beat on medium-high speed until smooth and creamy.

Puree strawberries in a blender and mash through a sieve, discard seeds and solids.

Measure ½ cup of the strawberry puree and beat it into the frosting over medium-high speed, scraping sides as needed. (If you have leftover strawberry puree it is delicious stirred into milk with a bit of sugar if you like.)

Use the frosting right away or refrigerate until ready to use. If the frosting is refrigerated before using it will need to come to room temperature and then be whipped again.

This frosting should be stored in a refrigerator even after it has been used for cupcakes or cake. It is ok to leave it unrefrigerated for several hours for serving – just don't leave it on the counter on a cake for three days. Mmmmk?
Notes
Using ½ cup of strawberry puree in this recipe makes a good stiff buttercream for decorating. The flavor is bursting with fresh strawberry. If you want to use a bit more ¾ cup of puree will make a looser frosting with a slightly stronger flavor.
Nutrition
Calories:
227
kcal
|
Carbohydrates:
39
g
|
Fat:
7
g
|
Saturated Fat:
5
g
|
Cholesterol:
21
mg
|
Sodium:
78
mg
|
Potassium:
2
mg
|
Sugar:
39
g
|
Vitamin A:
245
IU
|
Calcium:
2
mg
Nutrition Disclaimer
MirlandrasKitchen.com is written to share great recipes. While we do our best to provide nutritional information as a general guideline, we are not registered dietitians and the values provided here should be considered estimates – not exact scientific data.