Grilled scallops drizzled with fresh chive butter make a delicious and simple summer dinner or appetizer. This delicious shellfish takes almost no prep and cooks in mere minutes on the grill! Pair these with a summer salad, or some simple Alfredo pasta for a memorable summer meal right in your yard!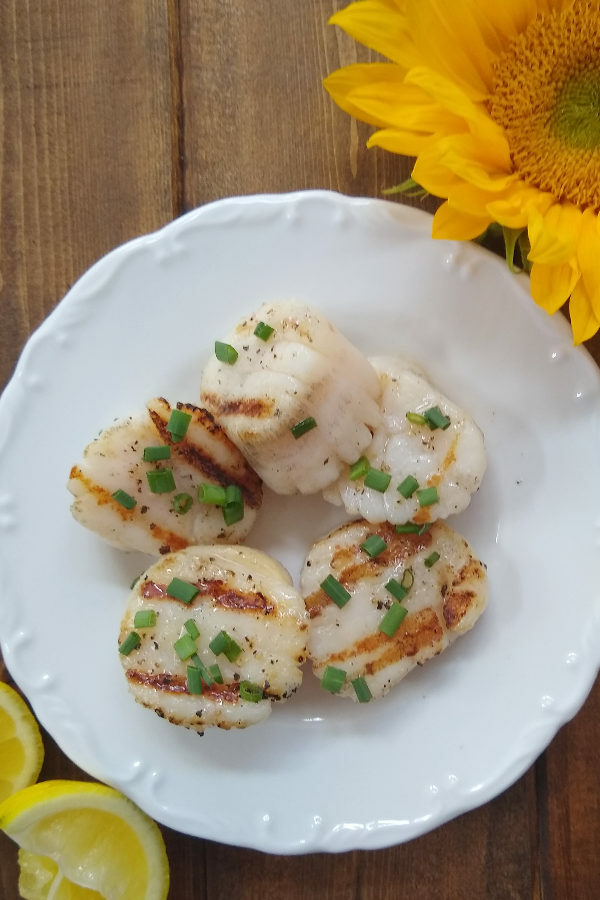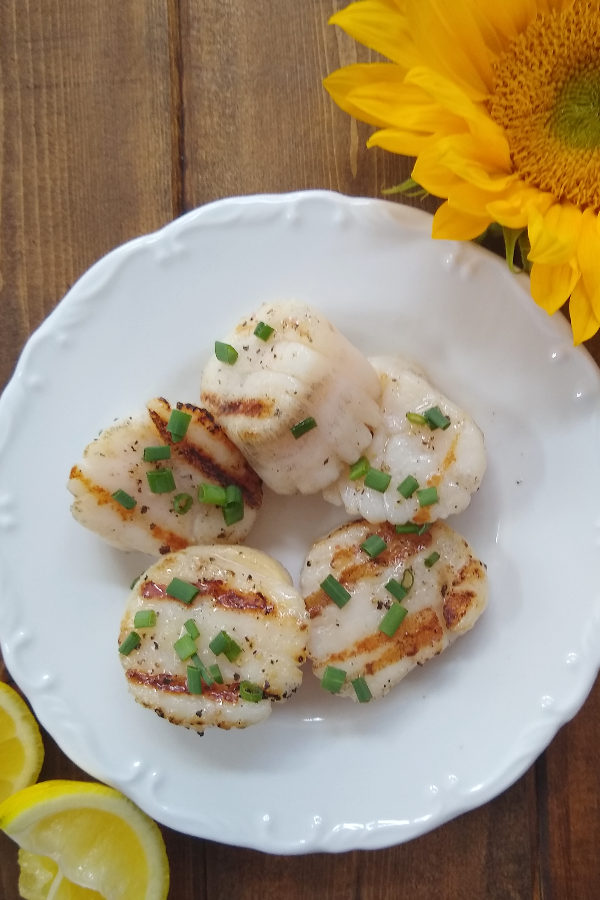 Easy Grilled Scallops
The beauty of grilled scallops is that they are wonderfully simple!  Any good grilled scallops recipe is just fat, acid, and flavor.  For this recipe I'm using butter for the fat, lemon juice for the acid, and chives / pepper / salt for the flavor.
Scallops are simple food and they don't need overly fancy sauces to garnish them! Their naturally sweet flavor pairs well with butter and fresh herbs and lemon.
Anybody can grill great scallops with the basic grilling tools they have on hand, some simple tips and a good recipe. Read on for everything you need!
How to Grill Scallops: 6 Tips
Grilling is scallops is very simple. I have a few quick tips to make the grilling experience easy.
Start with good quality scallops. Farm raised scallops have a more "fishy" flavor where wild caught will be more sweet and have less of that odd "seafood" flavor that is unpleasant.
Clean your grill well before you start. This is really a good rule for all grilling but it is more important for tender seafood like scallops and cod.  Nothing is worse than loosing half your meat as it sticks to dirty grill grates!
Oil your grill well. You can use your favorite spray or any high heat oil. Avocado oil is popular for grilling seafood because it tolerates high heat well and doesn't add any additional off flavors to what you are cooking.
Rinse the scallops and pat fully dry before seasoning. Getting all the water off makes sure that you will be able to get a good sear on the shellfish.
Season well. Scallops need plenty of good quality salt (think Himalayan pink or a nice sea salt) and are best with a fat and acid. I like mine with butter and a spritz of fresh lemon juice.
Don't overcook! It only takes 2-3 minutes per side to grill the biggest scallops. The meat will cook another 10-15 degrees after you remove it from the grill.  Overcooked scallops are rubbery and not very tasty. As with all grilling it helps to have a digital thermometer to get scallops up to the right temperature without overcooking! Because the scallops will continue to cook (called carryover cooking) you should pull them when the centers are 115 to 120 degrees F.
If you don't have a grill you can sear the scallops in a frying pan on the stove instead.  Use the same chive butter and cook 2-3 minutes per side over medium-high heat until golden brown.
How To Thaw Scallops
The best way to thaw scallops is to put them in the refrigerator overnight. Remove the scallops from the packaging and place in a bowl or deep dish. Cover the dish with cling wrap and leave in the refrigerator overnight or about 8 hours.
If you are in a time crunch you can thaw them under cold running water. It takes about 15 minutes to thaw large scallops (15 count / pound).  Don't leave them sitting in the water any longer than you have to. You don't want them to soak up the water and become more diluted!
Whatever you do don't loose track of them in the fridge! Fresh scallops have a sweet ocean smell.  Old scallops have a stinky / yucky / bad fish smell. If something smells rotten throw it out!
What Side dishes go well with scallops?
Green salad
Risotto, savory rice, or simple pasta dishes
What are Scallops and what do they taste like?
A scallop is a one of the world's wonderful shellfish. The flavor is sweet and briny – both light and rich at the same time. They don't have a strong seafood flavor instead being more buttery. Think about crab or lobster but a milder flavor and a firmer texture.
The scallop is a type of bivalve mollusk which just means the meat is found inside of two shells (like a clam).  They are found in deep, cold ocean water all over the world. In the US we harvest many of our scallops in the Atlantic ocean between the island of Newfoundland and Cape Hatteras in North Carolina.
Bay scallops are smaller – about the size of a dime so they are great tossed into a pasta dish. They are so small that you will get 50-100 per pound.
Sea Scallops are larger and can grow as big as two inches.  You get 20-30 sea scallops per pound. Some large scallops can be as few as 15 per pound! A general rule of thumb is the bigger the scallop the more you pay.
Scallop season varies some by state. Generally the meat is available fresh more in the fall and winter months. Bay scallop season peaks in the weeks before Christmas.
Are Scallops Healthy?
Thankfully scallops are a healthy seafood! They are more than 80 percent protein! This shellfish is also a good source of potassium and magnesium just like clams and oysters. Some people think scallops are a "power food" because of the high protein content. I just eat them because they are delicious… 
Grilled Scallops with Chive Butter
Grilled scallops drizzled with fresh chive butter make a delicious and simple summer dinner or appetizer. This delicious shellfish takes almost no prep and cooks in mere minutes on the grill! Pair these with a summer salad, or some simple Alfredo pasta for a memorable summer meal right in your yard! (One pound serves 2-3 people as a main dish but you can stretch it to four people if you have plenty of sides or an additional protein. As an appetizer you can serve 6-8 people.)
Ingredients
1-

pound

sea scallops

¼

cup

salted butter

1

Tablespoon

fresh chives

minced

¼

teaspoon

fresh ground black pepper
Instructions
Mix together ¼ cup melted butter, 1 Tablespoon minced chives, and ¼ teaspoon fresh ground black pepper.

Wash and dry scallops.

Start with a clean grill.

Preheat grill to medium-high heat.

Drizzle some of the sauce over each side of the scallop.

Grill over direct heat, lid open for 2-3 minutes per side. You are looking for an internal temperature of 115 Fahrenheit. The scallops will continue to cook another 10-15 degrees after you take them off the grill.

Brush remaining chive butter over the scallops and sprinkle liberally with sea salt.

Serve hot as a main dish or appetizer. 
Notes
I used colossal size which is about 15 scallops / pound. If you have smaller scallops make sure they are not a size that will fall through your grill grates. Also don't cook them quite as long.
Nutrition
Calories:
240
kcal
|
Carbohydrates:
5
g
|
Protein:
18
g
|
Fat:
16
g
|
Saturated Fat:
10
g
|
Cholesterol:
77
mg
|
Sodium:
728
mg
|
Potassium:
310
mg
|
Sugar:
1
g
|
Vitamin A:
516
IU
|
Vitamin C:
1
mg
|
Calcium:
14
mg
|
Iron:
1
mg
Nutrition Disclaimer
MirlandrasKitchen.com is written to share great recipes. While we do our best to provide nutritional information as a general guideline, we are not registered dietitians and the values provided here should be considered estimates – not exact scientific data.
I read each and every comment and I try to respond to questions asap, so ask away! If you've made a recipe, I would love to hear about it! Please come back and share your experience and give the recipe a 5-star rating so other people will know how much you loved it!