This classic Peach Melba Jam is a great mix of peaches and raspberries. It is one of my favorite jams. Instructions for canning the jam are included.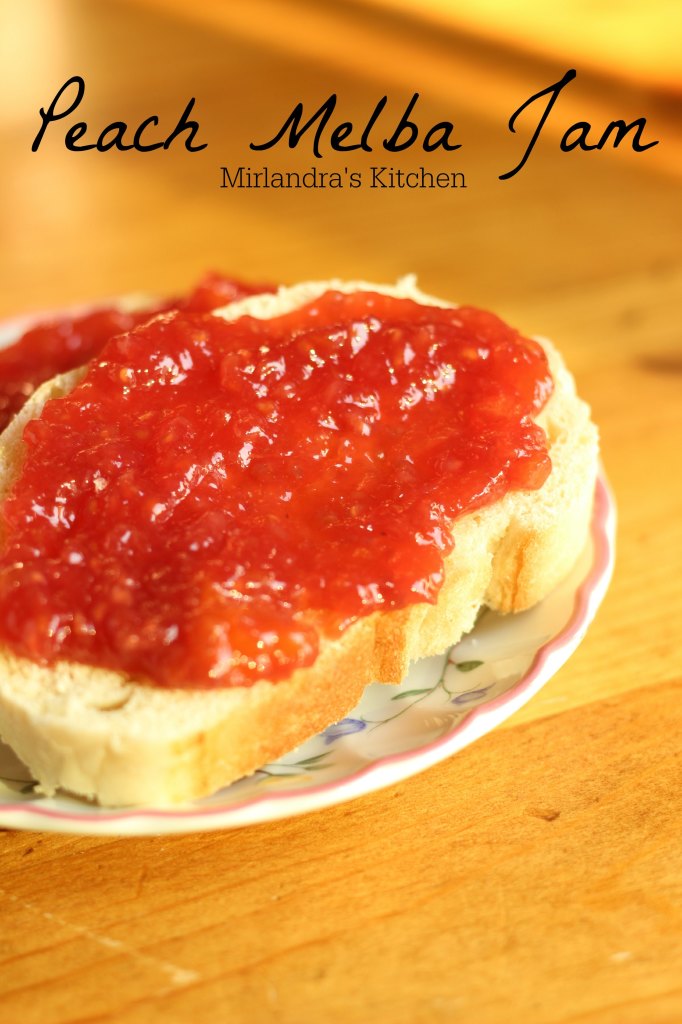 Today my good fortune is complete. A friend had too much fruit and I am the beneficiary her bounty, which consists of a table full of peaches, nectarines, and apples. Ah the joy! I canned up 50lbs of peaches last week, which should have been plenty.  But apparently I'm some sort of crazy fruit glutton. Or, as my friend Lacy says, "just crazy".
With my main stash of peach jam done for the season it occurred to me I had not made any Peach Melba jam in years. This incredible jam comes from the mixing of mid-summer raspberries with late summer peaches. It's a beautiful, rich marriage of flavors that complement each other in ways you would never expect .
Peach Melba has a rich history in opera culture. In the late 1800's the French chef, Auguste Escoffier, created a new dessert of peach halves on vanilla ice cream which he topped with raspberry sauce. Escoffier named it for a popular opera soprano, Nellie Melba, who had given him two tickets to Wagner's "Lohengrin." To read a wonderfully researched story about the history of Peach Melba visit Tori Avey's amazing food history blog.  Now, whenever peaches and raspberries meet up, the cooking world refers to the combination as "Peach Melba."
I enjoy Wagner, but Jonathan would agree with Lacy's assessment of my mental health when it comes to all things opera . Funny how things turn out. Jonathan had to work late so I spent the evening coating my kitchen in sugar and raspberry/peach goo and listening to Lohengrin (the entire opera is available on YouTube if you are curious). The result of my opera infused jam craziness is so delicious I may have been licking the sides of my pan…
I set this recipe up to be canned when you are done but you can also freeze the jam for about a year or refrigerate it short term. If you are new to canning check out my tips and equipment post. 
Peach Melba Jam
Servings
15
cups of jam (120oz)
Ingredients
7

cups

ripe peaches

peeled and chopped (about 5lbs)

3

cups

raspberries

12

Tablespoons

classic pectin

1/4

cup

lemon juice

nubbin of butter

1-2 Tablespoons

10

cups

sugar
Instructions
Wash the jars you are going to use. They need to be sterilized even if they are already clean. Running them through the dishwasher is a simple way to do this.

Fill your water bath canner about half full with water and set aside. Put a metal kitchen spoon in the freezer to check consistency of jam later.

Blanch your peaches in boiling water for 30-45 seconds per batch, and then plunge them into an ice water bath as each batch finishes. Slip the skins from the fruit.

Peel peaches. Chop into medium-small chunks. As you chop, stir in 1 cup of the sugar to keep peaches from browning.

Measure pectin into a small bowl and the remaining 9 cups of sugar into another. Place peaches, raspberries, lemon juice and butter in a large pot on high. Use an immersion blender to puree jam until it reaches the consistency you desire.

Turn water bath canner on high and bring to a boil.

Slowly add pectin to fruit stirring constantly. Bring the fruit mixture to a full boil, then add the sugar. Stir until it returns to a boil, then boil 1 minute continuing to stir constantly. The jam will look thin even though it is ready. If you want to know how thick it will set up after it's cool dip the frozen spoon into the jam for a moment and then run your finger down the spoon.

Us a wide funnel to fill pint or half pint jars. Leave 1/4" - 1/2" headspace.

Wipe the rim of the jar down with a clean, damp towel to make sure it is perfectly clean, then place a lid and ring on the jar.

Place your jars in the water bath canner. Make sure there is enough hot water to cover the jars by 2". Bring the canner back up to a full boil and boil for the recommended processing time.

Pints and half-pints of need to be processed a minimum of 10 minutes in a water bath canner. If you live above 1,000 feet you need to add more time to adjust for altitude. For 1,001 - 3,000 feet add 5 minutes. For 3,001 - 6,000 feet add 10 minutes. For 6,001 - 8,000 feet add 15 minutes. For 8,001 - 10,000 feet add 20 minutes.

Remove your jars to clean towels after processing and allow the lids to pop down - no poking!

When the lids have sealed your jam is ready to store.
Notes
It takes me 2 1/2 hours from unpeeled fruit to processed jars of jam. Plan on it taking a little bit longer if you are new to jam making or canning.
You can save time by not canning the finished product and instead storing it in the refrigerator for a few weeks or the freezer for about a year.
Nutrition Disclaimer
MirlandrasKitchen.com is written to share great recipes. While we do our best to provide nutritional information as a general guideline, we are not registered dietitians and the values provided here should be considered estimates – not exact scientific data.

If you want more information on canning tips and equipment, check out this post here: