Hot, cheesy, and satisfying! This Jalapeño Popper Wonton Cups appetizer is loaded with bacon, cream cheese, jalapeños and cheddar. It is everything you love about jalapeno poppers in a crunchy wonton!  It is the perfect appetizer for a party or the big game!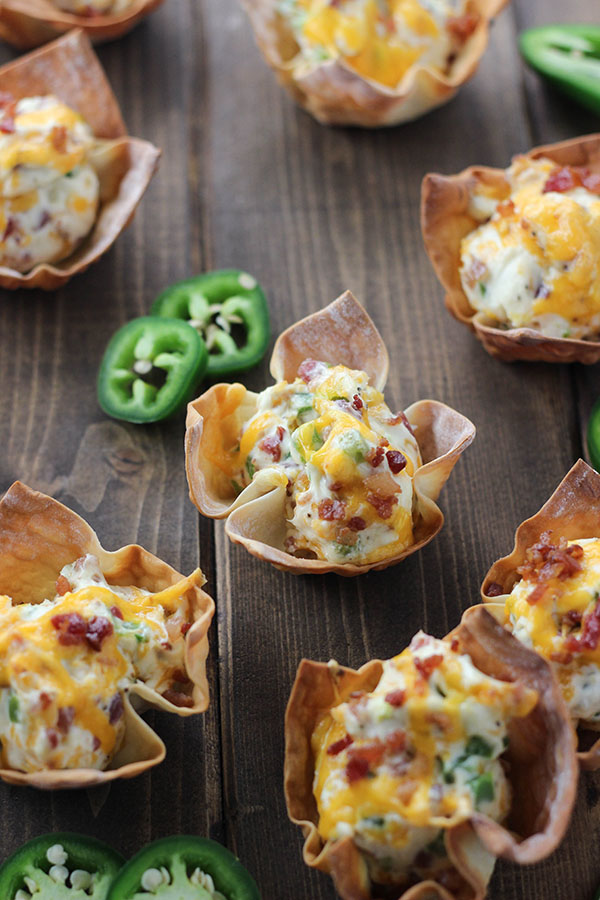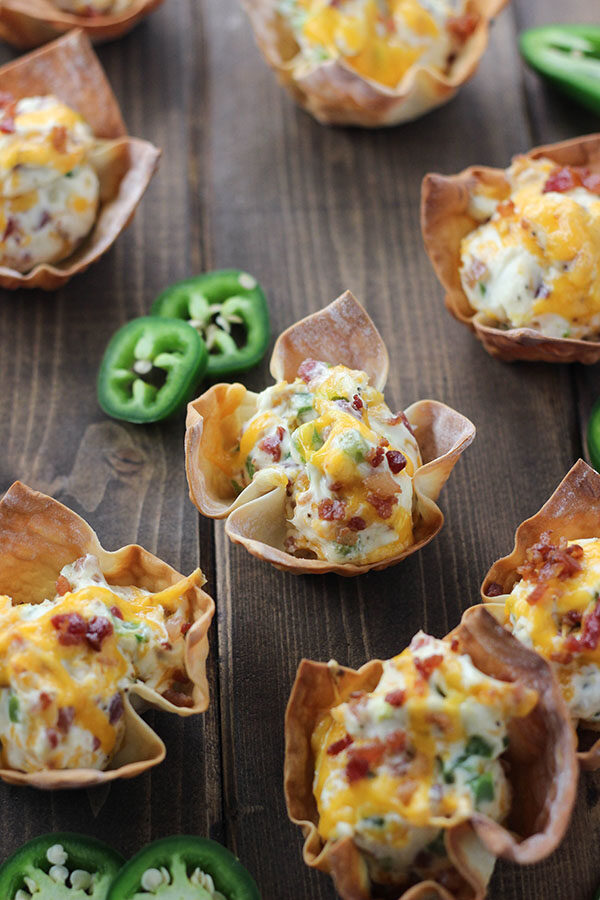 These Jalapeño Popper Wonton Cups slipped in and stole my heart pretty fast.  Hot melted cheese.  Spicy peppers.  BACON!  What's not to love? Easy prep, plenty of bacon and of course MELTED cheese.  This is a simple flexible appetizer that can be made in advance or made gluten free!
What is a Jalapeno Popper Wonton Cup?
Jalapeno Popper Wonton Cups take the ingredients in your everyday jalapeno poppers and combine them better!  Instead of a messy pepper and cream cheese situation you get tasty, crispy wonton cups! In this recipe the peppers are chopped up which gives great flavor distribution and the mixture is easy to eat.  When it comes to avoiding messes I need all the help I can get!  And of course jalapeno popper wonton cups add in additional ingredients for a more robust flavor combo.
Making Jalapeno Popper Wonton Cups Gluten Free
It is possible to buy or make some kinds of gluten free wonton wrappers to make this recipe fully gluten free.  However, when I want to make this GF I bake it up as a jalapeno popper dip instead of as wonton cups!
I spread the filling into a cast iron skillet or baking dish and then bake as I would to make wonton cups. The dip comes out hot and bubbly.  It is perfect served with corn tortilla chips or rice crackers. See the recipe for additional information on making the dip version.
Making Jalapeno Popper Wonton Cups in Advance
You can make jalapeno popper wonton cups in advance.  The best part of any party is being with the people – not getting stuck in the kitchen so it is nice to prepare what you can ahead of time!  You can make the filling as far ahead as the day before and keep it in the refrigerator.  Store it in a tightly covered container so it doesn't dry out.
The wonton cups can be baked the day you plan to use them.  Just bake as directed and keep at room temperature until you are ready to fill and bake.  That way the only cooking you have to do once the party starts is to fill the cups and put them into the oven – five minutes of work at worst!
Note:  If you do live in a humid climate be sure to cover baked wonton wrappers carefully so they don't become soggy.
The Best Fillings for Wonton Appetizers
I love the fun flexibility of wonton appetizers.  These little baked cups provide endless possibilities! They can be filled up with taco fillings or pie fillings or even diced up fruit salad and a dollop of whipped cream! They are easy to pick up and eat and fun to look at!  Of course cream cheese type dips work perfectly with these crunchy cups.  Think hot artichoke parmesan dip or a hot seafood dip!
Variations for Jalapeno Popper Wonton Cups
There are lots of great ways to adapt and change the filling in Jalapeno Popper Wonton Cups.
Seafood – add shrimp or crab
Meat – try sausage, ham, prosciutto, chicken or bits of steak
Cheese – switch out the sharp cheddar for smoked gouda, parmesan, swiss, pepper jack or even blue cheese!
Vegetables – add minced purple onion, diced sweet peppers, sautéed onions, or fresh parsley
The Best Tools To Make Jalapeno Popper Wonton Cups
For even faster prep I use a Vidalia Chop Wizzard for dicing the peppers. They come out evenly and perfectly sized in a snap. The tool rinses out easily and I save a ton of time cutting up food for meals like soup, salsa and stir fry. If you cook much, this is a worthwhile investment.
I use mine more days than not for soups, dips, salads, omelets – all the things! I also love the pro version of the Vidalia Chop Wizard.  It is easier to clean.

Reheating Leftover Wonton Cups
If you are lucky enough to have leftovers they should be stored in the refrigerator for up to five days. To reheat them place on a sheet pan and bake in a preheated 350 F oven until hot through.  This is about 10-15 minutes.
More Cheesy Appetizer Recipes
I read each and every comment and I try to respond to questions asap, so ask away! If you've made a recipe, I would love to hear about it! Please come back and share your experience and give the recipe a 5-star rating so other people will know how much you loved it!
Jalapeño Popper Wonton Cups
Jalapeño Popper Wonton Cups are loaded with bacon, cream cheese, jalapeños and cheddar. It is everything you love about jalapeno poppers in a crunchy wonton! It is the perfect appetizer for a party or the big game! You can also make the delicious filling as a DIP! See the recipe notes for instructions. Serving the dip with GF tortilla chips gives you a gluten free appetizer!
Ingredients
12

wonton wrappers

8

oz

cream cheese

¼

teaspoon

coarsely ground black pepper

2 -3

jalapeños

1/3

cup

cooked and crumbled bacon or real bacon bits

plus additional to garnish

1

cup

sharp cheddar cheese

shredded (plus additional to garnish)

3

Tablespoons

green onions

minced
Instructions
Preheat oven to 400 F.

Spray a12 cup muffin tin with cooking spray.

Put one wonton wrapper in each muffin cup.

Bake wrappers about 5 minutes until they are starting to brown.

While the wrappers are in the oven start the filling.

In a medium glass mixing bowl, microwave the cream cheese for 30 seconds.

Add the black pepper. Stir together with a fork.

For a less spicy recipe remove and discard the seeds and white pith from the jalapenos (leave it in for more spice). Dice peppers small – almost minced.

Add jalapenos, green onions, bacon and cheddar cheese to the cream cheese mixture – stir to combine.

When the wontons have browned, use a cookie scoop to add the filling to the wonton cups. Garnish with reserved bacon and cheese.

Return filled wontons to the oven for 7-9 more minutes until hot through and cheese is melted.
Notes
This dish makes a wonderful dip too!  When I want to provide a gluten free option for friends I make the filling and spread it in a 10" cast iron skillet or a 8x8 glass baking dish.  I bake as directed for the wonton cups and it comes out hot and bubbly and wonderful!  Serve with some GF corn tortilla chips for heavenly and delicious dip - caution though - it goes fast!!!
Nutrition
Nutrition Facts
Jalapeño Popper Wonton Cups
Amount Per Serving
Calories 125
Calories from Fat 90
% Daily Value*
Fat 10g15%
Cholesterol 31mg10%
Sodium 162mg7%
Potassium 46mg1%
Carbohydrates 5g2%
Protein 4g8%
Vitamin A 363IU7%
Vitamin C 1mg1%
Calcium 91mg9%
Iron 1mg6%
* Percent Daily Values are based on a 2000 calorie diet.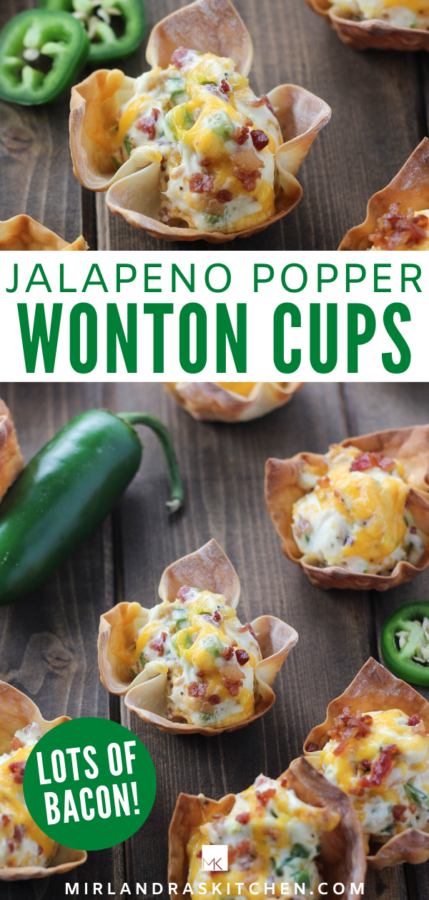 This recipe was originally published in 2017 and was updated in 2021.