Blueberry Honey Butter is a lightly sweet honey butter chalk full of dried blueberries.  The rich burst of  concentrated blueberry flavor makes this compound butter so tasty. It is simple to make but it feels very special on a holiday table or low key brunch.  Add a tiny pinch of dried lavender for something unique and different.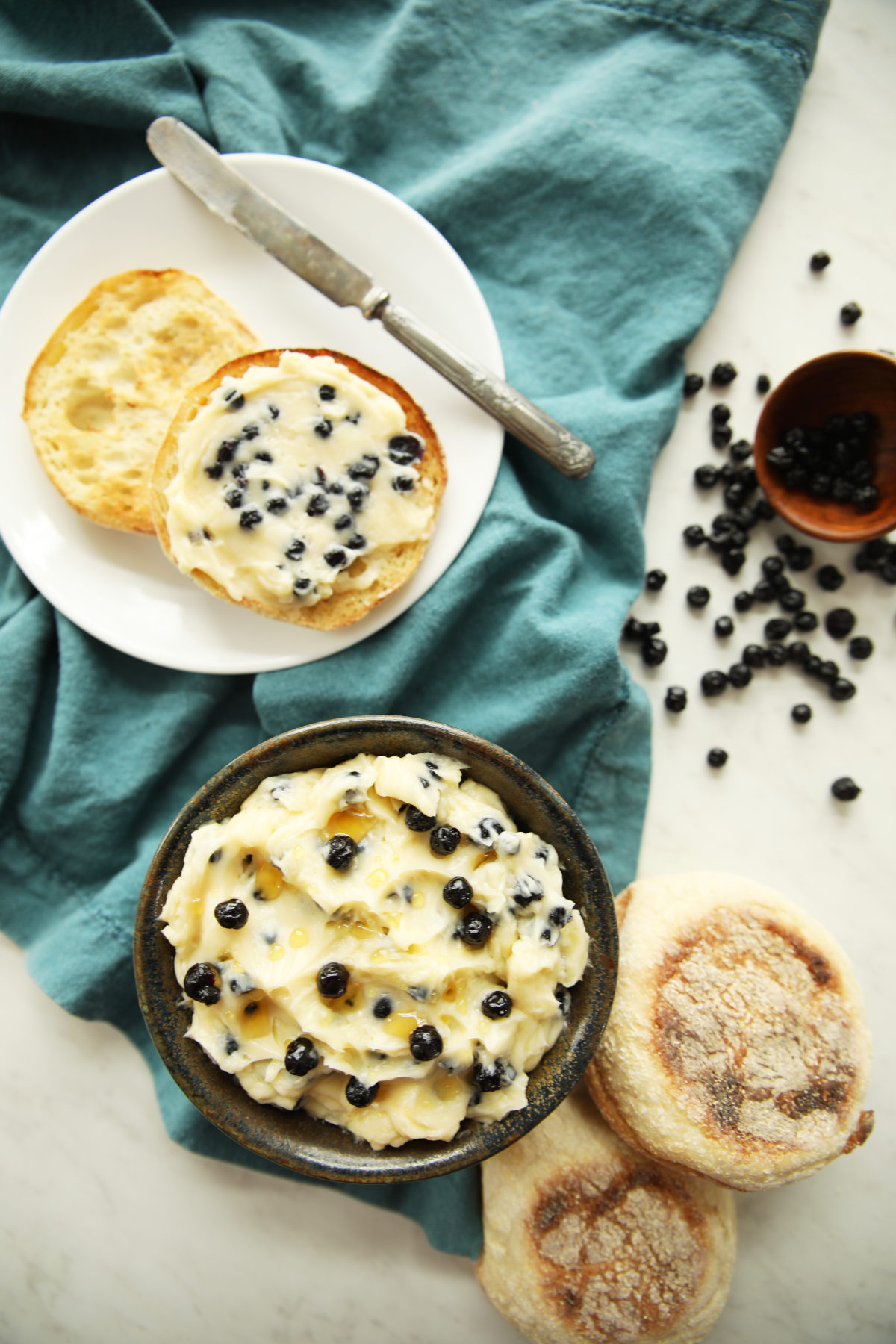 It's no secret my family is crazy about honey butter.  My Texas Roadhouse Cinnamon Honey Butter is on repeat around here for every holiday, family gathering and plenty of quick dinners in-between.
When I started experimenting with dried blueberries in honey butter it was a runaway hit.  My oldest son's favorite words right now are "blueberry honey butter" and they will bring him to the table at a run.
3 Secrets to The Best Honey Butter Recipe
I've made literally pounds and pounds of honey butter.  There are a few things that make a great honey butter recipe.
 Use Butter – Not margarine!  I know, "butter" is literally in the name of the recipe but this is worth saying.  Nobody looks for a "honey margarine" recipe but I promise you somebody is going to ask me if they can use margarine.  This is one sub you don't want to make if you have any other alternative.
Start with salted butter or add salt.  I'm always surprised at how uncomfortable people are at adding salt and more importantly the RIGHT amount of salt.  A stick of "salted butter" is just 1/2 cup of butter with 1/4 teaspoon of salt.  In this recipe I call for salted butter but you can use unsalted and mix in 1/4 teaspoon of salt and it will be perfect.  Salt is a flavor enhancer and it is the perfect balance to the sweet honey and dried blueberries.
Use wild blueberries if you can.  The wild blueberries have a very concentrated flavor and are smaller so they suit a compound butter better than a regular dried blueberry.  I only buy a few Trader Joe's products on repeat but their dried wild blueberries are always on my list.  They are probably in my top ten best Trader Joes products.  
How Do You Make Honey Butter?
Honey butter is crazy simple.  If your kid can stir they can make it.  I get my butter good and soft – just as soft as I can without it totally melting!  Then I use a fork or a hand mixer to make sure the honey is really well stirred in there.
A hand mixer is not usually necessary for a normal batch but sometimes I make a pound or two for a big potluck.  (If you wanna be the most popular girl in the room show up with two pounds of honey butter!)  For a bigger batch the hand mixer really helps combine everything and it has the added benefit of making things nice and fluffy!
Once the butter and honey are well mixed I stir in the blueberries.  If I'm in the mood to add a little lavender it goes in now too.
If you want to make it look fancy take a fork or a honey dipper and drizzle just a little honey back and forth across the top of the honey.  It is very pretty and not hard.  (Food Blogger food styling secrets everybody should know!)
Honey Butter IS Compound Butter
Compound Butter is just a fancy way of saying the butter is mixed with other ingredients.  Usually these ingredients are sweet or savory to compliment the dish.
Sometimes people ask, "What is different about compound butter?"  Frankly…  It is just butter with other stuff so it is just a more flavorful mixture of ingredients.
Common examples of compound butter recipes are honey butter, garlic butter, herb butter and fruit butter such as strawberry!
So when somebody looks in the bowl and asks you want you made you can go low key and tell them "blueberry honey butter".  OR you can be fancy and tell them it is a "blueberry honey compound butter"!
If you know what a compound butter is you can use the skill to make your recipes pop.  Making a big old prime rib for Christmas?  Toss together a nice herb compound butter to use as a resting butter on the rib.  (And don't make fun of the guests that ARE going to lick the plates.)
Serving corn bread?  A nice honey compound butter is the perfect sweet condiment for the savory bread!
Common Questions
Can You Refrigerate Compound Butter?  
Yes!  And generally you should.  Butter is often fine on the counter for multiple days but once you mix other ingredients in the butter it becomes less shelf stable.  I encourage you to store your honey butter in the refrigerator and just bring it to room temperature to serve it.
Can You Make Blueberry Honey Butter in Advance?  
Absolutely!  This is a perfect recipe to prepare 1-4 days before you plan to eat it.  It is the perfect Thanksgiving Condiment because you can prep it at the beginning of the week and bring it out on Turkey Day!
Can You Buy Compound Butter At The Grocery Store
Yes…  But I don't understand why people do.  I've seen Costco sell giant tubs of compound butter like cinnamon butter or honey butter.
There are entire companies that literally just make and sell compound butter!  But it is three ingredients…  YOU can make it at home and it will be fresher and tastier and JUST the way YOUR family loves to eat it!
Why Do Chefs Use Compound Butter?  
Because it is delicious!  It is just another way to build layers of flavor into dishes.  Want to look like a genius?  Make your own at home and add it into your food.
What Do You Wrap Compound Butter In?  
Any kind of butter is vulnerable in your refrigerator.  Strong flavors like garlic or kimchi can be picked up by butter quickly!
(We keep a mini fridge JUST for kimchi because my husband knows better than to put kimchi and my butter in the same universe!)
To keep your honey butter tasting just like honey and blueberries you really need to make sure it is wrapped up air tight.  If you are serving it in a bowl you can plastic wrap the top and put it all in a Ziploc bag if you have a pungent fridge.
If you are planning to serve it as a log and have people cut slices you can wrap it up in plastic wrap in a log shape and then put that log in a Ziploc or a Tupperware container.
What is the Best Honey to Buy?
Honey Butter is going to taste like the honey you put in it.  I like to buy raw honey that is local if I can.  The flavors are usually just amazing!  But if you look in my pantry I almost always have a big bottle of honey from Costco along with whatever local find I've got.
My big Costco bottle goes into my homemade bread and I save the fun local varieties for things like honey butter where they shine the most!
Right now I'm rocking a quart of honey my MIL brought me from her friend's TX farm.  (Yes she gives great birthday gifts!)
Tools In This Post
Pottery Bowl – My brother made me the little bowl pictured in this post so it is a one of a kind item.  This one is also beautiful.
Electric Mixer – An electric mixer is useful for larger batches of honey butter and other compound butters. This one is my favorite for durability and price.
Honey Dipper – This olive wood honey dipper is beautiful and useful for drizzling honey on the top of your honey butter.
More Favorite Blueberry Recipes
Looking for more wonderful blueberry treats?  These are some of my favorites!
The Best Buttermilk Blueberry Pancakes
Copycat Cracker Barrel Blueberry Syrup
Blueberry Scones with Vanilla Glaze
Blueberry Honey Butter
Blueberry Honey Butter is a lightly sweet honey butter chalk full of dried blueberries.  The rich burst of  concentrated blueberry flavor makes this compound butter so tasty.  It is simple to make but it feels very special on a holiday table or low-key brunch.  Add a tiny pinch of dried lavender for something unique and different.  It definitely ticks the "something unusual" box at the table!
Ingredients
½

cup

salted butter

softened

2

Tablespoons

honey

¼

cup

dried wild blueberries

see note
Instructions
In a medium size bowl, stir softened butter with a sturdy fork or spoon until creamy.

Add the honey and dried blueberries. Stir until combined.

Serve at room temperature or store in the refrigerator in an airtight container for up to four weeks.
Notes
Wild blueberries are smaller than regular blueberries so they work well for this compound butter. However, you can also buy regular dried blueberries and use them. They are just a little bit bigger.
Where to Buy Dried Blueberries: I buy dried wild blueberries at Trader Joes and regular dried blueberries at Costco.
Using Lavender: This compound butter is amazing if you put a pinch of dried lavender flowers into it! A little goes a long way with lavender so I would limit it to about ¼ teaspoon - not a giant pinch.
Nutrition
Calories:
135
kcal
|
Carbohydrates:
8
g
|
Protein:
0.3
g
|
Fat:
12
g
|
Saturated Fat:
7
g
|
Polyunsaturated Fat:
0.4
g
|
Monounsaturated Fat:
3
g
|
Trans Fat:
0.5
g
|
Cholesterol:
31
mg
|
Sodium:
93
mg
|
Potassium:
44
mg
|
Fiber:
1
g
|
Sugar:
7
g
|
Vitamin A:
355
IU
|
Vitamin C:
0.03
mg
|
Calcium:
6
mg
|
Iron:
0.1
mg
Nutrition Disclaimer
MirlandrasKitchen.com is written to share great recipes. While we do our best to provide nutritional information as a general guideline, we are not registered dietitians and the values provided here should be considered estimates – not exact scientific data.
I read each and every comment and I try to respond to questions asap, so ask away! If you've made a recipe, I would love to hear about it! Please come back and share your experience and give the recipe a 5-star rating so other people will know how much you loved it!