Tender blueberry scones with a crunchy top and creamy vanilla glaze. You won't be able to resist this warm, buttery treat full of berries.  They are a perfect mid-winter pick-me-up or a glorious summer treat.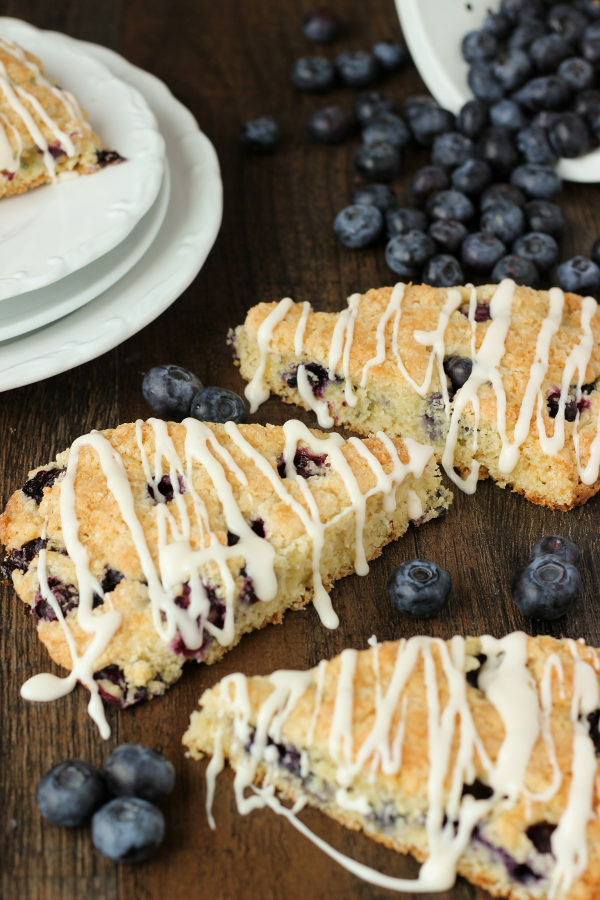 A few years ago I tried a scone recipe and was truly disgusted by the hard tasteless results.  Scones should be sweet and tender!  This week I was in the mood some yummy baked goods full of fruit so I decided to give it a try again.  I was determined to discover the secrets of scones and make myself the most amazing blueberry scones ever!
Tips for Making Amazing Scones
With a bit of sleuthing and some fun experimental baking I have discovered the secret of perfect scones and I don't really want to eat anything else ever again!
Scones live and die by a few things:
good measuring (too much flour makes scones hard)
careful stirring (don't over-work the batter or scones become tough)
ingredient selection (cream just makes nicer scones)
the method of cutting the butter into the flour (freeze and grate butter for the best scones)
My biggest discovery in the process was to try freezing and then grating the butter.  It is by no means a new idea but it made all the difference in distributing the butter into the scones.  As they bake and the butter melts it leaves beautiful little air pockets throughout the pastries that lead to tender, moist, perfectly crumbly scones.
Jonathan was not excited that I was going to make scones.  He thought that the hard little rocks of flour and lard sold by grocery stores were scones. I won the discussion by delivering a few warm blueberry scones to him at work…  He shared bites with his entire team and of course everybody agreed that they were wonderful.  You just can't beat a lovely, fresh, homemade scone.
Now that Jonathan has discovered scones he is hoping I will make cherry scones.  Clearly this will be one of our staple treats!
Tools In This Post:  Baking (scones in particular) requires careful measuring.  Dry ingredients should be measured in dry ingredient cups and wet ingredients should be measured into liquid measuring cups.  To correctly measure liquids fill to the measurement line and then get down on eye level and make sure that you have actually filled to the line.  Looking down from above can create an optical illusion that causes you to not measure all the way up to the line.  I bake / cook a lot and own two of these 2 cup Pyrex measuring cups.  I also own two of the 4 cup size and two of the 1 cup size.
While you can grate the butter by hand I love using a food processor with a grater attachment to get it done fast before the butter melts.  I use this one pretty much every day!
Love to bake up fruit treats?  This Easy Peach Cobbler is one of my favorite things to make and it is crazy simple.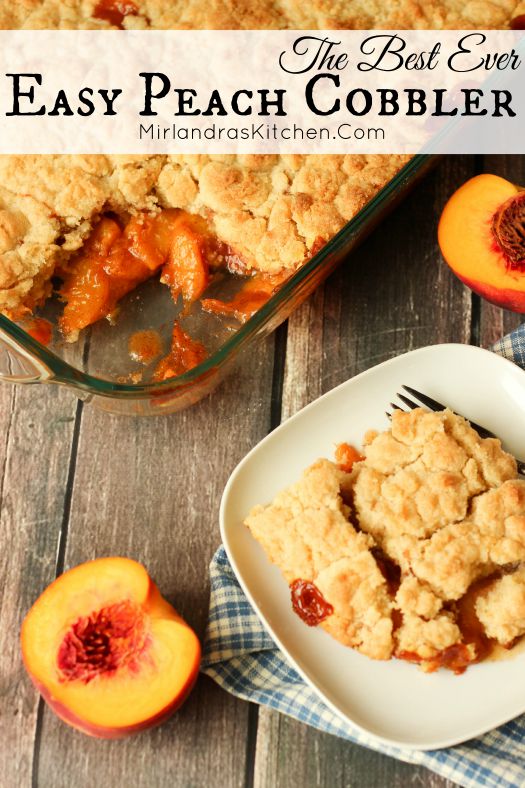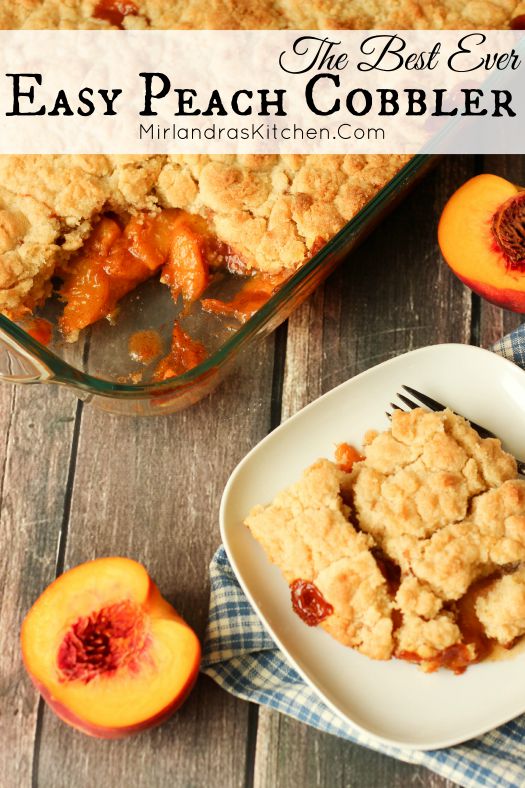 Blueberry Scones with Vanilla Glaze
Ingredients
For The Scones
2

cups

all-purpose flour

measure carefully, too much flour makes tough baked goods!

½

cup

granulated sugar

2 ½

tsp.

baking powder

½

tsp.

salt

½

cup

unsalted butter

frozen

1

cup

fresh blueberries

can substitute unthawed frozen blueberries in a pinch

½

cup

heavy whipping cream

1

large egg

2

tsp.

vanilla extract

Course sugar such as raw sugar or decorating sugar
For The Vanilla Glaze
1

cup

powdered sugar

3

Tbsp.

heavy cream

plus additional if desired

½

tsp.

vanilla extract
Instructions
Adjust the oven rack to the middle of the oven and preheat to 400 F.

Line a cookie sheet with parchment paper and draw a circle unto the paper that is 8" across. If you have a 8" cake pan you can place it on the paper and trace the bottom.

In a large bowl, whisk together the flour, sugar, baking powder, and salt.

Grate the frozen butter with a food processor or on a box grater. Scrape the grated butter into the flour mixture and use your fingers to combine just a little bit until the mixture has a course, even consistency with no large chunks.

Stir in the blueberries.

In a small bowl whisk together the cream, egg and vanilla. Pour evenly over the flour mixture and use a rubber spatula to fold / toss together the dough just until it is moistened. Overworking the dough will destroy the delicate crumb texture of the scones.

Scatter a little flour on your parchment paper and flour your hands. Gather the dough into a rough ball in your hands and place it in the middle of your parchment circle. Press the dough into a 8" disk to fill the circle you drew. Try to make the disk as even and round as possible.

Using your sharpest knife, cut the disk into 8 wedges. Dough will be sticky and it may help to wipe the knife clean between cuts. Scatter as much course sugar as you like over the tops to make the sparkly, crunchy top. Separate the wedges a bit.

Bake at 400 F for 20-25 minutes until the tops are just golden and the scones are cooked through. Allow to cool for a few minutes while you whisk together the ingredients for the glaze. Drizzle glaze over scones and serve warm.
Notes
Scones are best fresh and warm! If you are lucky enough to have leftovers cover with plastic wrap and store at room temperature for 1-2 days. They can also be wrapped well and frozen for a few months. Frozen scones should be thawed in the refrigerator and then warmed gently before serving.
Nutrition
Nutrition Facts
Blueberry Scones with Vanilla Glaze
Amount Per Serving
Calories 427
Calories from Fat 171
% Daily Value*
Fat 19g29%
Cholesterol 58mg19%
Sodium 131mg5%
Potassium 200mg6%
Carbohydrates 53g18%
Protein 4g8%
Vitamin A 655IU13%
Calcium 88mg9%
Iron 2mg11%
* Percent Daily Values are based on a 2000 calorie diet.
I adapted this recipe from a classic scone recipe in the Joy of Cooking cookbook.  It is a good all-purpose cookbook and one that has taught me a great deal about cooking since I was a child.  In my family I'm the 3rd generation to cook out of this classic and it is a family tradition that I cherish!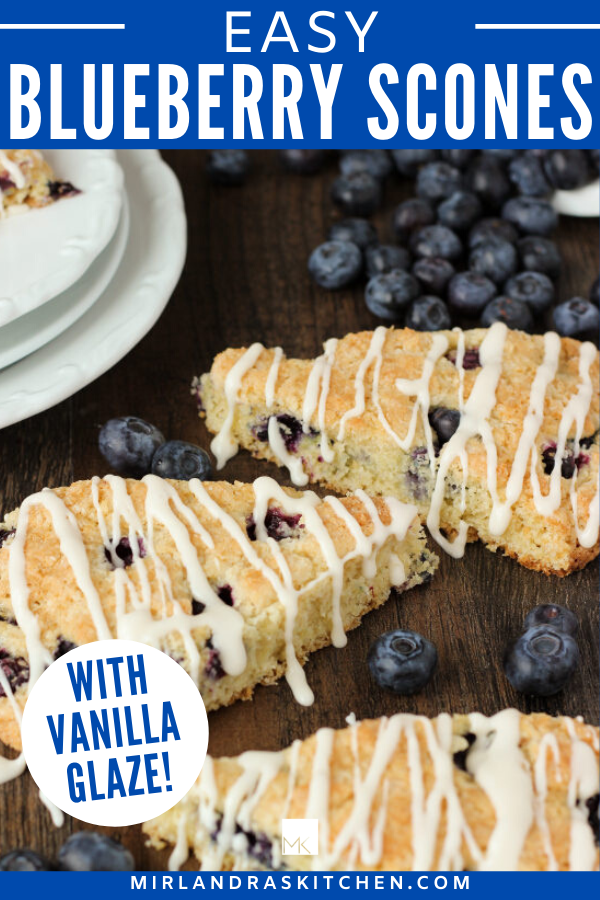 Reader Interactions