This Blueberry Cobbler only takes 20 minutes to prep for the oven. A rich, sweet topping covers juicy blueberry filling for summer perfection!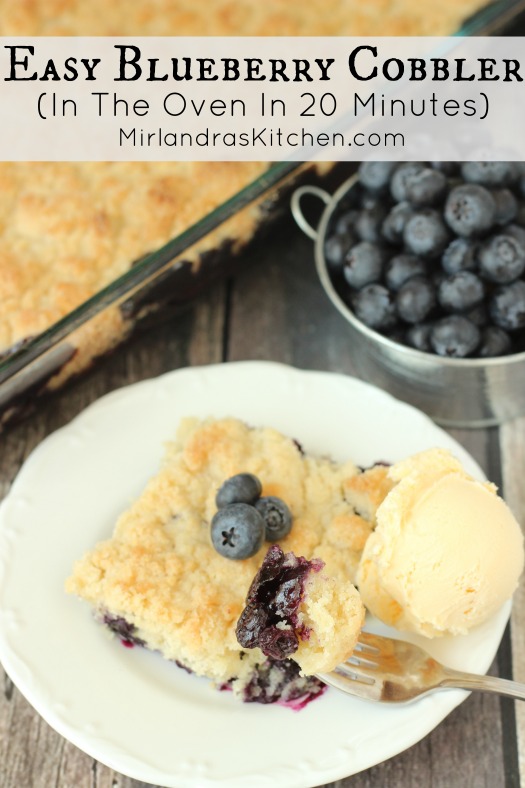 I would like to make the following Public Service Announcement:  Blueberries are now coming into season and it is time to make cobbler!!!!!!!!!
This simple filling comes together in minutes while you make the topping.  The filling is fresh and fruity without heavy starch or thickeners.  It just tastes like simple summer.
The topping has a perfect crumb.  It is sweet and slightly delicate like cake but with the density and crumb almost of a biscuit.  Really, if cake and biscuits got married this would be the result.
Cobbler can be time consuming to make if you have to cut the butter in by hand but this version is quick and easy.  Don't be afraid to let the food processor do all the hard work for you.  The results are always phenomenal!
Tools In This Post:  I make my topping in minutes using this food processor.  I recommend it all the time and for good reason.  It is an excellent work horse that saves me a lot of time in the kitchen and has held up more than a decade!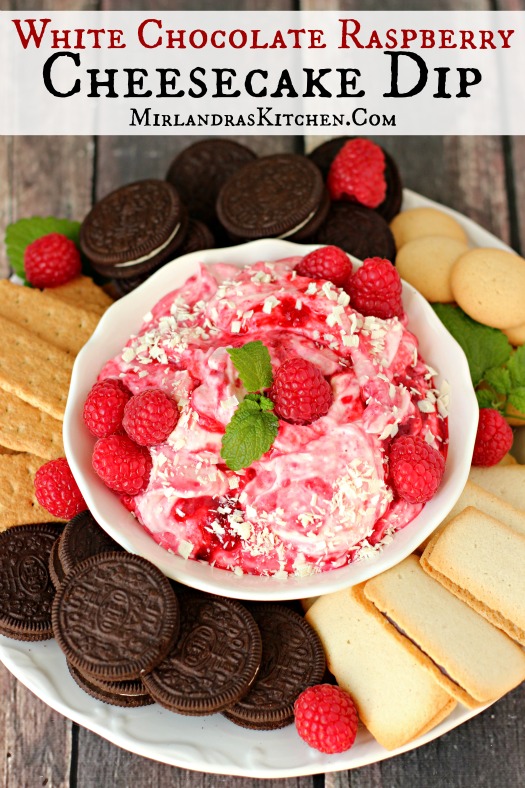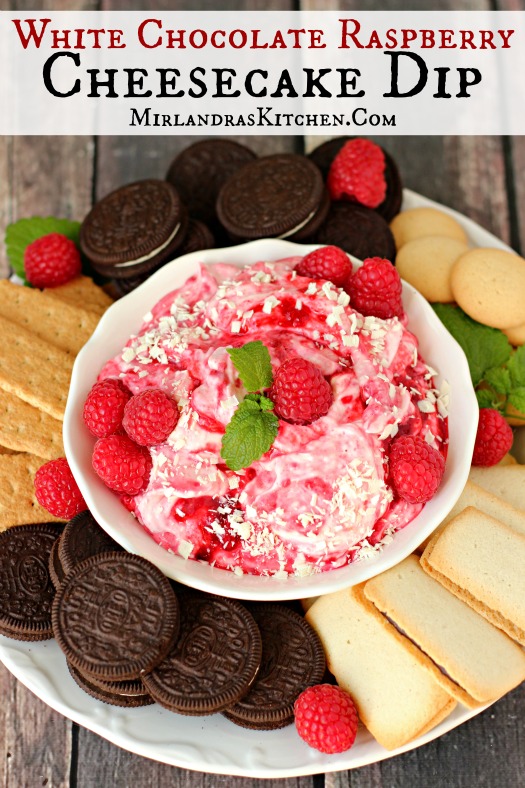 Love berries?  Try this luscious White Chocolate Raspberry Cheesecake Dip!  You might pass out from joy but I feel confident it will be worth it!
Easy Blueberry Cobbler
Ingredients
To Make The Filling
6

cups

ripe blueberries

can sub frozen out of season

granulated sugar to taste

white

3

Tbsp.

cornstarch

1/3

cup

cold water

1/8

tsp.

salt

3

Tbsp.

butter
To Make The Crust
3

cups

flour

1 1/2

cups

white sugar

3

tsp.

baking powder

1

tsp.

salt

1

cup

+ 2 Tbsp. butter

COLD

2/3

cup

boiling water
Instructions
To Make The Filling
Put blueberries in a large, heavy bottomed pot. Add enough sugar to make the berries sweet to your taste. For sweet, ripe berries about 1/2 cup of sugar is my preference. Omit if desired.

Mix cornstarch and water in a small bowl until no lumps remain. Add cornstarch mixture, and salt to the blueberries. Stir to combine. Add the chunk of butter and place pot over medium heat. Bring the mixture just to a boil stirring often enough to prevent burning. It will be done about the time you are done making the crust.
To Make The Crust
Preheat oven to 400 F.

Combine flour, baking powder, salt, and sugar in the food processor and pulse to blend. Add pats of cold butter and pulse until the mixture is sort of a coarse consistency, no chunks bigger than small peas.

Dump contents of blender into larger mixing bowl. Run your fingers through to feel for any large chunks the food processor missed. Smash them to smaller pieces with your fingers.

Pour boiling water over flour mixture. Stir with a fork just until a crumbly dough forms. Make sure to get the dregs from the bottom.

When filling comes to a boil, pour into a 10.5" x 15" glass casserole dish*. Spread the crust dough evenly over the fruit while it is still hot. Bake in preheated oven for 25-30 minutes until the top crust is golden. It is best to use a fork and lift a bit of crust in the middle to check and make sure the bottom of the filling is not doughy.

Let cool for a few minutes and serve warm with ice cream or homemade whipped cream.

* If you are using a different size or shape pan the cooking time may need to be adjusted. For instance, a 2.5 quart oval casserole dish takes about 45 minutes.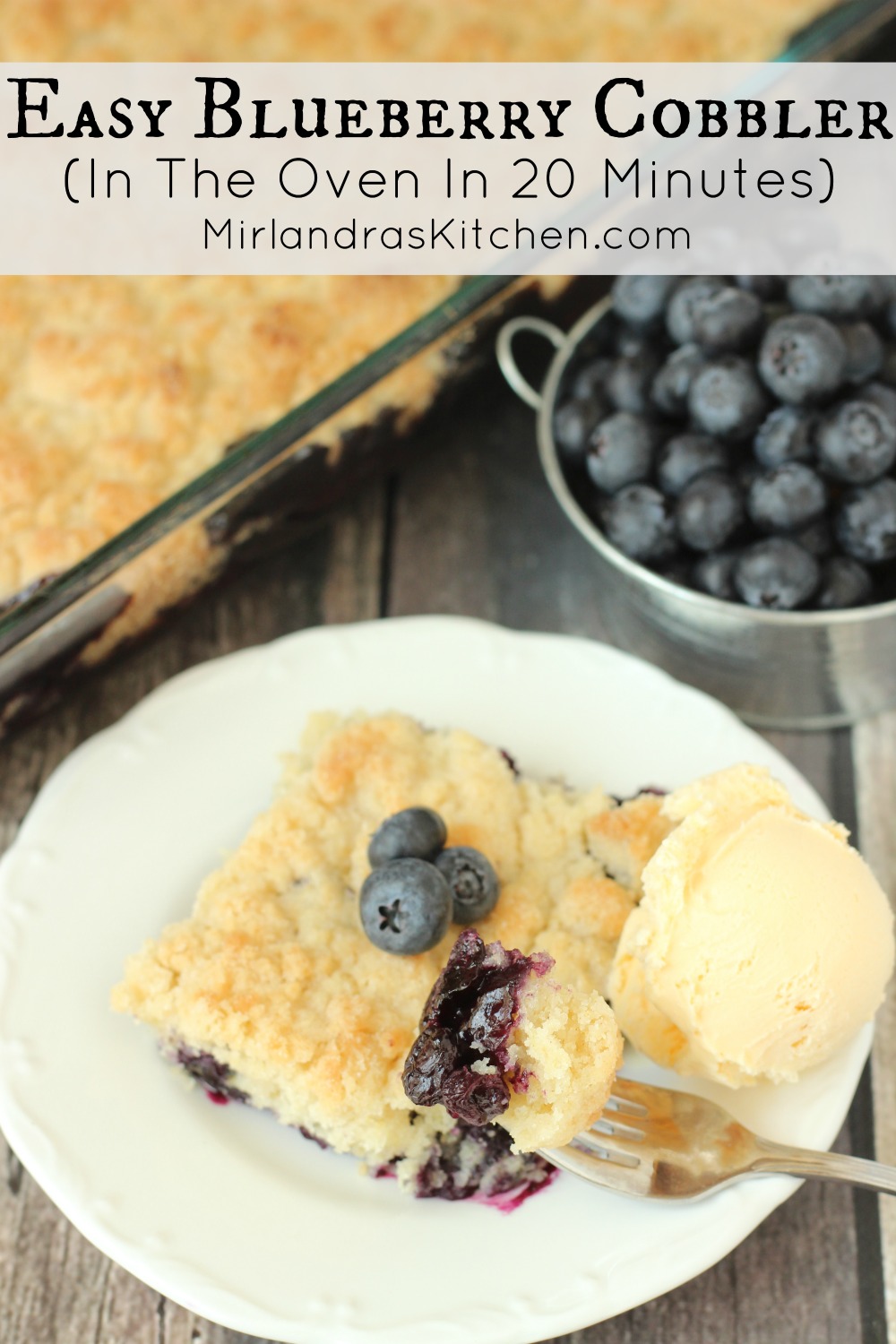 Free Simple Weeknight Meal Plan!
Sign up here for your free plan and start rocking dinner!