Light fluffy Whipped Cream Frosting makes it easy to create a beautiful cake in minutes and is a delicious alternative to buttercream.  I especially love it on my springtime cakes! (Hint – save this recipe for Valentine's Day and Easter!)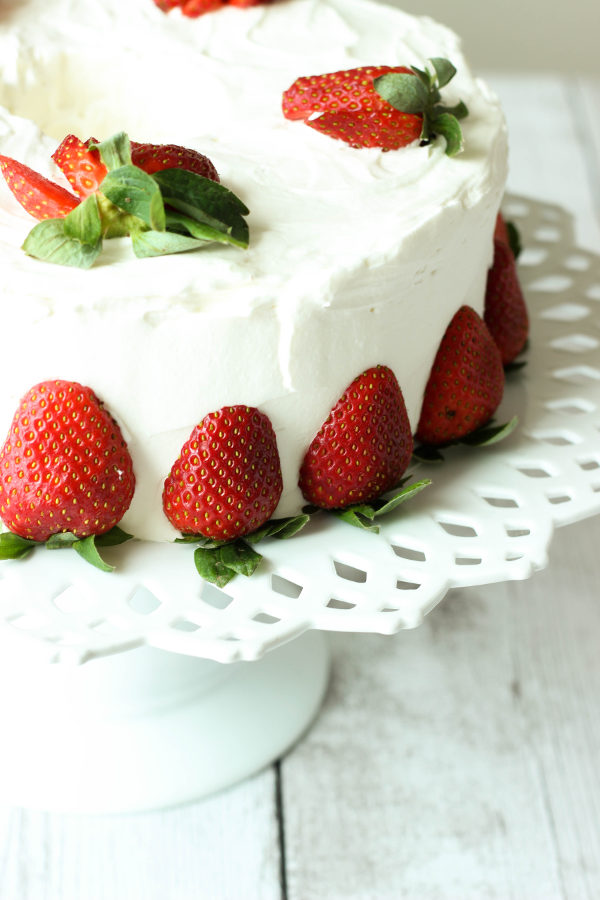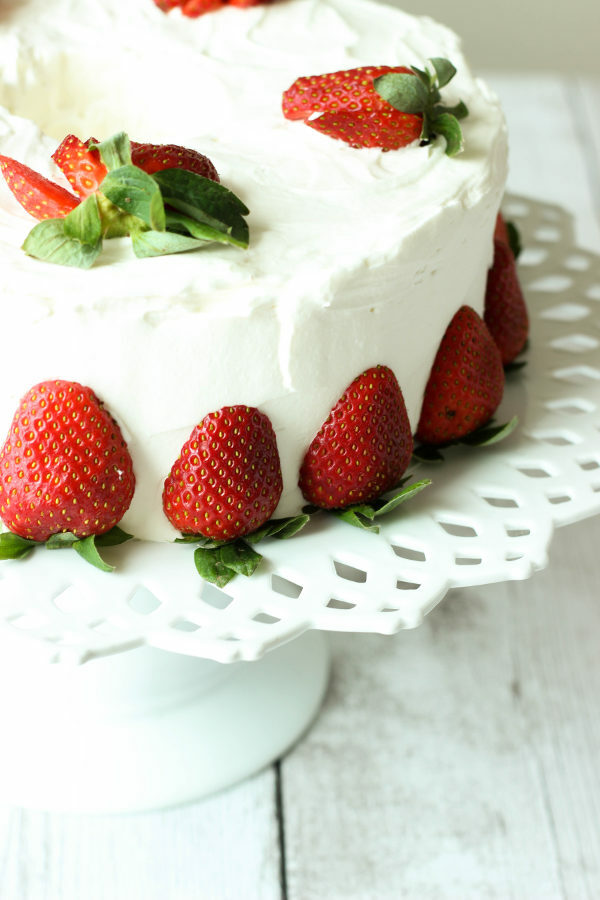 Have you ever had a cake with light fluffy frosting and wondered what magic had been cooked up?  Chances are you had a delicious Whipped Cream Frosting which is incredibly easy to make!
The Magic of Fluffy Whipped Cream Frosting
I'm a faithful buttercream frosting lover but sometimes I want something a bit different for a cake.  Whipped Cream Frosting just takes a few minutes to make and it is very easy to spread on a cake.
You can even use tips to pipe on any decorations you like.  It will hold up well for days and it is a great solution when you have somebody who says they don't like buttercream!  (That person is crazy but crazy people still deserve frosting…)
Using Whipped Cream Frosting To Dress Up A Cake Mix or Pound Cake
For those of you who would rather be tortured than bake a cake from scratch this is a simple way to dress up a cake mix or bakery pound cake.  It will look pretty no matter how slap dash you are about frosting the cake and a few berries or fresh flowers will cover up any other cake frosting sins you commit.
This is one of those recipes that just makes your life awesome!  (If you are feeling brave then by all means make my excellent pound cake!  It is not hard and the results are delicious!)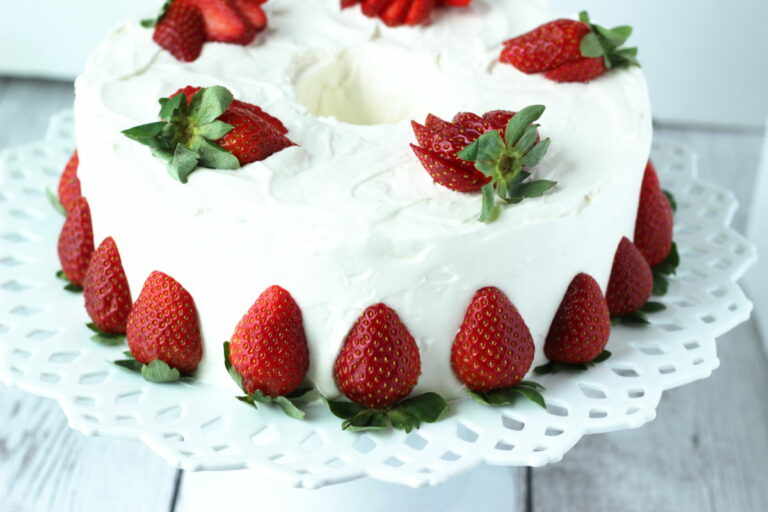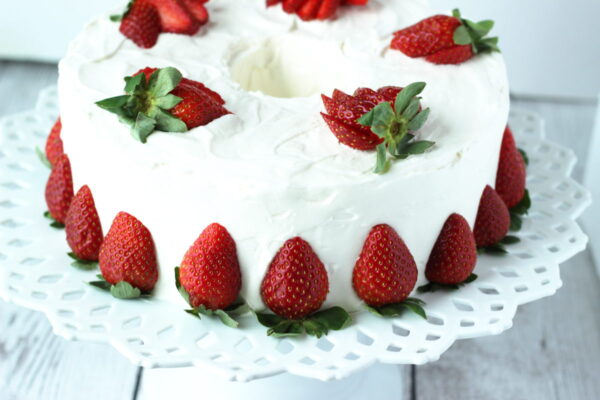 Using Gelatin To Stabilize Whipped Cream Frosting
Unflavored Gelatin is the backbone of this frosting.  Most stores sell it by the jell-o / pudding section.  You can also grab it on Amazon.  One packet is just over 2 teaspoons so each packet in the box is enough for one batch of frosting.
I like to use a small straight icing spatula like this one to do simple frosting jobs.  It gets used a lot in my kitchen for other baking tasks too.
Easy Whipped Cream Frosting
This sweet, creamy whipped cream frosting is fluffy and perfect for pound cake, cupcakes or your favorite layer cake. This recipe makes enough frosting for one 10" cake. If you want enough to split and fill layers of a cake I suggest making another ½ batch.
Ingredients
2

teaspoons

unflavored gelatin

(Knox is the name brand but any brand is fine)

8

teaspoons

cold water

2

cups

heavy whipping cream

(I recommend 40% fat)

1

cup

powdered sugar

(you can use more or less to taste)

1

teaspoon

pure vanilla extract

(can sub orange, or almond instead)

1/8

teaspoon

salt
Instructions
Measure water into a small microwave safe bowl. Stir the gelatin into it. Set it aside while you make the other preparations.

In the bowl of a stand mixer combine the cream, powdered sugar, vanilla, and salt. Beat with the whisk attachment on high for 1 minute. This is the time to taste and adjust for additional sugar if desired)

While the mixer is running, microwave the gelatin mixture for 20 seconds or until the chunk of gelatin turns to thick, syrupy liquid.

Continue beating the cream on high while slowly pouring the gelatin into the cream in a thin stream. Beat until stiff peaks form.

Use a frosting spatula or spoon to frost the cake in a smooth or swirly pattern.

To get the strawberry decorating effect shown in the photos slice strawberries in half and press gently into the frosting around the cake.

For the top select five large strawberries and use a sharp knife to make about 5 slices in each strawberry. Start each slice about 1/8" below the stem end of the strawberry so that the slices are still all connected to the stem end. When the strawberries are sliced, use your fingers to gently fan the slices out. This should leave the stem ends attached and fan the slices of berries out like petals in a flower.
Nutrition
Nutrition Facts
Easy Whipped Cream Frosting
Amount Per Serving
Calories 177
Calories from Fat 135
% Daily Value*
Fat 15g23%
Cholesterol 54mg18%
Sodium 40mg2%
Potassium 30mg1%
Carbohydrates 11g4%
Protein 1g2%
Vitamin A 583IU12%
Vitamin C 1mg1%
Calcium 26mg3%
Iron 1mg6%
* Percent Daily Values are based on a 2000 calorie diet.
I read each and every comment and I try to respond to questions asap, so ask away! If you've made a recipe, I would love to hear about it! Please come back and share your experience and give the recipe a 5-star rating so other people will know how much you loved it!