After six months of baking this is my winning recipe for moist, rich, tender pound cake.  Try it with berries, warm chocolate sauce or sweet whipped cream!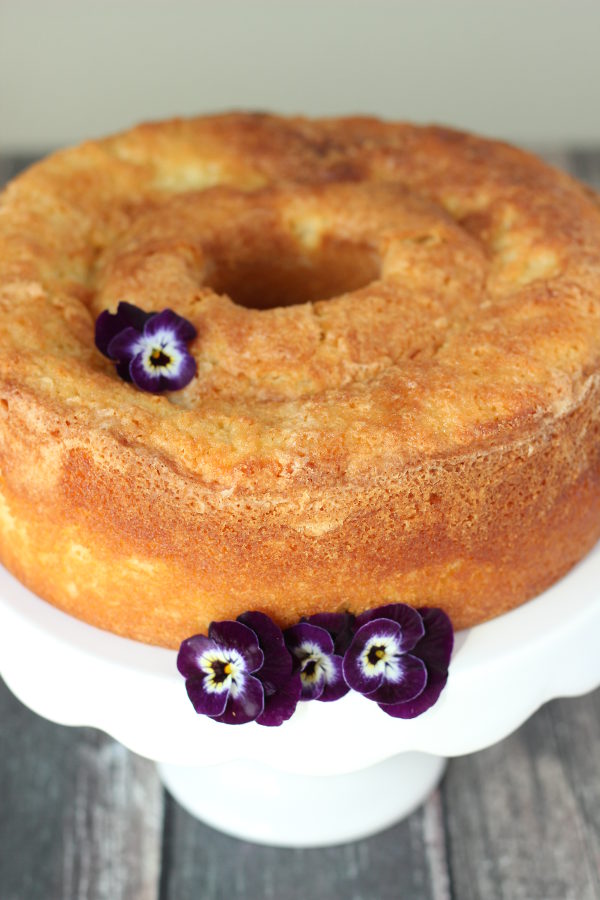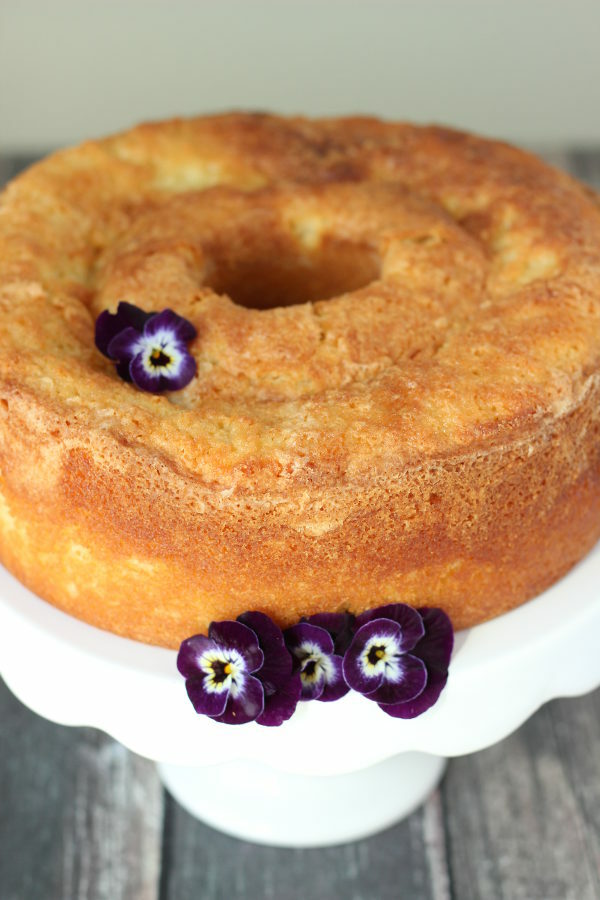 I'm a dyed in the wool West Coast girl, born an hour from the ocean, but I love classic Southern cooking!  My Daddy was born in the South and the food he cooks has always been a throwback to his roots.
I have always wanted to bake a classic Southern pound cake.  Over the years I have tried many pound cake recipes but they all left me annoyed.  Dense, tasteless, flat, boring, not rich enough – yeah, I had a long list of complaints.  Last fall I decided to tackle pound cake and develop my own Southern inspired recipe.
I read and I baked and I baked and I read.  Cakes fell, pans were bought and returned, and there may have been a few tears shed over pound cake…  (Can we just chalk that up to pregnancy and not say I'm crazy?!?)
Finally I found the magic.  Shorting combined with butter for tender crumb.  Vanilla and almond for delicate flavor.  The 10″ tube pan big enough to hold the sweet batter.  Last week I baked my final three pound cakes in the quest for perfection and I knew it was in the bag!  Somewhere angels are singing.
You would think that after the insane number of cakes I baked / we ate that I would be done but I already want to bake another this week to take to my Daddy.  And yes, I confess that I want more pound cake for the yummy berries that have been showing up in stores.
Everybody should have an epic pound cake recipe that bakes to impress.  Enjoy making this one yours!
Tools In This Post:  This is the exact pan I'm using and it is a gem!  Calphalon makes great bake ware.  This is heavy duty (will last a lifetime) and can go in the dishwasher!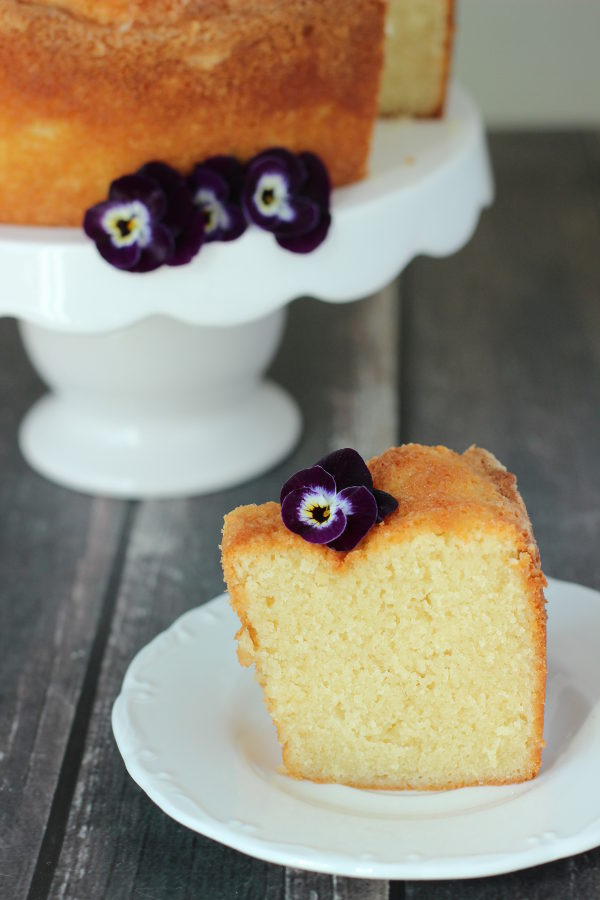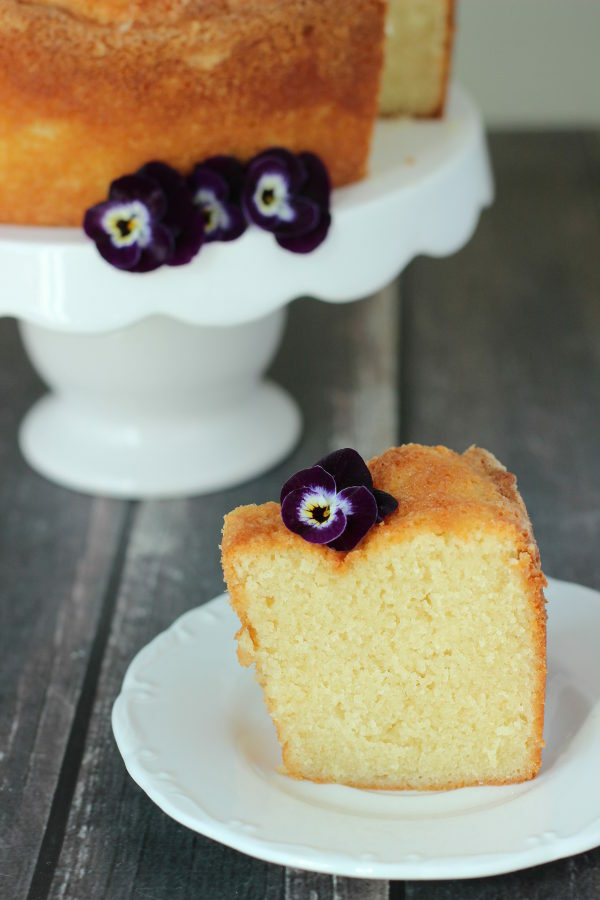 This pound cake is perfect with a warm, rich chocolate sauce or home made whipped cream or both!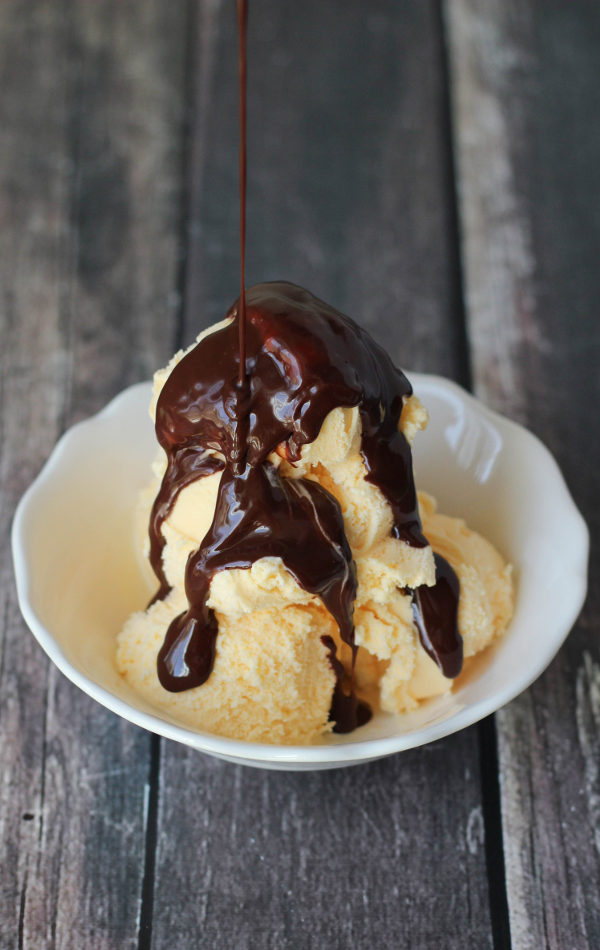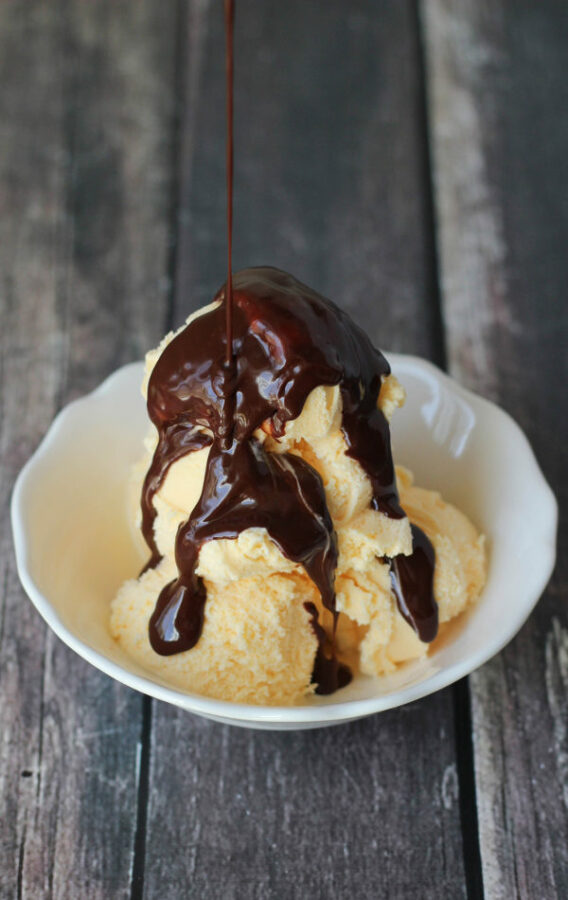 Epic Pound Cake
This delicious, tender pound cake is a thing of glory! Rich, dense slices with a tender moist crumb will steal your heart! Please be careful to avoid substitutions for this recipe (ask me how I know). The magic of this cake is from the combination of butter for flavor and shorting for tenderness. Read through the recipe before you start and follow the directions for "creaming" carefully. Pound cakes live or die by attention to detail.
Ingredients
1

cup

salted butter

1/2

cup

shortening

plus additional for the pan

3

cups

sugar

1

Tablespoon

pure vanilla extract

(or 1 teaspoon vanilla with 2 teaspoon lemon extract for more citrus flavor)

1/4

teaspoon

almond extract

(omit if you are using some lemon with the vanilla as above)

5

large eggs

3

cups

all-purpose flour

plus additional for the pan

2

teaspoons

baking powder

1

teaspoon

salt

1 1/4

cups

buttermilk
Instructions
Bring all cold ingredients to room temperature (butter, eggs, and buttermilk).

Use shorting to grease a 10-inch tube pan (sometimes called an Angel Food Cake Pan - see note at bottom) and coat it with flour. Tap out excess flour and set aside.

In a stand mixer fitted with the whip attachment beat butter and shortening at medium speed for 1 minute. Gradually add sugar, beating at medium speed, until light, fluffy and very pale yellow in color. This is takes five minutes. You are done when the mixture has about doubled in size. Don't over-mix which can cause the batter to "break" and prevent your cake rising correctly. Scrape sides and bottom.

Add extracts and eggs, one at a time, beating just until yoke disappears after each addition. Scrape sides and bottom after last addition.

Whisk together flour, baking powder and salt in a separate bowl. With the mixer on low speed, gradually add half of the flour mixture to creamed mixture. Follow by slowly adding the buttermilk and then the rest of flour, continuing to mix at low speed until combined. Scrape sides and bottom.

Pour batter into prepared pan and bake at 350 degrees for 1 hour to 75 minutes or until a cake tester comes out clean. Cool in pan. Serve with the top up. The cake is amazing alone but also excellent with whipped cream and berries or your favorite decadent chocolate sauce. Store at room temperature in an airtight container.
Notes
Tube Pan versus Bundt Pan:  There is wonderful debate on the internet about what constitutes a tube pan versus a Bundt pan. I have concluded that pans have different names depending on the region you learned to cook in!
I'm using a 10" Calphalon brand Angel Food Cake Pan. What you need to know here is that this is a LOT of batter. Using a pan that is too small will cause the cake to fall (I know, I've done it!) and using a pan without a hole in the center will make it impossible to get the middle cooked before the outside burns.
Nutrition
Nutrition Facts
Epic Pound Cake
Amount Per Serving
Calories 678
Calories from Fat 288
% Daily Value*
Fat 32g49%
Cholesterol 134mg45%
Sodium 460mg19%
Potassium 197mg6%
Carbohydrates 91g30%
Protein 8g16%
Vitamin A 736IU15%
Calcium 93mg9%
Iron 2mg11%
* Percent Daily Values are based on a 2000 calorie diet.