This chocolate cake is everything you want a classic chocolate cake to be:  chocolaty, moist and decadent. Whipped vanilla buttercream is the cherry on top!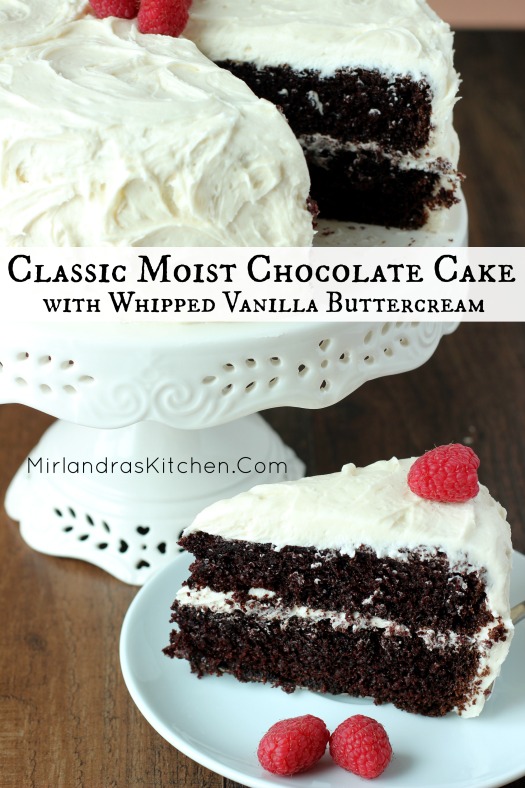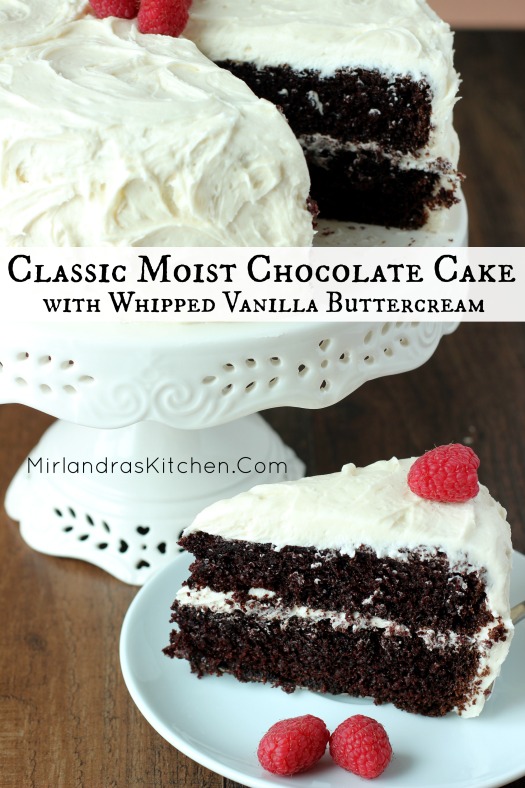 Sometimes the best recipes are the simple classics we grew up loving.  I can't resist a well prepared roast chicken, a lovely cucumber salad, or an excellent chocolate cake.
For true greatness a chocolate cake has to be bursting with chocolate – a chocolate lover's fantasy cake. It also needs a dense, moist texture.  It should not be so dense that it is a brownie – just good and thick and almost on the fudgy side.
Finally, I want a frosting that adds a little something to the cake instead of detracting from it.
This is my version of perfect classic chocolate cake.  And I believe I have done it very well…  My secret (don't you love that I tell you all my secrets?) is just a hint of almond flavoring in the cake and the frosting.  It is just enough to give an extra layer of flavor to the chocolate.  Don't get me wrong, I love the plain flavor of chocolate, but adding a little something else can give it a lot of depth and quality.
The whipped vanilla buttercream on top is also simply divine.  Hang unto this recipe for your favorite cookies and other treats.  It is easy and amazing.
Tools In This Post:  Using a good quality cake pan will result in more even baking and thus a better cake.  I love my Calphalon baking pans.  They are affordable, dishwasher safe and last forever.  If you enjoy baking this is a worthwhile investment.
Love Chocolate Cake?  This Black Magic Cake with Chocolate Buttercream Frosting is another chocolate cake home run!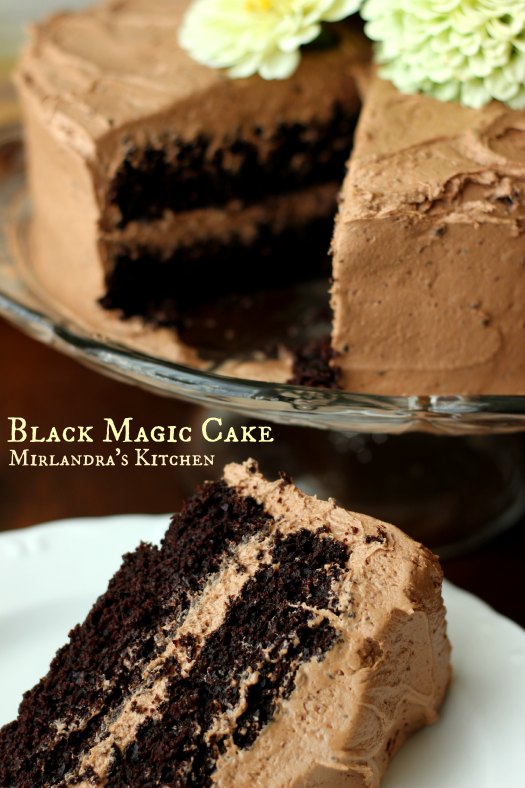 Classic Moist Chocolate Cake with Whipped Vanilla Buttercream
Tips: When the cake has cooled it takes me about 30 minutes to make the frosting and frost the cake. A more casual frosting job will take less time. To smooth the frosting on easily plan to frost the cake as soon as you make the frosting. Also try smearing just a little down all around the sides and top of the cake to make what is called a "glue layer." Don't worry about getting crumbs in it. Put your clean frosting over the glue layer for easy but polished look.
Ingredients
For The Cake
2

cups

sugar

2

cups

all-purpose flour

3/4

cup

HERSHEY'S Cocoa or other high quality cocoa or dark cocoa

1-1/2

tsp.

baking powder

1-1/2

tsp.

baking soda

1

tsp.

salt

2

large eggs

1

cup

milk

whole or 2%

1/2

cup

vegetable oil

2

tsp.

vanilla extract

1

tsp.

almond extract

1

cup

boiling water
For The Whipped Vanilla Buttercream
1

cup

salted butter

room temperature

8

cups

powdered sugar

a 32oz bag

1/8

tsp.

salt

2

tsp.

vanilla extract

1

tsp.

almond extract

7

Tbsp.

whole milk
Instructions
To Bake The Cake
Put oven rack in the center of the oven. Preheat oven to 350°F.

Butter the sides of two 9-inch round baking pans and line with a circle of parchment paper. Flour or use cocoa powder to dust the sides of the pans, tap out excess.

In the bowl of a stand mixer, stir together sugar, flour, cocoa, baking powder, baking soda and salt.

Add eggs, milk, oil, vanilla and almond extract. Beat on medium speed for 2 minutes.

With the mixer on low, stir in boiling water ( note that the batter will be thin). Pour batter into prepared pans.

Bake 30 to 35 minutes or until a toothpick inserted in center comes out clean. Cool 15 minutes. Use a knife or metal spatula to loosen the sides of the cake from the pan. Flip cakes unto to wire racks to finish cooling. At this time, gently peel the parchment paper from the bottom of the cake and discard.
To Make The Frosting
Put all the frosting ingredients in the bowl of a stand mixer. Beat on low until combined, scraping sides and bottom as needed until the frosting comes together.

Turn the mixer to high and beat for 3 minutes. Scrape the sides and beat an additional 2 minutes on high.

Frost the cake and serve with coffee or vanilla ice cream.

Cake Cutting Tip: Use a sharp knife to cut the cake. Try wiping it on a clean, damp cloth between cuts. A clean knife makes a more tidy and pretty slice of cake. Use a cake server to lift pieces of cake off your serving plate.
Notes
What if I don't like almond extract? 
Almond extract is a great option in chocolate.  It has an almost cherry flavor and brings out the chocolate flavor beautifully.  However, not everybody is a fan and you certainly don't have to include it!  The extract can be left out of both the cake and the frosting.  You can either leave it out all together or you can replace it with vanilla if you want a stronger vanilla flavor in the cake or the frosting or both.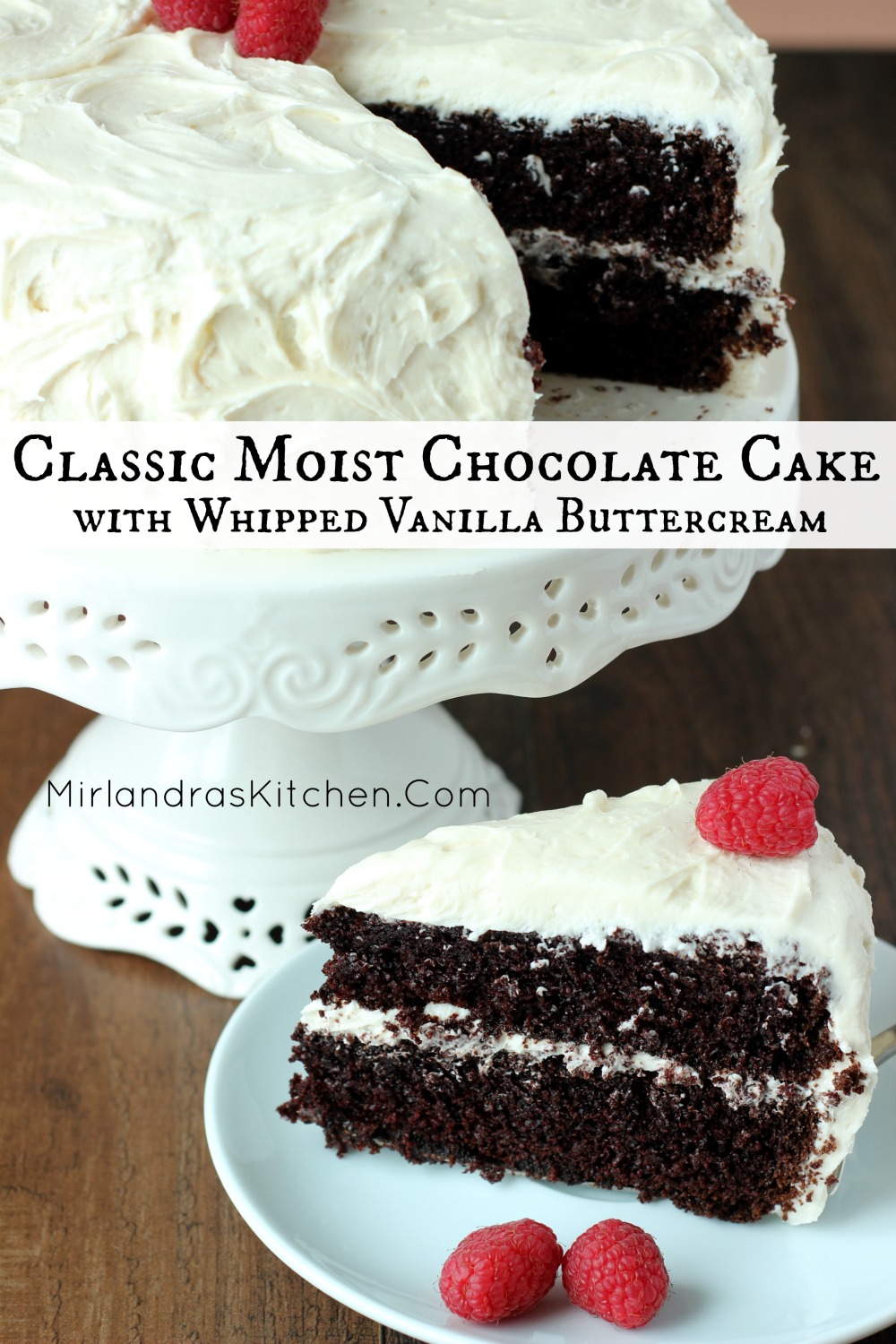 Free Simple Weeknight Meal Plan!
Sign up here for your free plan and start rocking dinner!