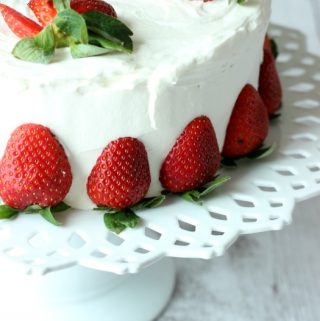 Print Recipe
Easy Whipped Cream Frosting
This recipe makes enough frosting for one 10" cake. If you want enough to split and fill layers of a cake I suggest making another ½ batch.
2

tsp.

unflavored gelatin

Knox is the name brand but any brand is fine

8

tsp.

cold water

2

cups

heavy whipping cream

1

cup

powdered sugar

or adjust the sugar to taste

1

tsp.

pure vanilla extract or another favorite extract such as lemon

orange, or almond

1/8

tsp.

salt
Measure water into a small microwave safe bowl. Stir the gelatin into it. Set it aside while you make the other preparations.

In the bowl of a stand mixer combine the cream, powdered sugar, vanilla, and salt. Beat with the whisk attachment on high for 1 minute. This is the time to taste and adjust for additional sugar if desired)

While the mixer is running, microwave the gelatin mixture for 20 seconds or until the chunk of gelatin turns to thick, syrupy liquid.

Continue beating the cream on high while slowly pouring the gelatin into the cream in a thin stream. Beat until stiff peaks form.

Use a frosting spatula or spoon to frost the cake in a smooth or swirly pattern.

To get the strawberry decorating effect shown in the photos slice strawberries in half and press gently into the frosting around the cake.

For the top select five large strawberries and use a sharp knife to make about 5 slices in each strawberry. Start each slice about 1/8" below the stem end of the strawberry so that the slices are still all connected to the stem end. When the strawberries are sliced, use your fingers to gently fan the slices out. This should leave the stem ends attached and fan the slices of berries out like petals in a flower.