This easy jam recipe combines no cook versions of strawberry, raspberry and blackberry jam for delicious and beautiful jars of perfect summer jam.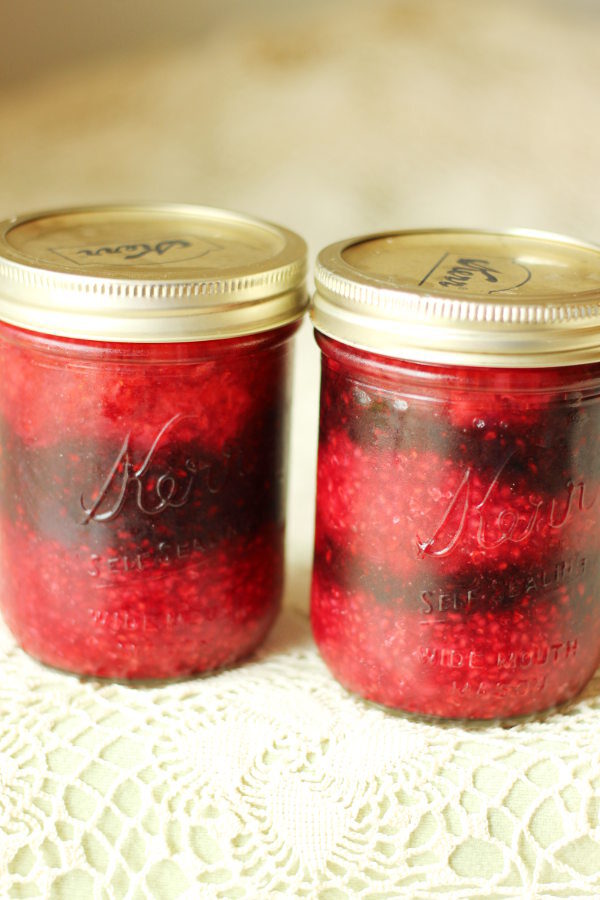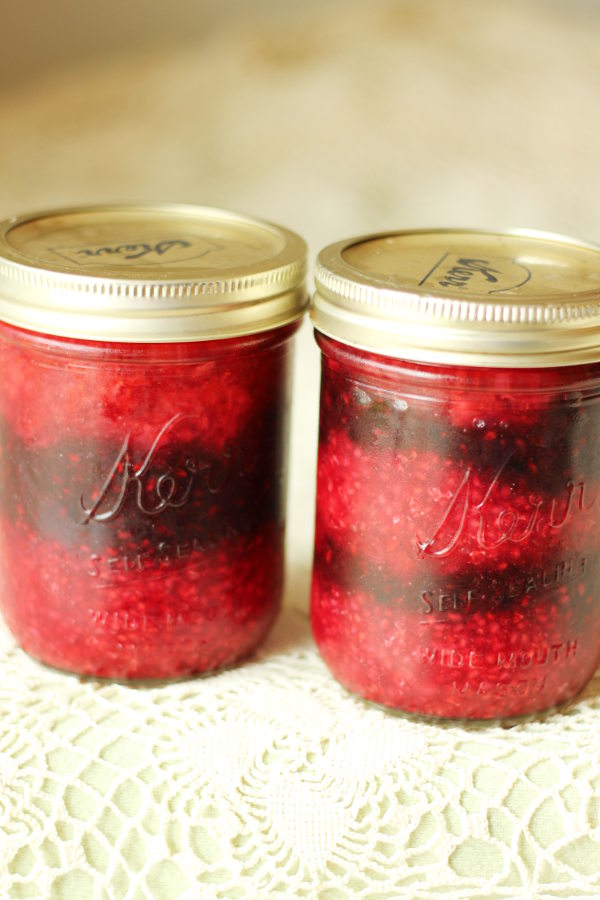 Have you ever had mixed berry jam? It's a flavor explosion.  The berries blend together and meld  into this amazing new flavor.  I absolutely love the complexity of the final result.  This summer I got to thinking about the way flavors blend.  When you make say, Blackberry-Raspberry jam, you no longer taste blackberry or raspberry, but something new.  I was in the mood to experiment.  I wanted jam that was a flavor mix and not a blend.  I also wanted something pretty…  I had quite the collection of my easy 10 Minute Jams to play with.  I had eaten all the White Nectarine, it was a small, exquisite batch that went fast.  However, I still had plenty of Strawberry, Blackberry and Raspberry to work with.
The results of my experiment went well beyond my expectations.  The jars are eye-catching (meeting my "pretty" requirement) and fun .  And the layered jam is excellent.  You can swirl and smear it around on toast until it's exactly the degree of mixed and not mixed that you like.  It's different every morning.  Now instead of having three jars of jam in the fridge I have one, and it's a wild mix.
I took the three different jams and scooped them into pint jars 1/3 cup at a time, alternating layers.  I tried one jar with six layers and two jars with three layers.  If you only want to make three layers simply use two scoops of each type of jam as you fill the jar.  Nothing to it.
If you want to make this I linked my 10 minute jam recipes above.  Click through to see how to prepare each one (all very similar and easy).  I love how this offers the chance to experiment and be creative with each different jar.  My only word of caution: Don't have too much fun!!!
P.S.  This is a great kid project.  If you are cooking with littles I suggest picking up a copy of Jamberry by Bruce Degan to read with them.  It's such a fun berry book with catchy rhymes and great illustrations- a favorite of mine to since childhood.
If you love jams with a complex flavor profile, make sure you try my recipe for Peach Melba.  It is a unique and wonderful blend of raspberries and peaches that makes a beautiful blush / pink jam!