These almond joy cupcakes are better than the candy bar! Decadent, creamy coconut topping is easy to make and tops your favorite chocolate cupcake recipe.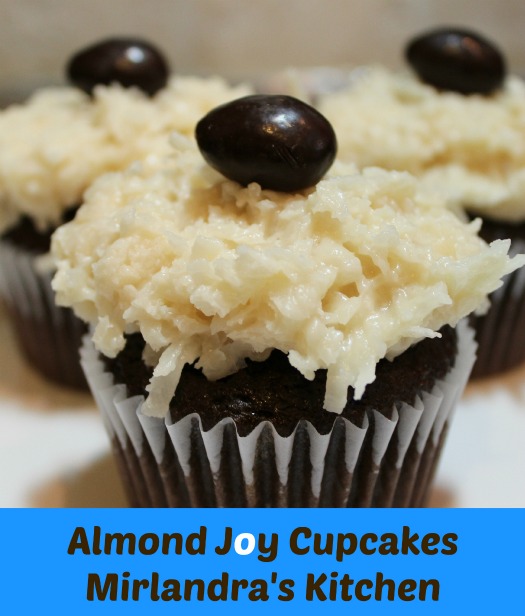 I love Almond Joy candy bars.  They are one of my all-time favorites.  Jonathan is a big coconut fan so I usually make him something coco-nutty for his birthday.  This year we had out of town company for his birthday and I needed something fast and easy so I threw together these Almond Joy Cupcakes.
The frosting for almond joy cupcakes takes about 5 minutes to whip together.  It was the perfect solution.  Jonathan and our company all loved the birthday treat.  The topping is fresh and free of all the preservatives you find in candy bars.  I think it's a solid upgrade.  Honestly I eat things that have all sorts of crazy additives but I try to limit those in my life.  My philosophy is a few won't kill you but eating all that stuff consistently and frequently might add up over a lifetime.
I have just included the recipe for the topping here.  You can pair it with any chocolate cupcake recipe you like.  If you do plan to use a mix for these, I  reccomend Betty Crocker mixes.  They are the only boxed cake mix I will use.  The flavor is just better than any other mix in the store.  Try adding a teaspoon or two of high quality vanilla and maybe a handful of chocolate chips.  It elevates the mix quite a bit.
Since Jonathan's birthday I have made them a few more times for various events.  Every single time they got inhaled.  Coconut lovers consistently agree they are top notch.  Happy Baking!!!
Almond Joy Cupcakes
Ingredients
1

stick butter

1

lbs

powdered sugar

14

oz

flaked coconut

usually 1 bag

¾

cup

condensed milk

2

teaspoons

vanilla

1

batch of chocolate cupcakes

chocolate covered almonds for garnish
Instructions
Melt butter in a large sauce pan over medium heat.

Toss in sugar, coconut, condensed milk, and vanilla. Mix well.

Remove from heat and cool in fridge for 1 hour.

When cool enough to hold shape, form balls and squish to flat rounds. Top cupcakes with rounds of frosting and garnish with a chocolate covered almond.
Reader Interactions