Pralines and Cream Ice Cream (sometimes confused with Butter Pecan Ice Cream) was a favorite of my grandmothers. The sweet, candy coated pecans make a delicious buttery crunch in rich vanilla ice cream.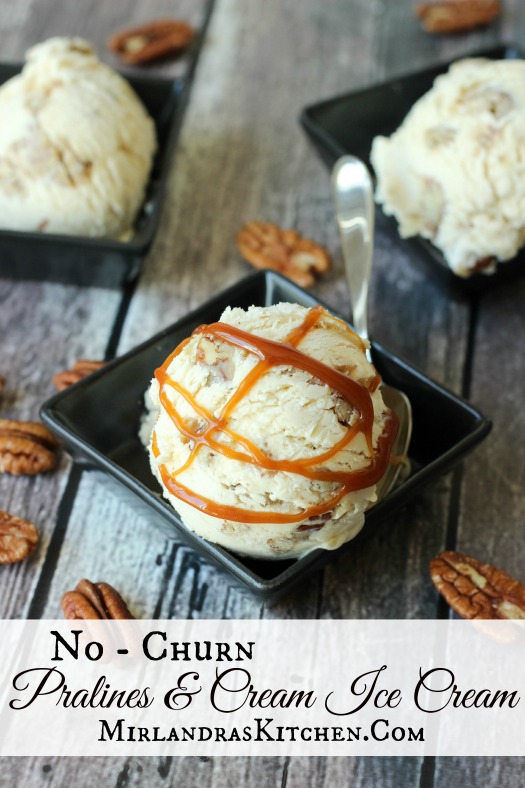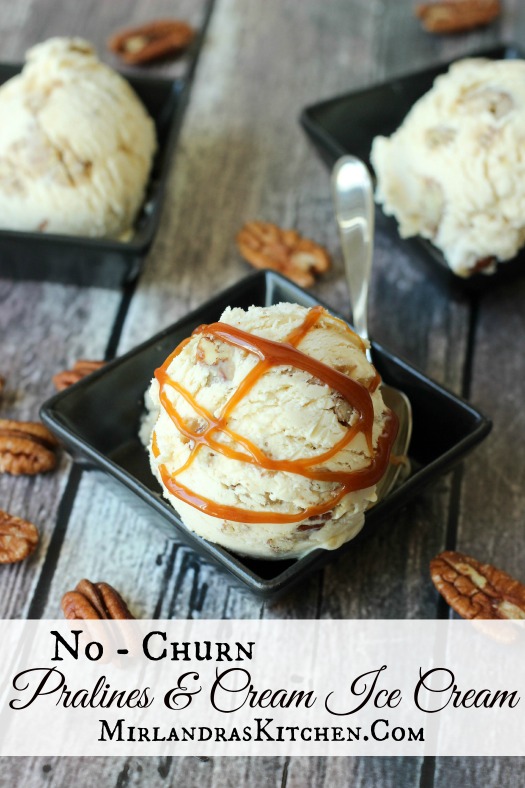 I love homemade ice cream but I used to feel it was too much hassle by far. Besides, my kitchen cabinets are exploding with equipment and tools. There is no room for a giant ice cream maker which is going to get used less than once a month. Ok, less than three times a year?
The No-Churn ice cream trend is a wonderful answer to this situation and the reason I whip up homemade ice cream from scratch all the time now. You really can't beat the "wow" factor of presenting somebody with a perfectly churned scoop of your homemade best and explaining you don't own a machine.
The best part of all is I know what went into the food. I chose the ingredients. I got to add whatever I wanted to flavoring and I know it is going to be creamy because I added actual cream – not milk and a seaweed thickener.
Unlike other no-churn ice creams, this version of Pralines and Cream Ice Cream will take you almost 20 minutes to get into the freezer because you are going to make the pralines from scratch. It is easy – you just stir the candy for a few minutes on the stove before making the base. My only problem is not eating all the pralines before I add them to the ice cream!
This ice cream is amazing by itself or drizzled with salted caramel sauce but it is also my go to for serving along with Apple Crisp!  I am convinced that my recipe for Apple Crisp is the best you will ever have.  Let me know how you like it with this ice cream!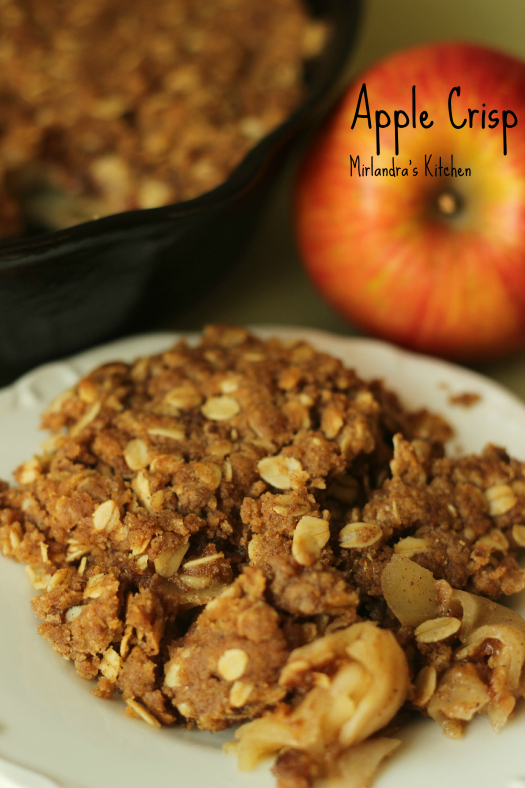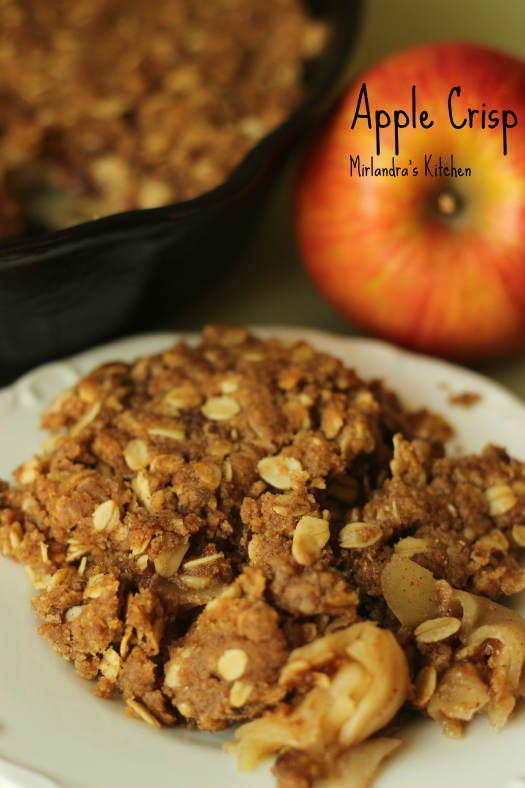 I freeze my ice cream in these class containers because we usually need some time to go through a batch. If you plan to eat it the same night by all means freeze it in a breadpan.  For longer term storage, make sure you have a container with a tight fitting lid.  If you use glass be careful not to set frozen glass on a hot surface because the glass can break.
No-Churn Pralines and Cream Ice Cream
Ingredients
To Make Pralines
1/2

cup

brown sugar

1/4

cup

white sugar

1/4

cup

heavy cream

2

Tbsp.

butter

1

cup

pecans

chopped
To Make Ice Cream
2 1/2

cups

heavy cream

1

can sweetened condensed milk

14oz

1/2

tsp.

vanilla

1/8

tsp.

salt
Instructions
Lay a piece of parchment paper on a cutting board and set aside.

Combine the brown sugar, white sugar, 1/4 cup cream and butter in a heavy bottom pan or skillet with a wide bottom (10"-12" is best) over medium heat.

Bring to a boil and cook for 3 minutes, stirring with a long handled wooden spoon. The sauce will be thick, bubbly, and smell like caramel.

Stir pecans in with a wooden spoon and remove from heat. Stir an additional 20-40 seconds until candy starts to firm up into clumps.

Quickly spared on parchment paper to cool.

In the bowl of a stand mixer fitted with a whisk combine 2 1/2 cups cream, sweetened condensed milk, vanilla and salt. Whip on high for 2 minutes until the mixture is thick and the beater is leaving a ribbon pattern in the ice cream.

Crumble the praline candy into the cream mixture and turn the mixer on low to stir it in.

Pour ice cream into your favorite freezer container and freeze until solid. I fill two bread pans about half full and it takes 6 hours. The more shallow the container, the faster the ice cream will freeze.

Serve with salted caramel sauce or hot fudge sauce as desired.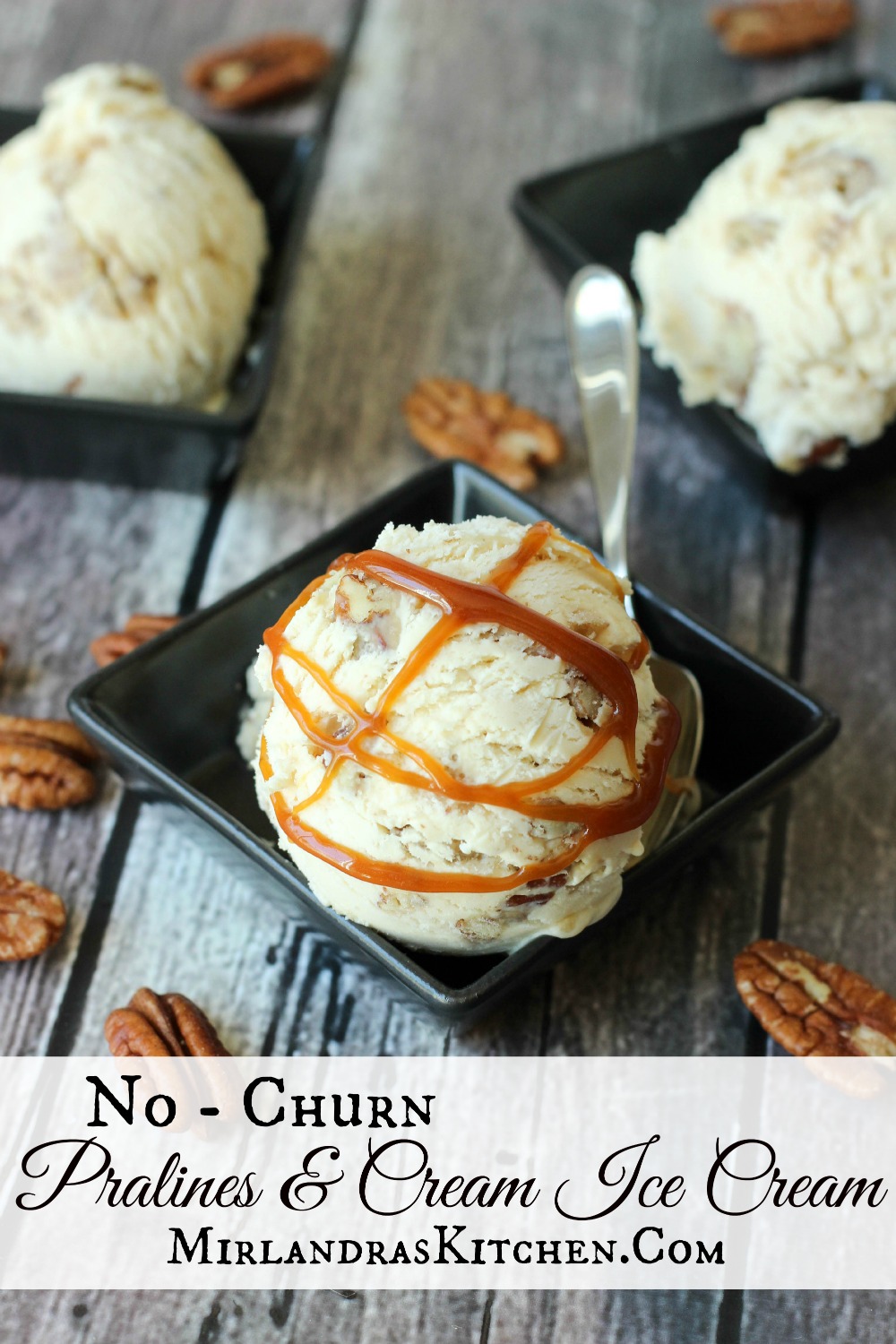 Free Simple Weeknight Meal Plan!
Sign up here for your free plan and start rocking dinner!