These delicate apple cupcakes are lightly flavored with Apple Beer or Apple Cider and frosted with a decadent Apple Beer® Buttercream. The cupcake batter is so lovely it is hard not to just eat it with a spoon. After they are baked, the cupcakes are tender and delicate with wonderful hints of green apples and vanilla. Maybe best of all, a simple one tip frosting method allows you to swirl on perfect frosting roses in less time than it would take to frost the cupcakes with a knife.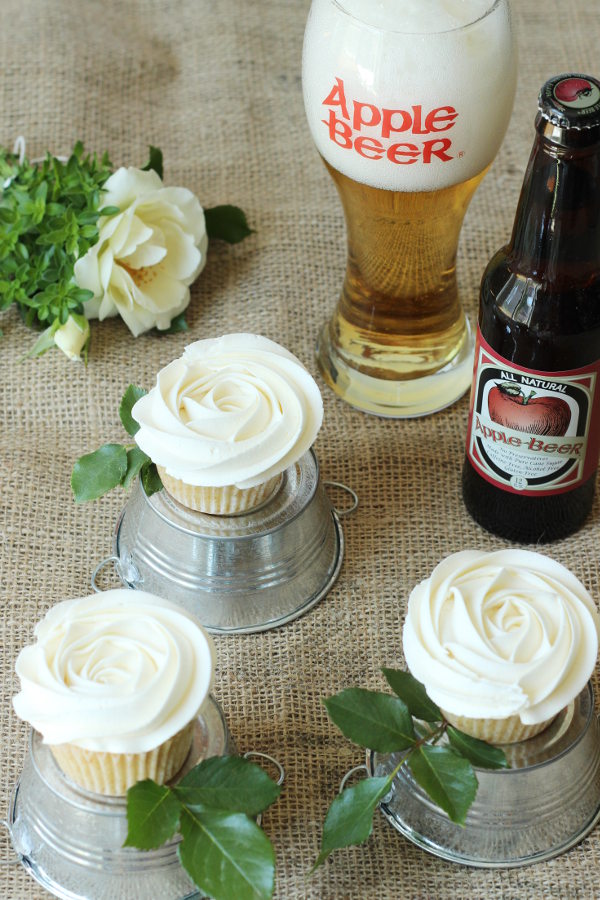 What do you get when you experiment with adding Apple Beer® to cupcake batter and buttercream frosting? Pure Magic! I would know as I have made seven batches of these delicious treats. In the end I distributed almost 200 cupcakes at various functions and got a lot of feedback along the way.
At the first party people went back for 4th and 5th cupcakes (not normal). At another party people selected cupcakes instead of chocolate cake. Then Jonathan took them to work and got mobbed. Everybody loved the cupcakes but the question I got over and over and over was, "WHAT is in that frosting??!!??"
The answer is Apple Beer®. Because it has a light, crisp flavor that is bright on the tongue, it gives the buttercream a delicate and unusual hint of apple! It is subtle enough that nobody could guess the secret ingredient.
I came across Apple Beer® last February and was instantly enchanted. The drink is elegant and perfect for celebrations or a quiet evening at home. It is always alcohol-free, caffeine-free, gluten-free, preservative-free and made only with pure cane sugar.
I know the frosting roses look complicated but don't be intimidated. It took me less time to pipe on the roses than it would have to frost the cupcakes with a knife! All I did was take a 1M tip from Wilton and pipe frosting on in a spiral. I tried to mess them up and the roses still looked great! You can buy the tip for less than $2 at a local craft store or it is available on Amazon
.
Because these cupcakes are so simple and unique (and beautiful) they are perfect for weddings, bridal showers, baby showers, and little girl birthday parties. Of course, I found they were wonderfully popular at BBQs and game night too!
Apple Cupcakes with Apple Beer Buttercream Frosting
Delicate apple cupcakes are lightly flavored with Apple Beer and frosted with a decadent Apple Beer® Buttercream. Easy frosting instructions for weddings are included.
Ingredients
Cupcakes
1

cup

salted butter

softened

1 3/4

cups

granulated sugar

3

eggs

room temperature

2

tsp.

real vanilla extract

3

cups

all purpose flour

2

tsp.

baking powder

1/2

tsp.

salt

3/4

cup

Apple Beer or apple cider

room temperature (a 12oz can is enough for cupcakes and frosting)
Frosting
2

cups

salted butter

softened

2

pounds

powdered sugar

1/2

tsp.

real vanilla extract

1/4

tsp.

salt

1/2

cup

Apple Beer®
Instructions
Preheat the oven to 350 F. Line muffin tins with cupcake liners.

In a stand mixer with the paddle attachment, beat the butter and sugar on medium-high for 2 minutes. Add the eggs one at a time beating after each addition. Add the vanilla after the last egg and beat again to incorporate.

With the mixer off, add the flour, baking powder and salt. Measure the Apple Beer® into a Pyrex style measuring cup with a spout.

Turn the mixer on medium-low and slowly pour in the Apple Beer® in a thin stream as the mixer forms the batter. When all the Apple Beer® has been added, turn the mixer up to medium and beat just until the batter is totally mixed. It will be smooth and fluffy. Do not overbeat.

Use a 1 1/4 oz size scoop to fill the muffin tins, one scoop in each liner.

Bake at 350 for 21-25 minutes. Avoid opening oven door as long as possible to prevent falling. Cupcakes are done when they spring back lightly to the touch and a tester inserted in the center comes out with crumbs. When cupcakes have cooled, make the frosting.

In the bowl of a stand mixer with the whip attached beat the butter and half the powdered sugar on medium until it is incorporated.

Add vanilla, salt and Apple Beer®. Beat until mixed in.

Add the rest of the powdered sugar and beat until incorporated. Scrape sides if needed.

Turn the mixer to high and beat for 3-4 minutes until the frosting is light and fluffy.

Fit a pastry bag with a Wilton 1M tip and fill 2/3 full of frosting.

Start at the middle of each cupcake and pipe slowly, moving counter-clockwise in a tight spiral until the outside edge is reached. This creates the pretty rose pattern pictured in this post. After you do one or two you can go much faster. It takes less time to pipe these roses on than it does to frost the cupcakes with a knife.

Serve with Apple Beer® or milk!
If you liked this post, you will love these beautiful Apple Rose Pies