These are my favorite brownies and one of my all time favorite desserts.  Every bite is chocolaty, rich and delicious without being heavy.   Our family version of Texas Sheet Cake.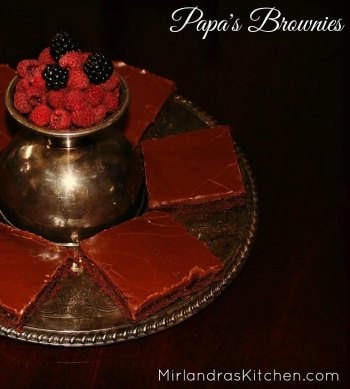 My Dad is a truly unforgettable man and, just like him, the brownies he bakes are legend. They are rich, chocolaty, and delicious without being heavy. As the family story goes, a friend threw a 30th birthday party for my Dad where everybody brought a dessert for a contest.  My Dad's job was to judge each dessert, and as he went down the line he tasted one after another until he got to these brownies.  There he stopped, declared them the winner and refused to try anything else!  Once you eat one, you will see why.  These slabs of chocolate decadence were a staple of my childhood – so much so you could make a family album with just photos where these brownies appeared at a family event. At one time, my mother even baked them and sold them to the Peacock Tavern in downtown Corvallis, OR.  I make these very much the way my Dad always did but when I'm home to visit I often ask him make a pan because his just taste, well, like love.  Don't you wish there was a warm pan of this in your kitchen right now?  I wish you many, many, many wonderful memories with my Dad's wonderful brownies.
Update: A reader asked about getting these brownies to rise evenly.  The most common problem with uneven rise comes from using a cheap, flimsy baking sheet.  I use and love Calphalon baking sheets.  They do a great job and have proved very durable in my kitchen.  I checked Amazon today and their normal price is good.  Click Here To See: Calphalon Nonstick 2-Piece Baking Sheet Set
Papa's Brownies
Ingredients
2

cups

flour

2

cups

sugar

1

teaspoon

salt

1

teaspoon

baking soda

½

cup

milk

2

large eggs

1

Tablespoon

real vanilla extract

½

cup

butter

4

Tablespoons

unsweetened baking cocoa

½

cup

oil

1

cup

water
For the Frosting
½

cup

butter

1/3

cup

milk

4

Tablespoons

unsweetened baking cocoa

1

lbs

powdered sugar

1

Tablespoon

real vanilla extract
Instructions
Preheat oven to 350F. Line a rimmed cookie sheet or jellyroll pan (about 12x17) with parchment paper or spray with nonstick spray. The parchment paper protects the pan when you cut the brownies.

In a medium mixing bowl whisk together flour, sugar, salt, and baking soda.

Measure milk in a glass measuring cup. To that add eggs and vanilla. Whisk with a fork and set aside.

In a medium-large saucepan, put butter, cocoa, oil, and water. Bring to a boil over medium heat, whisking continuously so it does not burn. Boil for about 30 seconds to get cocoa well cooked. Pour over flour mixture while hot.

Stir until halfway mixed, add milk mixture. Whisk until just combined and not lumpy.

Pour into pan and bake at 350 for 15-18 minutes. The brownies are done when a toothpick comes clean and corners of the cake just start to pull away from the edges of the pan.

While the brownies are baking, start the frosting. Put the butter into the pan you used for brownies, no need to clean in-between. Leave the pan on low heat so butter starts to melt.

When the brownies have been in for 12 minutes turn the pan up to medium. Add the milk and cocoa. Bring to a simmer and cook for about 30 seconds. Remove from heat and whisk in powdered sugar and vanilla. Make sure to whisk out any lumps of sugar.

When they are done, remove brownies from oven and spread frosting over them while both are still hot. If your frosting becomes too firm before you pour it, whisk in an extra splash of milk to loosen it up. Spread with a rubber spatula. Lick the pan...

As soon as the frosting sets you can cut and serve the brownies. These go great with a scoop of vanilla ice cream.
Reader Interactions