Texas Sheet Cake is a legendary dessert. This is the BEST Texas Sheet Cake recipe – easy, light and fluffy and VERY decadent.  Every bite is chocolaty, rich and delicious without being heavy.   My Daddy made these famous and we called them Papa's Brownies growing up.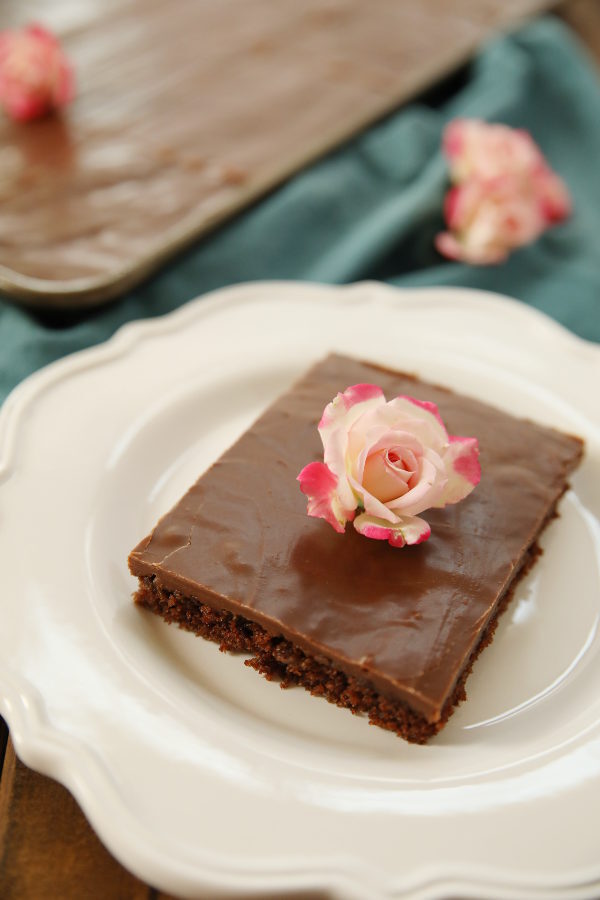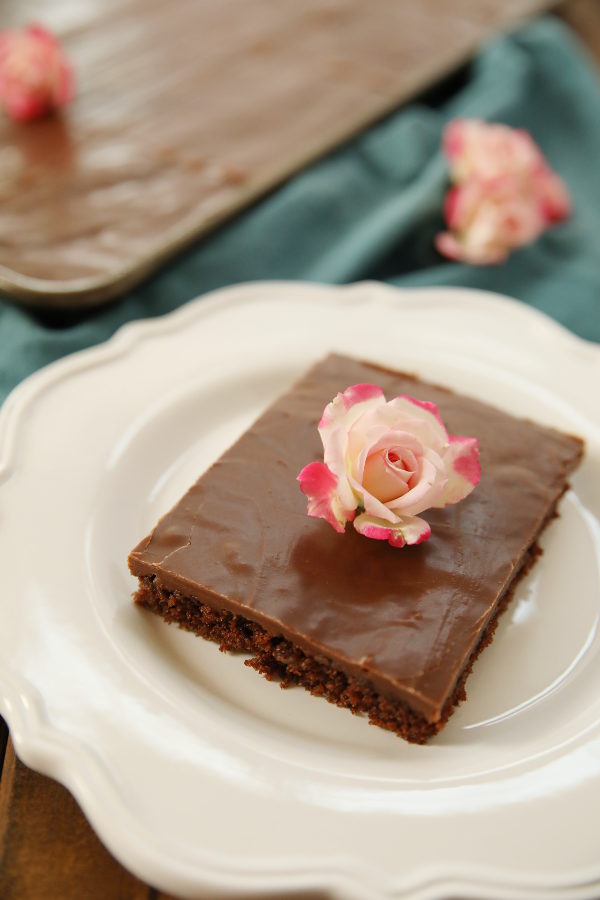 An Unforgettable Texas Sheet Cake Recipe
My Dad is a truly unforgettable man and, just like him, the Texas Sheet Cake he used to bake is family legend.  As the family story goes, a friend threw a 30th birthday party for my Dad where everybody brought a dessert for a contest.  My Dad's job was to judge each dessert, and as he went down the line he tasted one after another until he got to the Texas Sheet Cake.  There he stopped, declared them the winner and refused to try anything else!
These giant pieces of chocolate sheet cake were a staple of my childhood – so much so you could make a family album with just photos where they appeared at a family event.  We called them Papa's Brownies until my brother married a Texas woman and we learned that the recipe was actually for Texas Sheet Cake! Dad passed away in 2016 but we remember him with every pan of Papa's Brownies we make.
Other Uses for Texas Sheet Cake Frosting
The frosting in this Texas sheet cake recipe is amazing.  It is easy to make and has great chocolate flavor.   Over the years I've used it for many other things.
Texas Sheet Cake Ingredients
There are lots of several ingredients that are popular variations for Texas Sheet Cake.  I'm going to address the most common ones here:
Sour Cream: I make Texas Sheet Cake without sour cream.  I don't think it makes anything better.
Cake Mix: NO!!!  You can't use a cake mix here.  And you don't need to – the recipe is already crazy simple.
Buttermilk:  I've used and not used buttermilk for my Dad's Texas sheet cake and in the end I don't think it really matters.
Nuts:  I don't enjoy nuts on Texas sheet cake.  But that is because I'm a texture person and I don't like the crunchy with the tender cake.  If you want to try this use a cup of chopped pecans or walnuts.  You can sprinkle them on top or stir them into the frosting.
Vegetable Shorting:  This is a common ingredient to original recipes for Texas Sheet cake.  Butter is a great replacement here so I avoid the shorting.  Some baking recipes really benefit from shorting.  I would never make my pound cake or peanut butter blossoms without it!  But Texas Sheet Cake is not one where it matters.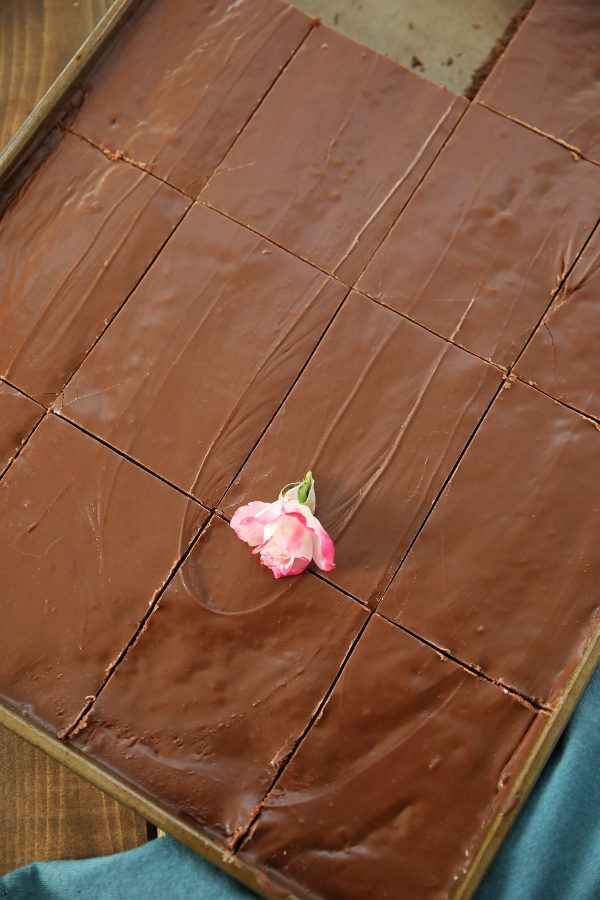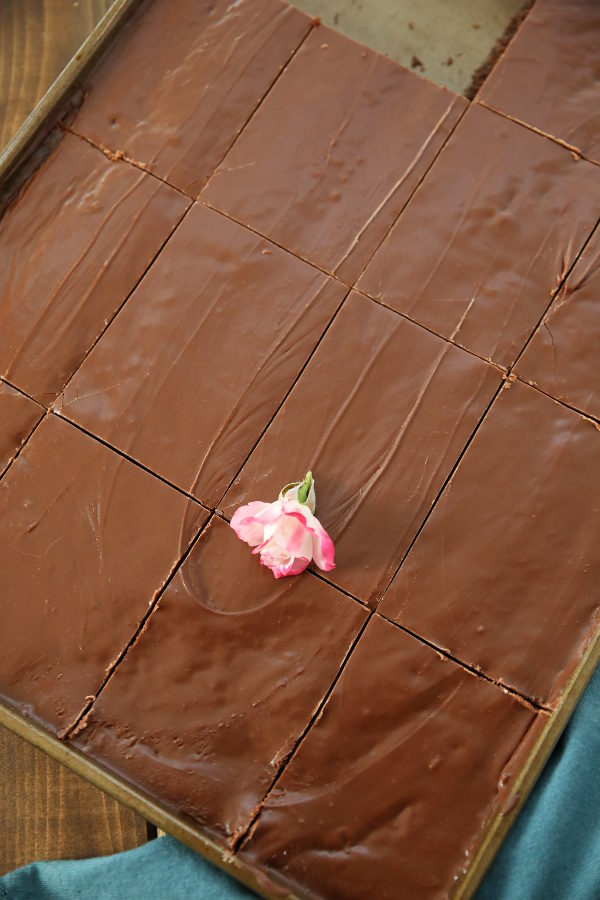 Why Is it Called Texas Sheet Cake?
I love the lore around classic recipes that have been around forever!  Nobody knows the history of Texas Sheet Cake for certain.  Some say it is because it is a cake the size of Texas.  (Everything is bigger in Texas, right?) But the most likely is that current recipes are similar to one published in the Dallas Morning News in 1957.  The recipe became very popular and spread from Texas all over the US.
To me this is a classic recipe on the level of great chocolate chip cookies – a recipe that everybody should make often and that children should be raised with.  So hats off to the Texans of Dallas or whoever got this particular one going!
What Size of Sheet Cake Pan Do You Need for Texas Sheet Cake?
Sheet cakes are baked in a 13×18″ sheet pan.  This is also known as a bakers half sheet.  Think of this as a standard cookie pan or jelly roll pan – it is a common household pan versus a full sheet pan which is only common in commercial kitchens.
Buy a Good Quality Pan for Great Sheet Cake
Texas Sheet Cake taught me a valuable cooking lesson! Using a thin, flimsy, cheap sheet pan makes Texas sheet cake rise in hills!  Then the frosting goes all over!  You don't have to spend a ton of money to get a solid sheet pan that will last for years.  But you should invest in one.  I
I use and love Calphalon baking sheets for Texas Sheet Cake.  Expect to pay about $15 / pan give or take.
MORE CHOCOLATE CAKE Recipes TO LOVE
Papa's Brownies
This is the BEST Texas Sheet Cake recipe - easy, moist, full of chocolate.  Every bite is chocolaty, rich and delicious without being heavy.   My Daddy made these famous and we called them Papa's Brownies growing up. You can cut these into 16 large pieces or 32 smaller squares. I always cut them into 16 just like my Daddy did.
Ingredients
For The Cake
½

cup

butter

½

cup

oil

1

cup

water

4

Tablespoons

unsweetened baking cocoa

2

cups

flour

2

cups

sugar

1

teaspoon

salt

1

teaspoon

baking soda

½

cup

milk

2

large eggs

1

Tablespoon

pure vanilla extract
For the Frosting
½

cup

salted butter

1/3

cup

milk

4

Tablespoons

unsweetened baking cocoa

3 1/2

cups

powdered sugar

this is a one pound bag

1

Tablespoon

pure vanilla extract
Instructions
For the Cake
Preheat oven to 350F. Line a rimmed cookie sheet or jellyroll pan (about 12x17) with parchment paper or spray with nonstick spray. The parchment paper protects the pan when you cut the cake.

Combine butter, oil, water and cocoa powder in a large sauce pan. Bring to a boil over medium heat, whisking frequently so it does not burn. Boil for 30 seconds and remove from heat.

Meanwhile whisk together flour, sugar, salt, and baking soda in a medium mixing bowl.

Measure milk in a glass measuring cup. To that add eggs and vanilla. Whisk with a fork and set aside.

Pour the cocoa mixture (still hot) over the flour mixture. Stir until halfway mixed, add milk mixture. Whisk until just combined and not lumpy.

Pour into pan and bake at 350 for 15-18 minutes. The cake is done when a toothpick inserted in the center comes clean and corners of the cake just start to pull away from the edges of the pan. (Start working on the frosting while the cake is baking.)
For the Frosting
Put the butter into the pan you used for brownies, no need to clean in-between. Leave the pan on low heat so butter starts to melt.

When the cake has been in for 12 minutes turn the pan up to medium. Add the milk and cocoa. Bring to a simmer and cook for about 30 seconds. Remove from heat and whisk in powdered sugar and vanilla. Make sure to whisk out any lumps of sugar.

Use a rubber spatula to spread hot frosting over hot cake. If your frosting becomes too firm before you pour it, whisk in an extra splash of milk to loosen it up. (Lick the pan...)

As soon as the frosting sets you can cut and serve the cake. These go great with a scoop of vanilla ice cream. Store leftover cake tightly covered at room temperature for up to five days.
Nutrition
Calories:
445
kcal
|
Carbohydrates:
65
g
|
Protein:
3
g
|
Fat:
20
g
|
Saturated Fat:
8
g
|
Cholesterol:
52
mg
|
Sodium:
331
mg
|
Potassium:
79
mg
|
Fiber:
1
g
|
Sugar:
52
g
|
Vitamin A:
405
IU
|
Calcium:
26
mg
|
Iron:
1
mg
Nutrition Disclaimer
MirlandrasKitchen.com is written to share great recipes. While we do our best to provide nutritional information as a general guideline, we are not registered dietitians and the values provided here should be considered estimates – not exact scientific data.
I read each and every comment and I try to respond to questions asap, so ask away! If you've made a recipe, I would love to hear about it! Please come back and share your experience and give the recipe a 5-star rating so other people will know how much you loved it!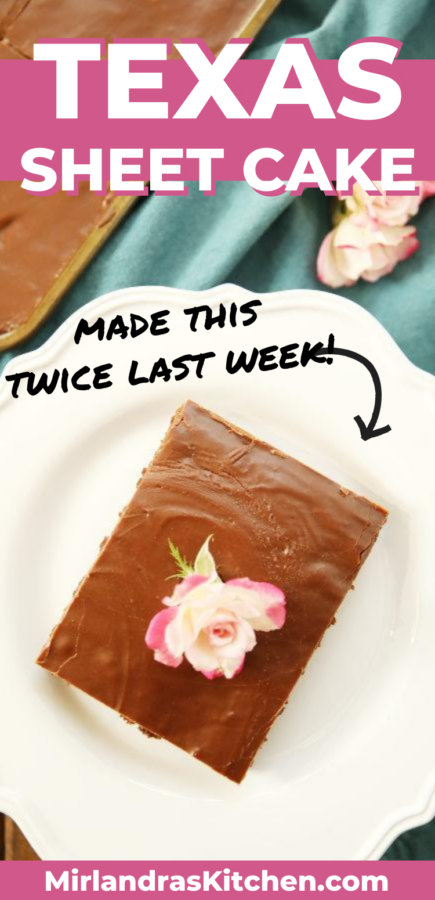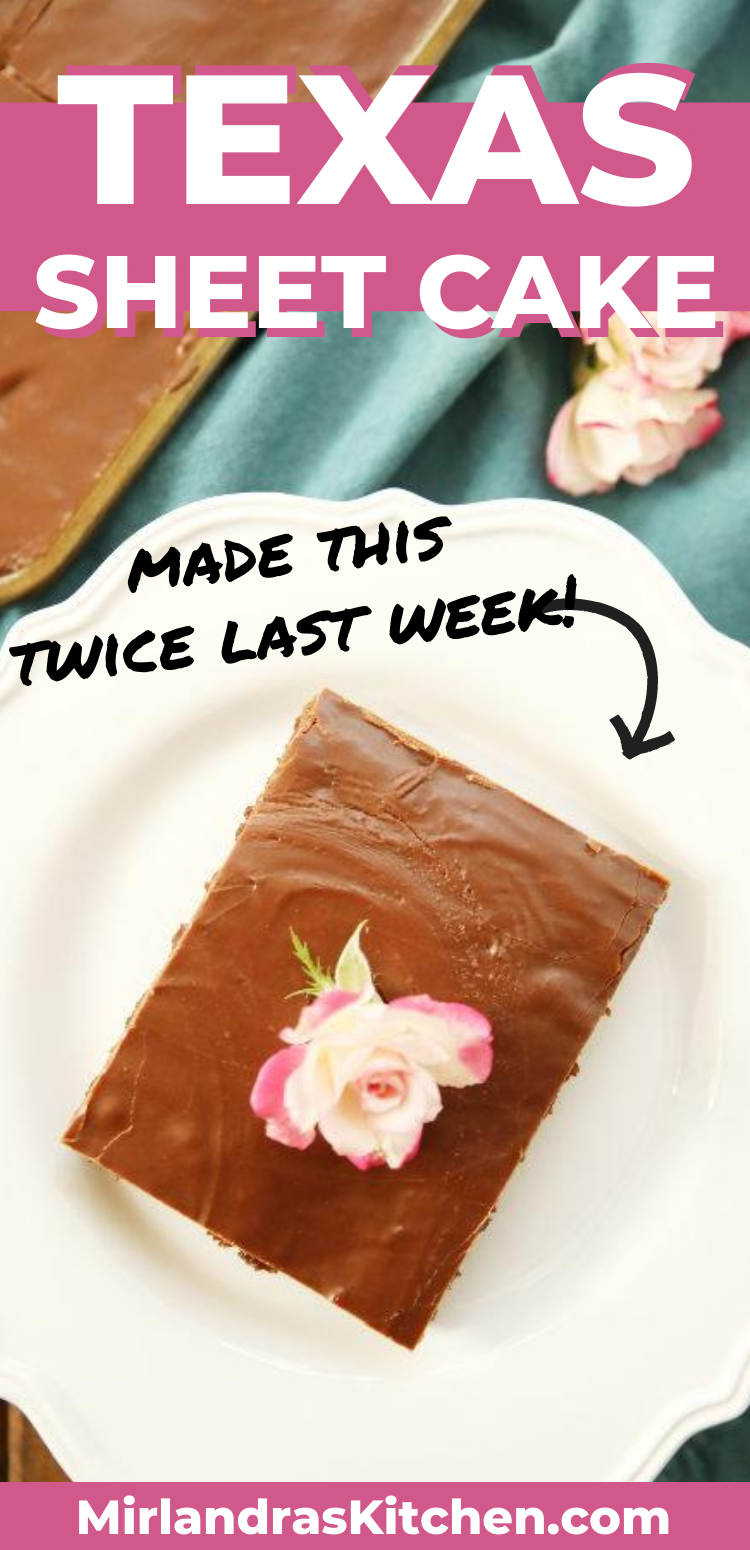 This recipe was originally published in June of 2014.  It was one of my very first posts on Mirlandra's Kitchen.  The photos and content have been updated in August of 2020.  You can view the original photo below.