Chocolate cake lovers rejoice! This is a brilliant, moist chocolate cake. The filling is a sweet, creamy vanilla mouse just like the Costco cake filling. The frosting is a simple riff on chocolate ganache. And most amazing of all? Everything hinges on using a doctored up chocolate cake mix! My taste testers couldn't believe the foundation of the cake was a mix – they thought it was the best chocolate cake they had ever had!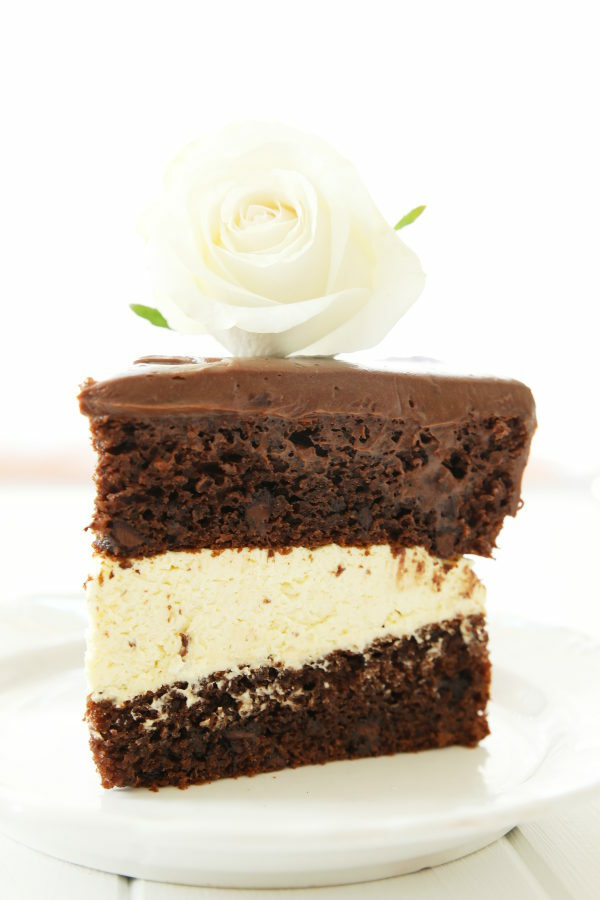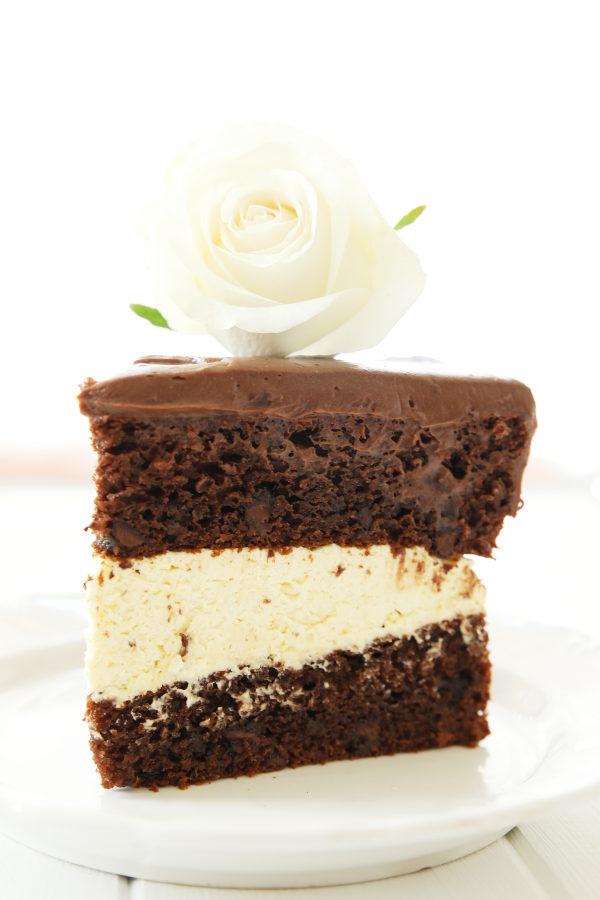 Saying that I love chocolate cake doesn't quite cut it!  I am in fact deeply passionate about over the top, decadent, amazing chocolate cake! I'm also discovering that I love chocolate cakes that have different kinds of flavors and textures – for example this cake where there is a smooth, creamy vanilla mousse filling a moist chocolate cake with chocolate chips baked in.  All the textures and flavor profiles are a wonderful mouth adventure!
And while this cake looks crazy elegant, it is in fact a simple and laid back recipe!  That, my friends, is baking heaven!
An Epic Chocolate Cake Recipe
Most chocolate cakes are good – they taste like chocolate so YUM!  But some chocolate cakes are epic – over the TOP.  What is the difference?
A truly epic chocolate cake should be moist and have a strong chocolate flavor. It needs to hold up on your fork but then melt perfectly in your mouth. The chocolate flavor should be enhanced with vanilla or almond extract or coffee. And the frosting should compliment and build on the flavors instead of detracting.
I feel it is safe to saw I've got all those boxes checked in this recipe!
Making Chocolate Ganache Frosting
Traditional chocolate ganache frosting is made by heating cream and then melting chocolate into it.  The flavor is rich and decadent but it is also a bit heavy.  I find that first time ganache makers need a bunch of tips or they don't nail it out of the gate.
For this recipe I've riffed a bit off of true ganache to shift the flavor of the frosting and simplify the process for beginning bakers.  A hint of brown sugar brings out an almost caramel flavor behind the chocolate which is sensational!
The Costco Vanilla Mousse Cake Filling Recipe
I'm a long time lover of Costco Cakes!  I confess – they are a favorite of mine! It is the filling – the filling is just wonderful! For this chocolate cake I'm doing an easy version of Costco's vanilla mousse cake filling.  It is thick and creamy yet fluffy.  And the best part is that it is SIMPLE – just a few easy ingredients and it whips together in a moment.
Tips and Tricks for Box Chocolate Cake Mix Recipes
A good quality cake mix is a simple short cut to amazing cake that tastes better than homemade!  You just need a few simple tricks.
 Use a good quality mix – I only use Betty Crocker cake mixes for these kind of recipes
 Add more real ingredients! I use yogurt, oil, vanilla pudding, an extra egg and real vanilla to bring up the flavor!
Add more chocolate – true chocolate cake lovers want their chocolate! I add 2 cups of chocolate chips to make sure there is plenty of chocolate in this cake.  Every bite has chocolate chips in it – delicious!
Don't tell!  (I'm not kidding – my taste testers said this was the best chocolate cake they had ever had!  They were shocked I had used a mixx)
More Chocolate Cakes to Love
Chocolate Cake with Ganache and Vanilla Mousse Filling
This is a chocolate cake to put other chocolate cakes to shame! The basic cake is built around some cake mix hacks to keep the baking simple but with true homemade flavor. The vanilla mousse filling is also very easy to whip up. Instead of having to fuss with frosting the cake you just pour an easy ganache over the top layer – chocolate and done! Please note that this cake is best served chilled and that the leftovers have to be refrigerated.
Ingredients
For the Cake
1

package Devil's food cake mix 15.25oz

Betty Crocker Preferred

1

package vanilla instant pudding mix 3.3 or 3.4oz

1

cup

low fat plain yogurt

can sub any plain yogurt any fat content

1

cup

vegetable oil

4

large eggs

½

cup

warm water

1

teaspoon

pure vanilla extract

2

cups

semisweet chocolate chips
For the Vanilla Mousse Filling
2

cups

heavy whipping cream

1/3

cup

powdered sugar

1

teaspoon

pure vanilla extract

1

small box vanilla instant pudding mix

3.3 or 3.4 oz
For the Ganache Frosting
1 1/2

cups

heavy whipping cream

1 1/2

cups

real semi-sweet chocolate chips

1/4

cup

brown sugar

1/4

cup

salted butter

1/4

teaspoon

pure vanilla extract

1/4

teaspoon

salt
Instructions
Tip: A great cake is baked in such a way that it rises flat and doesn't need to be leveled! The sides and bottom will be more tender and the entire cake is taller and more fluffy. See the full tutorial here.
To Make the Cake
Preheat the oven to 350 F. Line two 9" round cake pans with parchment paper and grease the sides.

Combine everything for the cake except the chocolate chips.

Beat on low speed with an electric mixer for two minutes, scraping the bowl as needed. Alternately beat by hand for two minutes. (Failing to beat for two full minutes will result in a cake that does not rise.)

Stir in chocolate chips.

Divide the batter into the pans. Bake until a toothpick inserted in the center comes out with moist crumbs but no actual batter. 25-30 minutes

Cool on rack until cake is completely cool
To Make the Vanilla Mousse Filling
This filling sets up quickly so be ready to put it on the cake as soon as it is made.

When the cake has cooled place the first layer of cake on your plate or cake stand.

Add whipping cream, powdered sugar and vanilla extract to a large bowl or stand mixer. Whip on high for a few minutes until peaks form.

Add the pudding mix and beat on slow speed until combined. Scrape down the sides with a rubber spatula making sure all the pudding mixture is incorporated.

Continue to beat on slow speed just until the mousse has become thick and creamy.

Spread all of the filling on the cake – it will be about 1" thick.

Place the 2nd layer of cake on top of the filling and then prepare the frosting.
To Make the Ganache Frosting
In a large sauce pan over medium heat, bring cream to a simmer. You do not have to stir but watch that it does not go past a simmer.

Add chocolate chips and brown sugar. Stir until all the chips are melted, removing from heat when they are half melted.

Add the butter, vanilla and salt. Stir until combined and the sauce is smooth without any sugar grains.

Let sauce cool for 10 minutes and then pour over the cake. Start pouring over the middle of the top and gently spread out to the sides until the frosting drips down over the sides.

Place finished cake into the refrigerator until ready to serve. This cake is best served chilled.

Leftovers should be refrigerated and will be good up to three days.
Notes
When it comes to boxes of cake mix not all brands are created equal. Personally, I always buy Betty Crocker as the quality is the best of all the name brands. I suggest starting with a good quality Devil's food cake mix for the best results.
Nutrition
Calories:
868
kcal
|
Carbohydrates:
27
g
|
Protein:
6
g
|
Fat:
45
g
|
Saturated Fat:
27
g
|
Cholesterol:
163
mg
|
Sodium:
139
mg
|
Potassium:
296
mg
|
Fiber:
2
g
|
Sugar:
20
g
|
Vitamin A:
1243
IU
|
Vitamin C:
1
mg
|
Calcium:
114
mg
|
Iron:
2
mg
Nutrition Disclaimer
MirlandrasKitchen.com is written to share great recipes. While we do our best to provide nutritional information as a general guideline, we are not registered dietitians and the values provided here should be considered estimates – not exact scientific data.