Mixed berry jam is wonderfully flavorful and simple to make. After trying such a delicious three berry jam you will never want to buy jam at the store again. We use it on  toast, waffles, sandwiches, stirred into yogurt and even as a ice cream topper!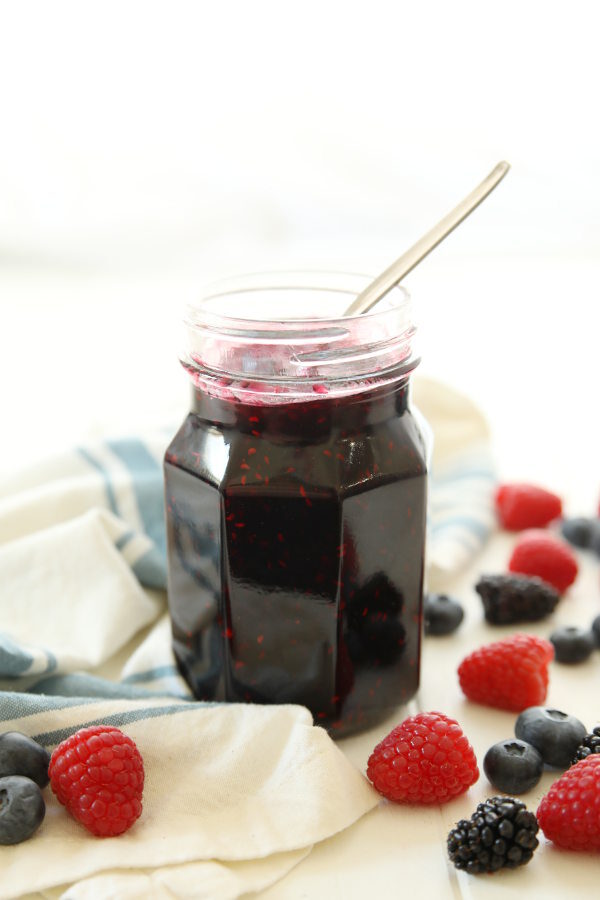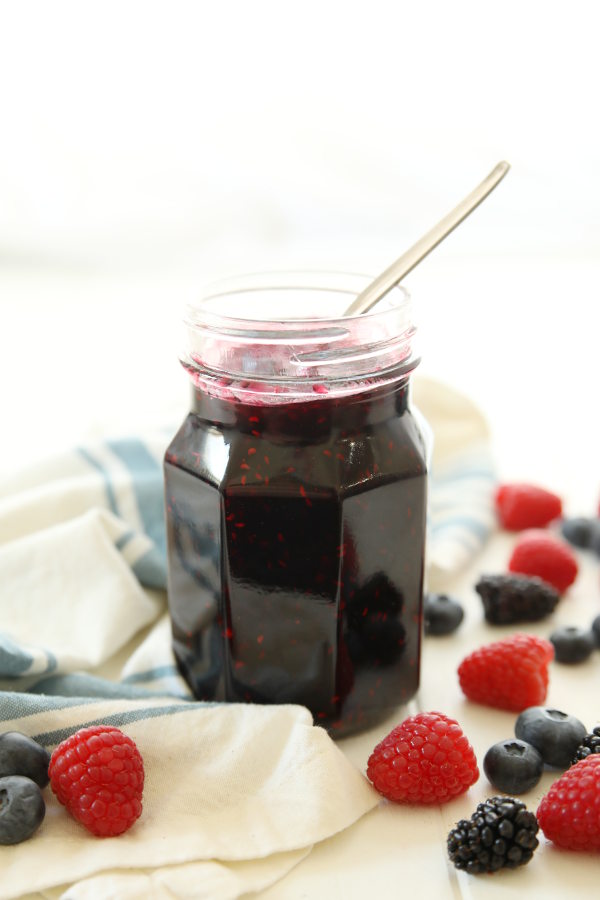 Homemade jam is one of life's special treats! It always tastes way better than the store bought jams which are low on fruit and high on corn syrup.  In college I lived in Spain for a season and fell hard for a popular European jam called "fruits of the forest."  It was just a high quality mixed berry jam but the flavor of the berries in combination was amazing.  In America jam is usually one flavor from one fruit. This mixed berry jam had so many flavors coming together that the jam was an experience all by itself! I've been making mixed varieties of jam ever since!
This past winter my son, Jack, was old enough to get involved in jam making. He fell in love with the process and we ended up naming this special blend Jack's 3 Berry Jam.  He loved putting up jars of jam for us to eat and to give out as Christmas gifts. Of all the jams we make, this one is our favorite!
How to Make Jam
People generally believe that making homemade jam is hard or somehow complicated.  But it is actually easy!  I'm not kidding that my FOUR YEAR OLD helps me make jam.  It takes just six simple steps to make jam!
 Mash or crush the fruit until all the berries are broken up.
Add lemon juice and butter.
Measure the sugar and whisk in the powdered pectin.
Bring the mashed berries to a boil.
Add the sugar mixture and cook.
Put the jam in jars.
How to Can Jam
Unless you plan to eat a jar of jam every few days the simplest way to store your jam is canning it in a water bath canner. This is easy enough to do in five simple steps.
Prep your canning supplies.
Make the jam.
Fill your jars.
Top with lids.
Process the jars for 10 minutes (or more if you live about 1,000 feet – see recipe note).
If you are new to water bath canning check out my beginners guide with all the information you need about equipment and getting started.
What is the difference between Jam, Preserves & Jelly?
Most Americans use the terms "jam" and "jelly" to mean some sweetened fruit spread that goes on a PB and J.  However, they are different foods.  Curious?
Jam is made from the whole fruit.  Pits are removed but berry seeds are not.  The fruit is mashed up, sweetened and usually thickened with pectin.
Preserves are made from larger chunks of  chopped fruit mixed with a sweet syrup before being put in a jar.
Jelly is made from the juice of fruit with all the seeds and pulp removed.
How To Eliminate The Foam on Top of Homemade Jam
Lots of jam recipes tell you to skim the foam off the top before you put it into jars.  I just toss a little bit of butter into the jam and this prevents it from foaming!  I use one little teaspoon of butter with 6 cups of berries so it is a very tiny bit of butter! But it solves the problem – no foam to deal with!
Using Frozen Fruit to make Jam
Did you know you can use frozen fruit to make amazing jam? Fresh fruit is usually more expensive than frozen fruit and it can be impossible to get good fresh fruit in the winter.
Summer is busy and warm.  I prefer to make my jam in the winter when things are quieter.  For this mixed berry jam I actually buy the frozen berry blend at Costco.  It is a high quality frozen fruit mixture that makes great jam.  Thaw the berries before measuring them and you are good to go!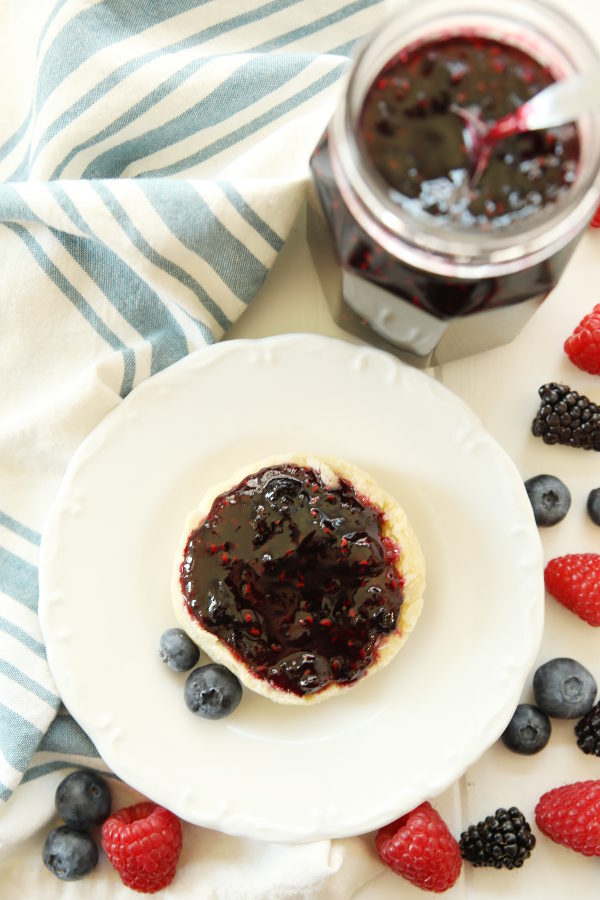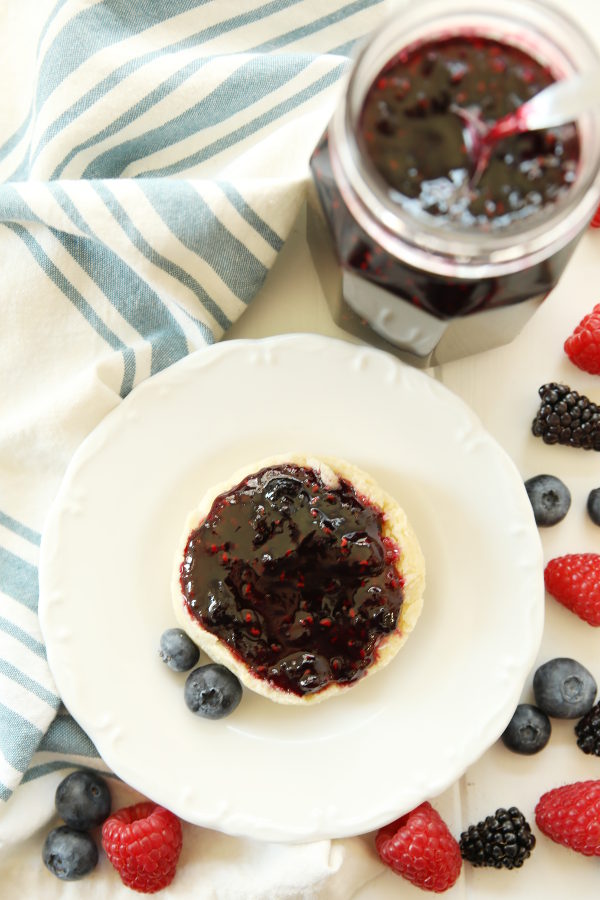 Giving Homemade Jam for Gifts
Homemade jam makes a lovely gift!  I like to can it in half pint jars for a gift size.  You can use a cute label like this one that makes the jar pretty and then just washes off with water.  It is easy and cost effective to just tie a pretty string or ribbon around the neck of the jar.  You can string a little cardboard label through the ribbon if you like.  I give jars of jam for lots of occasions:
Christmas
White Elephant / Snatchy Party / Gift Exchange / Secret Santa
Birthday's
Bridal Shower / Wedding – a fun stock the pantry gift (You could include the recipe and some other items from the registry.)
Get Well / Meal Delivery with a loaf of homemade bread
you will love these easy homemade jam recipes
Mixed Berry Jam - Jack's 3 Berry Jam
Mixed berry jam is wonderfully flavorful and simple to make. After trying such a delicious three berry jam you will never want to buy jam at the store again. We use it on  toast, waffles, sandwiches, stirred into yogurt and even as a ice cream topper!
This recipe takes about 40 minutes to make and fill the jars. It makes 10 cups of jam which is 5 pint jars or 10 half pint jars.
The nutritional information is based on a serving of jam being 1 Tablespoon. (There are 16 tablespoons in a one cup / half pint jar.)
Ingredients
6

cups

crushed berries

see note

¼

cup

lemon juice

1

teaspoon

butter

see note

8 ½

cups

sugar

1

box fruit pectin such as MCP
Instructions
Prep For Canning
Fill water bath canner about 2/3 full with hot water and start bringing to a boil while you prepare the jam.

Set out clean jars, lids, canning funnel, ladle and jar lifter.
Make the Jam
Mash or crush fruit until all the berries are broken up. Measure out 6 cups of crushed berries and put into a large pot.

Add the lemon juice and butter.

Measure the sugar into a separate bowl. Whisk in all of the pectin and set aside.

Bring the berry mixture to a full rolling boil (a boil that doesn't stop bubbling when stirred) over high heat. Stir constantly with a wooden spoon or spatula to make sure jam does not burn.

Add the sugar mixture to the fruit and return to a full rolling boil.

Boil for exactly 4 minutes stirring constantly.

If you didn't use butter, skim any foam off now.
Can (Process) the Jars of Jam
Immediately ladle the jam into prepared jars leaving 1/4" head space in each jar.

Use a damp cloth to wipe off the jar rims and threads.

Cover with two-piece lids and place on the rack in canner of boiling water. If the water does not cover your jars by 1"-2" add more boiling water to cover.

Bring the canner back to a gentle boil. Process 10 minutes adjusting time as necessary for altitude. (See Note).

Use the jar lifter to remove jars and place on a towel to cool completely.

After the jars are cool check the seals by pressing a finger into the center of each jar. If the lid pops back up then the jar did not seal and should be stored in the refrigerator for up to a month.

Sealed jars can be stored out of direct light for up to two years.
Notes
What Kind of Berries: I use a combination that is about equal parts raspberries, blueberries, and blackberries. You can mix up this combination however you like!
How Much Fruit to Buy: 1 pound of fresh or frozen berries is about 2 cups crushed. I would buy 12-13 cups of fresh or frozen berries to make this recipe. I buy the mixed berry blend at Costco. The four-pound bag is about perfect for this recipe.
Butter: Using a tiny amount of butter stops the jam from foaming. If you need a dairy free option leave the butter out. If the jam foams too much just skim off the foam before you load it into the jars.
Altitude: Pints and half-pints should be processed a minimum of 10 minutes in a water bath canner.
If you live above 1,000 feet add more time to adjust for altitude: 1,001 - 3,000 feet add 5 minutes. 3,001 - 6,000 feet add 10 minutes. 6,001 - 8,000 feet add 15 minutes. 8,001 - 10,000 feet add 20 minutes.
Nutrition
Calories:
45
kcal
|
Carbohydrates:
11
g
|
Protein:
1
g
|
Fat:
1
g
|
Saturated Fat:
1
g
|
Cholesterol:
1
mg
|
Sodium:
1
mg
|
Potassium:
1
mg
|
Sugar:
11
g
|
Vitamin A:
1
IU
|
Vitamin C:
1
mg
|
Calcium:
1
mg
|
Iron:
1
mg
Nutrition Disclaimer
MirlandrasKitchen.com is written to share great recipes. While we do our best to provide nutritional information as a general guideline, we are not registered dietitians and the values provided here should be considered estimates – not exact scientific data.
I read each and every comment and I try to respond to questions asap, so ask away! If you've made a recipe, I would love to hear about it! Please come back and share your experience and give the recipe a 5-star rating so other people will know how much you loved it!