Bursting with flavor, Dried Apricot Jam is easy to make in the cool months and perfect for Christmas gifts. No pectin is required and the jam is ready in 35 minutes.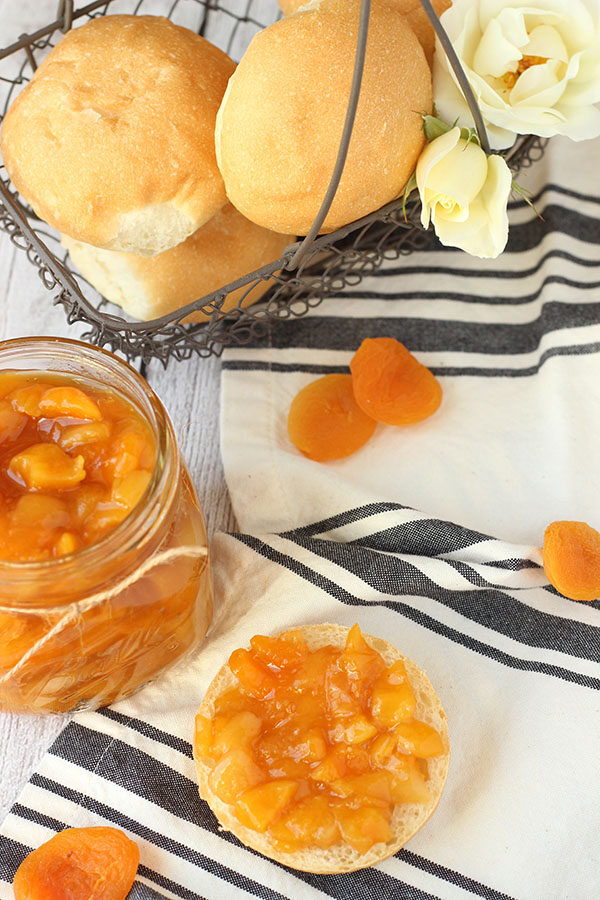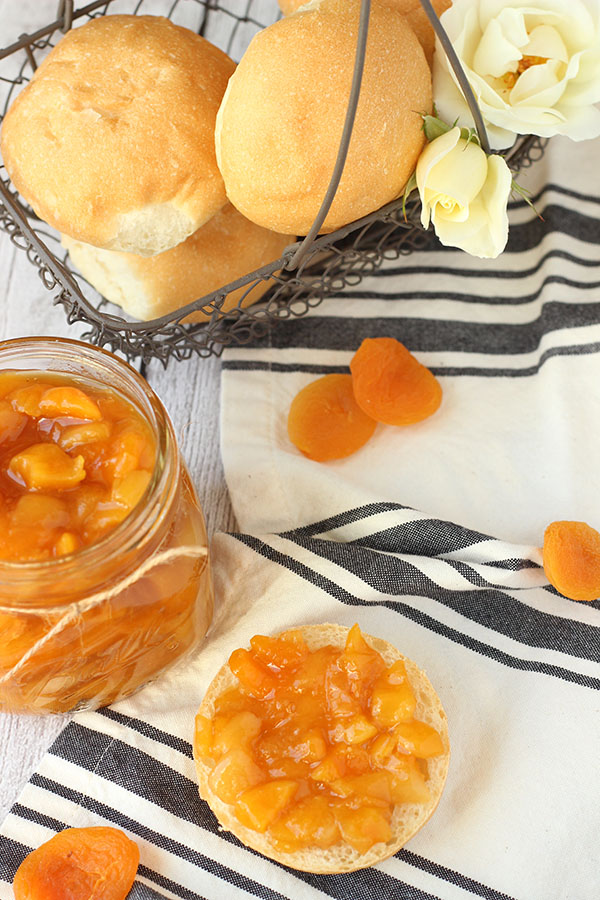 Dried Apricot Jam for the win!  I have been cooking up Christmas gifts this past week.  No, I'm not totally crazy!  My family is coming to town for Thanksgiving and I much more enjoy giving gifts in person.  Besides, who wants to pay the shipping?  My mom is really easy to make gifts for because she likes almost anything I do. Moms, huh?  But my Dried Apricot Jam is a special favorite of hers.
Why Make Jam With Dried Apricots Instead of Fresh?
When you dry an apricot the flavor is concentrated and magnified.  When you add a bit of water and boil them up into jam the final product is really a bit exotic.
It has a lot more punch than fresh fruit jams.  Apricots also have natural pectin in the fruit so you don't have to fuss with getting the jam to jell.
The process is so simple I think a monkey could do it – if I would let one in my kitchen.  (For health, safety and sanity PLEASE don't let monkeys in your kitchen!)
How To Make Dried Apricot Jam
Cut fruit.  Boil fruit and water.  Stir in sugar.  Look, you made jam!  Honestly if you have kids that are old enough to use scissors and not stick their hands into boiling fruit this might be a great project to do with them.  Children love to give gifts they made themselves and watch others enjoy them.
I have three jars of lovely Dried Apricot Jam waiting in the freezer for my mom.  Who will you be making some for?
Tools For Making Dried Apricot Jam
Kitchen tools don't have to be expensive.  Sometimes you get what you pay for and sometimes you pay too much for what you get.  I use scissors all day long in the kitchen.
I cut pizza, I snip herbs, I cut raw chicken, I cut up dried fruit or fresh fruit or canned tomatoes.  I have multiple pairs of scissors around because I use them so much.  Many kitchen scissors are either crummy or ultra expensive.
I now buy three packs of these Scotch scissors and use them for food.  They go through my dishwasher every day.  In my opinion, anybody who cooks should own a pack of these.
Like unique jams?  You might enjoy my lovely Peach Melba Jam!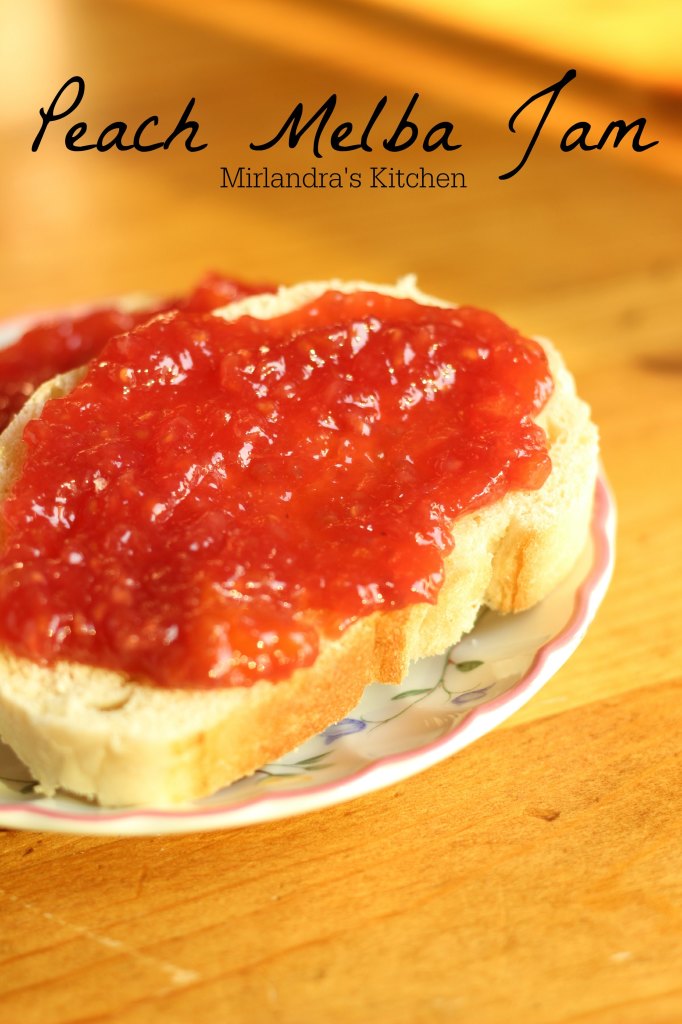 ARE YOU CONFIDENT IN YOUR KITCHEN?
I teach busy moms How to Cook the Perfect Family Dinner EVERY Night in 30 Minutes or Less Without Being Stuck in "Kitchen Jail."
Want to learn more? Come check out my class, The Confident Kitchen!
Quick and Easy Dried Apricot Jam
Yield: 1 ½ pints
Ingredients
12

oz

dried apricots

I get the bulk ones from Winco

water

1/8

tsp.

salt

½

cup

packed brown sugar
Instructions
With a kitchen scissors, cut two apricots in half at a time. Cut the halves into three pieces each so each apricot is cut into six pieces each. (Can be cut smaller if you prefer smaller chunks in your jam.)

Place the chopped apricots into a 4 cup measuring cup. Add water to the 4 cup line.

Dump all that into a medium sized sauce pan over medium heat. Add the salt and simmer for about 30 minutes until the apricots are tender and the jam coats a spoon. Stir in the brown sugar.

Decant into ½ pint jars and refrigerate for several weeks or freeze for six months. Note, this jam does not have enough sugar to be considered safe for pressure or water bath canning.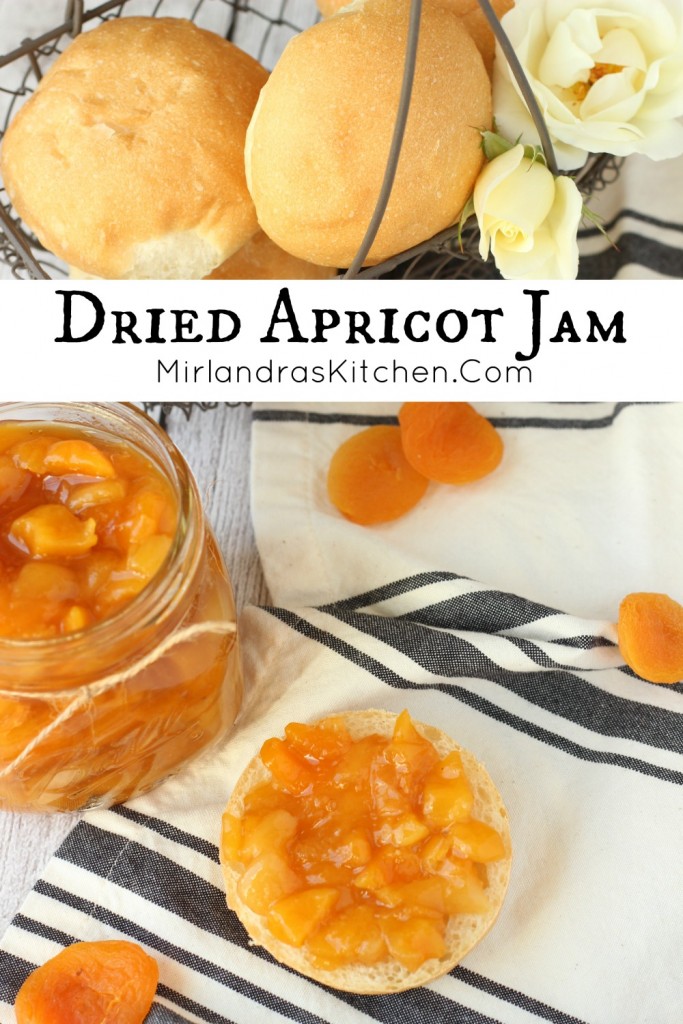 Reader Interactions