Dried Apricot Jam is rich, flavorful jam.  It is easy to whip up in minutes and you don't even need pectin so it is about the simplest kind of  jam you can make!  If you ever run out of jam you can always whip out some dried apricots that have been in your pantry too long and make the best jar of apricot jam you have ever had!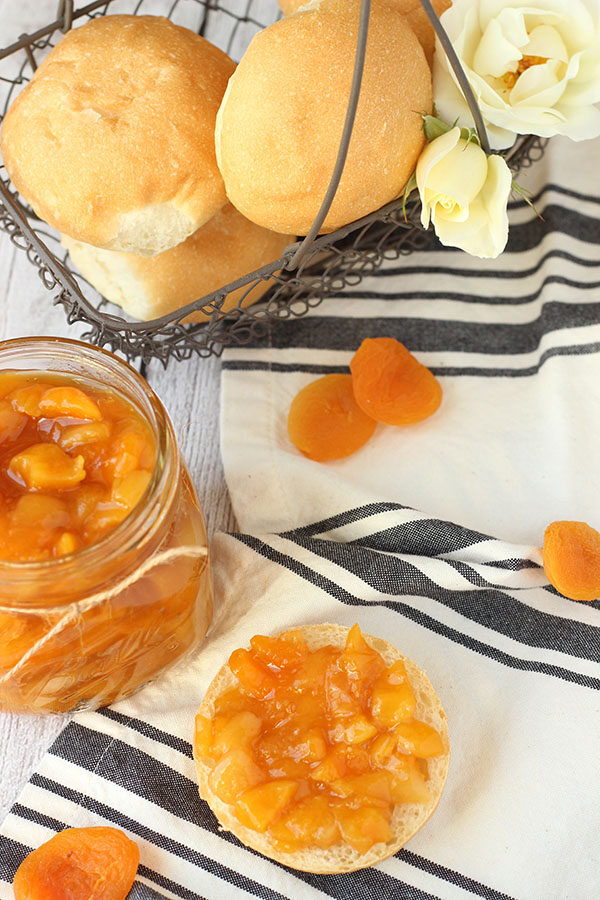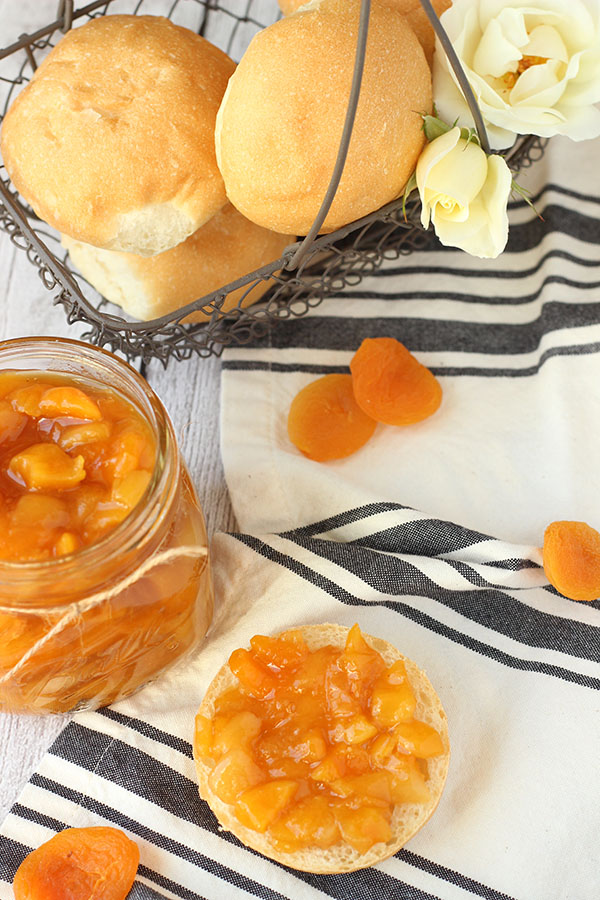 My mom always says this is her favorite apricot jam recipe!  It has such bold flavor.  I love making it and gifting it to her since it is just so darn easy.  My mom is really easy to make gifts for because she likes almost anything I do. Moms, huh?  But my Dried Apricot Jam is a special favorite of hers.
How To Make Apricot Jam
This apricot jam recipe is about as easy as it gets!  Cut fruit.  Boil fruit and water.  Stir in sugar.  Look, you made jam!
Honestly if you have kids that are old enough to use scissors and not stick their hands into boiling fruit this is a great project to do together.  Children love to give gifts they made themselves and watch others enjoy them.
I have three jars of lovely Dried Apricot Jam waiting in the freezer for my mom.  Who will you be making some for?
Why Make Jam With Dried Apricots Instead of Fresh?
When you dry an apricot the flavor is concentrated and magnified.  When you add a bit of water and boil them up into jam the final product is really a bit exotic.
It has a lot more punch than fresh fruit jams.  Apricots also have natural pectin in the fruit so you don't have to fuss with getting the jam to jell.
The process is so simple I think a monkey could do it – if I would let one in my kitchen.  (For health, safety and sanity PLEASE don't let monkeys in your kitchen!)
Dried Apricots Nutrition
Dried apricots are rich in nutrition.  Like other orange colored foods they are very high in Vitamin A.  They are also a good source of calcium, Vitamin B-6 and Magnesium.
Like unique jams?  You might enjoy my lovely Peach Melba Jam!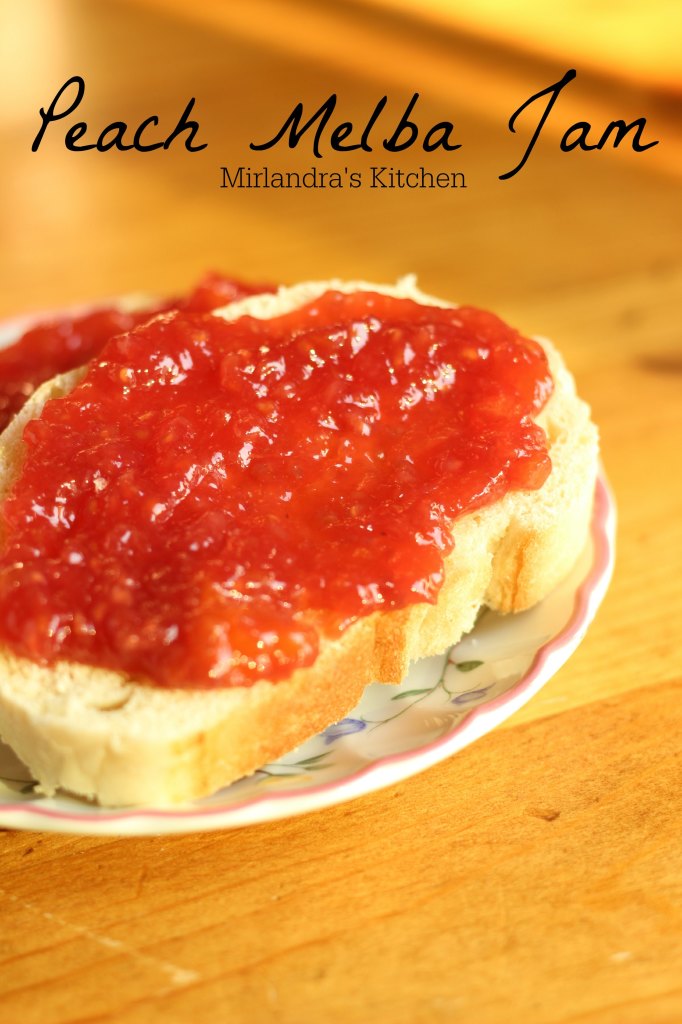 Quick and Easy Dried Apricot Jam
Bursting with flavor, Dried Apricot Jam is easy to make in the cool months and perfect for Christmas gifts. No pectin is required and the jam is ready in 35 minutes. It is perfect for using up dried apricots you have on hand or to make as a special gift for Christmas, Mother's Day or a birthday. This recipe makes 1 1/2 pints.
Ingredients
12

oz

dried apricots

water

1/8

tsp.

salt

½

cup

packed brown sugar

can sub white
Instructions
With a kitchen scissors, cut two apricots in half at a time. Cut the halves into three pieces each so each apricot is cut into six pieces each. (Can be cut smaller if you prefer smaller chunks in your jam.)

Place the chopped apricots into a 4 cup measuring cup. Add water to the 4 cup line.

Dump all that into a medium sized sauce pan over medium heat. Add the salt and simmer for about 30 minutes until the apricots are tender and the jam coats a spoon. Stir in the brown sugar.

Decant into ½ pint jars and refrigerate for several weeks or freeze for six months. Note, this jam does not have enough sugar to be considered safe for pressure or water bath canning.
Nutrition
Calories:
51
kcal
|
Carbohydrates:
9
g
|
Protein:
1
g
|
Fat:
1
g
|
Saturated Fat:
1
g
|
Sodium:
11
mg
|
Potassium:
165
mg
|
Fiber:
1
g
|
Sugar:
8
g
|
Vitamin A:
511
IU
|
Vitamin C:
1
mg
|
Calcium:
8
mg
|
Iron:
1
mg
Nutrition Disclaimer
MirlandrasKitchen.com is written to share great recipes. While we do our best to provide nutritional information as a general guideline, we are not registered dietitians and the values provided here should be considered estimates – not exact scientific data.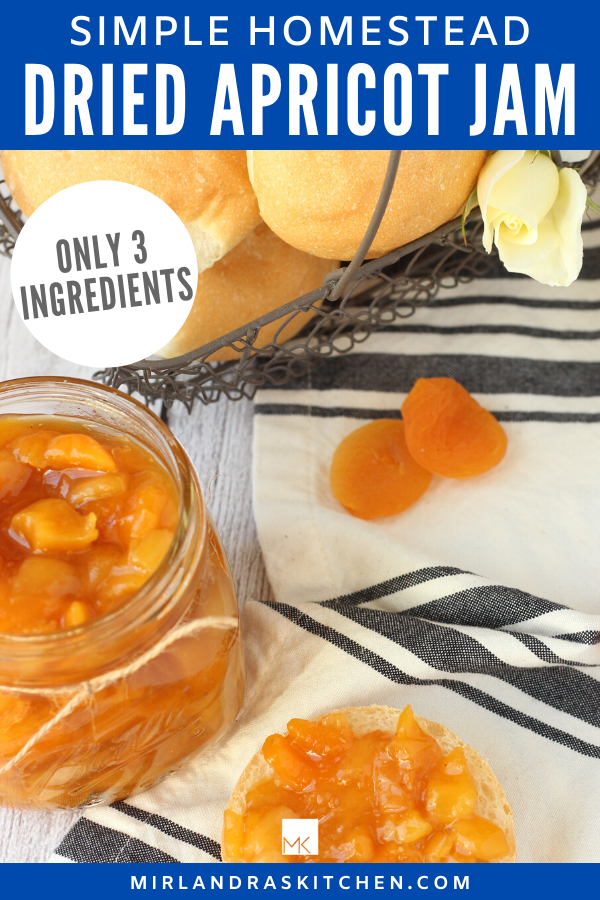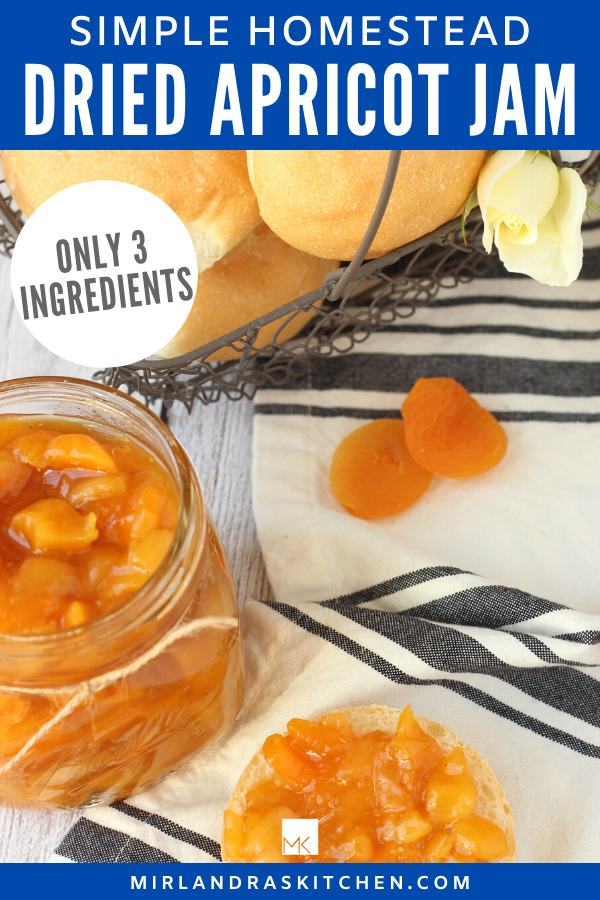 This recipe was originally published in November of 2016.  It was updated for content in April of 2020.