This Healthy Spinach Berry Smoothie with Greek Yogurt is delicious. You can't taste the spinach but it's a full serving of veggies and two servings of fruit.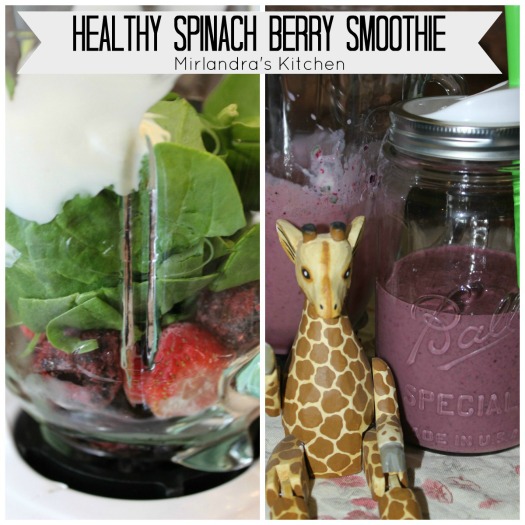 Last winter my friend Lacy inspired me to drink more smoothies.  I had heard that drinking veggies was a great idea but remained skeptical.  At Lacy's encouragement I decided to try spinach.  It still sounded icky but Lacy is crazy-smart and an amazing cook.  I know she would never lead me astray in the kitchen.
With trepidation I got some strongly flavored frozen berries and started blending.  I was blown away!  It turned out I could make a delicious smoothie that didn't taste anything like spinach.  Now I'm enjoying my nemesis, spinach,  in all of it's vitamin rich glory.
The CDC has a great calculator to figure out how many cups of fruits and vegetables you specifically should eat daily for your age, gender and activity level.  Click here to try this handy tool if you are curious about your nutrition requirements.  It takes less than a minute.
This spinach berry smoothie has 1 serving of vegetables and 2 servings of fruit.  It whips up in a jiffy and it is kid-friendly to boot.  I use some 1% milk to boost the calcium because that is my specific need.  If you want to watch the calories,  ditch the milk and sub in water.  I often use it as a breakfast or as a hearty snack after my workout.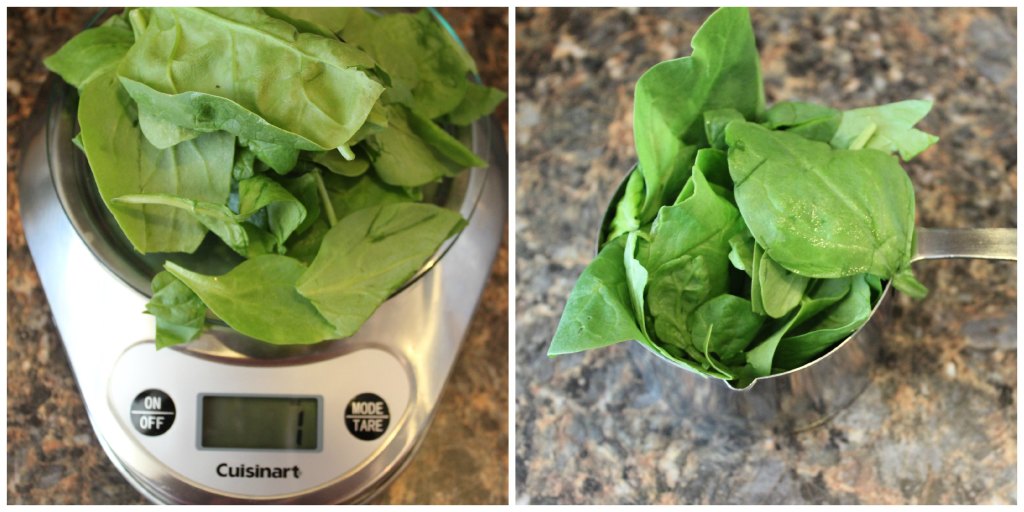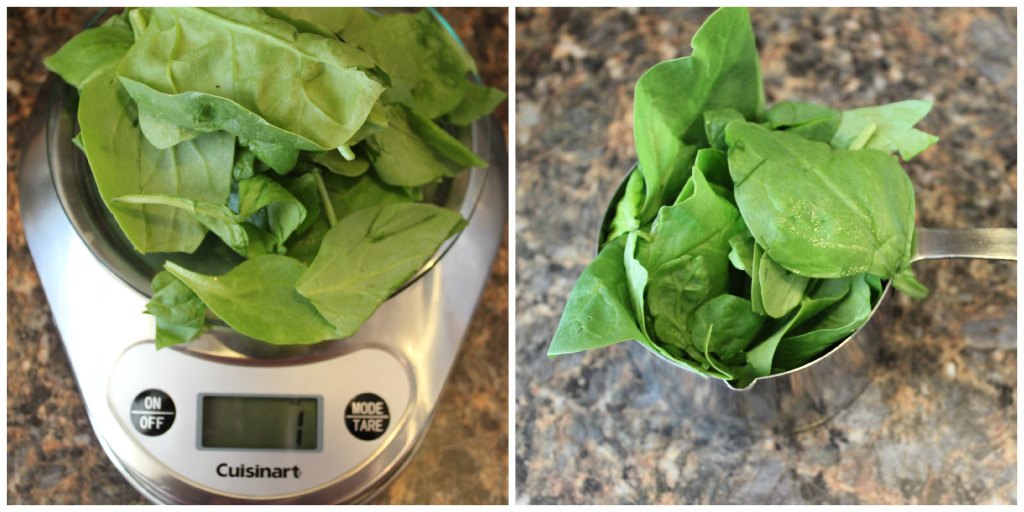 It is best to measure the spinach carefully the first time if you care about getting one exact serving of spinach.  One ounce of leafy greens or 1 cup loosely packed equals one serving.  If you are hesitant about spinach, try starting with 1/2 cup.  Once you build some trust with the new food you can increase the measure of green.  I started with a small serving and increased it when I measured my leaves and realized I was not getting a full serving of veg.
When I started doing this bags of spinach went bad in my fridge all the time.  I just could not eat it fast enough!  Now I freeze the fresh spinach.  Every time I buy a new bag I measure the spinach and berries out and freeze enough for one smoothie in one sandwich size Ziploc bag.  Every time I want a smoothie everything is ready to go.  I dump the frozen ingredients in the blender, add the yogurt and milk and blend.  Easy peasy.
I'm also saving a ton of money on spinach because I can buy it at Costco or on sale.  I'm saving so much in fact that I'm now buying organic spinach and spending less than when I was buying regular spinach and throwing out a bunch of it.  It's so wonderful I think I might just write an ode to my freezer.  Well, maybe not…
Thoughts on containers:  I used to take this to work in a disposable plastic cup.  Then there was The Epic Spill in my garage on the way to the office.  This included my bag, car, garage floor and shoes.  I considered it a serious calamity and was determined to prevent future incidents.   When I came across the new Mason Jar Sip and Straw Lids the problem was solved.   To read my review of the Mason Jar Sip and Straw Lids click here.   I don't like to clean out straws, so I use disposable smoothie straws which I buy inexpensively at Bed Bath and Beyond.  There are also some great options on Amazon if you prefer.
I believe in taking small steps to a healthier life.  This brings balance to my belief in dessert as a dietary staple and my firm policy that chocolate is a life necessity.  I hope you enjoy this refreshing and healthy choice as much as I have!
Healthy Spinach Berry Smoothie
This Healthy Spinach Berry Smoothie with Greek Yogurt is delicious. You can't taste the spinach but it's a full serving of veggies and two servings of fruit.
Ingredients
1

oz

spinach

one loosely packed cup

1

cup

frozen berries

cherries, blueberries and strawberries

1/3

cup

Non-fat Greek Honey Yogurt

1

cup

1% milk
Instructions
Put ingredients into blender in the order listed.

Blend for 45-60 seconds to make sure the spinach is really ground up finely.

Store in a jar for a few hours or serve immediately. Exposure to air will make the smoothie turn brown.
Notes
I was using the Traditional Greek Honey Yogurt, but I switched to Nonfat Greek Honey and I can't tell the difference. This reduces the calorie count by 36 calories.
Nutrition
Nutrition Facts
Healthy Spinach Berry Smoothie
Amount Per Serving
Calories 125
Calories from Fat 9
% Daily Value*
Fat 1g2%
Cholesterol 5mg2%
Sodium 63mg3%
Potassium 256mg7%
Carbohydrates 6g2%
Protein 4g8%
Vitamin A 1560IU31%
Vitamin C 4mg5%
Calcium 162mg16%
Iron 0.4mg2%
* Percent Daily Values are based on a 2000 calorie diet.
Free Simple Weeknight Meal Plan!
Sign up here for your free plan and start rocking dinner!