This Spinach Berry Smoothie with yogurt is delicious. You can't taste the spinach but it's a full serving of veggies and two servings of fruit.  I love it  for breakfast  or  a snack  after  Zumba.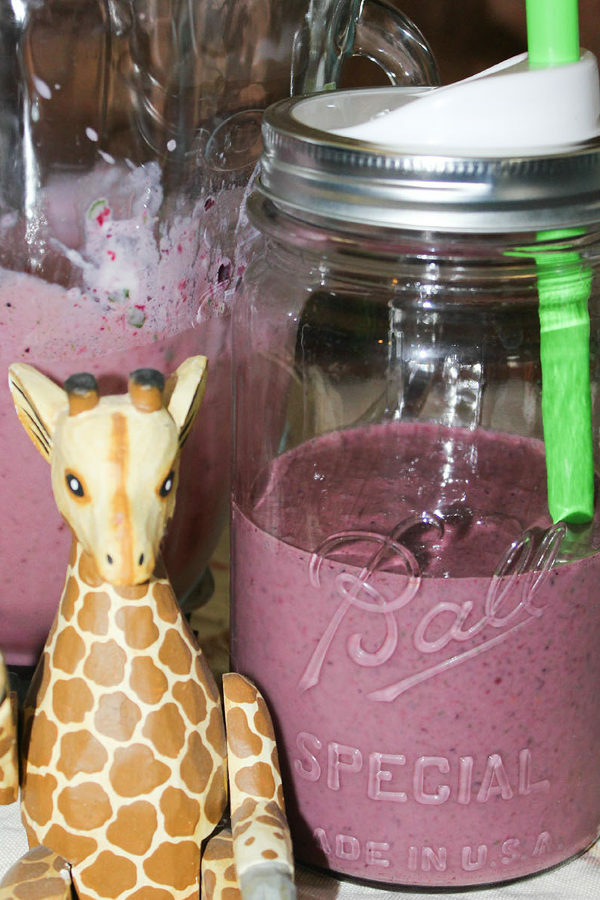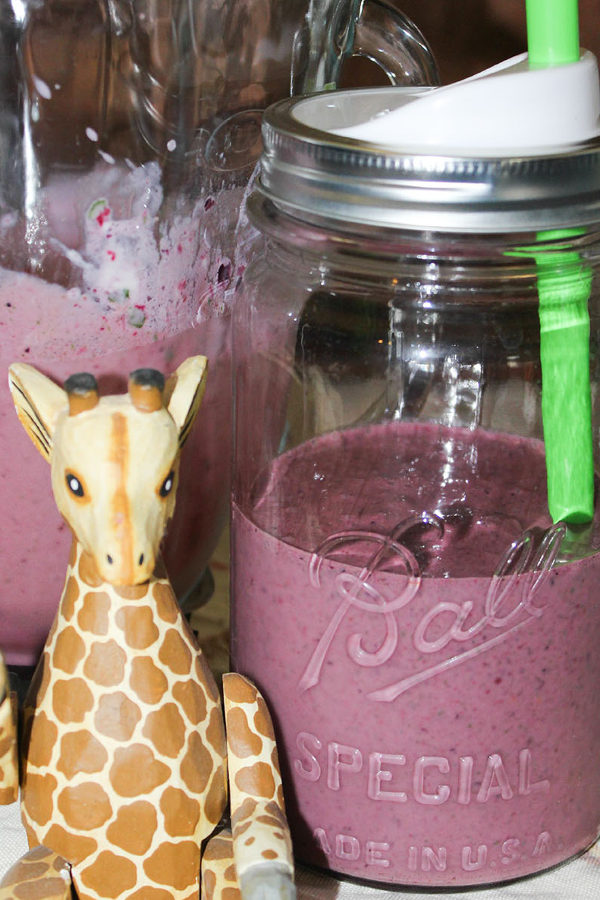 A Skeptic Tries Drinking Spinach
I don't much care for spinach.  Love lots of vegetables but this one just never quite found me.  And please spare me from the horror of a spinach salad!!!
My friend Lacy inspired me to drink more smoothies so I gave the spinach a (literal) whirl.  It turns out that if I balance it out with cherries I can get a solid cup of spinach in to my day!  I actually really enjoy drinking the smoothie and look forward to it as a treat of all things!  (Who knew?!?)
Now I have to make a double batch otherwise my 3 year old steals my drink… Getting him to drink a cup of spinach??? MAJOR win!.
Why Drinking Veggies Pays Off
This spinach berry smoothie has 1 serving of vegetables and 2 servings of fruit. I find it easy to get fruit in through the day but veggies I have to kind of push to get some servings worked in outside of dinner.
I use some milk to boost the calcium because that is my specific need.
I often use it as a breakfast or as a hearty snack after my workout.
Milk Substitutions in Smoothies
I'm a long time milk lover!  But recently milk and I just don't get along the same way 🙁  I've switched to A2 milk with great results.  Here are a few options if you need to avoid regular milk:
A2 Milk (easier on digestion)
Lactaid (easier for some people who struggle with lactose)
Nut milks
Rice milk
Hemp Milk
WATER (this should be a no brainier but here ya go!)
How to Measure Spinach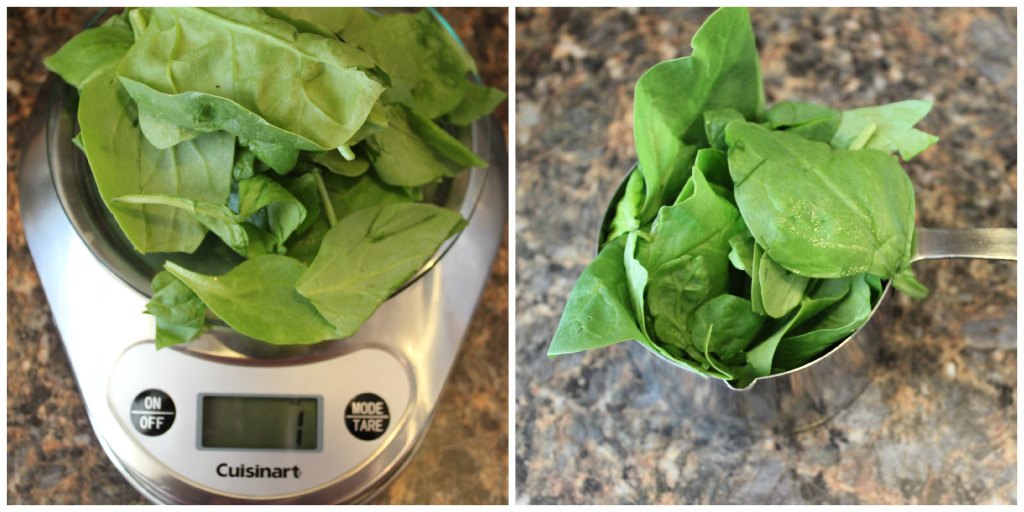 It is best to measure the spinach carefully the first time if you care about getting one exact serving of spinach.
One ounce of leafy greens or 1 cup loosely packed equals one serving.  If you are hesitant about spinach, try starting with 1/2 cup. 
Once you build some trust with the new food you can increase the measure of green.  I started with a small serving and increased it when I measured my leaves and realized I was not getting a full serving of veg.
How to Freeze Spinach for Smoothies
The most cost efficient way to get spinach is in a big old bag – I grab the Costco one. (One bag of organic spinach at Costco is bigger and costs lest than regular spinach at another grocery in my area.)
There are two main methods here:  
#1:  Measure your spinach and other ingredients into Ziploc freezer bags or mason jars for individual servings.  Freeze and use frozen as needed.
Every time I want a smoothie everything is ready to go.  Dump the frozen ingredients in the blender, add the yogurt and milk and blend.  Easy peasy.
#2:  Just bring your giant bag of spinach home and toss it into the freezer as is!  I just scoop my cup of spinach out when I'm making my smoothie.
Small Steps to Better Health
I believe in taking small steps to a healthier life.  This brings balance to my belief in dessert as a dietary staple and my firm policy that chocolate is a life necessity.  I hope you enjoy this refreshing and healthy choice as much as I have!
What Kind of Blender Should I Buy?
The answer to that is as much blender as you can afford and will use.  I like Blend Tec better than Vitamix but I'm actually using a Kitchen Aid higher end blender right now and loving it.
The higher end blender usually the smoother your drinks / soups / etc.
This Kitchen Aid is what is on my counter right now.  I got it recently so I'm not sure if it will hold up for years and years (as you know I don't love Kitchen Aid brand stuff very much anymore.)
At some point I will probably get a Blend Tech along these lines simply because I have used them a lot and like them.
Other Ways I Love To Eat Vegetables
Easy Fried Cabbage and Mushrooms
How to Cook Asparagus Four Ways
Broccoli with Korean BBQ Dipping Sauce
Healthy Spinach Berry Smoothie
This Healthy Spinach Berry Smoothie with Greek Yogurt is delicious. You can't taste the spinach but it's a full serving of veggies and two servings of fruit.
Ingredients
1

oz

spinach

one loosely packed cup

1

cup

frozen berries

cherries, blueberries and strawberries

1/3

cup

yogurt

Greek, or whole milk honey or vanilla

1

cup

1% milk
Instructions
Put ingredients into blender in the order listed.

Blend for 45-60 seconds to make sure the spinach is really ground up finely.

Store in a jar for a few hours or serve immediately. Exposure to air will make the smoothie turn brown.
Nutrition
Calories:
125
kcal
|
Carbohydrates:
6
g
|
Protein:
4
g
|
Fat:
1
g
|
Cholesterol:
5
mg
|
Sodium:
63
mg
|
Potassium:
256
mg
|
Sugar:
6
g
|
Vitamin A:
1560
IU
|
Vitamin C:
4
mg
|
Calcium:
162
mg
|
Iron:
0.4
mg
Nutrition Disclaimer
MirlandrasKitchen.com is written to share great recipes. While we do our best to provide nutritional information as a general guideline, we are not registered dietitians and the values provided here should be considered estimates – not exact scientific data.
I read each and every comment and I try to respond to questions asap, so ask away! If you've made a recipe, I would love to hear about it! Please come back and share your experience and give the recipe a 5-star rating so other people will know how much you loved it!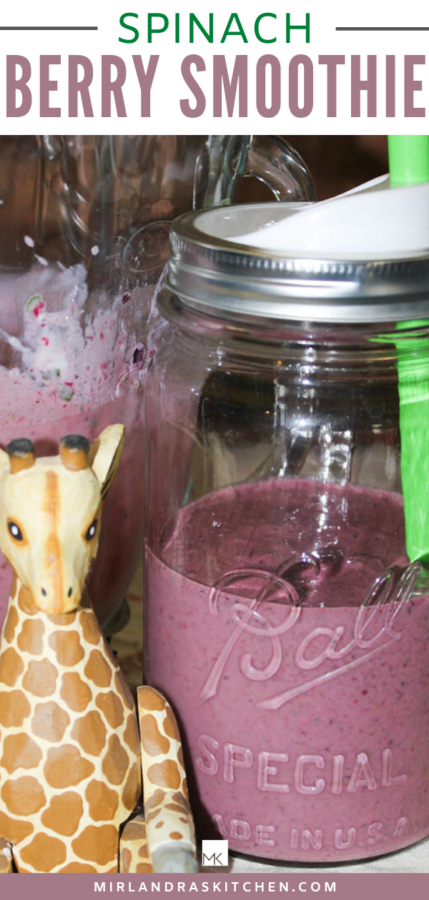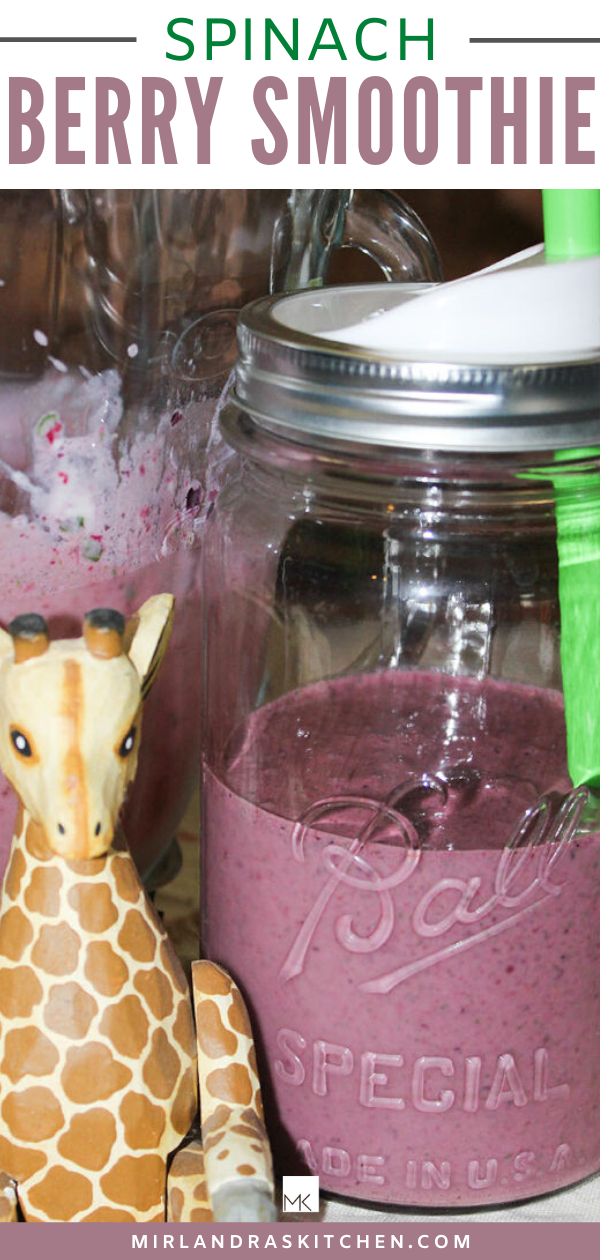 This post was originally published in June of 2014.