What if you could have a delicious keto zucchini lasagna WITHOUT soggy zucchini and a watery casserole experience???? Well you can with this great recipe! This is a simple, family friendly dish full of flavor, tender slices of zucchini, and lots of cheese, ricotta, sausage and sliced mushrooms. (Leftovers reheat REALLY well!)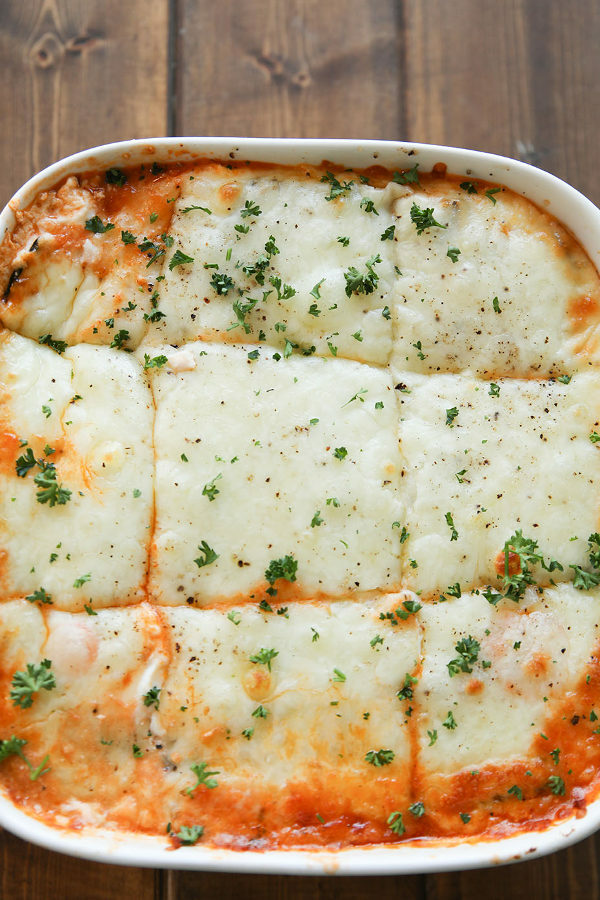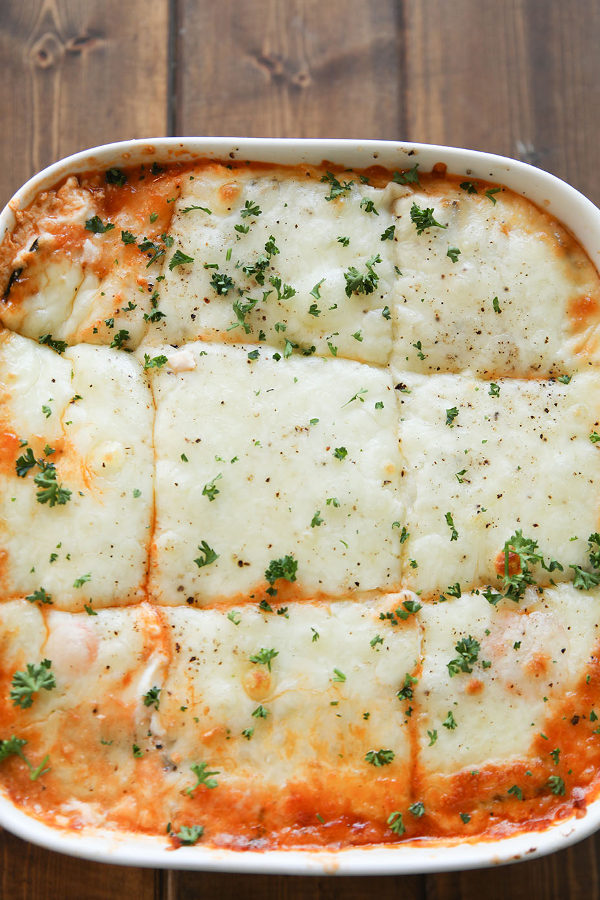 What is a Keto Zucchini Lasagna?
Let's have a real talk moment here. In NO WAY does zucchini taste like a good old fashioned noodle. But it does actually taste really amazing in this casserole!
I was strongly opposed to the entire idea of a keto zucchini lasagna until my husband asked me to make one. I thought it would be slimy and wet and well….not lasagna!
It turns out you can make an excellent version full of flavor that does taste delicious. This is a meal we both look forward to and have often! In our house I call it zucchini casserole because I think of it as a different dish than a true lasagna but let's just say I'm kind of a purist 😉
Keto Zucchini Lasagna with Cottage Cheese or Ricotta?
I've baked up this keto zucchini lasagna with both and we like ricotta a bit better. Cottage cheese will add some additional liquid to the dish but still works fine.
If you are trying to stick to a true keto plan you will probably find that ricotta is slightly lower carb.
I'm a true dairy lover so I actually eat this casserole with a big scoop of cottage cheese on the side! Kinda crazy but delicious…
Keto Zucchini Lasagna with Italian Sausage
You get the best flavor out of this dish by using Italian sausage. That being said you can choose pork or turkey sausage.
You can use hamburger or turkey burger instead but my husband has a strong preference for Italian Sausage here.
I don't drain the sausage when I make it – we are not fat averse. Remember – fat is FLAVOR! This is not intended to be a low fat dish.
I'm a big believer in dinner being hearty but choosing a portion size that fits your activity level and calorie needs. Remember – fat is not the enemy. It is simply a fuel source for your body.
How To Slice Zucchini for Lasagna
There are two easy methods for slicing zucchini.
Method #1: Use a good sharp knife and cut straight slices. I've been giving this chefs knife a try lately and it seems to be high quality while only costing about $33.
Keep your knife sharp and you will have no problem slicing the zucchini. (Remember a sharper knife is easier to use, is less strain on your hands, and is SAFER!)
Method #2: Use a mandolin. I love this method because the slicing machine does all the work of getting the correct thickness for me.
I'm using this mandolin right now and it is doing a great job (about $30). This is a kitchen tool worth buying since you can use it for multiple applications.
One word of caution! There is no easy way to use the finger guard for zucchini. I use a cut proof glove instead. It protects your hand from any slips and is easy to rinse off and hang dry for next time!
More Simple Healthy Dinners for You!
Keto Zucchini Lasagna
This is my no fail zucchini casserole recipe reminiscent of lasagna. It does not get wet and soggy! I use a high-quality canned tomato sauce here to speed up prep. Look for one that has "basil" in the label for a great flavor!
Ingredients
Meat Sauce
1

Tbsp.

Butter

8

oz

cremini mushrooms

sliced

1/8

tsp.

salt

16

oz

Italian Pork Sausage

24

oz

jar pasta sauce

I'm using Bertolli Tomato Basil sauce
Zucchini Lasagna
4-5

zucchinis

about the length of a banana

Pan spray

Salt

Fresh ground black pepper

15

oz

ricotta

15 or 16 oz ricotta or cottage cheese is fine

1

lbs

mozzarella

1

tbsp

parsley for garnish

optional
Instructions
To Make the Sauce:
Preheat the oven to 375 F and set out a 9"x 9" baking dish with tall sides.

On a back burner add butter and sliced mushrooms to a medium sized frying pan. Cook over medium-high heat stirring occasionally for 1 minute. Add 1/8 tsp. of salt. (Pepper lovers grind in some fresh pepper here too – a few grinds or a lot!)

Crumble in the sausage and continue to cook, stirring as needed until the sausage is browned. Drain fat if you want (I DON'T drain the fat).

Stir in the pasta sauce and leave the pan to simmer while you cook the zucchini.
Prepare zucchini:
Wash zucchini and use a knife or mandolin to slice the zucchini into 1/8" slices (the long way so they look kind of like lasagna noodles).

Heat a non-stick skillet to medium-high heat. Spray with pan spray. Use a kitchen tongs to lay one layer of zucchini in the pan. Sprinkle on some salt and pepper. Cook until golden brown (1-2 minuteand then flip. Salt and pepper the cooked side and cook until side #2 is browned. The slice won't be cooked through – it will finish cooking in the lasagna. Use tongs to set cooked slices on a plate. Repeat until all slices are cooked. (If I'm in a hurry I use two frying pans at the same time so I can cook more pieces at once.)
Assemble lasagna:
You can assemble your lasagna in any way you want. These are the layers I use:

Zucchini, one layer of slices (I use 4-6 slices for each of these layers)

½ the meat sauce

½ the mozzarella

Zucchini, one layer of slices

Ricotta or Cottage Cheese – all of it (pepper lovers grind in some more here)

Rest of the meat sauce

Zucchini, one layer of slices

Rest of the mozzarella

Bake at 375 F for 20-25 minutes until hot through and the cheese is melted and bubbly. (160 F on an digital instant read thermometer is hot through.)

Allow the lasagna to sit and settle for about 10 to 15 minutes before slicing into it and serving. Garnish with a sprinkle of minced fresh parsley if desired.
Notes
Preventing Drips: Baking pans come in different heights. The first time you cook this be prepared for a few drips if your pan is very full! I cook a pan of Italian Herb Meatballs on the bottom rack while I make the lasagna and serve those with. That catches any little drips! You can also use a piece of tin foil on a cookie sheet or make sure your pan is tall enough. Note on Cheese: Using cottage cheese makes a wetter lasagna than ricotta. My husband likes ricotta better but if you have different family tastes you can serve either or both of these cheeses on the side! I have made the lasagna with no ricotta or cottage cheese and then put a spoon of cold cottage cheese on the hot casserole.
Nutrition
Calories:
709
kcal
|
Carbohydrates:
10
g
|
Protein:
27
g
|
Fat:
29
g
|
Saturated Fat:
17
g
|
Cholesterol:
101
mg
|
Sodium:
604
mg
|
Potassium:
642
mg
|
Fiber:
2
g
|
Sugar:
5
g
|
Vitamin A:
1149
IU
|
Vitamin C:
23
mg
|
Calcium:
556
mg
|
Iron:
1
mg
Nutrition Disclaimer
MirlandrasKitchen.com is written to share great recipes. While we do our best to provide nutritional information as a general guideline, we are not registered dietitians and the values provided here should be considered estimates – not exact scientific data.