The perfect nut free cheese ball full of smoked Gouda and rolled in yummy bacon. In 10 minutes you can make a picture perfect ball that everybody will love.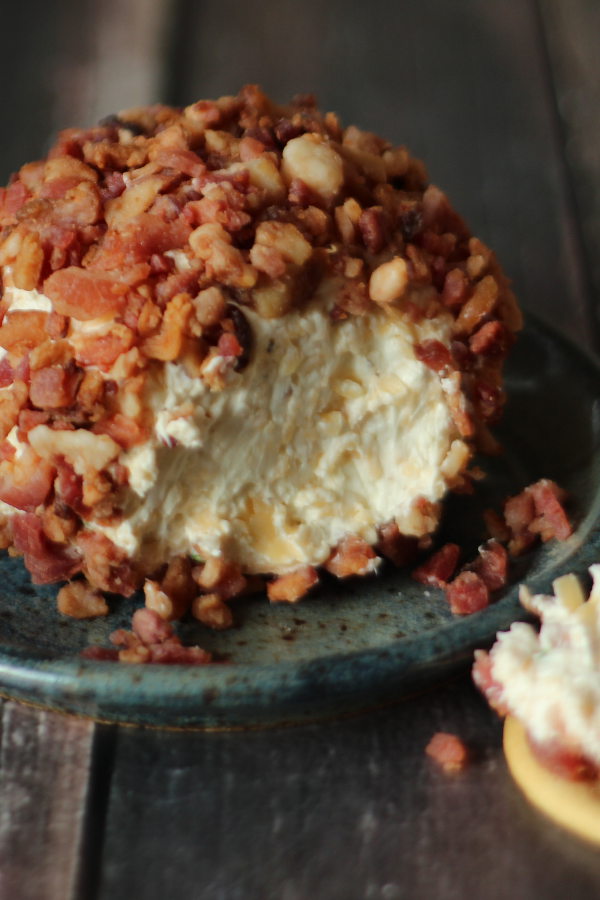 Marriage changes your life in every way I can think of. In my case those changes have been for the better, opening my heart and mind and growing me into a woman I respect. It also has caused the event of the Bacon & Smoked Gouda Cheese Ball.
Before I was married I had never eaten one of the famous balls of cheese. I remember seeing some purple ones in Winco and thinking that some people were crazy. I know, I judged, and I'm sorry. Jonathan grew up with cheese balls.
Their tradition for tree decoration involves a wonderful variety of favorite family munchies – among them the cheese ball. Jonathan and I have carried this fun tradition into our married life and set the tree decorating time aside for all sorts of calorie rich and expensive treats we don't usually splurge on.
We look forward to adding little ones to our family in the future and seeing what wonderful foods they pick out to add to our tradition. I hope they will be lovers of bacon and smoked Gouda and will ask me to make this cheese ball every year.
Faced with this new tradition, I was not going to buy a purple cheese ball. Purple = good. Cheese = good. However, I am not yet ready for purple cheese. Maybe in my 40s?
Instead I decided that I should take my current cheese crush (smoked Gouda) and pair it with the most logical thing ever – bacon! Just like my marriage, it is the perfect match of two best friends. First I rolled it in pecans. Then I needed an appetizer for a Christmas party where we were asked to not bring nuts into the home.
I pondered this only to realize that the simple answer was to roll the thing in bacon! I did just that, everybody who tries it gives it rave reviews and all of a sudden I don't know quite how I made food before I discovered the cheese ball. Of course, I also don't know quite how I lived without Jonathan so I guess it makes sense.
You can make this delicious ball either rolled in bacon or pecans – it is up to you. Just don't be surprised if you get asked to make it again, and again and again.
Bacon & Smoked Gouda Cheese Ball (Nuts Optional)
Servings
1
ball (serves about 20 at a party)
Ingredients
For the Cheese Ball
8

oz

cream cheese

room temperature

1 1/2

cups

smoked Gouda

grated

10-15

grinds

black pepper

use smallest setting on the grinder

1

Tbsp.

bacon crumbles

I used Kirkland pre-cooked

1/2

tsp.

minced chives

1/8

tsp.

garlic powder

1/8

tsp.

red pepper flakes
Roll Ball In
1

cup

bacon crumbles or chopped pecans
Instructions
In a medium mixing bowl use a fork to mash all ingredients except bacon/pecans to roll the cheese ball in.

Use a spatula to scrape the cheese mixture out unto a large piece of cling wrap. Use your hands to mold the cheese into a ball inside of the plastic wrap. If you have time, refrigerate the ball for an hour or so to firm it up. If not proceed to the next step.

Gently unmold the cling wrap from the ball and place it on a bed of bacon or pecans. Roll the ball until every side is covered in the coating. If there are a few bare spots press bacon in gently to cover.

Serve with a variety of crackers.
Notes
Tips:
1. Make the ball a day or so ahead so the flavor has time to develop a bit.
2. If you choose to roll the ball in pecans try adding 4 Tbsp. of bacon to the ball instead of 1 to up the bacon flavor.
3. For a variation try using ½ cup of pecans and ½ cup of bacon to roll the ball. Either mix them together before rolling or do half the ball in pecans and half in bacon. Have fun with it!