These sous vide scallops are effortless to make! Tender and creamy inside and perfectly golden on the outside. They are lightly seasoned which lets the scallop flavor shine.  You can cook them fresh or even from frozen! We love to make scallops at home for an affordable yet fancy appetizer or meal.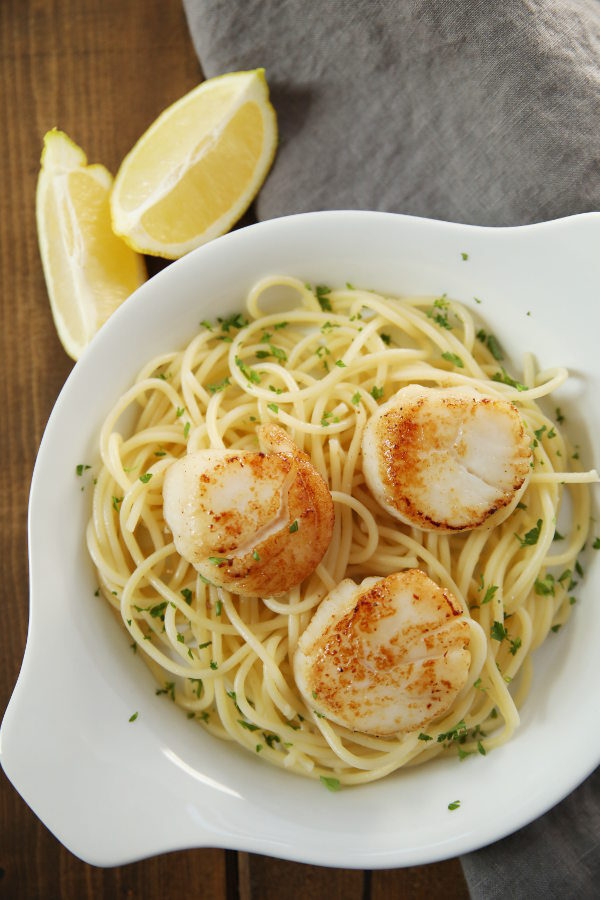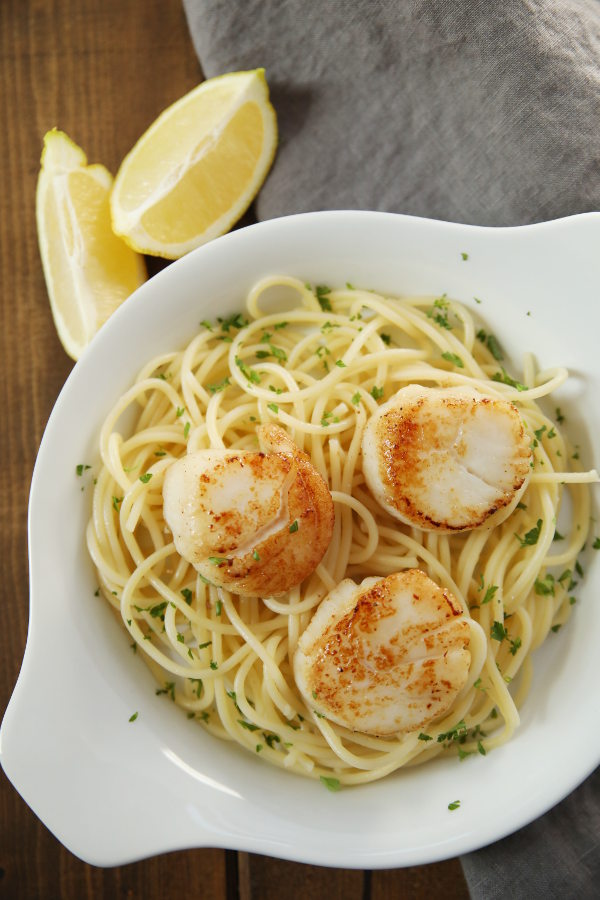 Scallops are one of the seafood treats everybody should know how to make at home! They are simple to prepare and make a meal so much more special! I find that cooking scallops for the first time in a pan is a little bit stressful but the sous vide is a no stress scallop experience anybody can nail!
Making Perfect Sous Vide Scallops
One of the best things about a sous vide machine is that it makes cooking so simple. Set machine. Add food. Remove and sear.  Can you imagine set it and forget it scallops?  Well, that is scallops in the sous vide for you!
I would never think of cooking scallops as an appetizer with any complicated meal in general.  But with a sous vide I can turn it on, ignore it, and then sear off the scallops right when I'm ready!
The texture is always perfect – fresh or frozen.  And the flavor comes out mild and buttery every time – no hassles!
What is the Best Way to Cook Scallops?
Scallops can be cooked on a grill, in a smoker, in a frying pan, in the oven or in a sous vide.  Every method is a good option but my favorites are sous vide or grilled.
Cooking scallops in a frying pan isn't overly hard but you do have to watch the temperature or you get rubber.   Because of the difficulty of watching the scallops I never cook them in the oven – maybe I'm missing out.
I enjoy grilling scallops because of the slightly extra smoky flavor and because I enjoy grilling!
However, when I'm looking for the simplest way to cook the MOST perfect scallop I sous vide them every time.  It gets them cooked through perfectly tenderly without any effort from me.  I grab a pan at the end and sear them off for a perfect golden crust and put something stunning on the table without ever breaking a sweat.
What is the Best Sous Vide Cooker?
My sous vide machine is one of my most treasured appliances. I believe it is more useful than a instant pot OR a crock pot!
Like other kinds of appliances the sous vide machine comes in multiple styles and different levels of quality.  I use the Joule.  It is my favorite for quality and features.  Everything runs through the app on your smart phone.
If you want to try sous vide cooking without spending a lot the simplest and cost effective model is the Accu Slim. The model has no extra app, bells and whistles etc.  But it does a fine job cooking.
Between the Joule and the Accu Slim lives the Anova.  It is bulkier than the Joule and slightly less powerful but still does a great job.  The nice thing about Anova is that it comes with a great app AND has the controls on the actual sous vide machine giving you more options.
My Best Seafood Recipes
I read each and every comment and I try to respond to questions asap, so ask away! If you've made a recipe, I would love to hear about it! Please come back and share your experience and give the recipe a 5-star rating so other people will know how much you loved it!
Effortless Sous Vide Scallops
These sous vide scallops are effortless to make! Tender and creamy inside and perfectly golden on the outside. You can cook them fresh or even from frozen! Serve them over pasta or with crusty French bread for a wonderful seafood meal. We love to make scallops at home for an affordable yet fancy appetizer or meal.
Note: From frozen the cook time will be 45 minutes.
Ingredients
1

pound

large scallops

2

Tablespoons

butter

1

Tablespoon

olive oil

Old bay seasoning

optional

Salt and fresh ground pepper

Wedges of lemon

optional
Instructions
Set Sous Vide to preheat to 113 F. Because scallops are a time sensitive food do NOT add them to the water bath until the water has come to temperature

Add fresh or frozen scallops to a Ziplock style bag or vacuum pack them.

Lower the bag into the water making sure the food is submerged. If the scallops are thawed cook them for 30 minutes. If they are frozen 45 minutes.

Once the scallops have cooked remove them from the bag and pat dry with a paper towel.

Add butter and olive oil to a large skillet – cast iron if you have it. Heat the skillet on high heat.

As soon as the butter is mostly melted and starting to spatter, add the scallops.

Cook for about one minute until golden brown and then use tongs to flip the scallops and cook the other side an additional minute.

Sprinkle with salt and pepper or Old Bay Seasoning.

Serve over pasta or with crusty French bread.
Notes
I don't remove the small side muscle before cooking scallops. It is still mostly as tasty as the rest of the scallop and too good to throw away in my opinion. You certainly can remove it before cooking if desired.
Nutrition
Nutrition Disclaimer
MirlandrasKitchen.com is written to share great recipes. While we do our best to provide nutritional information as a general guideline, we are not registered dietitians and the values provided here should be considered estimates – not exact scientific data.