I don't know who first decided the mighty artichoke was food but they were a genius. This hot Artichoke Parmesan Dip is a perfect way to eat artichokes.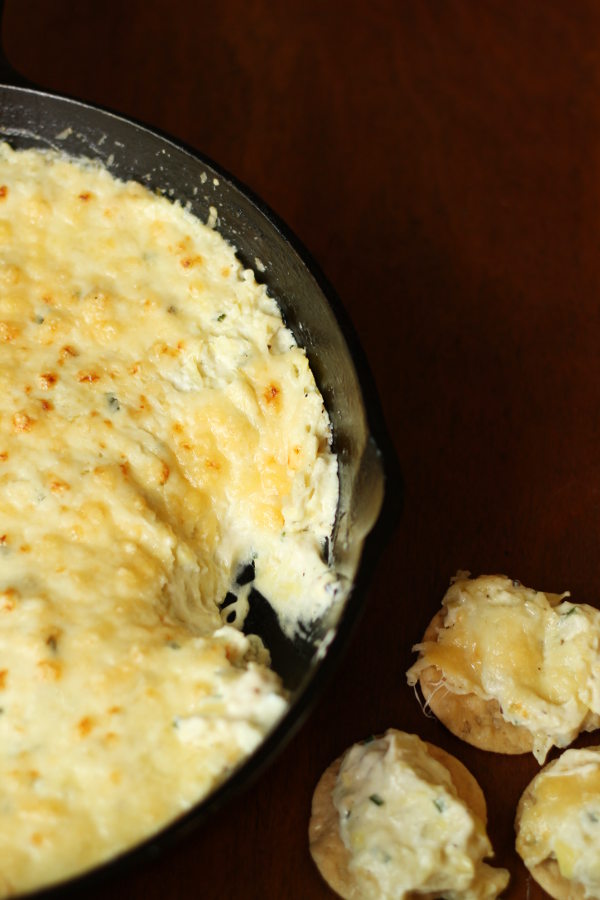 I seek in anonymity's cloister
Not him who ate the first raw oyster,
But one who, braving spikes and prickles,
The spine that stabs, the leaf that tickles,
With infinite patience and fortitude
Unveiled the artichoke as food.
– The Pioneer by Ogden Nash
Hot Artichoke Parmesan Dip
I very much wonder who first decided to eat an artichoke. Of all crazy things, why would you even want to try? It also makes me wonder what other things we might someday eat that nobody does today.   I never saw a reason to eat these enormous thistle flowers before I dated Jonathan. He loves them and used to serve them frequently we were dating. He eventually won my heart and my acquiescence to his artichoke habit and now it is a pantry staple in our lives.
I have strong opinions about artichoke dip. Actually, I have strong opinions about almost everything but I will just offer my artichoke dip opinions today.
It. Should. Not. Have. Spinach. Why would you cover the lovely, delicate flavor of artichokes with heavy handed-spinach? I know some people love spinach but this is just not the time to showcase it. Artichoke dip should also have a sensible balance of creamy components and a heavy hand with the garlic. I know not everybody is having the same love affair with garlic that I am so I was moderate in this version.  You can always add a bit more if you desire.
I whipped this dip up for a baby shower and a birthday party. It was a hit both times and I took home an empty plate. It is easy to make and a guaranteed success at parties. Fall is a great time for a warm dip or spread for football gatherings, parties and the holidays. I hope this is as big a hit for you as it has been for me!
Artichoke Parmesan Dip
Ingredients
2

cans of plain

quartered artichoke hearts (14oz each)

6

oz

cream cheese

1/4

cup

sour cream

1/4

cup

mayo

1

cup

grated Parmesan

divided

1 1/2

teaspoons

fresh garlic

minced

2-3

Tablespoons

fresh chives

minced

1/4

teaspoon

red pepper flakes

1

teaspoon

salt

1/2

teaspoon

fresh ground black pepper

butter to coat baking pan
Instructions
Drain the artichokes. Toss into a medium pot of boiling water and boil 2-3 minutes. Drain well.

In a medium bowl, microwave the cream cheese for 30 seconds until hot and soft. Add 1/2 cup of the Parmesan cheese. Stir in everything else except the artichokes.

Check the artichokes - if they still very wet squeeze them a little. Mince them and gently stir them into the sauce. Taste and adjust salt, pepper or garlic as desired.

Adjust oven rack to highest setting where your pan or bread bowl will fit under the broiler. Turn broiler on high.

Spoon sauce into a buttered cast iron pan, casserole or a bread bowl. Garnish with 1/2 cup of grated Parmesan and broil for 5-7 minutes until well browned on top. Serve with french bread slices or crackers.
Notes
If you plan to serve this as a main party food expect it to feed about 10-15 people. If it is one of many tasty snacks it will stretch to cover about 20 people.