This delicious homemade Pimento Cheese is the spread you didn't know you need! This version is bursting with flavor – sharp cheddar cheese, plenty of pimentos, and a bit of jalapeno bring everything together! We are eating this as a picnic spread, party dip, on top of scrambled eggs and of course as grilled cheese sandwiches!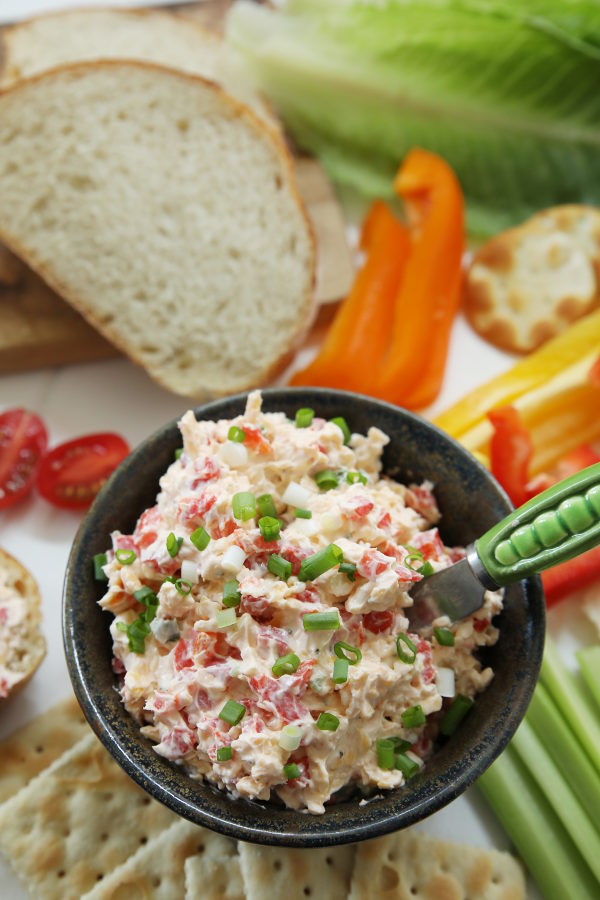 If you are not from the South, you might not understand the amazingness I'm sharing with you! Pimento cheese is available on almost every restaurant menu South of the Mason Dixon line. I ate it several times a day on my last trip to Georgia so I could try every different version!
Here in the Wild West you rarely see a good pimento cheese at all. The store bought "pimento cheese spread" is not recognizable as food and should be avoided at all costs! Homemade Pimento Cheese is another animal all together and this simple recipe is blow your world!
How to Make Homemade Pimento Cheese
Pimento cheese is the South's favorite spread – true Southern comfort food at its best. At its core this is a humble cheese and pimento spread or dip usually held together with mayonnaise and cream cheese. (If you have allergies I've got a great egg-free pimento cheese hack in the recipe.)
In the South pimento cheese is sometimes called  "pâté du Sud," or Southern pâté.  It shows up on fried green tomatoes or in pimento cheese sandwiches which you absolutely need in your life!
It is really easy to make a good homemade pimento cheese – so easy in fact it has become on of our family's traditional picnic and camping foods!
Follow These Tips for the Best Homemade Pimento Cheese
Grate your own cheese! The pre-grated cheese you find in the store has often had powders added to prevent the cheese from sticking together. You want a good quality sharp cheddar that you have just grated!
Buy pimento peppers. Um…I know, right?  This is my follow the recipe lecture! Even here in the North it is easy to find a can or jar of diced pimento peppers. Don't try to put something else in here – just use pimentos.
Get the spice level right for YOU. I like my pimento cheese to have a medium spice level.  (Think Mild-Medium Taco Bell Hot Sauce here.)  This recipe has instructions to make it less spicy or more spicy than that! Just keep in mind that the spice will continue to develop for the first 24 hours after it sits.  So expect it to be full flavored the next day!
Start with SOFT cream cheese.  You gotta soften that stuff up or you get a chunky spread – and not the good chunks from pimentos and cheese. If you forget to leave the cream cheese out in advance don't worry – there is an easy microwave method included in the recipe.
That's it! My top four tips for making the best homemade pimento cheese of your life!
What to Serve With Pimento Cheese
Now that you have this easy pimento cheese recipe you need some "go with" nibbles! Everybody has their favorites – traditional and less traditional – these are ours!
Traditional Nibbles For Pimento Cheese
Saltine crackers
white bread
Celery sticks
Filling for little tea sandwiches (usually made with white bread)
on Biscuits
Modern Nibbles For Pimento Cheese 
Ritz crackers (my favorite pimento cheese cracker)
Pretzel thins
Crusty french bread
Bell pepper slices
Cucumber slices
Halved cherry tomatoes
Gluten free crackers
15 of The BEST Ways to Eat Pimento Cheese on Everything
pimento cheese sandwich
pimento cheese grilled cheese sandwich
grilled pimento cheese and ham sandwich (you can even add a fried egg on top)
pimento cheese quesadilla
scoop of pimento cheese on scrambled eggs
fill your omelette with pimento cheese
spread pimento cheese on hot toast and serve with brunch
add pimento cheese to your salad
use as a topping for burgers or sliders
biscuit spread
stir it into mac and cheese
baked into a hot dip
made into pimento cheese scones
broil pimento cheese unto french fries for the ultimate loaded fries
Serve frittata with scoops of pimento cheese
More Cheese Spreads to Love
The History of Pimento Cheese
While I think of Pimento cheese as a true Southern treat it originated in New York with the creation of cream cheese. Just after the turn of the century Spain started shipping in cans of pimento peppers that became poplar with home cooks and soon homemade pimento cheese was on the way to becoming a classic!
As the popularity spread Georgia farmers started growing, canning and shipping pimento peppers which further fulled the trend.  You can read more of the details in this Southern Living article.
Homemade Pimento Cheese
This delicious homemade Pimento Cheese is the spread you didn't know you need! This version is bursting with flavor - sharp cheddar cheese, plenty of pimentos, and a bit of jalapeno bring everything together! We are eating this as a picnic spread, party dip, on top of scrambled eggs and of course as grilled cheese sandwiches! I make our version with a little kick but you can make it milder or hotter depending on your taste. This can be made with mayonnaise (traditional) or with sour cream for an allergy friendly version of this amazing Southern treat!
Ingredients
2

cups

sharp cheddar cheese

freshly grated is best

8

oz

cream cheese

softened

2

jars pimento peppers

4oz each (see note)

½

jalapeno pepper

2

Tablespoons

green onions

minced

2

Tablespoons

mayonnaise or sour cream

see note

¼

teaspoon

granulated garlic

¼

teaspoon

onion powder

¼

teaspoon

ground cayenne pepper

use ½ tsp for very spicy or 1/8 tsp for low spice

½

teaspoon

coarsely ground black pepper

¼

teaspoon

seasoning salt or sea salt
Instructions
Grate the sharp cheddar cheese (pre-grated cheese from the store has things added and is not as good for making this kind of spread.)

Drain the pimento peppers and discard the juice they were canned in. Slice the jalapeno pepper in half and remove the seeds / white pith from the half you are going to use. Mince the jalapeno into very small pieces (I use a chopper like this for mincing.) Mince the green onions.

In a large mixing bowl or in the bowl of your stand mixer beat the softened cream cheese on low speed with all the other ingredients until everything is totally mixed.

Taste the mixture and add a little more salt if desired.

Serve immediately or refrigerate until ready to use. I like to make this the day before or a few hours before and let the flavors develop before serving.

Pimento cheese will keep in the fridge for up to a week. The flavor will develop some in the first 24 hours and become a bit spicier.
Notes
How to Soften Cream Cheese: You can plan ahead and leave the cream cheese out of the fridge overnight or simply microwave it for 15 seconds at a time until it is soft and pliable. Pimento Peppers: Most grocery stores carry diced pimento peppers in the canned food section near roasted peppers. The peppers are sold in a water solution and need to be drained for this recipe. Buy a total of 8oz of peppers which will be about 5oz of peppers once drained. If the store only sells strips of pimento peppers you can dice them yourself after draining. Sour Cream vs. Mayo: The traditional ingredient in pimento cheese is mayonnaise. If you are from the south it is specifically Duke's Mayonnaise. However, I often make this spread for friends who have an egg allergy. I've found that sour cream works great instead of mayo!
Nutrition
Nutrition Facts
Homemade Pimento Cheese
Amount Per Serving
Calories 222
Calories from Fat 171
% Daily Value*
Fat 19g29%
Cholesterol 61mg20%
Sodium 267mg11%
Potassium 67mg2%
Carbohydrates 2g1%
Protein 9g18%
Vitamin A 714IU14%
Vitamin C 1mg1%
Calcium 231mg23%
Iron 1mg6%
* Percent Daily Values are based on a 2000 calorie diet.