This Loaded Baked Potato Soup is creamy and easy to make on a weeknight in 30 minutes. Everybody loves this hearty winter dish full of bacon.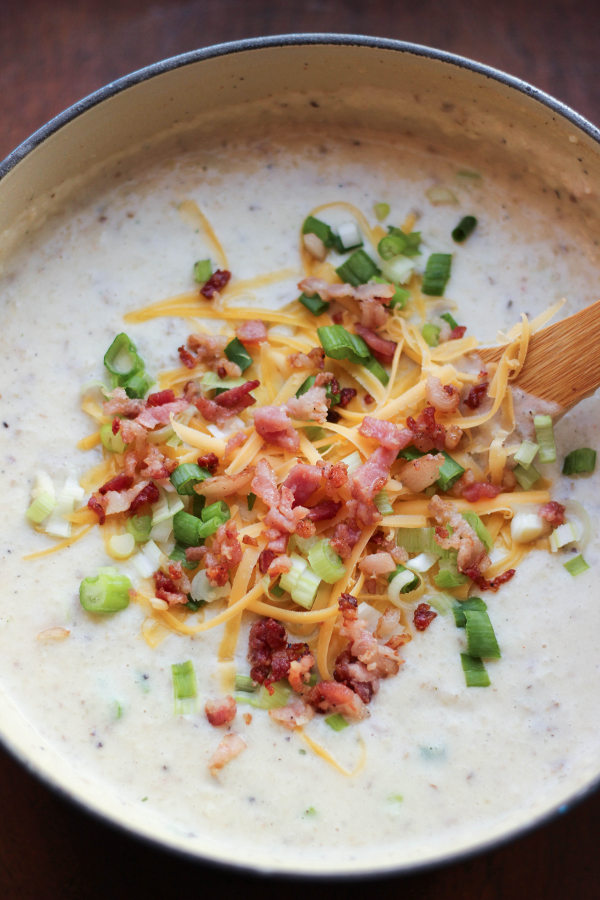 Loaded Baked Potato Soup is one of my happiest college memories. In a stressful world of study and new experiences this delicious soup was a guaranteed pick-me-up on a cold, wet day.
I went to college in Corvallis, Oregon. It's a beautiful town full of gardeners in the heart of the fertile Willamette Valley. I love that valley but it rains so much I'm surprised I didn't grow moss! I lived on campus at a girls cooperative house for a few years and it was wonderful to walk out of the cold drizzle into a hot, steaming kitchen full of Kevin's cooking.
Kevin was the cook at Azalea House for lunch and dinner on the week days. On the weekends I had the run of a professional sized kitchen and did I ever have some fun!!! But that's another story. ..
The food we ate! Macaroni and cheese, piles of cookies, creamy curry, pesto, BBQ chicken, grilled cheese, ham, breakfast for dinner, meatloaf, garlic mashed potatoes, pizza, gumbo, Irish Chicken Pot Pie, chicken-pineapple quesadillas and, and, and, and! I don't remember seeing him with a mix ever. If we had salsa, or French bread or gravy he made it himself.
Loaded Baked Potato Soup
I loved most of food Kevin made but Loaded Baked Potato Soup was one of my stand out favorites. I loved to cook and Kevin was always happy to share his knowledge so I spent a lot of time in the kitchen. He was also really great at listening to boy troubles and general day to day crises of girls growing into women.
I watched Kevin make Loaded Baked Potato soup a few times. He taught me to use the food processor and to use just a little chicken bouillon for subtle background flavor! That bouillon trick is genius and I have carried it over into so much of my cooking.
There really was not a recipe for the way Kevin made the soup. He just put everything together and made magic. I have been making it that way for years but I know some of you will want measurements so they are included in the recipe. I know, I know, you are very welcome!
Next time you have leftover baked potatoes (lucky dog) or a cold rainy day toss this together. It's so easy and it takes less than 30 minutes. The soup is irresistible. My entire family loves it and I'm sure yours will too!
The best baked potato is crispy on the outside like a potato chip and perfectly soft and fluffy on the inside! Friend, you can't get those results with foil!!! I tested too many potatoes to count and figured out the BEST method to make baked potatoes. Grab the recipe here! 
Loaded Baked Potato Soup
This Loaded Baked Potato Soup is creamy and easy to make on a weeknight in 30 minutes. Everybody loves this hearty winter soup full of bacon. Leftovers reheat well.
Ingredients
For the Soup
6

oz

bacon

1 1/2

pounds

baked potatoes

https://www.mirlandraskitchen.com/how-to-make-baked-potatoes/

4

cups

milk

2

cups

cream

1

Tablespoon

chicken bouillon

2

teaspoons

fresh ground pepper

1

teaspoon

Johnny's brand seasoning salt

or your favorite seasoning salt

1/3

cup

minced green onion
Garnish
grated cheddar

minced green onion

bacon bits

sour cream

steamed broccoli
Instructions
Chop up the bacon and cook in a cast iron pan over medium heat until crispy. Drain and add to a heavy bottom soup pot or Dutch oven.

Use your hands to break the potatoes into chunks. Add to a food processor with 3 cups of the milk. Puree until smooth.

Add to the soup pot. Check for large lumps and squish them with your hands or a fork.

Add the rest of the milk, the cream, the chicken bouillon, the pepper, the seasoning salt and the 1/3 cup green onions.

Bring the soup to a simmer over medium heat and simmer for 15 minutes being careful not to boil hard. Because it's a milk based soup hard boiling can destroy the texture. Garnish as desired with cheese, green onion, steamed broccoli, bacon and sour cream.

Leftovers can be heated gently on the stove or in the microwave. If the leftover soup seems to thick heat it first and if you still feel it is thick add a splash of milk to thin it.
Nutrition
Nutrition Facts
Loaded Baked Potato Soup
Amount Per Serving
Calories 887
Calories from Fat 621
% Daily Value*
Fat 69g106%
Cholesterol 215mg72%
Sodium 446mg19%
Potassium 496mg14%
Carbohydrates 16g5%
Protein 16g32%
Vitamin A 2160IU43%
Vitamin C 1mg1%
Calcium 353mg35%
Iron 1mg6%
* Percent Daily Values are based on a 2000 calorie diet.