This lemon drop martini is my version of heaven. Simple to prepare, and lemony perfection to drink. Try my lemon sugar recipe on the rim – it is excellent!  You can make these a few at a time or mix up as a big batch cocktail for a party.  Perfect for bridal showers, Easter brunch, or summer BBQs.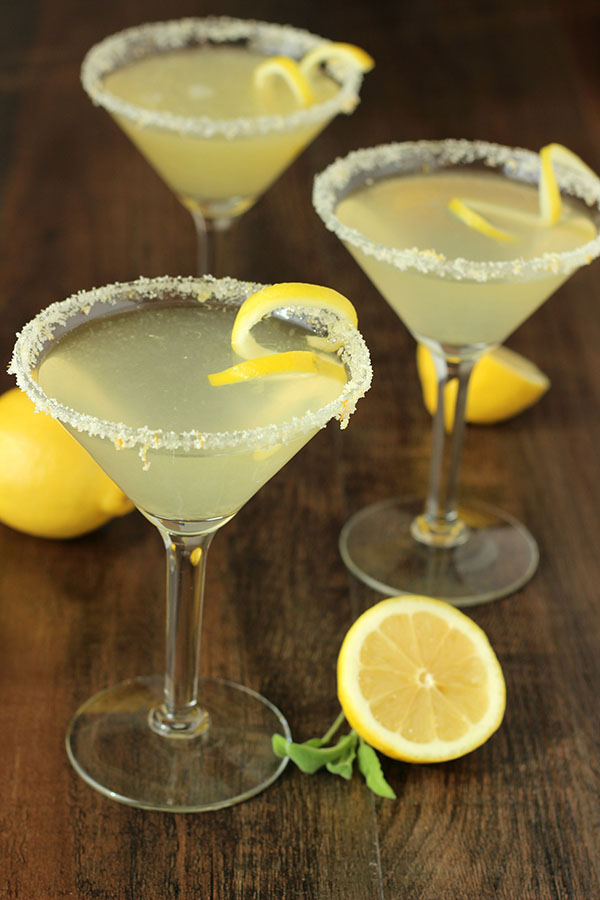 The iconic lemon drop martini is one of my go to drinks.  I'm a die hard lemon lover and the contrast of sweet and pucker of a lemon drop is perfection. 
I also make these often for girl's night or as the main cocktail at a party.  They are such a great all around drink. 
A big batch of lemon drop martinis plus a bucket of beer and the party is covered.
The Best Lemon Drop Martinis Are Made From Scratch
Every time I see cocktail mix for lemon drop martinis I cringe.  Why oh why? 
Sure, I'm all about simple mixes when you need them but a good lemon drop is the world's easiest drink!  No mix required.  Ever…
When I'm in a hurry I buy lemonade at the store.  Simply Lemonade makes a wonderful lemonade that is as good as homemade (if you ask me).  Sometimes I buy a bag of Meyer lemons at Costco and squeeze my own.  Either way you get an excellent lemon drop martini.
Get a Good Cocktail Shaker To Make Lemon Drops
Tools In This Post:  I like using a cocktail shaker to make these drinks.  My favorite shaker is this simple one from OXO. It is durable and pretty while also going into the dishwasher for easy cleanup.  The lid doubles as a measuring cup for alcohol and it has a nice straining system for pouring out cocktails.  We love ours so much I buy them as gifts for family and friends.
For Martini Lovers you are also going to need this Pomaganet Martini Recipe! 
The Perfect Lemon Drop Martini
The Lemon Drop Martini is a bartender's best kept secret! It is easy and cost effective to make and everybody loves them! You can make these a few at a time or mix up as a big batch cocktail for a party. Perfect for Friday nights, bridal showers, Easter brunch, or summer BBQs. (See recipe video above.)
Ingredients
To Make Sugar To Rim Glasses
1/3

cup

sugar

Zest of 1 giant lemon or 2 medium lemons
To Make Martinis
3/4

cup

lemonade good quality lemonade

Simply Lemonade is excellent or use fresh lemons make your own

2

shots lemon vodka

I used 360 Sorrento Lemon Vodka
To Make Your Own Fresh Squeezed Lemonade
1

cup

fresh squeezed lemon juice

½

cup

granulated sugar or ultra fine granulated baking sugar

2

cups

water or club soda
Instructions
Place martini glasses in freezer to chill while you prepare the drinks.

Start by making sugar to rim the glasses. Zest one or two lemons.

Choose a small dish with sides big enough to dip the rim of the glass you plan to use. Combine the 1/3 cup sugar and lemon zest together in the bowl. Use your fingers to mash/squish it together until thoroughly mixed.

Take a small slice of lemon and rub around the entire rim of the chilled glass. Dip the damp rim into your sugar mixture and set the glass aside to dry.

Select a high quality lemonade or make your own by combining fresh squeezed lemon juice and granulated sugar with water, stirring until the sugar is fully dissolved.

To make two martinis combine ¾ cup lemonade with 2 shots vodka. Shake over ice in a cocktail shaker and serve in chilled, sugar rimmed glasses. Drink and repeat!
Nutrition
Nutrition Facts
The Perfect Lemon Drop Martini
Amount Per Serving
Calories 249
% Daily Value*
Carbohydrates 33g11%
* Percent Daily Values are based on a 2000 calorie diet.