Succulent Korean BBQ Short Ribs are easy to make and grill up in minutes. Seasoned with ginger and soy sauce, they have a rich meaty flavor very different from American style BBQ ribs.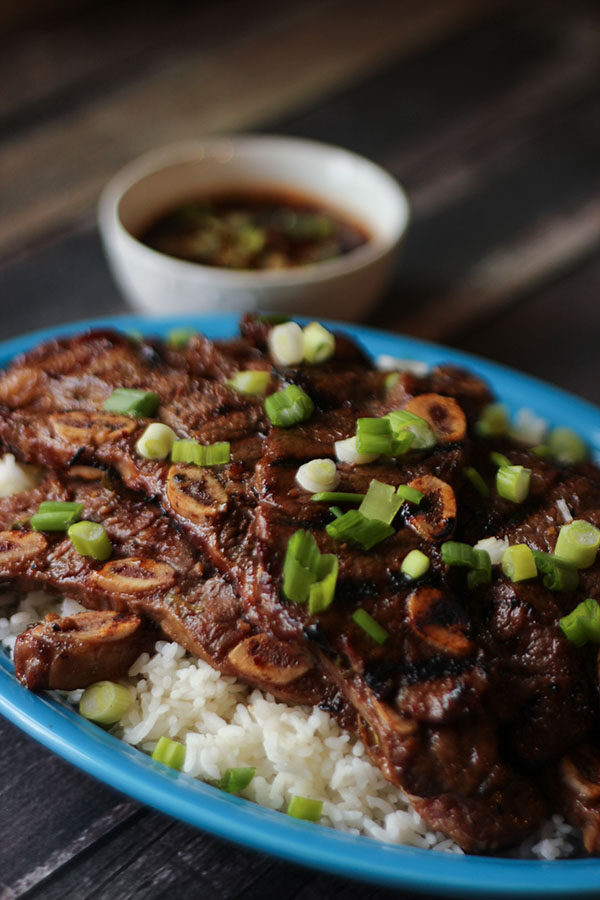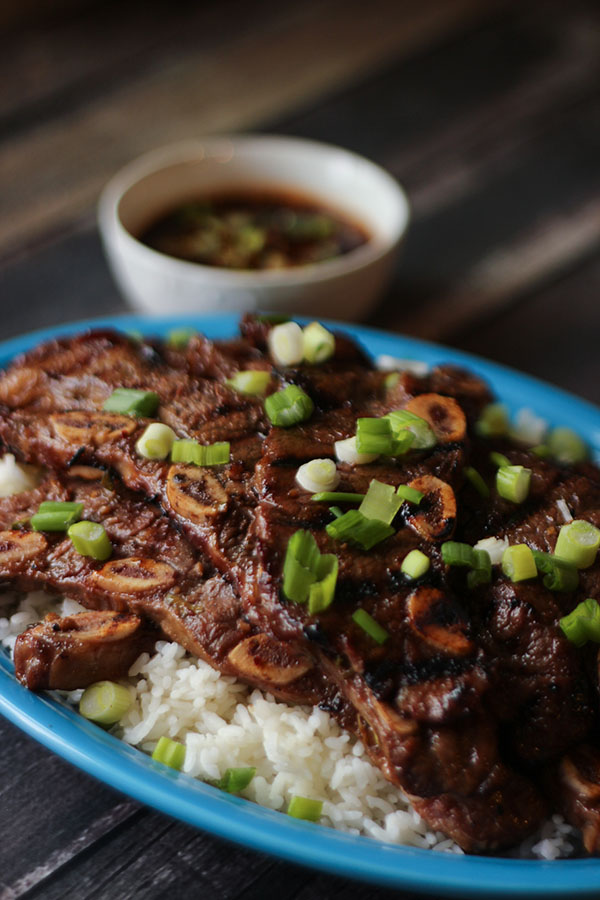 Everything changes when you get married. Some of it is sudden and a little shocking. (I had no idea he was going to take my blankets, my pillows and then try to sleep on top of me every night.) Some of it is a wonderful gradual shift into an entirely new way of doing life as a couple.
Looking back four years to when Jon and I started dating I see we have undergone a dramatic change in the way we eat. It didn't happen overnight. Instead it was a slow evolution of two people finding a way to be that honored the other's needs and likes.
Discovering Korean BBQ Ribs
Before Jonathan, I rarely ate any Asian food. When we got engaged I realized right away that without Jon's mom or Aunts close by he was never going to get any Korean home cooking unless I (the white girl) did it.
So the adventure began. I learned from my husband, from cooking blogs, from my new mother-in-law. I experimented and I took strange shopping lists to the very patient Mr. Hong at the Korean store.
He would walk me up and down the aisles finding the items on my list and filling my basket. He answered my questions and always sent me on my way ready to face a new challenge
Garbi is One of My Favorite Korean Foods
Of all the amazing Korean dishes I now cook, Garbi is one of my absolute favorites. There is no standard spelling in the English language for the dish but the three main variations are Kalbi, Galbi or Garbi. However you spell it these beef ribs are downright amazing.
The marinade is simple and combines the magic flavors of ginger and soy sauce with some green onion and spices. The meat is rich and succulent. I serve it over a bed of white rice – really that is a must for capturing all the delicious juices and sauce from the meat, but it is also good with some veggies.
Non-Traditional Dipping Sauce for Korean BBQ
The dipping sauce is less traditional but I enjoy serving it along with the meat.  I also use it to dip steamed broccoli or to drizzle over stir fry.
When my mom comes to visit she will drink it out of the fridge – let's just say she LOVES zesty ginger Asian sauces.  (This is great sauce but I draw the line at drinking it!)
Where to Buy Korean Ribs for BBQ
If you have not seen this type of meat at your favorite grocery store ask the meat department if they carry it or can cut it.
I find that Asian stores that sell meat almost always carry it and sometimes have the best price too. Supermarkets that employ a butcher are likely to have some on hand from time to time or be able to cut it for you.
Sometimes the cuts are extremely fatty. I look for cuts where the meat is marbled with some fat along the edge but not so much fat that it almost looks like bacon. When I do find a sale on good pieces I stock the freezer.
How Much Meat Should You Buy for Korean BBQ?
I find that three pounds serves four people very comfortably but if I was making dinner for Jon and his brothers I would plan on about two pounds per boy. Those boys can put away the Garbi!
If you have never made any Asian food before Garbi is the perfect dish to start with. It is easy, delicious, not spicy and a reliable family pleaser. Kids love it and it is a great way to introduce them to an authentic dish from another country that they will actually enjoy eating.
ARE YOU CONFIDENT IN YOUR KITCHEN?
I teach busy moms How to Cook the Perfect Family Dinner EVERY Night in 30 Minutes or Less Without Being Stuck in "Kitchen Jail."
Want to learn more? Come check out my class, The Confident Kitchen!
Korean BBQ Short Ribs (Kalbi , Galbi or Garbi)
Ingredients
For the Ribs
3

pounds

beef short ribs sliced across the bone

3/4

cup

low sodium soy sauce

1/2

cup

granulated sugar

can sub brown sugar

2

Tbsp.

vegetable oil

1

Tbsp.

sesame oil

2

tsp.

minced garlic

1

bundle

green onions minced

1

Tbsp.

fresh grated ginger

1/4

tsp.

crushed red pepper flakes
For the Dipping Sauce
2/3

cup

low sodium soy sauce

1/4

cup

rice vinegar

1

heaping Tbsp.

fresh grated ginger

1

tsp.

sesame oil

1/2

tsp.

crushed red pepper flakes

1/2

tsp.

sweet paprika

1/2

cup

sugar

1/4

tsp.

onion powder

2

heaping Tbsp.

green onions

minced
Instructions
To Make the Ribs
Put everything but the meat into a Ziploc bag. Seal the bag and shake to mix all ingredients.

Add the meat and refrigerate 1-3 days. If you plan to make the dipping sauce this is the perfect time to start it so the flavors can develop. (1 day of marinating is flavorful, 2 days is more so and 3 days is most.)

About two hours before you want to cook it, set the bag of marinated meat on the counter and allow it to come to room temperature.

The meat can be cooked on a grill or in a frying pan if a grill is not available. A grill will give a better flavor.

To grill the ribs preheat a BBQ to high heat. When it is good and hot, add the meat and cook for 1-2 minutes / side allowing good char marks to establish. Continue to cook the meat for a few more minutes turning frequently until it is as cooked as you desired. I recommend medium-rare.

To pan fry heat a cast iron or nonstick skillet to medium-high heat. Using enough oil to make sure the meat does not stick, cook turning frequently until the meat is as cooked as you desire. I recommend medium-rare.

Serve immediately with rice and dipping sauce.
To Make the Dipping Sauce
Stir all the sauce ingredients together and refrigerate until you are ready to use. The sauce is best if it as had at least 12 hours to develop. Leftover sauce keeps indefinitely in the refrigerator but will become very strong after a few months. We prize leftover sauce as a condiment for stir fry, a dip for almost any Asian food, and particularly for pot stickers.
Notes
When I find a sale on the ribs I make up the several batches of Garbi for the freezer.  I put the meat in the marinade and then freeze it in Ziploc bags until I need a quick and easy dinner.  I love doing the work of making the marinade once and having it ready for a quick dinner when I need it.  As a bonus it defrosts quickly. Prepared food homemade style!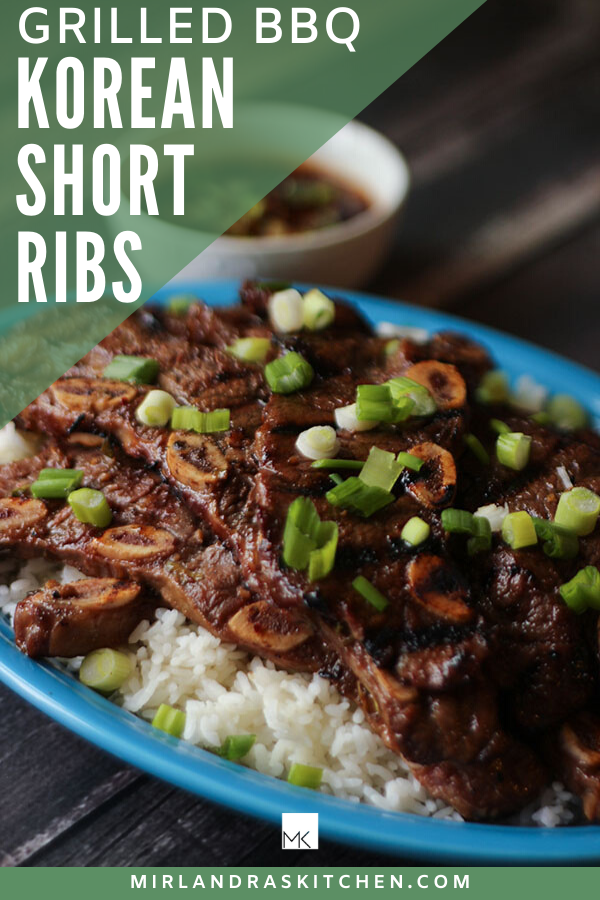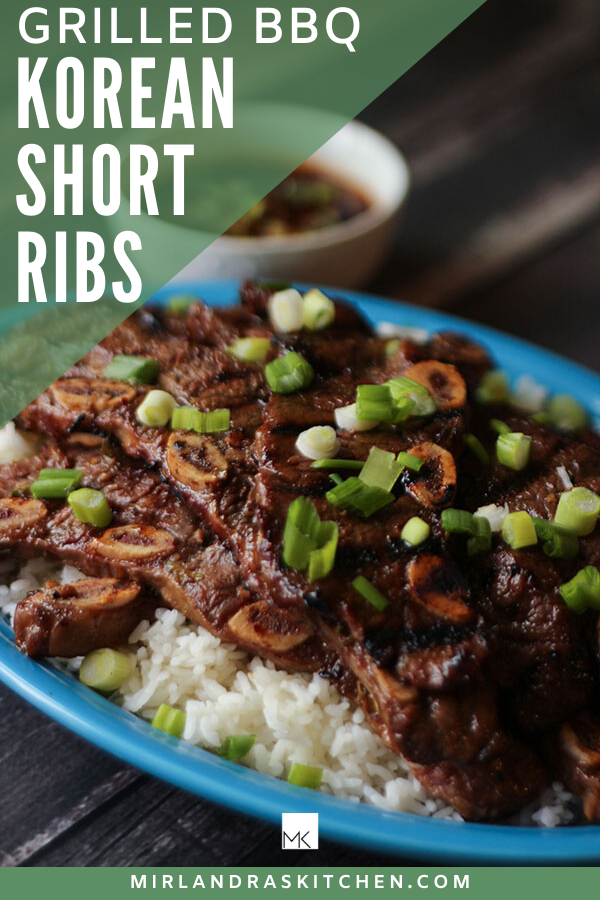 Reader Interactions