Did you know it is EASY to cook Snow Crab Legs at home? We love this wonderful seafood treat and it is much cheaper to make at home than to buy a crab dinner in a restaurant.
The best way to cook snow crab legs at home doesn't even require any fancy equipment! All you are doing to need is a your big soup pot and a colander or steamer insert. Get ready to enjoy a better than restaurant quality meal at a fraction of the cost!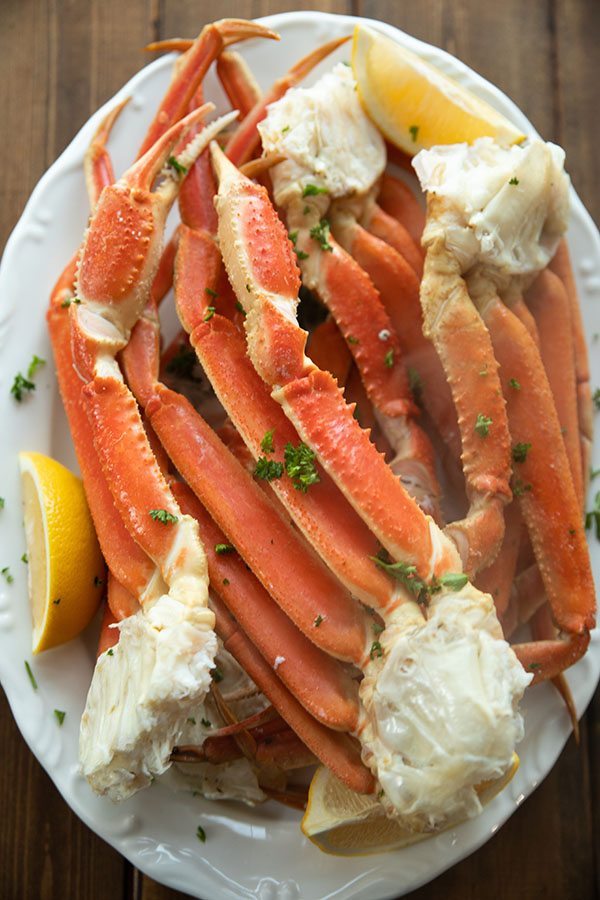 My kids are really crazy about seafood! Sometimes I think they are pretty odd toddlers but in reality we have just offered seafood frequently in their young lives and it seems like a "normal" food to them.
Instead of spending $100 getting crab for our family of four at a restaurant (and probably being disappointed at the quality) we like to prepare it at home and enjoy special family feasts together!
Today I'm teaching you everything you need to know from what kind of crab to buy to how to cook it at home to how to season and ESPECIALLY how to eat it!
The Best Way To Cook Snow Crab Legs At Home
Cooking crab legs at home is incredibly simple! Anybody can do it – no fancy cooking experience needed! There are three main methods for cooking crab legs.
Steaming
Boiling
Broiling
I use steaming. It is the simplest way to cook the legs and gets the best results. Boiling can water log your crab meat. You don't want any extra liquid diluting the delicious crab.Broiling is difficult because your crab can get overcooked fairly easily.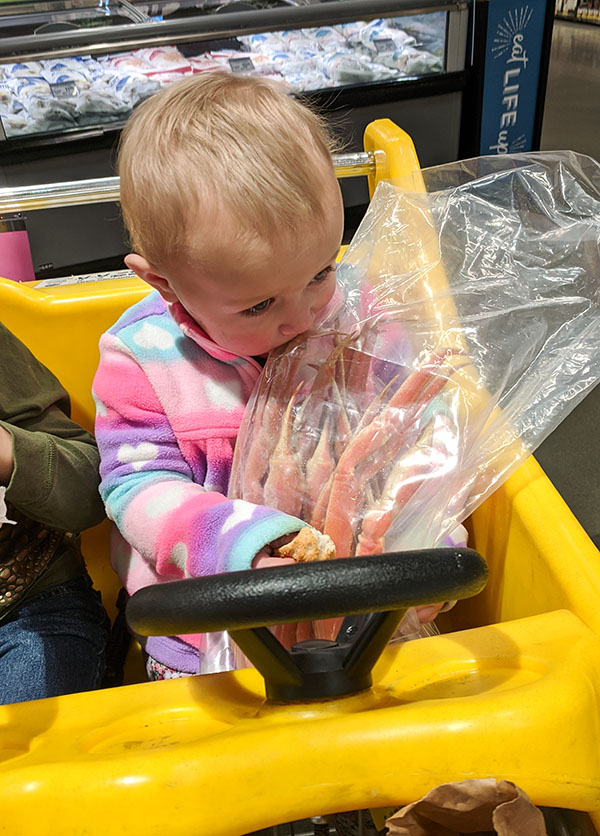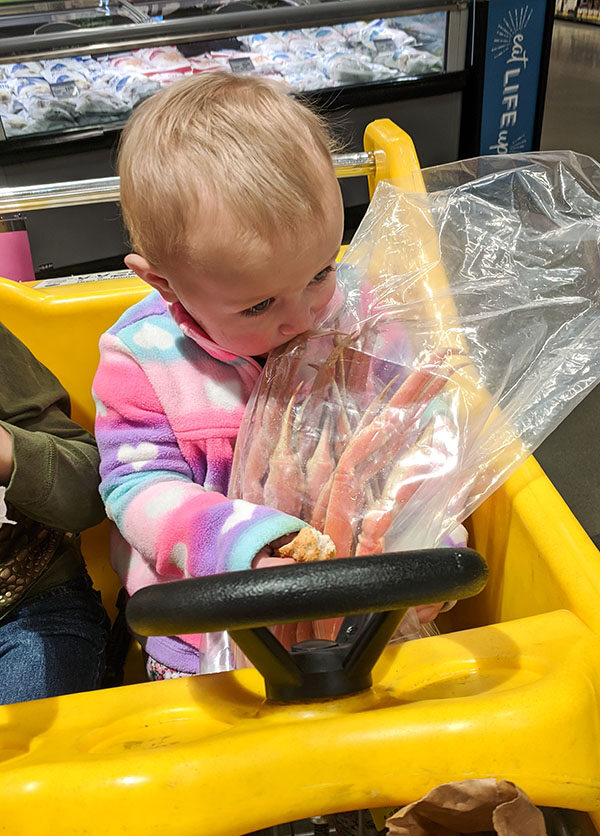 How Much Crab Should You Get?
Crab legs are about 50% shell and 50% meat. One cluster of snow crab legs is about 1/2 pound.
Just serving crab? Plan on 1 1/2 – 2 pounds of crab legs per person for big crab eaters!
If you have some side dishes 1-2 clusters (1/2 – 1 pound of legs) is a good serving for each person.
My toddlers will each mow through a cluster and I won't even tell you how much my husband can eat!
Hot Tip: The claws are the BEST part! If you are buying the legs at a seafood counter be sure to ask for clusters that are complete with claw. There is nothing more sad than getting home to discover the claw leg is broken off your cluster!
Thawing Crab Legs
Most crab legs you buy at the store will come pre-cooked and frozen. It is recommended that you thaw them before heating them.
If you have time put the legs in a pan with sides in your refrigerator and let them thaw overnight.
If you are in a hurry put the legs in the sink and run cold water over them for several minutes. Once the ice glaze is off the side you are ready to rock and roll!
How To Serve Crab Legs
My favorite way to eat crab is dipped in melted butter (salted please!) But there are four popular ways to enjoy it.
Melted Butter: Melt some salted butter and dip your cracked crab into the deliciousness! (Yes you can lick your fingers.)
Butter and Lemon: Serve melted butter and wedges of lemon. Remove the shells and squeeze the lemon wedges over the meat. Dip in butter for that tart and buttery flavor.
Old Bay Seasoning: You can get Old Bay in the spice section of most stores. It is a classic blend of spices and herbs that originated in Baltimore, Maryland. Sprinkle some on a plate. Dip your shelled crab in butter and then dip into the Old Bay.
Cocktail Sauce: Remove the shells and dip your meat into some tarter sauce before eating. This is popular with horseradish lovers!
Snow Crab Vs. King Crab
So which kind of crab is better? King Crab is bigger and is more prized by restaurants. Because of this it is more expensive. My opinion is that snow crab is just as good if not better! It has a sweet, slightly briny flavor and is easier to crack and get to the meat.
If you are looking for "bang for your buck" value then snow crab all the way. But if you want the "king" of seafood king crab is considered the best by "people that know." My vote? Try both and see what you think! I don't find king crab special enough to pay extra money for but that is my personal opinion 🙂
How To Eat Crab Legs
Ever wonder HOW to eat crab legs? It isn't hard at all! It is also a fun playful meal. Even my toddlers get into trying to crack their own legs.
Snow crab legs are easy to get into without special tools. (Scroll down for a easy video of How to Eat Crab Legs.)
Cracking Snow Crab Leg Sections
Cracking Crab Claws
The claw arm of a crab has a tougher shell and is usually spiked. For King Crab and most snow crab claws you need some tools.
Dealing With Crab Shells / Mess
Eating crab can get a little bit messy. Early in our dating life I once accidentally flung part of a crab leg at Jon in a restaurant! (He cracked all my crab for awhile after that so I thought it was a WIN!)
What To Eat With Crab Legs
Crab is a meal worth lingering over… Take some time. Have a conversation! Enjoy the people you are eating with. You can serve it all by itself or with some great side dishes.
We love serving fresh rolls or crusty bread to mop up the extra melted butter. Sometimes we make a simple Alfredo sauce and pasta. Seafood is always wonderful with Alfredo!
Seafood Lover? These Are Our Favorite Seafood Recipes
How to Cook Snow Crab Legs
Snow crab legs are a wonderful treat to enjoy at home. They are easy to prepare by steaming with tools you already have in your kitchen. This is a meal worth having at home and skipping the high cost of restaurant crab dinners! See video below for instructions on how to eat crab legs.
Ingredients
4

clusters

snow crab legs

1/2

cup

melted butter

use salted butter for this

1

lemon

optional

2

Tbsp

Old Bay Seasoning

optional
Instructions
Put several inches of water in a large soup pot or stock pot. (Use the amount of water needed to be below your steamer basket.)

Place a steamer basket or a colander in the pot, cover and bring to a boil over high heat.

Add thawed crab legs to the basket or colander and replace the cover.

Steam for 8-10 minutes until crab legs are hot through.

Serve hot with melted butter and lemon wedges / Old Bay Seasoning if desired.
Nutrition
Nutrition Facts
How to Cook Snow Crab Legs
Amount Per Serving
Calories 418
Calories from Fat 9
% Daily Value*
Fat 1g2%
Sodium 1mg0%
Potassium 52mg1%
Carbohydrates 4g1%
Protein 1g2%
Vitamin A 58IU1%
Vitamin C 15mg18%
Calcium 29mg3%
Iron 1mg6%
* Percent Daily Values are based on a 2000 calorie diet.
Snow Crab Legs are perfect for a special family dinner, a Valentine's Day date, special Christmas meal, or to celebrate birthdays or other occasions!