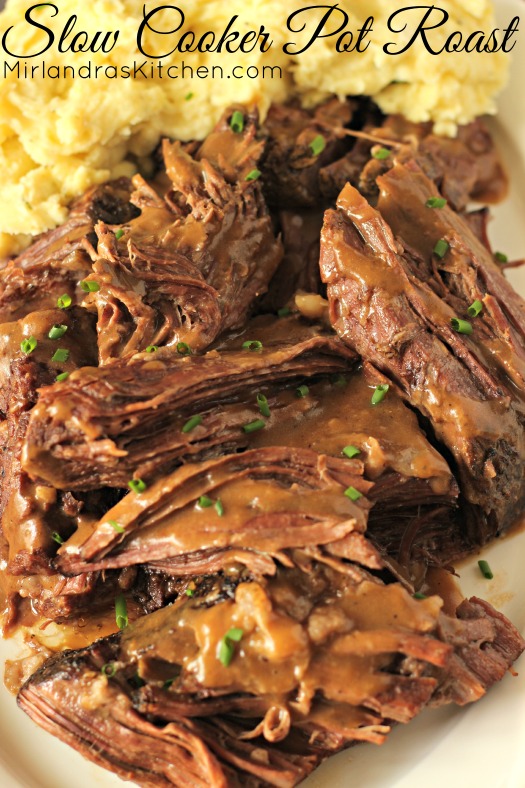 Recently one of my loyal readers, Debbie, sent me a recipe she said I would absolutely love. It looked good on paper but I had no idea it was an absolute treasure that I will probably make more than 400 times over my lifetime.
I thawed a beef roast, fired up the slow cooker and gave it a shot (with some slight modifications). Over the course of the day, the smell in the house started to get really amazing! Finally, it was perfectly tender and I tried a forkful.
It. Was. Just. So. Good. The texture was perfect which I think can be hard to come by with slow cooked beef. The flavor was deliciously beefy, gently and carefully seasoned. I loved that there was plenty of sauce for gravy or to use as the base for a hearty beef stew. It was hands down the best pot roast I have ever made in any way shape or form. My mother, who hates any meat cooked in a slow cooker, would love this recipe!
Later that evening Jon got home from work and instantly appeared in the kitchen. He ended up standing at the slow cooker eating right at the counter and never made it to the table at all. Granted, we don't stand on a lot of ceremony at our house but neither are we prone to eating our dinner standing up at the counter.
Debbie graciously said I could share the recipe with all of you and I'm very excited to do so. We made it several times and Jon said he would love to have it 1-2 times each month. The only other dinner he wants that often is corned beef! I hope you all enjoy it as much.
Thank you, Debbie, for sharing one of your families great dinners with me! We will always think of you when we are making it!
Summer Cooking: Hot weather is coming and when it does I don't much care to keep the crock pot in the kitchen. I love to cook with it in the garage though! Wherever you put the pot, make sure to set a timer that will help you to keep track of. This one is new in our house and I love being able to have four different timers running on one gadget!
The Boursin Cheese Mashed Potatoes pictured with the beef are really wonderful.  You can get the recipe here. 
Slow Cooker Pot Roast
Total Time
6
hours
5
minutes
Ingredients
3-5

pounds

of beef roast

any fatty cut such as chuck

2

cups

water

2

packets of McCormick Brown Gravy Mix

or 6 Tbsp. from the canister

1

packet of Hidden Valley Ranch Mix

or 3 Tbsp. from the canister

1

packet of Good Seasons Italian Salad Dressing and Recipe Mix

1

tsp.

fresh ground black pepper

3

Tbsp.

all purpose flour for gravy

optional
Instructions
Note on servings and meat selection: You need a fatty cut such as chuck. It should be well marbled and may have a fat cap or other larger pieces of fat. Your butcher can help you select one. With a fatty cut of meat like this that will be roasted and reduced I plan on about 1/2 pound per person (raw weight). If I want to serve six, I buy a 3 pound piece of beef. That being said, my husband came home starving one night and ate most of a 3 pound roast the first time I made it. I was rather surprised, even for him that is a large meal.

Place meat in the bottom of a large crock pot. If there is fat cap on one side place it up so the fat can run down and baste the meat.

In a medium mixing bowl, whisk together water, brown gravy mix, ranch mix, Italian dressing mix, and black pepper.

Pour the mixture over the roast and turn the crock pot on low. for about 5-6 hours. The meat is done when it is no longer at all rubbery. It will be so tender that when you poke it with a fork chunks will just fall off.

DISCLAIMER: Remember that all crock pots have different cooking times! I have a medium pot that I used for a 3 pound piece that took over 7 hours. In my larger crock pot I was done at 6 hours. If you don't check the meat every so often it can easily be overcooked and thus ruined. I suggest checking at two hours and then every hour or so after that. When the meat is close to being done it is best to check every 30 minutes.

To make gravy: Measure two cups of the hot sauce out of the crock pot. Pour about 1/2 cup in a medium sauce pan over medium heat.

Whisk in the flour until no lumps remain. Gradually add in the rest of the two cups of hot sauce, whisking through each addition until it is all incorporated. Continue to whisk until the mixture is thickened. Taste for salt and pepper, adjust as needed. Serve with the roast.