Sauteed asparagus and mushrooms is a wonderfully simple recipe that takes a few minutes and minimal ingredients. Asparagus is a great vegetable that can be prepared easily for a quick weeknight dinner side or served on Valentine's Day or Easter.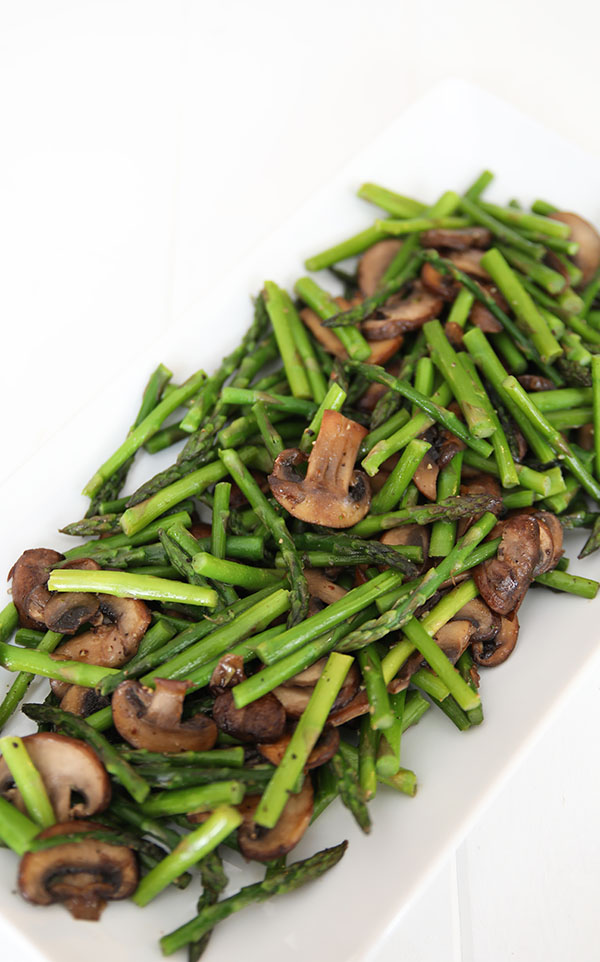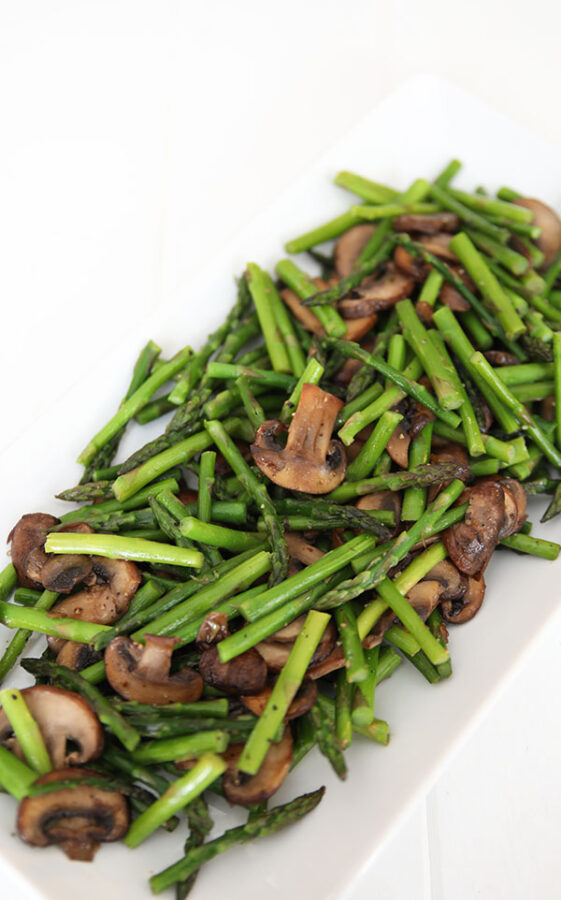 Sautéed Asparagus and Mushrooms Is One of My Most Popular Recipes
This is such a simple vegetable side dish people come back to it over and over!  It is fast and easy but really delicious and it feels fancy!
What Vegetables Are In Season Now?
'Tis the season . . . for asparagus! Every time I go into the store there are piles and piles of the beautiful green spears staring back at me just waiting to be a tender spring dinner.
Asparagus is in season from February to June with the peak coming around April.  You can get asparagus year round but it is usually the best price and quality while it is in season.
Everybody in our family loves asparagus so we look for lots of simple ways to prepare it during the season.  This quick sauteed asparagus and mushrooms is pretty much the definition of simple!
How To Properly Select Asparagus
Look at Size, Color and Texture:
 Size:  I like to look for asparagus that is about the width of a pencil.  Bigger asparagus is more mature and may need to be peeled. Keep in mind that when asparagus is harvested the sugar quickly converts to starch.  This means you loose some flavor and get a more woody texture.  If you have the chance to buy from a local farmer or grow your own asparagus you can get much better quality since you can purchase it right after harvest.
Color:  The spears of asparagus should be bright green with a bit of violet tinge or color to them.
Texture:  The stems should be firm and not limp.  The stalks should stand up straight.  Look for tips that are closed and compact, similar to a paint brush. If the tips are more open and spread out that bunch is starting sprout and you don't want that.  If the stems and tips are at all mushy or slimy just walk away!  That asparagus is going bad and is not worth it at any price!
How To Store Asparagus
Do not wash the asparagus before putting it in the refrigerator.  Ideally you want the bottom of the stems to stay moist while the tops to not get wet.
Trim about 1/2″ off of the ends of the stalks.  Put 1″ of water in the bottom of the jar  and place the cut ends of the stalks into the water.  Cover the spears / jar with a plastic bag and store for three to four days in the refrigerator.
If this is not an option you can cut the ends and wrap them in a wet paper towel.  Place the spears with the wrapped ends into a loose plastic bag and store in the vegetable drawer.  You will loose some flavor with this method but it is a reasonable option.
How Do I Prepare Asparagus For Cooking?
Preparing Asparagus for cooking is easy to do.  Look for the line where the spear turns from white at the bottom to green.  Simply grasp the spear in both hands and snap the bottom 1″ – 2″ off wherever this line is.  Most people dispose of these ends as they are tough and fibrous.  After you are done snapping off the ends you can break the spears into the size chunks you desire.
If you want a faster option, just slice the bottoms off of the spears where the the stalks change color and then slice the spears to the length you like.
If the asparagus is very thick it may have a tough skin.  In this case some people choose to peel the skin off of the stalks.  I try to buy smaller asparagus instead and save my prep time for something else.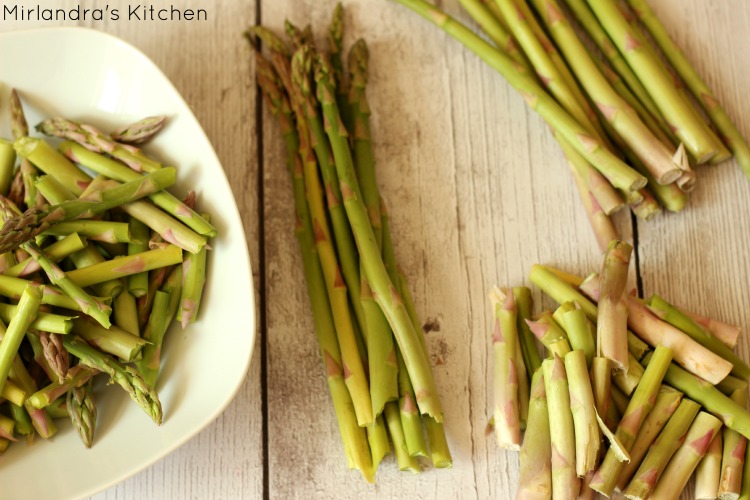 How Do You Know When Asparagus Goes Bad?
The tips of the asparagus always go bad first.  If the tips turn a very dark green / black and get mushy or slimy the asparagus is bad.
The stalks or stems will also start to discolor some.
If your asparagus starts to smell or feel slimy it is time to toss it in the trash, hold a funeral, and head back to the store for more!
Can I Leave Out The Mushrooms?
I know mushrooms are not everybody's thing. You don't have to put them in.
Cooking should be about you and the food, about what clicks for the people you are feeding.
Adapt, experiment, try something new but at the end of the day find your way of making a dish.
How Do You Clean Mushrooms Before Cooking?
"Mushrooms need a shower, not a bath."
– Julie Thompson.
People clean mushrooms lots of different ways.  The best is to wash them in cold running water and then actually put them in a salad spinner to get them as dry as possible.
Sometimes when I'm in a hurry I wash them and just towel them off a bit and then slice.
Other cooks use a damp paper towel or a mushroom brush to wipe each mushroom one at a time before coking them. 
I owned a cute mushroom brush once.  I think at some point I gave up and tossed it into the trash.  I never could get over having a brush for ONE VEGETABLE.  Basically if you do want to brush your mushrooms use something with soft bristles.
Mushrooms do not need to be peeled but you can trim the bottom of the stem and discard.  I only do this if the stems look dry, pink or funky. 
Basically my rule of thumb is that if it doesn't look like something I want to eat I slice that part off.
Do not soak mushrooms.  You don't want them to absorb any extra water. It is best to clean them right before you cook them.
I do suggest keeping in mind that "pretty food" is a fairly modern and partly American idea. 
Just because it doesn't look "Instagram Ready" doesn't mean your food is ready for the trash bin.
What is the best way to slice mushrooms?
We eat pounds and pounds of mushrooms every month. I LOVE my Westmark slicer. 
It is a fast and easy way to do a big pile of mushrooms.  I also use it for strawberries and hard boiled eggs.
There are a lot of other kinds of mushroom slicers available.  This one is sharp and all metal.  Avoid the ones that are made with plastic.  They don't hold up well.
You can also use a knife or buy pre-sliced mushrooms.  I try to avoid buying them pre-sliced unless I plan to cook them that day. 
Buying anything that is already sliced causes it to go bad faster.
Are Mushrooms Good For You?
Mushrooms are very nutritious. They have a lot of B vitamins in particular.  The are considered valuable for your heart, for red blood cells and even healthy skin.
Sauteed Asparagus and Mushrooms
Sauteed asparagus and mushrooms is a wonderfully simple recipe that takes a few minutes and minimal ingredients. It is one my 10 most popular recipes year after year! Asparagus is a great vegetable that can be prepared easily for a quick weeknight dinner side or served on Valentine's Day or Easter.
Servings
4
modest servings
Ingredients
1

bundle of asparagus

6-12

mushrooms

crimini or baby bella

3

Tbsp.

Butter

1/4

cup

water

fresh ground pepper

salt
Instructions
Snap or cut the root ends off of asparagus spears and then snap or cut each spear into pieces 1"-3" long.

Wash and slice mushrooms.

In a large nonstick pan, add butter and mushrooms. Sprinkle on a little salt. Fry on medium - high heat until mushrooms are golden brown in color, about 1 minute.

Remove the mushrooms to a plate but leave the any remaining butter in the pan. Add asparagus, and water. Sprinkle additional salt (at least 1/8 tsp.) and grind in some pepper.

Saute the asparagus on medium high for about 2 minutes until it is bright green and slightly softened. If you bite a piece and it has a slight chew/crunch but is still mostly soft it is done.

Remove from heat, stir in mushrooms and serve hot.
Nutrition
Nutrition Facts
Sauteed Asparagus and Mushrooms
Amount Per Serving
Calories 107
Calories from Fat 81
% Daily Value*
Fat 9g14%
Cholesterol 23mg8%
Sodium 81mg3%
Potassium 95mg3%
Protein 1g2%
Vitamin A 275IU6%
Vitamin C 0.7mg1%
Calcium 3mg0%
Iron 0.1mg1%
* Percent Daily Values are based on a 2000 calorie diet.
Want to try another easy asparagus recipe that is a little different but still simple? Give this Miso Roasted Asparagus a shot.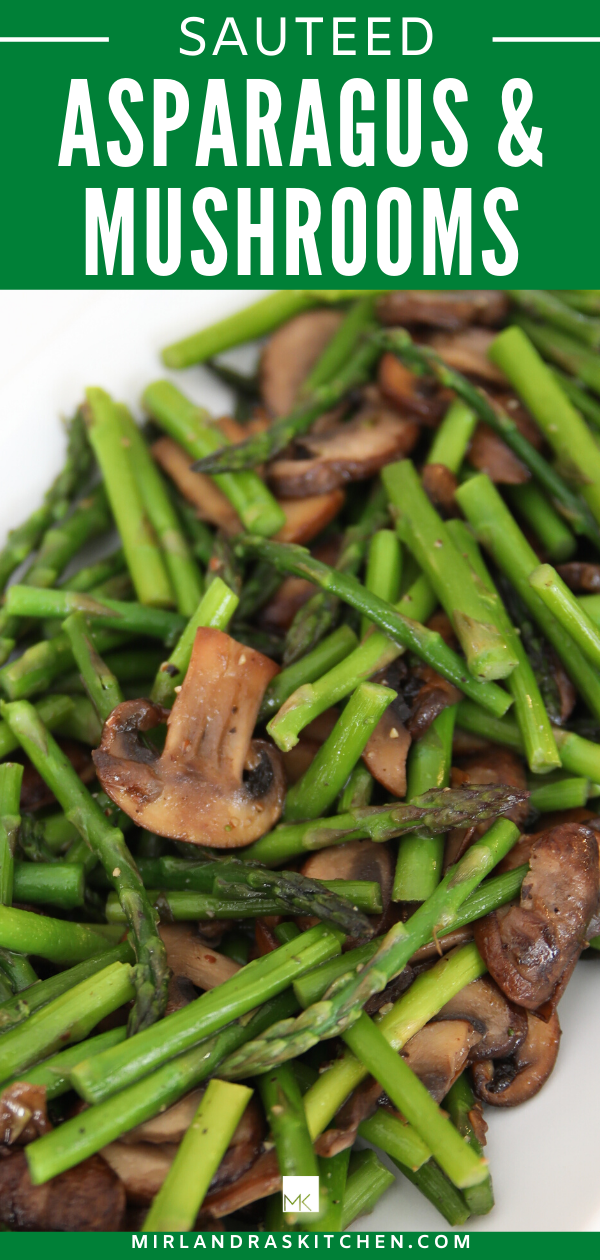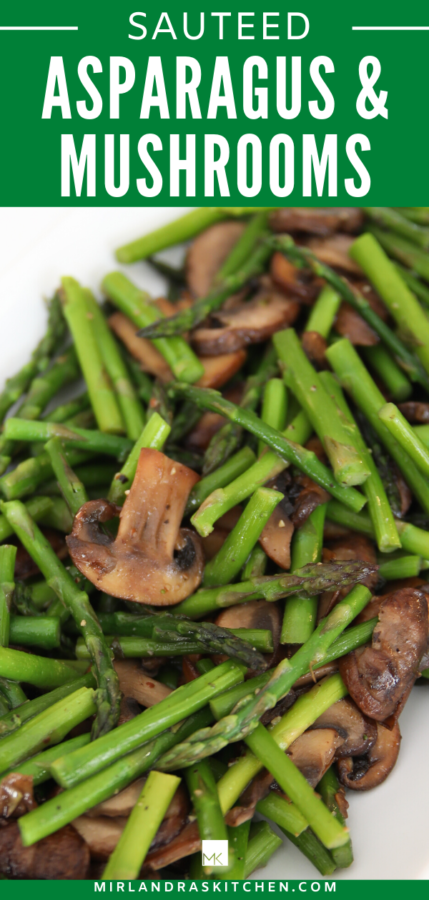 (Note: I originally published this post in 2015.  I've added some new photos, video and some extra helpful information to update it.)