Enjoy this flavorful and easy roast beef stock, a version of bone broth all winter long. It's a great base for soups or simple food when you are sick.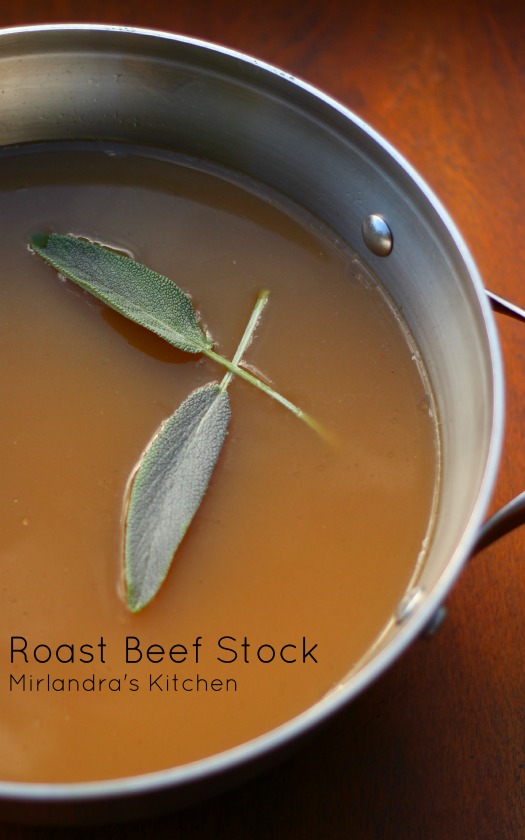 Winter is coming and with it, colds and flu. I always expect the first rush of sick people about the time the weather changes. As far as I am concerned, the time to prepare roast beef stock is now.
When everybody is sick, nobody wants to cook anything worth eating. I try to plan ahead and make some healthy stock for the freezer. Then as people catch bugs, it will already be there ready for tender tummies. Of course, you can also use this high quality stock to make a wonderful soup or stew come winter. There are lots of great reasons to stock up your freezer with the stuff.
There is plenty of research about the health benefits of stock but I don't know if any of it proves that bone bone broth or chicken soup actually heals people. I do know that stock is easy on a tummy that has just been though unspeakable horrors, it's full of nutrition, and it's warm and comforting when you feel less than awesome.
This recipe takes quite a few hours to cook but most of that time it does not need your attention. You do need to be around but you don't have to tend it every single minute. I pick a cold day when I enjoy having the stove pumping out heat for hours and make mine while I'm cleaning or doing another cooking project.
Some people complain that boiling beef bones stink up the house like none other. This recipe does not do that. You will have a pleasant order of roasting beef and veggies that will probably make you want to cook a pot roast. Sorry about that! The final product has a nice depth of flavor that makes it a delicious drinking broth or a good base for anything "beef" you want to do.
I cooked up one batch and Jonathan made off with all of it. He added a bunch of veggies and made himself a pot of soup. To be honest, that man has a soup addiction that I worry about sometimes. I will have to make more to stash in my freezer for winter.
Roasted Beef Broth
Servings
2
quarts of broth
Ingredients
5 - 6

lbs

beef marrow bones

buy them cut into pieces so marrow is exposed

5

stalks celery

quartered

2

onions peeled and quartered

4-10

cloves

garlic peeled

1

teaspoon

black peppercorns

1/2

teaspoon

red pepper flakes

1/2

bunch fresh parsley*

3-4

fresh thyme sprigs*

3

dry bay leaves*

1

sprig fresh rosemary*

1

pat butter
*Use whatever fresh herbs you like or have handy. What you put in the pot determines the flavor. Use small amounts to create subtitle background flavors and larger amounts to highlight your favorite flavors.
Instructions
Preheat oven to 450F. Put beef bones, celery, onions and garlic in a big roasting pan with a flat bottom.

Bake for 30 minutes. Using a cooking tongs, flip bones and veggies to allow browning on all sides. Bake another 30-45 minutes until everything has a nice dark brown roasted color to it.

Remove bones and veggies to a large stock pot. Pour in all accumulated fat and juices. Add 2 cups hot water to roasting pan and allow to soak about 5 minutes.

Add spices, herbs and butter to stock pot. When the roasting pan has soaked, use a spatula to scrape all the yummy brown bits off the bottom of the pan. Add contents to stock pot.

Fill stock pot with hot water until bones are covered, plus 2". Bring to a boil on high, then turn down to a light simmer. Cook for about 4 hours. The butter will help keep broth from foaming. If water dips below the level of the bones add more water to keep them covered.

Use a tongs to remove bones and veggies. Discard them. Pour broth through a sieve to remove herbs and any bone particles that remain. Skim fat from top are reserve for another purpose. Or refrigerate the broth and remove the fat after it has chilled.

Drink broth as is, or use as the base for delicious soups. It can be frozen for later use.