Juicy, tender, flavorful pork chops in the oven!  These are quick and simple to prepare and come out perfect every time.  A true classic at its best!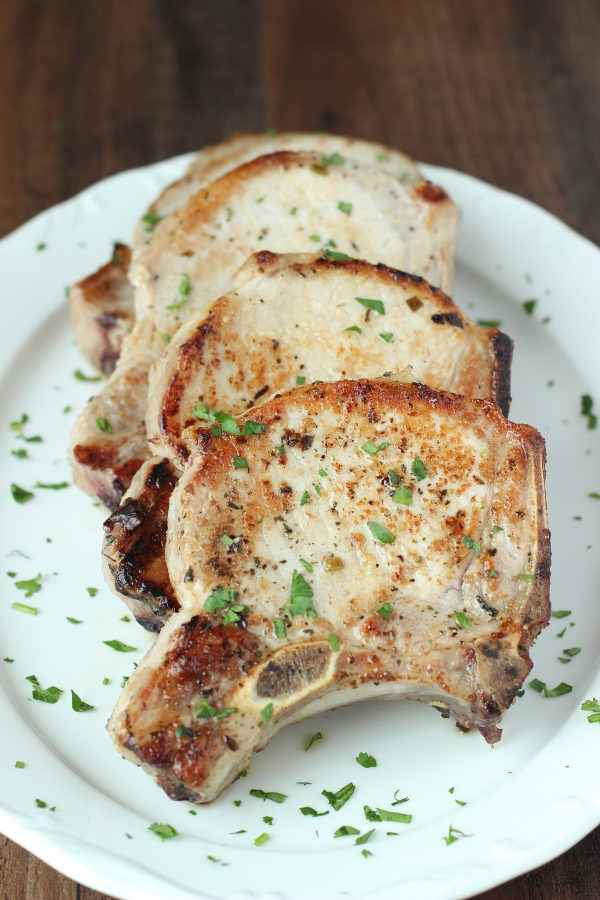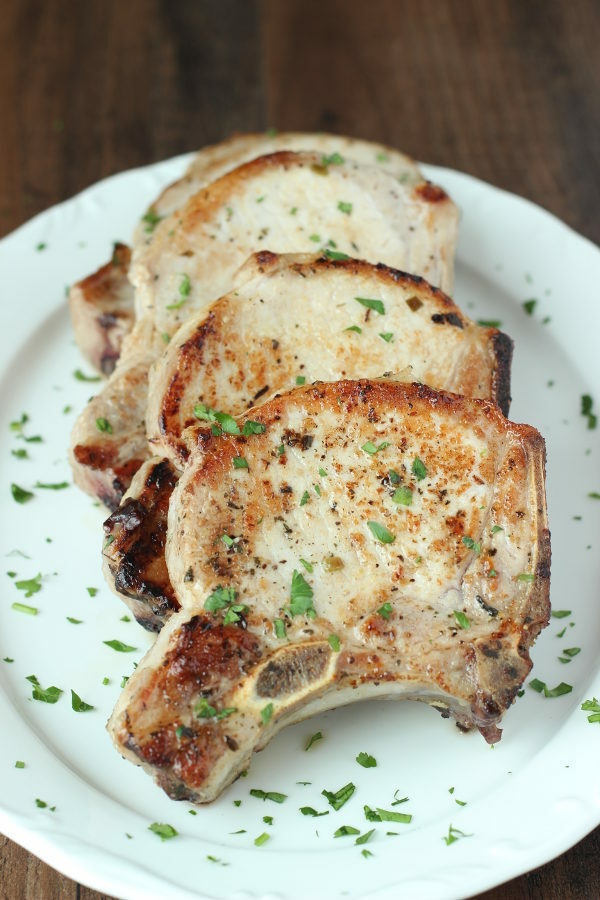 Growing up I never looked forward to pork chops.  In my experience it was like being handed a chunk of leather with a sharp knife and told to "enjoy."  Yeah…not so much.  Over the years in our marriage my husband has occasionally asked for pork chops and I have managed to dodge the requests repeatedly.  I don't want to serve or eat shoe leather.
This winter it came up again, this golden memory of a juicy meaty chop from childhood – complete with a bone to gnaw on.  I began to wonder if maybe a pork chop could be something better – maybe even something amazing?
How to Make Perfect Pork Chops
I did some research and saw a lot of BAD recipes and then I stumbled unto the brine to stove to oven method.  Letting the chops have a little brine bath before cooking helps them stay moist and juicy even if you don't pull them perfectly on time.  The stove to oven method gives you a beautiful golden crust while helping the chop cook evenly without overcooking.  Suddenly I understood what Jonathan loved so much!
These chops are easy to pull off – even for a less experienced cook.  Go ahead, grab a pan and go crazy!  Just watch your timing and all will turn out well.  If you have questions drop me a line in the comments!  I'm happy to help.
These pork chops need some oven time and some stove time.  They also need a good golden sear. The best way to get all of these needs met is a cast iron skillet.  I use mine non-stop in the kitchen for everything from baking to frying.  Anybody who cooks should own at least one!
No matter what meat you are cooking you need a good quality digital thermometer.  I have recently switched to one from ThermoWorks.  It has a thin probe and comes to temp FAST.
More Classic American Meat Dishes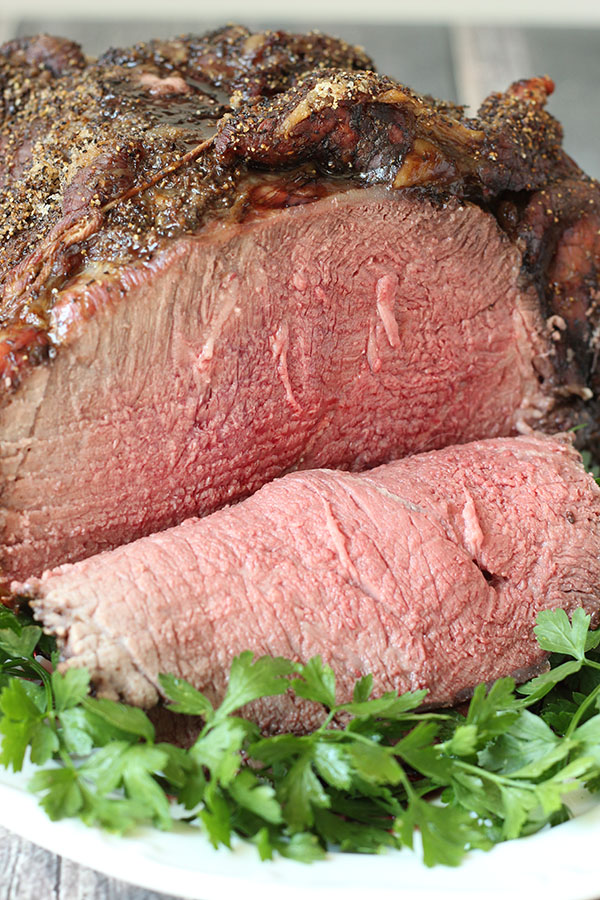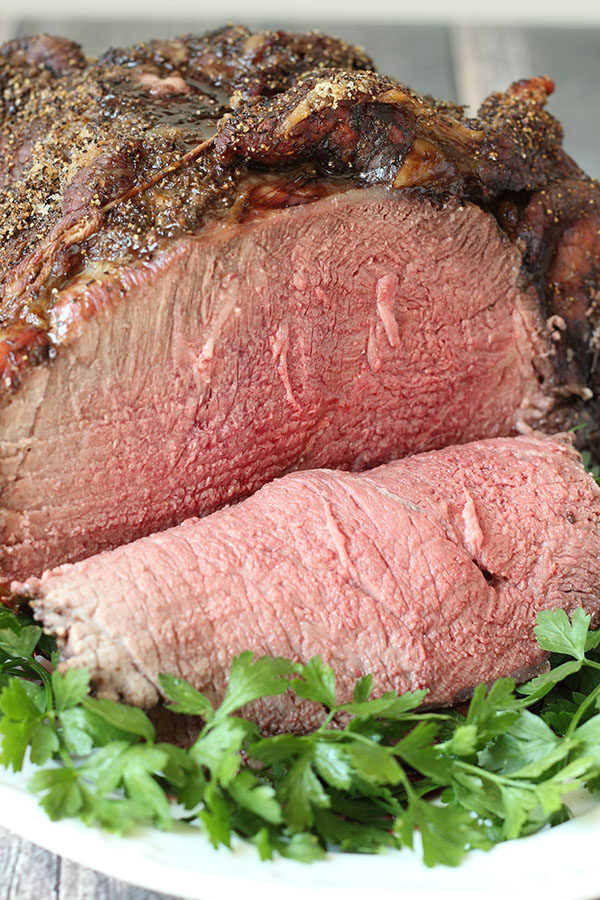 Perfect Pork Chops Every Time
Juicy, tender, flavorful pork chops! These are quick and simple to prepare and come out perfect every time. A true classic at its best!
Heads Up: Plan ahead for 30 minutes to 4 hours of time for the pork chops to soak in the brine. It is what makes these chops so juicy and amazing!
Ingredients
3

cups

warm water

2 1/2

Tbsp.

salt

2

tsp.

garlic

1/3

cup

brown sugar

packed

1

tsp.

black pepper

coursely ground

1

Tbsp.

or more favorite fresh herbs

I'm using freeze dried Poultry Herb Blend by Litehouse

2 to 4

pork chops — center cut

bone-on, 3/4-inch to 1-inch thick

1

Tbsp.

Vegetable or olive oil

Seasoning salt and fresh ground pepper
Instructions
In a medium bowl combine the warm water, salt, garlic, brown sugar, pepper, and herbs. You can add handfuls of your favorite fresh herbs or 1 Tbsp. of your favorite freeze dried blend. My recipe makes a nice mild flavored pork chop. Feel free to add jalapenos, red pepper flakes or anything else you might like to punch up the seasoning. Stir everything together.

Place the pork chops in any casserole dish with 2" sides they will fit in. Pour the brine over the chops and leave them on the counter for a minimum of 30 minutes and a maximum of 4 hours.

After brining, place 1-2 oven proof skillets (I prefer cast iron) into the oven on the middle rack. Preheat the oven to 400 F.

While the oven is preheating remove the chops from the brine and dry them well. Rub some oil on both sides of each chop and season with seasoning salt and fresh ground pepper if desired.

When the oven is heated use an oven mit to remove the skillets and drizzle a bit of oil in them. Place the skillets on burners and turn them to medium-high heat. Add the chops to the skillets right away (they will sizzle).

Sear the chops until golden, 2-3 minutes as soon as the bottom is golden, use tongs to flip the chops over and put the pan back in the oven for 5-10 minutes until a thermometer inserted in the thickest part of the center of the chop reads 145 F. I suggest you start checking the chops at 5 minutes and check every minute afterwards until they reach temperature.

Transfer the pork chops to a plate, tent with foil, and allow them to rest for 5 minutes before serving.

Any remaining juices from the pan can be poured over the chops before serving, mixed into mashed potatoes for flavor or turned into pan gravy.
Nutrition
Nutrition Facts
Perfect Pork Chops Every Time
Amount Per Serving
Calories 327
% Daily Value*
Sodium 3586mg149%
Potassium 50mg1%
Carbohydrates 19g6%
Vitamin C 0.7mg1%
Calcium 25mg3%
Iron 0.3mg2%
* Percent Daily Values are based on a 2000 calorie diet.