An easy moist cake, perfectly caramelized slices of pineapple, and a hint of cinnamon make this the best Pineapple Upside-Down Cake we have ever had.  This is a classic worth making again and again.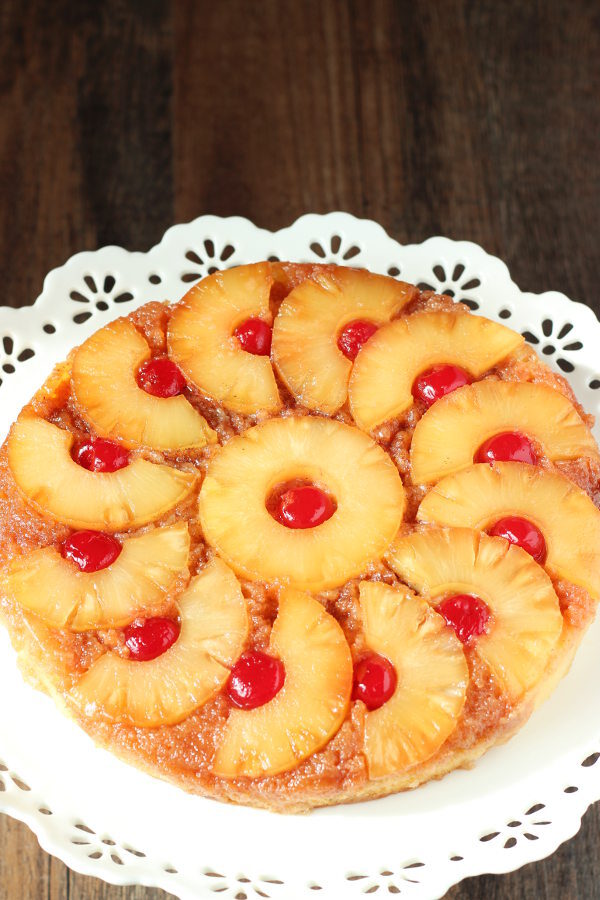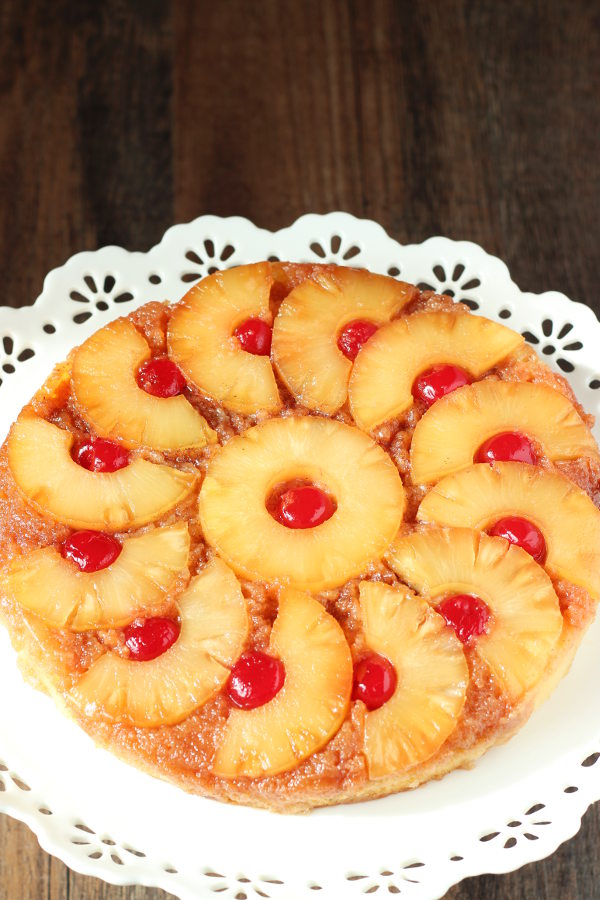 Easy Pineapple Upside Down Cake With Lots of Pineapple (The BEST Recipe)
My father completely adored pineapple upside-down cake.  His one complaint was that nobody put enough pineapple in it!  Over the years I saw him bake them different ways until finally he just started putting crushed pineapple in the bottom.  He said that way you got some with every bite!
While Dad's method was effective, I didn't think it was very pretty.  Half the fun of pineapple upside down cake is how pretty it looks when you flip it out of the pan!  I have finally solved the problem to my satisfaction by slicing each ring of pineapple in half.  Now the cake is beautiful and there is lots of pineapple!
The History of Pineapple Upside Down Cake
Pineapple Upside Down Cake first showed up in the 1920s with the widespread availability of canned pineapple.  It was unusual to be able to find fresh pineapple and if you could it would be horribly expensive for the average household.  However, canned pineapple was a reasonable price and had become widely available.
Jim Dole (Dole Food Co.) expanded pineapple production in his company and canned about 95% of it which brought canned pineapple to the average home cook.
By 1926 Dole Food Co. had a contest for "cooking-with-pineapple" recipes and Pineapple Upside Down Cake was such a popular recipe that Dole got 2,500 recipes for the cake submitted!
Almost 100 years later we are still making Pineapple Upside Down Cake and still usually using canned pineapple to make it!  You can use fresh pineapple instead if you prefer.  I suggest using a small biscuit cutter or doughnut hole cutter to cut out the core and make rings out of pineapple slices before layering them into the brown sugar.
How to Make Pineapple Upside Down Cake
Pineapple Upside down cake always LOOKS like hard work but thankfully it is a nice, easy dessert ready in just a few steps:
Pour melted butter in the pan and sprinkle brown sugar over it.
Put the pineapple and cherries into the sugar.
Stir together a simple but rich cake batter and pour over the top!
Bake and serve – easy as cake!  (Yeah, I know the saying is easy as pie but it could be easy as cake if all cakes turned out as well as this one does!)
I like to serve this cake with a scoop of vanilla ice cream or a big dollop of my homemade whipped cream to cut the sweetness of the cake with a nice creamy addition.  But it is perfectly good just by itself!
Pineapple Upside Down Cake Pan
A pineapple upside down cake needs a spring form cake pan.  A standard cake pan without removable sides makes it almost impossible to remove the cake without it breaking.  Also, standard cake pans are just not tall enough for this recipe.  There are plenty of times where one pan can be used for another but this recipe is not one of them.
A word of wisdom as you pick out your pan – NOT all spring form pans are created equal!  All over the internet people are lamenting about leaking pans!  I think I have heard it all and seen it all on various other pineapple upside down cake recipes!
A spring form pan is just like any other cake pan.  You get what you pay for!  So if you buy a shoddy pan it will leak and you will have a big mess in your oven and it will be frustrating.  If you buy a good quality pan it won't leak and your cake baking experience will be wonderful!  Remember you can also use your spring form pan for cheesecakes, torts and ice cream cakes!
I recommend picking up a good quality Cephalon Spring Form pan.  They make nice solid bakeware at a reasonable price.
More Pineapple Recipes to Try
Pineapple Upside-Down Cake
An easy moist cake, perfectly caramelized slices of pineapple, and a hint of cinnamon make this the best Pineapple Upside-Down Cake we have ever had. This is a classic worth making again and again.
Ingredients
For the Pineapple Fruit Layer
1/2

cup

salted butter

3/4

cup

light brown sugar

packed

1

can pineapple slices

20oz size

13

maraschino cherries

½

teaspoon

cinnamon
For the Cake Batter
1

cup

all-purpose flour

3/4

cup

granulated white sugar

2

teaspoons

baking powder

1/8

teaspoon

salt

1

large egg

1/2

cup

buttermilk

1/3

cup

sour cream

3

Tablespoons

vegetable oil

1

Tablespoon

pure vanilla extract
Instructions
Please see note about spring form pan before beginning.
To Make The Pineapple Fruit Layer
Adjust an oven rack to the middle of the oven. Preheat oven to 350F.

In a small bowl, melt the butter in the microwave.

Pour the butter into a 9-inch springform cake pan (a regular 9" cake pan does not have tall enough sides.) Rub a bit of the melted butter up the sides of the pan to grease them.

Scatter the brown sugar evenly over the butter.

Arrange the pineapple rings and cherries in the pan: Start with 1 whole slice of pineapple in the center of the pan. Cut the rest of the rings in half and arrange 12 halves in a circle around the original pineapple ring. If you have additional haves left you can eat them or tuck them into the sides of the pan after you pour the batter in.

Place a cherry in the center of the whole ring of pineapple and in the center of each half rings of pineapple. (See recipe photo for reference.)

Sprinkle the cinnamon over the fruit.
To Make The Cake Batter
In a large bowl, whisk together flour, sugar, baking powder, and salt. Set aside.

In a medium bowl whisk together the egg, buttermilk, sour cream, oil and vanilla.

Add the wet mixture to the dry, folding with a spatula until just the mixtures are combined. Do not overmix, it is ok to leave some small lumps in the batter.

Scrape the batter into the pan over the fruit. Be careful not to mess up your arrangement.

If you want, tuck the extra half pineapple rings into the sides of the pan. Place the round side down a few inches apart. This gets just a bit more pineapple in the cake and makes the sides quite pretty.

Bake for 38-40 minutes. The cake is done when the center is set and a toothpick inserted 1" into the center of the cake comes out with a few moist crumbs but no batter.

Place the pan on a wire rack to cool and set up for at least 30 minutes and up to overnight. If you plan to leave it overnight place a sheet of foil loosely over the top to keep the moisture in.

Run a thin spatula along the edges of the cake pan to make sure the cake is loose from the sides. Carefully invert it onto a serving platter and serve. This cake is good by itself or paired with a dollop of whipped cream or a scoop of vanilla ice cream. Store leftovers at room temperature for up to 3 days.
Notes
No Leak Spring Form Pan: A good quality spring foam pan will NOT leak.  If you are concerned that yours is not high quality you can line a cookie sheet with foil  and put it under your pan just in case!  I use a Calphalon pan and it does not leak. 
Nutrition
Calories:
580
kcal
|
Carbohydrates:
74
g
|
Protein:
3
g
|
Fat:
26
g
|
Saturated Fat:
17
g
|
Cholesterol:
49
mg
|
Sodium:
216
mg
|
Potassium:
269
mg
|
Fiber:
1
g
|
Sugar:
57
g
|
Vitamin A:
585
IU
|
Calcium:
149
mg
|
Iron:
1.4
mg
Nutrition Disclaimer
MirlandrasKitchen.com is written to share great recipes. While we do our best to provide nutritional information as a general guideline, we are not registered dietitians and the values provided here should be considered estimates – not exact scientific data.
I read each and every comment and I try to respond to questions asap, so ask away! If you've made a recipe, I would love to hear about it! Please come back and share your experience and give the recipe a 5-star rating so other people will know how much you loved it!
PIN FOR LATER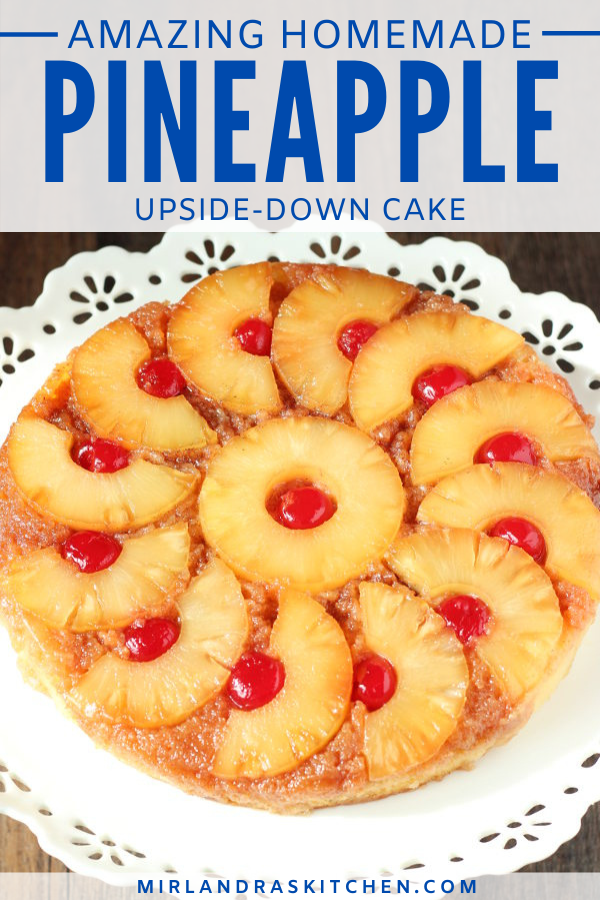 Recipe adapted from The Joy of Cooking.
This recipe was originally published in March of 2017.  It was updated in March of 2021 with additional information.