Cutting a pineapple is easy! This video goes over the three best ways to cut a pineapple for whatever you are doing. It covers spears for grilling, chunks for salad, and even fancy rings for kiddos or Easter brunch. Once you've got that delicious fruit cut I've got 10 different recipes that will keep you in pineapple heaven breakfast, lunch, dinner and dessert!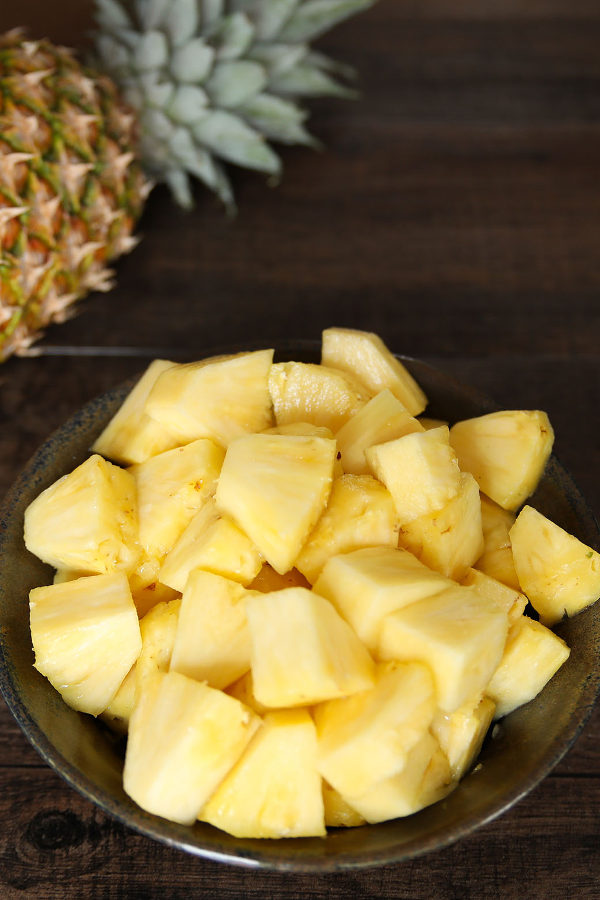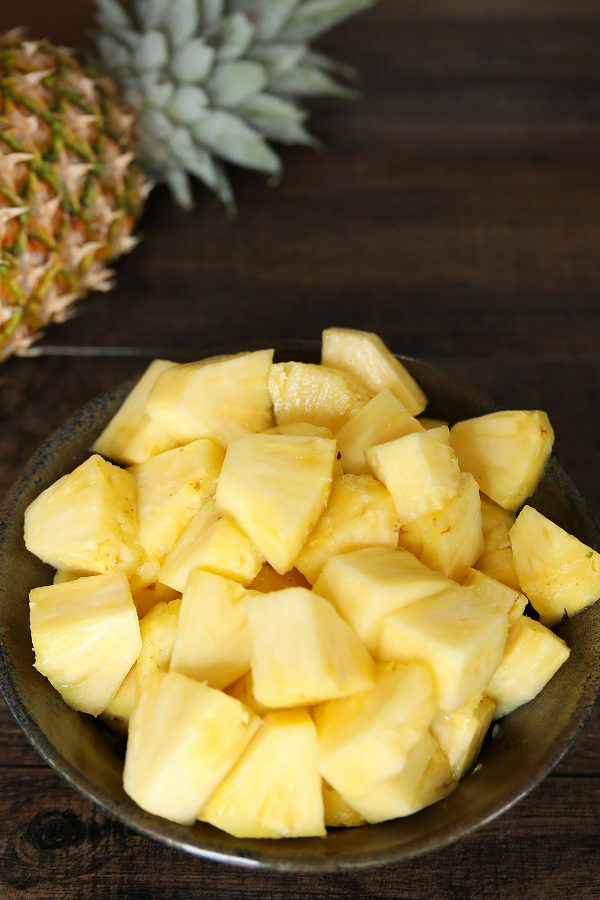 How Do I Pick A Good Pineapple?
There are four things I do to find a good pineapple
I look for one that has as much gold to it as possible. The more green the pineapple, the less ripe it is.
I smell the bottom. If there is NO pineapple smell I put it back. The more smell I get, the better. This is the most important indicator of a great pineapple.
Appearance matters. I'm looking for fresh green leaves and no mold or big brown soft spots on the bottom. Here in the US pineapple has usually traveled a long ways and the leaves don't look amazing. It is not a deal breaker in getting a good pineapple.
Pineapples with a uniform pattern on the skin are usually better. I still think the smell is the best but look for this when I can find it.
How Do I know If A Pineapple is Bad?
If you cut a pineapple open and there are brown mushy spots that is where the fruit is starting to spoil. If they are small you can cut them away and eat the yellow / gold flesh.
When buying a pineapple avoid all the fruits with brown mushy spots. This is not a fruit you want to bring home!
How Do I Ripen A Pineapple?
Just leave that puppy on the counter! A few days in the kitchen will usually help. If the pineapple you buy is dead green it won't usually ripen much but if the skin has some yellow / gold to it you should be good to go. I always try to buy my pineapples 2-5 days before I want to cut and serve them.
Should I Buy A Pineapple Slicer?
A pineapple slicer is a tool that twists into the pineapple cutting the fruit into a beautiful spiral. While it cuts, it removes the core. To cut the pineapple all you do is slice off thetop and then spin away.
After you have lifted out the fruit you can use the shell to serve cocktails or slice it in half and load it with a nice chicken salad or pasta salad.
I love this method of cutting a pineapple for pure speed. But, it also wastes more of the flesh than cutting with a knife. Also if your pineapple is a funny shape it can be hard to use.
Bottom line if you cut pineapple often this is one of the few kitchen gadgets that is absolutely worth it! If not, it makes a great Wedding or Christmas gift for somebody who does.
If you buy one, spend a few extra dollars on this stainless steel one from OXO. You need a strong tool to deal with pineapple! A cheep plastic or thin metal tool is not ideal.
The Best Ways To Eat Pineapple
Not that anybody needs MORE pineapple ideas but these are a few of our favorites! (Besides just fresh out of the bowl that is…)
Brown Sugar Roasted Pineapple.  We love our pineapple roasted! This is one of my 10 most popular recipes and a real favorite for Easter.
Pineapple Upside Down Cake
More Hawaiian Food Ideas!
When you are serving pineapple with BBQ or Hawaiian Food don't miss this Mac Salad. It is another of my top 10 most popular recipes. One reader commented that it was better than any Mac Salad they ate in Hawaii! I make it for my family and serve with Korean Garbi, BBQ, anything off the smoker, Teriyaki Pineapple Hamburgers, or pulled pork.