The chicken breast comes out tender, sweet and savory – just the way simple grilled chicken should be!  I grill it up with juicy brown sugar pineapple and serve it over rice for an easy dinner in 20 minutes.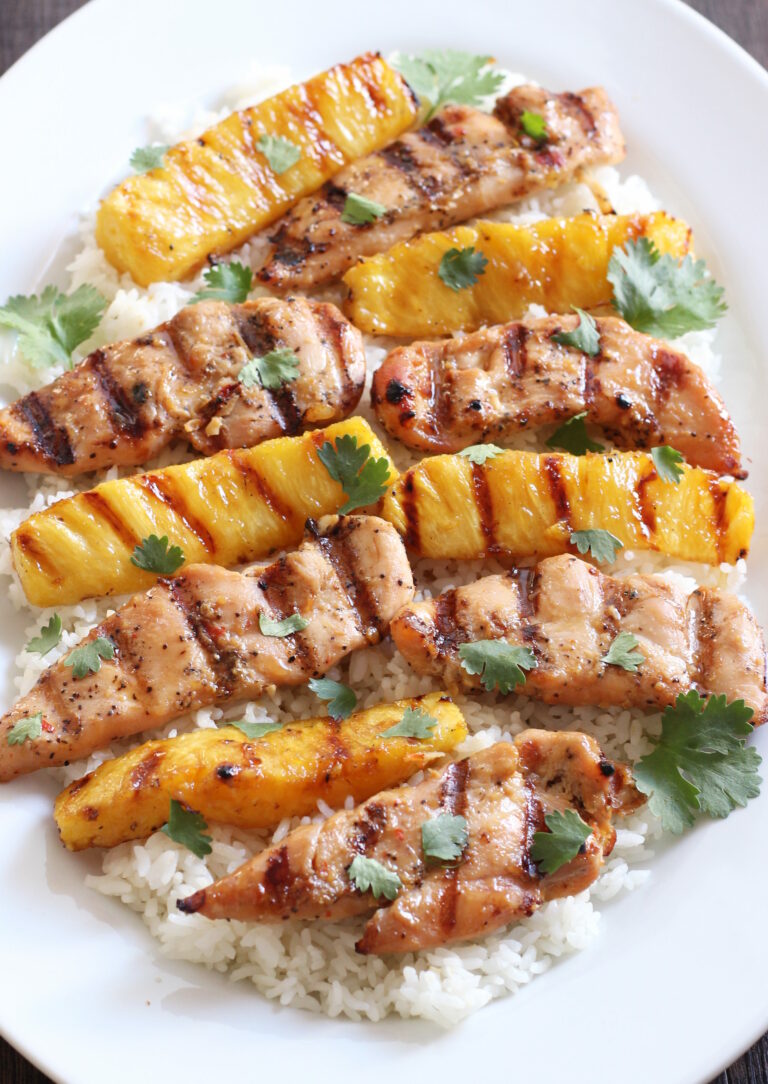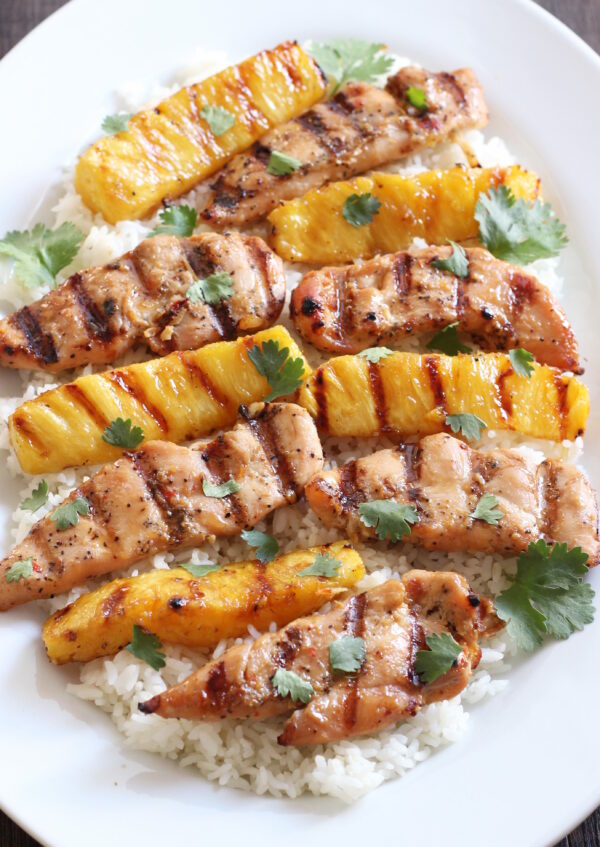 We like our chicken tender and we like it weeknight easy! Grilled chicken can be one of the best dinners you ever make but all too often recipes turn out dry and flavorless.  This, my friends, is NOT one of those recipes!
Pineapple juice and a few simple spices transform the humble chicken breast to a flavorful and classy dinner.  This is one of those recipes that has a lot of flexibility to it.  You can add a bit more sweet chili sauce to make it spicy or add some green onion for pizazz.  By all means make this your own!
Hawaiian Grilled Chicken  – A 20 Minute Meal
We all know a good grilled chicken breast is delicious!  But it is also an invaluable member of your weeknight recipe rotation. It takes five minutes to toss the chicken in marinade and the grilling takes 15 minutes. You need a few great grilled chicken recipes like this in your life!
This meal is easy to round out with steamed broccoli or a fresh cucumber salad.  Serve the grilled chicken and pineapple over a bed of rice and dinner is DONE my friend!
How to Marinate Chicken
Marinating chicken breast helps keep the meat tender and juicy and provides plenty of healthy flavor!  A great marinade doesn't need to be complicated.
There are usually three basic components of a good grilled chicken marinade:
 Something that helps break down the structure of the meat to make it more tender.   In this case we are using pineapple juice which is an acid.
 Some flavor giving ingredients like herbs, pepper, salt and seasonings. This recipe has some soy sauce and garlic and ginger and pepper to give it maximum flavor!
Some sweet ingredients. Sugar, like salt, is a flavor enhancer.  Sugar also helps to tenderize meat!  Here i'm using the sugar in the pineapple juice as well as some tasty brown sugar.  I even get wild for those of you who like a little zip and add some sweet red chili sauce which is both a sweet and a flavor giving ingredient here!
How long should you marinate chicken?
Most good chicken marinades need a minimum of 30 minutes to work.  You can rush them a little bit but the best thing you can do is give your food a little bit of time to get yummy and tender. Because this is a pineapple juice marinade don't give it more than two hours.  It will break the meat down too much!
How to Use a Meat Thermometer
A few years ago I started using a quick read digital meat thermometer to check the temperature of my food.  It has made a BIG difference in getting my food done just right and not too much!  I highly suggest you invest in a good quality quick read digital thermometer to get your food cooked to a safe temperature without being overcooked! It takes all the guess work out of cooking! This is one of my favorites.  It is usually $34 and a good quality tool that should last you for some years.
Once you have a good thermometer simply insert the probe end into the center of the meat.  Don't poke it through to the other side.  Let the thermomater read the temperature and remove the meat from the grill when it reaches the right temperature!
The right grilled chicken temp is 160F for white meat.  (Breast is white meat.) Thighs or dark meat are supposed to be cooked to 165 F internal.  Keep in mind that the temperature of the meat will continue to rise as much as 5 degrees F after you remove it from the grill.
Hawaiian Grilled Chicken and Pineapple
Simple, easy, and tasty. We love this sweet and savory chicken marinade for grilled chicken breast. The pineapple gives it a nice Hawaiian flavor. Serve it with the accompanying grilled pineapple over rice. This is a quick 20 minute dinner!
Ingredients
For The Chicken
2

pounds

chicken breast

cut into tenders or strips

¼

cup

canned pineapple juice

¼

cup

soy sauce

¼

cup

packed brown sugar

2

tsp.

minced garlic

1

Tbsp.

fresh grated ginger

1

tsp.

sesame oil

½

tsp.

fresh ground black pepper

1 - 2

tsp.

sweet red chili sauce

optional

Fresh cilantro to taste
For The Pineapple
1

large pineapple

12 wedges

¼

cup

packed brown sugar
Instructions
In a one gallon ziplock bag place all the ingredients for the chicken except the cilantro. Seal the bag and shake the contents around until all the ingredients are mixed and the chicken is coated.

Leave the bag on the counter to marinate for a minimum of 30 minutes and a maximum of 2 hours flipping occasionally.

Remove the top and bottom of the pineapple and cut the rind off the sides. Cut the pineapple into quarters from top to bottom and then cut out the core of each piece. Slice the quarters into about 4 spears each.

Place the spears of pineapple into a 2nd gallon ziploc bag with the ¼ cup brown sugar. Toss gently to coat and leave out with the chicken.

When the marinating is finished, pre-heat your grill to a medium heat of about 350 F.

Add the pineapple to the grill first and let it cook 3-4 minutes before adding the chicken. (Reserve the sugar sauce for basting or serving if desired.)

Add the chicken along side of the pineapple. Grill 4-6 minutes until the chicken is cooked on the bottom. Flip the chicken and the pineapple and grill another 2-4 minutes until the chicken is firm to the touch and has reached an internal temperature of 160 F.

The pineapple is done when it is hot through and has good grill marks. Remove the chicken and pineapple to a platter and use a cooking brush to baste the sauce from the pineapple bag over both if desired.

Tear up some fresh cilantro leaves and scatter over the chicken and pineapple. Serve with steamed rice. Teriyaki sauce and sweet chili sauce are good condiments for this meal.
Notes
Only Use Canned Pineapple Juice: Pineapple has an enzyme in it called bromelain. It is amazing for breaking down meat protein and making it tender. However, it can also go too far and destroy the texture of your chicken. Canned pineapple juice has been heated which deactivates the enzyme. It will give you a great marinade without breaking down the chicken too much. Time is Key: When it comes to pineapple juice some time to marinate is good but too much is bad. I found that more than two hours in the marinade was too much. This is not a marinade to leave overnight. Store Leftovers Separately: I also suggest storing any leftover pineapple and chicken in two separate containers. The grilled pineapple will probably not be heated enough to deactivate the enzyme.
Nutrition
Nutrition Facts
Hawaiian Grilled Chicken and Pineapple
Amount Per Serving
Calories 332
Calories from Fat 45
% Daily Value*
Fat 5g8%
Cholesterol 97mg32%
Sodium 715mg30%
Potassium 580mg17%
Carbohydrates 1g0%
Protein 33g66%
Vitamin A 45IU1%
Vitamin C 2mg2%
Calcium 9mg1%
Iron 1mg6%
* Percent Daily Values are based on a 2000 calorie diet.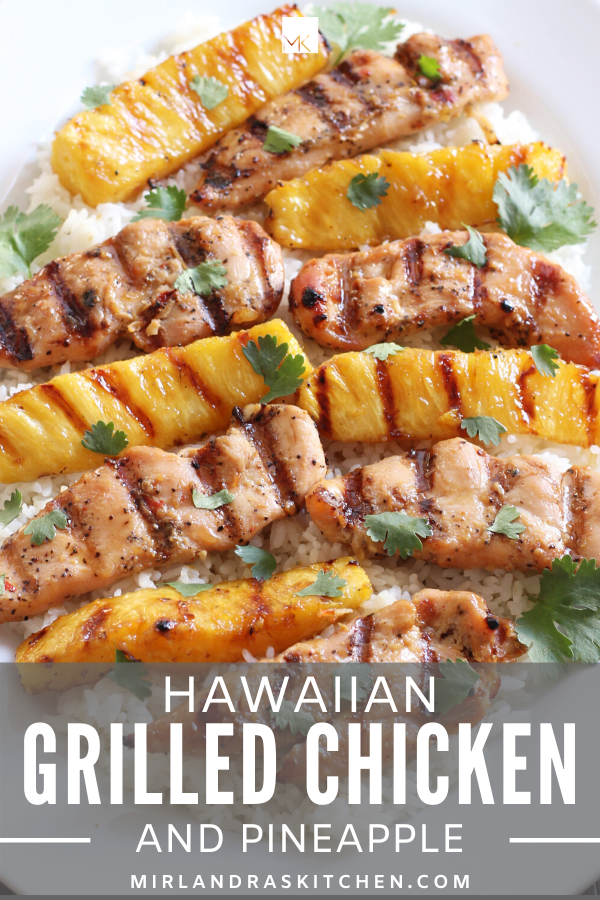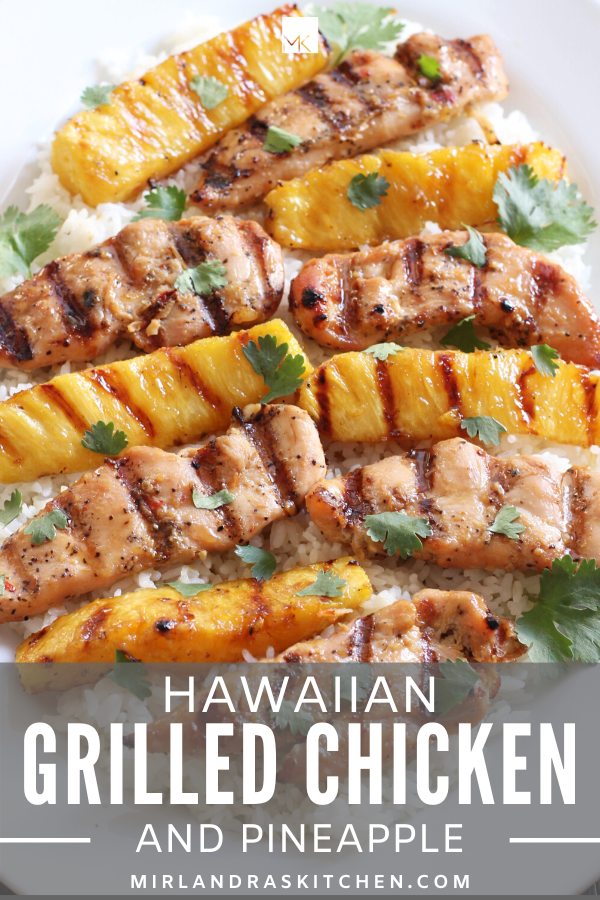 This recipe was originally posted in August of 2017. It has been updated for content in April of 2020.