Simple instructions walk you through making a Peeps Sunflower Cake with citrus scented vanilla buttercream frosting and fresh strawberry filling.

Do you ever look at something on Pinterest and wonder if it is really going to work if it is doomed to be one of those epic Pinterest Fails? I don't usually let myself get caught up on those eye candy recipes, but this year I got trapped by the Peeps Sunflower Cake.
It was a hilarious (and at times frustrating) kitchen experiment. At the end of the day I managed to put together a pretty cake that is very tasty (assuming you remove the peeps before eating the cake). The hint of citrus buttercream frosting is out of this world and a layer of fresh strawberry slices make a beautiful and delicious filling. Along the way I learned a few things:
Lesson #1: Peeps taste like something I don't say in polite company. Can somebody please explain to me why there are a million peeps recipes? Is it great marketing? Are they just cute? Is it part of a cult I have not been inducted into? Seriously, there was some gooey, sweet, bad, marshmallow coated in chemical tasting sugar. You totally lost me!
Lesson #2: Gravity works on peeps too. I had a few (read a LOT) of issues with the given instructions.
Lesson #3: I am not the sweet, patient woman I thought I was. I started to carefully place the chocolate chips in concentric circles around the top of the cake to create the sunflower seeds. After the fifth chocolate chip I gave up and just started scattering the chips. The good news is it still looked cute.
This is a fun project, a great yellow cake mix recipe, and not a bad looking Easter centerpiece. I made it once, had a few accidents, and took the photos you see of my first attempt. I'm including better quality directions and I think an adult can recreate my work. This is probably not a project for little ones and I still say don't eat the peeps!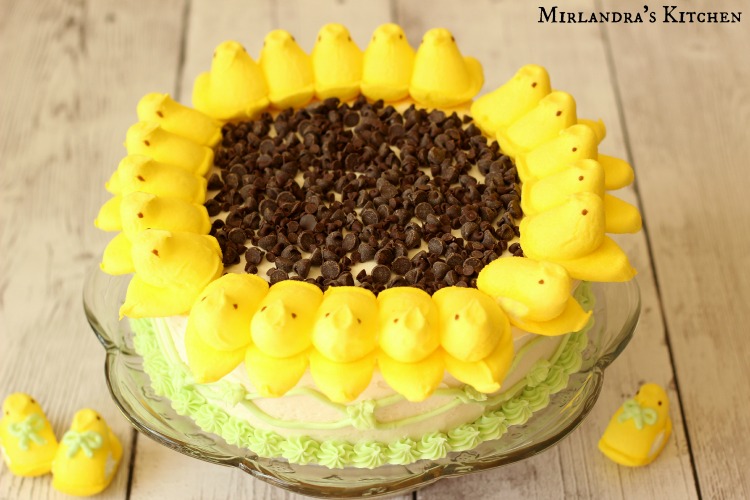 I want to point out a few things in these pictures before you start.
Place your peeps all the way on the cake with little overhang.  Mine are too close to the edge and did not want to stay put.  The flower will also look more round if you put them further on the cake.
Don't separate the peeps.  Make sure to use them connected in sections.  This will help a lot in keeping them in place.  When it comes to cutting the cake I used my fingers to pull peeps apart and then sliced the cake serving the peeps on top.  This was when I ate the nastiness and decided people as a species are insane.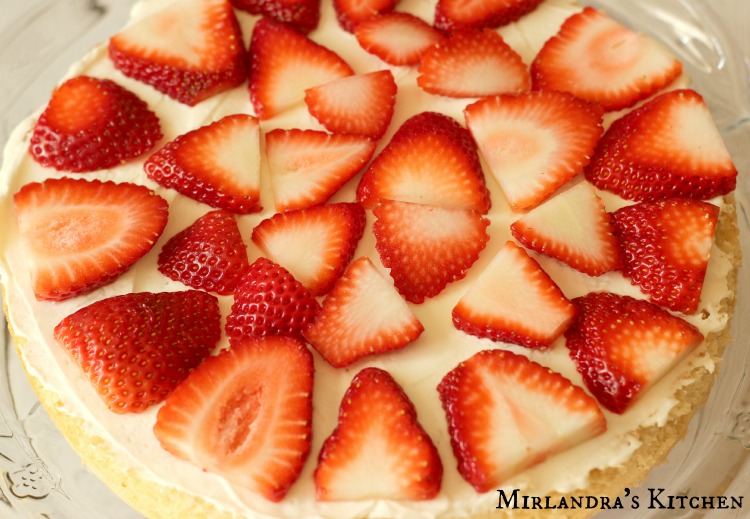 Make sure to slice all of your strawberries about the same thickness for the filling.  If you don't, the cake may sit unevenly.  I sliced some of the very round edges off a few of the slices to even them up.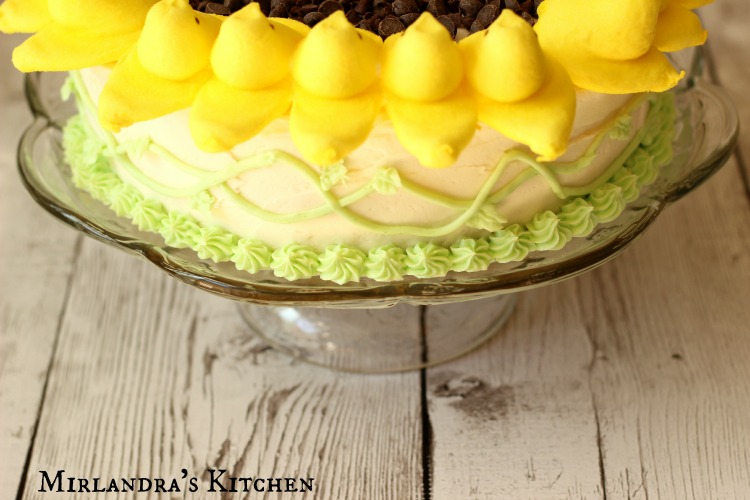 This is a close up of the side view if you want to add a vine design.  When my mom (who has never decorated a cake in her life) saw this photo she thought the bottom border should be leaves.  She is right, it would be beautiful!  Once again I am convinced mother's know everything. . .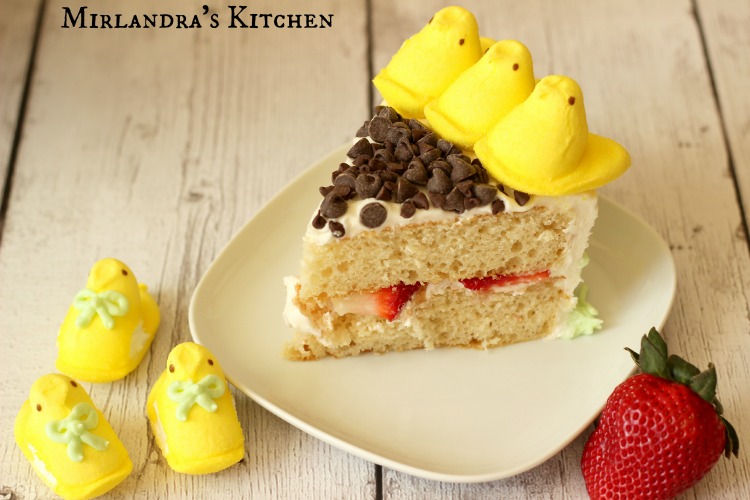 It is actually very easy to give the peeps jaunty bows if you desire.  I used at #5 tip.  My method is to make each side of the bow separately, then each ribbon tail, and to finish with a little dot in the middle of the bow.  You could do this to the peeps on the cake but I was way to annoyed with gravity to bother.  (Since I'm being honest, here.)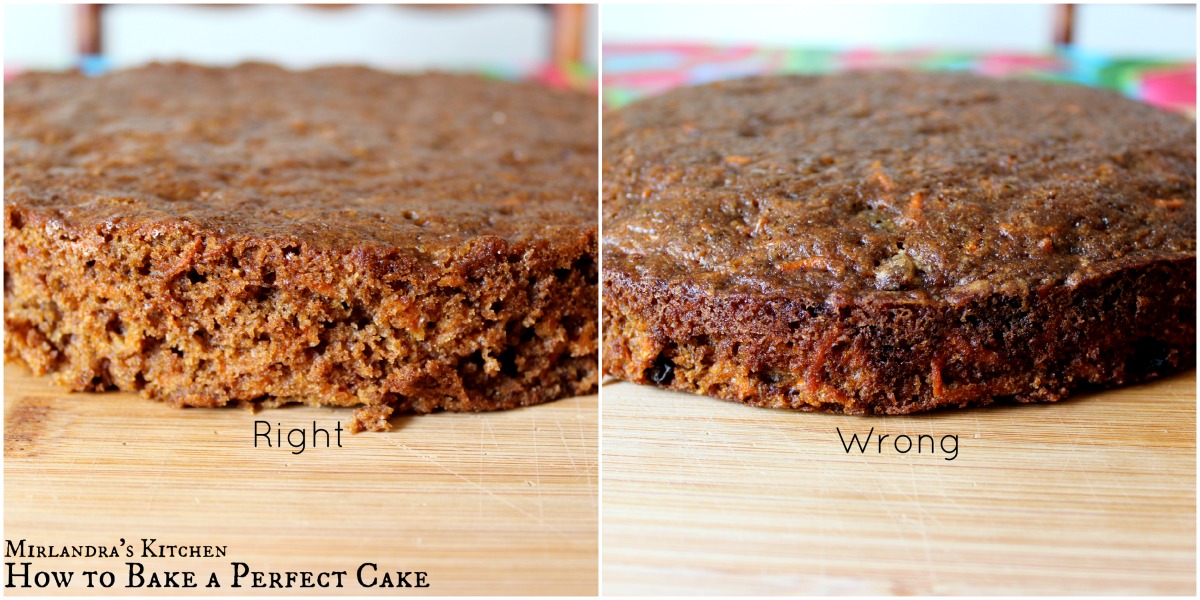 I have a great and simple method for baking a flat cake which is really helpful in this recipe.  Click here for the instructions.
If you find yourself shopping for a 9″ cake pan, these heavy duty pans by Calphalon are my all time favorites.
Yellow Cake Mix Recipes: Peeps Sunflower Cake
Simple instructions walk you through making a Peeps Sunflower Cake with citrus scented vanilla buttercream frosting and fresh strawberry filling.
Ingredients
2

layers of yellow cake

9" diameter

2

pounds

powdered sugar

1

cup

salted butter

3/4

cup

heavy whipping cream

1

tsp.

vanilla

1/4

tsp.

salt

2

tsp.

fresh squeezed lemon juice

8

strawberries

1/3

cup

semi-sweet chocolate chips

1/3

cup

mini semi-sweet chocolate chips

16 - 20

peeps
Instructions
In the bowl of a stand mixer, combine powdered sugar, butter, whipping cream, vanilla, salt, and lemon juice. Use the whip attachment to beat on low until combined. Pause to scrape the sides / bottom and then beat on high for 5 minutes until no lumps remain and the frosting is light and fluffy.

Place the first layer of cake unto a cake plate. Drop two large spoonfuls (each about the size of a big scoop of ice cream) unto the cake. Spread out to the edges leaving a smooth surface.

Slice the strawberries about 1/4" thick. Place the berries unto the cake to create an even layer.

Place the 2nd layer of cake on top of the strawberries. If you plan to decorate the outside of the cake with vine / leaves pattern and border set aside two cups of frosting.

Smooth all remaining frosting over the top and sides of cake.

Do not separate the peeps. Place attached sections of five peeps around the cake in a circle. The peeps should be fully on the cake and facing inward. It is ok to have a little of the tails hanging off.

Scatter as many of each kind of chocolate chip as you like on top of the cake.

If you wish to make a vine pattern tint your reserved frosting green.

On the side use a #5 tip to draw a continues wavy line around the entire side of the cake. Draw a 2nd line that intersects with the first.

Use a #66 tip to make a few leaves every so often on the vine.

Use the #66 to make leaves at the base of the cake for a boarder or a #21 to make circus dots.
Nutrition
Nutrition Facts
Yellow Cake Mix Recipes: Peeps Sunflower Cake
Amount Per Serving
Calories 551
Calories from Fat 225
% Daily Value*
Total Fat 25g 38%
Cholesterol 61mg 20%
Sodium 183mg 8%
Potassium 93mg 3%
Total Carbohydrates 82g 27%
Protein 1g 2%
* Percent Daily Values are based on a 2000 calorie diet.
Free Simple Weeknight Meal Plan!
Sign up here for your free plan and start rocking dinner!