This tender, moist carrot cake is spicy and delicious. Rich, whipped cream cheese frosting with a hint of lemon brings it all together.  Both the cake and frosting are easy baking projects for all experience levels.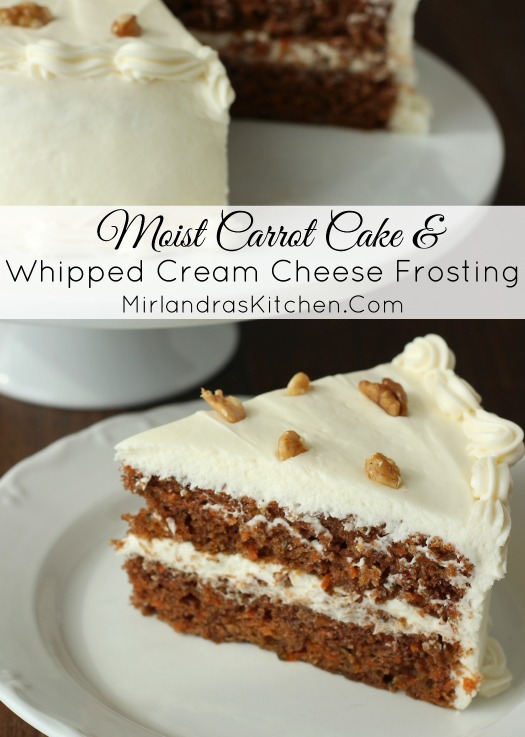 Oh carrot cake, how I love you!  Moist, tender, and full of cinnamon and other yummy spices.  I would say carrot cake is my favorite but then that would discount chocolate cake and pound cake and fresh strawberry cake!  Yeah…I could never play favorites with cake.
However, I can safely say that carrot cake is one of the simplest cakes to make!  Follow a good recipe and you always have a moist, tender cake that rises well and never sinks.  The flavor is excellent and most people absolutely love it!
Nuts and raisins are a personal choice.  Sometimes I put them in, sometimes I don't.  But the cream cheese frosting is a requirement!  I put just a little bit of fresh lemon juice in mine and it perfectly balances the sweetness of the frosting.  The combo is pure magic.
Easter is creeping up on us quick like a bunny.  Carrot cake is always a wonderful addition to your Easter spread.  Happy baking!
Tools In This Post:  I don't like to grate cheese or carrots by hand.  It takes too long and every so often my fingers get in the way…  I'm a huge fan of this food processor for easy food prep and saving my fingers for things like tasting frosting!  I've had mine more than a decade now and we are still best friends.
Love great cake and frosting?  Give my Easy Whipped Cream Frosting try.  It is absolutely amazing on pretty much any cake but I love it on my pound cake!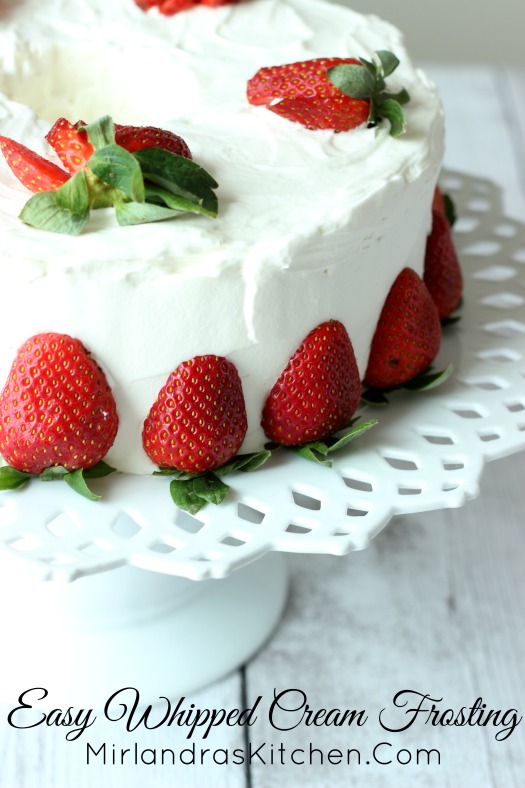 Moist Carrot Cake and Whipped Cream Cheese Frosting
Ingredients
For The Cake
1 ½

cups

brown sugar

1

cup

vegetable oil

3

large eggs

1

Tbsp.

vanilla extract

2

cups

all-purpose flour

2

tsp.

cinnamon

2

tsp.

pumpkin pie spice

1

tsp.

baking soda

½

tsp.

salt

3

cups

grated carrots

about 5 medium carrots

1

cup

chopped walnuts or pecans

if desired

1

cup

raisins or dried currants

if desired
For The Whipped Cream Cheese Frosting
1

pound

cream cheese

2 boxes, 8oz each

1

cup

salted butter

1/8

tsp.

salt

8

cups

powdered sugar

a 32oz bag

2

tsp.

vanilla extract

3-5

tsp.

fresh squeezed lemon juice

or more to taste (don't use bottled juice)
Instructions
To Bake The Cake:
In a large bowl, use a spoon to stir together the sugar, oil, eggs and vanilla until well mixed. Add everything else except the carrots. Stir just until combined and only streaks of flour remain.

Add carrots, walnuts and raisins. Stir until incorporated and divide batter between the two pans.

Bake 30-35 minutes until a toothpick inserted in the center comes out clean. Hint: The edges of the cake will start to pull away from the sides of the pan just a bit when it is done.

Let cakes rest in the pans for 10 minutes and then turn them out unto racks to cool the rest of the way.
To Make The Frosting
In the bowl of a stand mixer combine the cream cheese, butter and salt. Whip on high for about 1 minute until thoroughly combined. Scrape the sides of the bowl.

Add the powdered sugar, vanilla and lemon juice. Stir on low speed until incorporated. Scrape the sides of the mixer and then turn on high for 3-4 minutes until the frosting is creamy and fluffy. Taste and add more lemon juice if desired.
Notes
A little fresh lemon juice in the frosting brings balance to the sweetness and gives the cream cheese frosting an amazing flavor. If you are not sure if you will like the flavor stir in one teaspoon of lemon juice at a time, tasting as you go.
The frosting in this recipe is enough to frost the cake with a bit left over to pipe pretty borders if you desire. If not, leftover frosting holds for weeks in the fridge or six months in the freezer. It is delicious on cookies or as a fruit dip!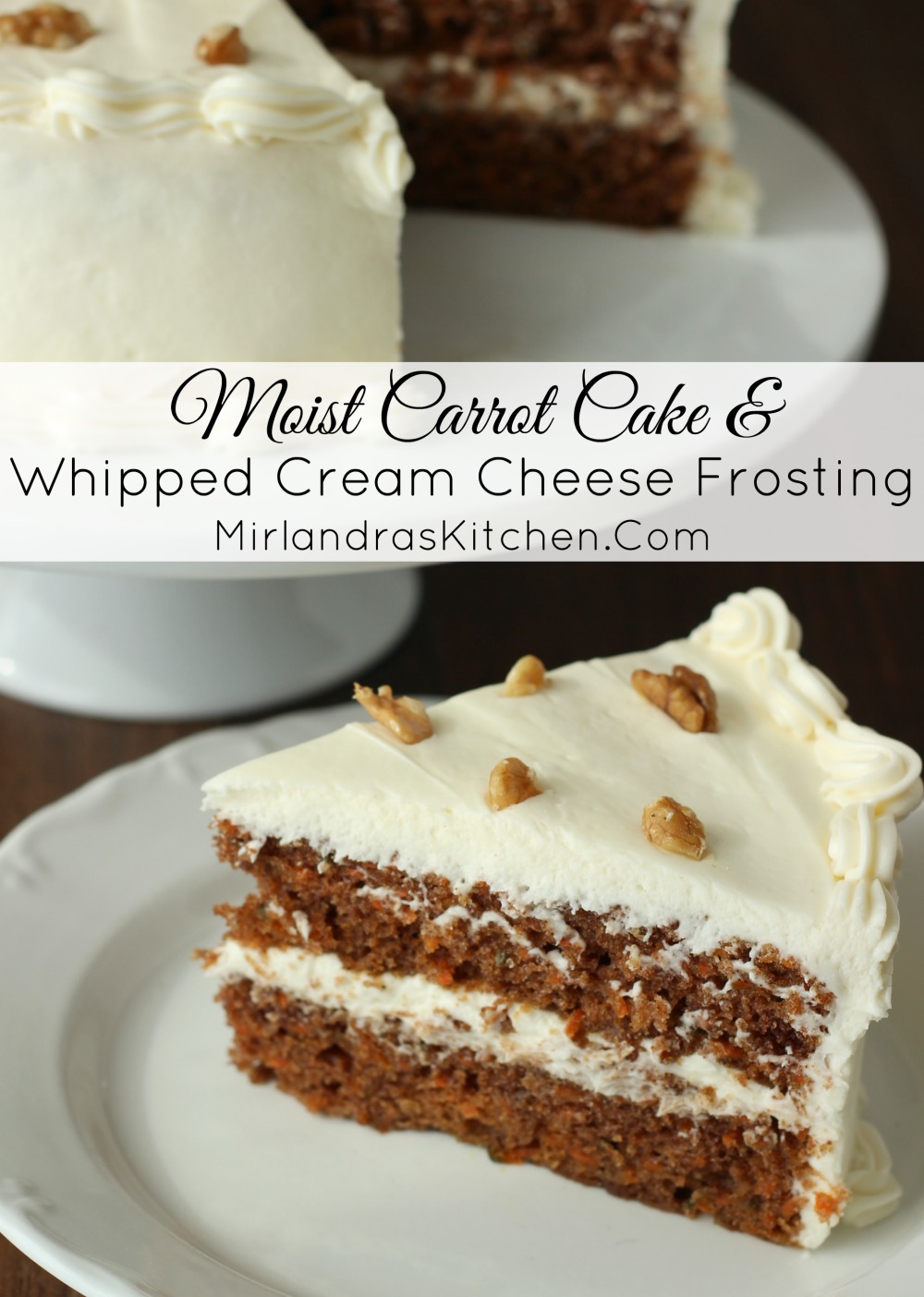 Reader Interactions