Have you had time to breathe lately?  Get some more wiggle room in your schedule with this simple Creamy One Pot Pasta dish.  Rich creamy sauce and light savory herbs make this a 15 minute dinner win!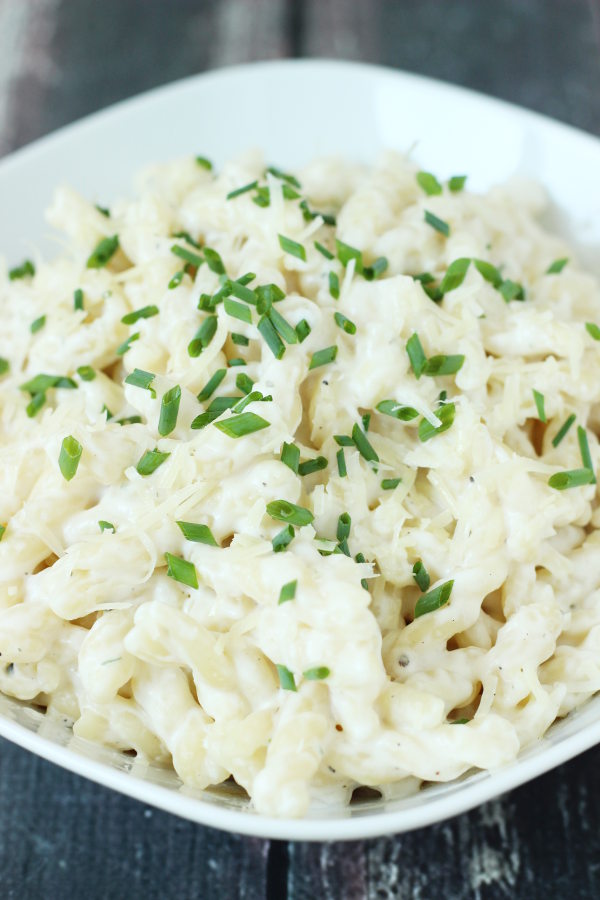 I love Thanksgiving and Christmas as much as anybody else, but sometimes all the holiday "stuff" can leave me feeling pretty tired and drained this time of year.  By now I need to recharge and breath and connect with my own nuclear family again.
This is the perfect season to step back and reflect on what we want the coming months to look like.  2016 was a very hard year for me as I lost my father unexpectedly and quickly to cancer. There were a lot of things in my life and schedule that were out of my control.  As I have reflected on the year I feel strongly that I want to make choices that put me in control of my life where I can be!  I want to choose things that will give me joy each day.
In that spirit  I have been focusing on finding more balance.  Amid my work and my wonderful family I am making sure to make a little time for me each day.  Through the mess and extra tasks of having a toddler I am taking time each day to just play with my son and enjoy his sweet spirit! There is still lots of work to do and even tasks I dislike but taking moments out of my day to do things I love and be with the people I love gives the work meaning and feeds my soul.
One of the things I have been doing to protect more down time is making simpler meals.  Sometimes it takes some work to find good simple recipes you love but it is a worthwhile investment of time.  One recipe you love that you can make every month is 12 meals a year!
This Creamy One Pot Pasta is one of our new easy dinner treasures and I hope it will make your 2017 easier too!  Happy New Year, friends.  May it be a wonderful year full of adventure and joy!
Love One Pot Pasta dishes?  Try this One Pot Sausage Alfredo!
Creamy One Pot Pasta
Ingredients
8

oz

good quality pasta

1

Boursin cheese any flavor

Garlic & Fine Herbs is our favorite for this pasta

1/4

cup

parmesan cheese

1/4

tsp.

fresh ground pepper

Garnish with fresh chives and Parmesan if desired
Optional stir in ideas
Cooked shrimp or scallops

Slices

of sausage

Meat balls

Mushrooms and onions
Instructions
Boil the pasta in salted water according to package directions (if package does not call for salt when boiling I recommend 2 tsp of salt for every half pound of pasta).

Drain the pasta and stir in Boursin cheese, Parmesan cheese, and fresh ground pepper.

Add a stir in meat if you like and garnish with fresh chives and Parmesan if desired.

Serve immediately.