Making Kimchi at home is easy and fun.  This authentic Korean recipe is simple to follow and makes a simple Kimchi that can be adapted to your personal taste. 
Ok guys, you can't laugh at me.  I absolutely refuse to try Kimchi but I make it all the time!  Jonathan is half Korean and loves all his mom's home style Korean cooking.  When we got married I wanted to make the food my husband loved but I had never heard of many of the dishes, let alone eaten or seen them.
I spent time with Jon's mom, I interrogated the local (English speaking) owners of Korean stores, I read Korean cooking blogs and I experimented.  I would cook and Jonathan would taste.  Eventually I managed to translate Jon's mother's "add the right amount of ___" into measurements and I can make some darn good Korean food.
My Korean food is so good I have even impressed and been complemented by the Korean aunties!  Meanwhile I have yet to put Kimchi and many other recipes (like fire squid) into my mouth.
It has been a strange way to learn to cook but it has opened my eyes and my heart to new things and it keeps my husband's heritage alive in our home both for him and for our son. While I don't care to eat Kimchi I love making it!
Making Kimchi is simple.  You need a few specific ingredients and a good recipe.  If you want "average" spice make my recipe as written.  If you want more just add more pepper.  At the end of the day Kimchi is a very personal taste and everybody likes theirs a different way.  My recipe is based on how the Han family likes their Kimchi prepared.  Feel free to experiment and adjust this recipe to your own taste!
Tools In This Post:  A typical American grocery store may not have what you need.  I suggest checking out your local Asian markets, particularly if you have a Korean one! This is the Korean Red Pepper powder you need for Kimchi.  If you buy a big bag like this it will last a long time if you store it in the freezer.
We only buy the "three crab brand" of fish sauce for Korean cooking.  I have seen this at stores such as Winco.
Not familiar with Diakon Radish and Napa cabbage?  This is what you are looking for to make amazing Kimchi!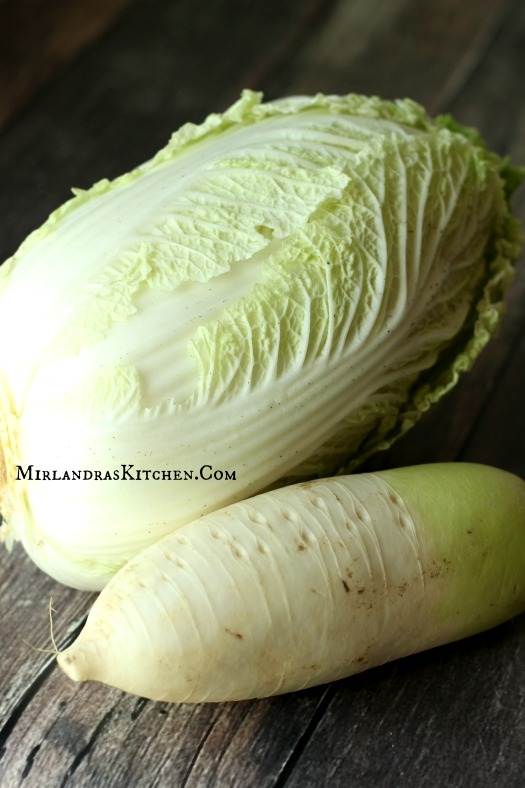 One of my favorite Korean foods is Galbi!  If you need something to eat with your Kimchi check it out.  It is very American friendly 🙂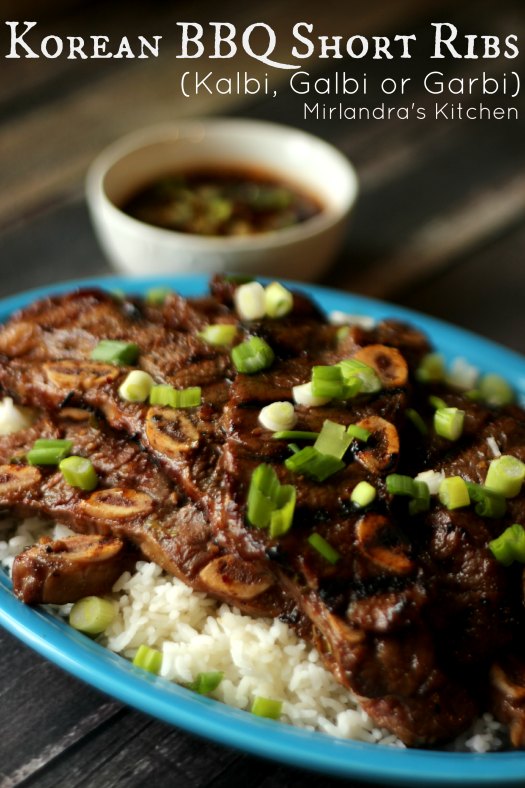 How To Make Kimchi at Home
This recipe makes almost half a gallon of Kimchi. Make sure to read through the recipe and plan ahead as it needs a few days to ripen.
Ingredients
1

Napa cabbage

4 pounds

1/2

cup

salt

water to cover

8-12

oz

daikon radish

about 1/2 of a small to medium radish - moo

1

cooking onion

6

scallions

1/2

cup

ginger

peeled and grated

2/3

cups

Korean red pepper powder

1

cup

fish sauce

3 crab brand is the best

2

Tbsp.

minced garlic

2

Tbsp.

Korean fermented salted shrimp

called salted shrimp sauce - optional
Instructions
Cut cabbage into slices about 1 1/2" wide.

Layer the cabbage with salt into a large bowl. Cover with water and let it sit overnight. The next morning it will be tender.

In the morning, wash it 2-3 times to get the salt off and place it back in a large mixing bowl.

Peel the radish and cut into matchstick size pieces. Add to the cabbage.

Slice the cooking onion in half and then slice each half thinly. Add to the cabbage.

Trim the scallions and cut into 1" chunks. Mince in food processor until finely chopped. Add to the cabbage.

Add the ginger, red pepper powder, fish sauce, garlic and shrimp to the cabbage. Stir gently with large spoon or hands until combined.

Stuff the kimchi into a 1 gallon glass jar (lid should be plastic, not metal) and use a rock to hold the fermenting cabbage down. Leave the jar on the counter for 1-2 days. The mixture may foam as it ferments. This is normal. If the jar is very full, try placing it in a bowl to catch any drips.

After 1-2 days, open the lid and let any accumulated gasses escape. Then recover the jar with the lid, wash outside of jar if needed and place in the refrigerator.

The Kimchi needs to ripen for about 5-6 more days. You can eat it while it is ripening but it will be best after this time.

Usually Kimchi stays good in the refrigerator for about a month. After that Americans usually toss it and Koreans boil it into soup.
Notes
Korean Salted Shrimp are found in the refrigerated section of your Asian store. They look like this. . If putting a spoon of tiny shrimps into your Kimchi is a bit overwhelming you can leave them out the first time and see what you think. If you need too add extra fish sauce to amp up the flavor.
Nutrition Disclaimer
MirlandrasKitchen.com is written to share great recipes. While we do our best to provide nutritional information as a general guideline, we are not registered dietitians and the values provided here should be considered estimates – not exact scientific data.