This nectarine spice butter is easy to make and lovely to have all winter long. Store it in the fridge or can it for winter.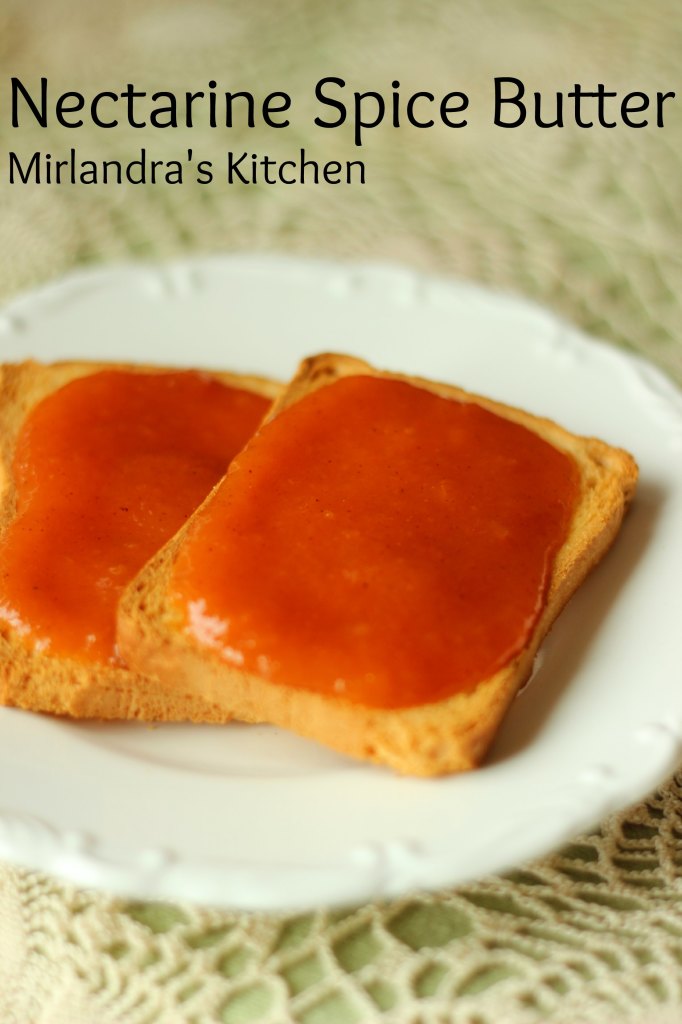 I grew up next to a peach orchard in Oregon. Living in the midst of such a wealth of fruit, it never occurred to me to venture out beyond peaches. I came across the humble nectarine here and there but never really fell for them.  Now I'm living in Southern Idaho where there are quite a few nectarine trees and ripe fruit is readily available.  I find I'm falling in love with the nectarine and all the fun possibilities it offers.
I had already made my canning plans for the summer but a kind friend offered me a big pile of nectarines. I am my mother's daughter and pretty much can't turn down a pile of fruit to save my life. The tree is still young so the fruits were on the small side. Jam it was!
Nectarines are amazing because they have plenty of pectin in the peel of the fruit. It is not as much as apricots have, but it's enough to gel jams without adding pectin as long as you don't remove the peels!
I like this recipe because it's simple to make and preserve. I made more than one batch (there were a LOT of nectarines!). Storage space is at a premium so I have been giving out extra jars to friends. Everybody loves it! Grab some of this wonderful fruit before the season ends and whip up a batch of Nectarine Spice Butter for your pantry or to give as Christmas gifts.  If you are new to canning check out my post on Water Bath Canning for some tips and equipment ideas.
Nectarine Spice Butter
Ingredients
9

cups

of ripe nectarines

with skins

4

cups

of sugar

1/4

cup

of lemon juice

2

Tbsp.

butter

1

Tablespoon

of cinnamon
Instructions
Slice fruit and remove pits. Keep skins on.

Add fruit, sugar, lemon juice, butter and cinnamon to heavy bottomed soup pot. Bring to a boil on medium high stirring constantly with a sturdy wooden spatula. Make sure to scrape the bottom regularly to prevent burning.

After the fruit comes to a boil, use an immersion blender in a circular motion to puree the fruit into a sauce. Make it as smooth as you desire.

Simmer for an additional 20 minutes stirring constantly.

Fill jars (you can use half pints, pints, or quarts) leaving a half inch of head space.

Process in a Water Bath Canner for 10 minutes at 1,000 feet of altitude or less. If you live above 1,000 feet process longer: for 1,001 - 3,000 feet add 5 minutes, for 3,001 - 6,000 feet add 10 minutes, for 6,001 - 8,000 feet add 15 minutes, for 8,001 - 10,000 feet add 20 minutes.
Reader Interactions