Healthy, delicious tuna salad seasoned with dill and green onion. This easy lunchtime solution is flavorful but not loaded with mayo.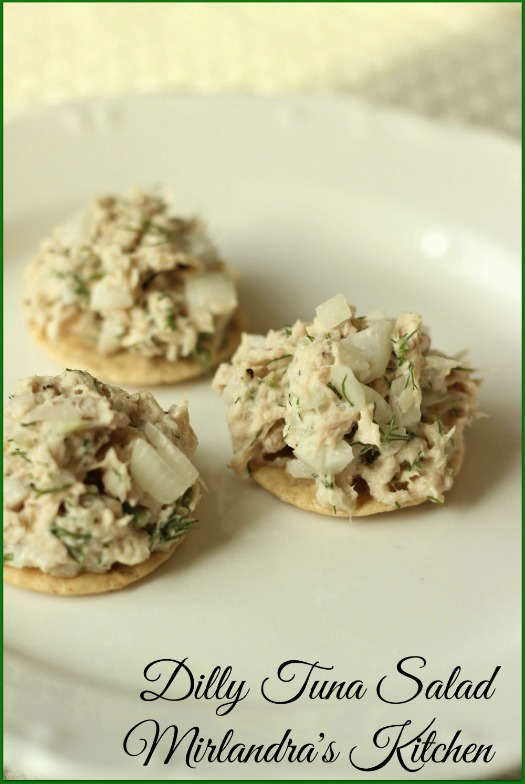 Do you remember when lunch involved a jar of peanut butter and some yummy jam? It seems life is more complicated now. Peanut butter's reputation is keeping it out of schools and other public venues these days. Who knew PBJ's would become the bad boy of lunch?
Back-to-school is in the air and I know some of you are packing lunches all around.  Mornings before work can be very busy and I need handy food that is delicious, easy, fast, healthy and holds well until lunch if not all week. Tuna salad should be that food, but sometimes it's not.
The first rule of yummy tuna salad is picking good tuna. This fish can have a very strong fishy flavor when it is canned; not appetizing at all. Some varieties are also high in mercury which is harmful even in small amounts. Home canned tuna is amazing but hard to come by. My favorite store brand is Wild Planet, which I was buying it at Costco until they replaced it with Kirkland tuna.   Amazon has a six pack of Wild Planet Albacore
but it is a bit more expensive than the Costco sale price.
When you pick a out a can of tuna read the ingredients and make sure it only has tuna and salt. Tuna should be packed in its own juice and not water or oil.
The second rule of tuna salad is to be wise about the fat. Tuna already has plenty of healthy fat for flavor. I like add a dash of mayo to make it creamier but no more than a dash. Add some flavorful onion, fresh dill and ground pepper – it's a home run. This salad keeps well in the refrigerator for the work week and is perfect for topping crackers or bread. I have been enjoying it with gluten free rice crackers. They are low calorie, add a satisfying crunch.  The savory ones are a perfect match for this flavorful salad.
I have been loving this tasty salad in my lunches of late. I hope you enjoy it too!!!
Dilly Tuna Salad
Ingredients
1

can Albacore Tuna in juice

ingredients should be just tuna and salt

4-5

Tablespoons

minced sweet onion or green onion

1

Tablespoons

minced fresh fernleaf dill

2

Tablespoons

reduced fat mayo

15

grinds or so of black pepper

to taste

salt if desired

savory rice crackers or bread to serve
Instructions
Empty the tuna and juice into a small mixing bowl. Break up the tuna with a fork until it is fluffy.

Add onion, dill, mayo, and pepper. Taste and add salt if desired.

This can be eaten right away or saved for up to a week in the refrigerator.
Reader Interactions