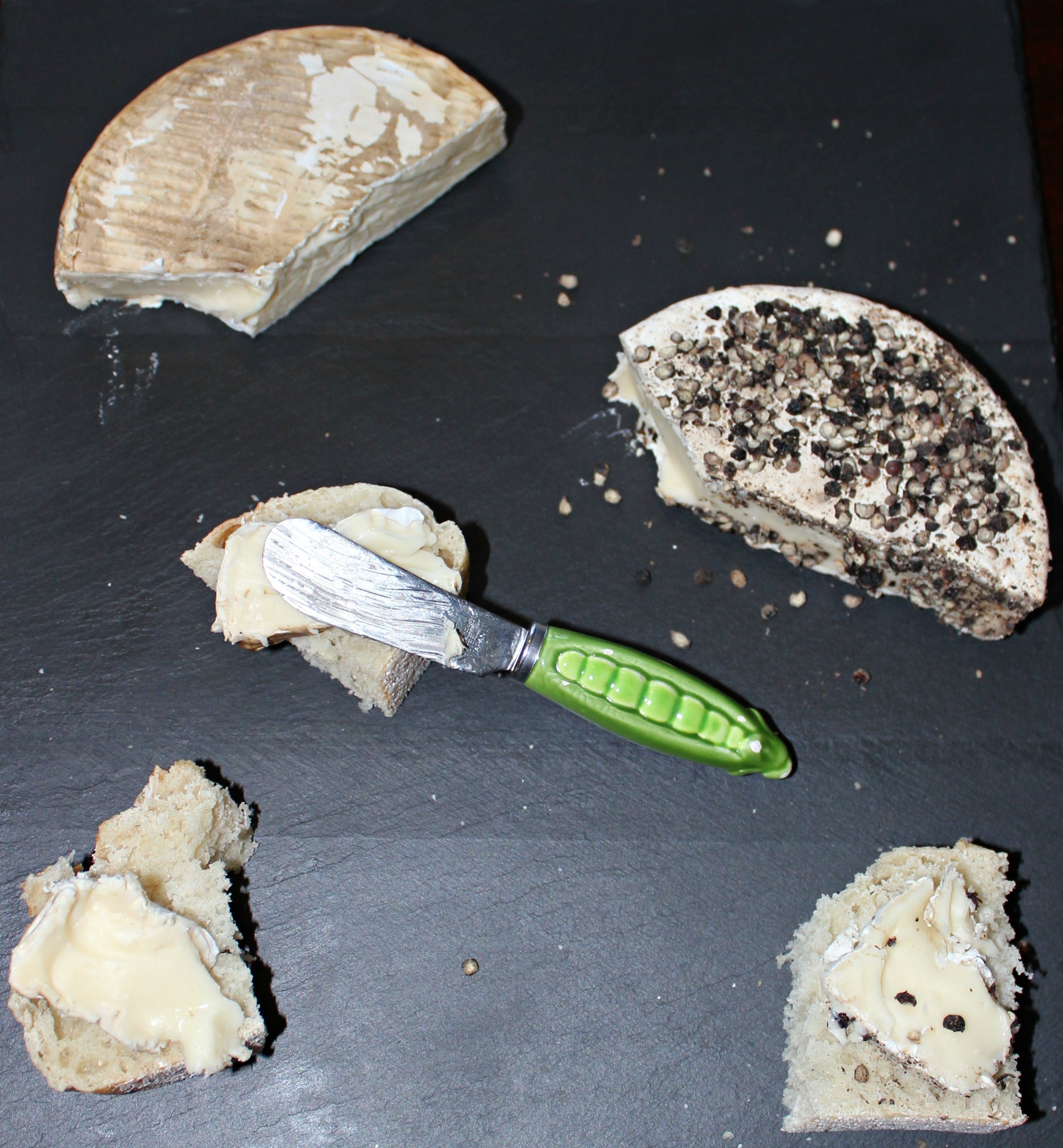 Smoked Brie and Pepper Brie.  There are many reasons to visit Tillamook, Oregon but these two cheeses keep us coming back again and again.  Most people visit Tillamook and head to the Tillamook Cheese Factory for their excellent tour and fun samples.  We love visiting the home of my very favorite cheddar but we don't have time to do everything we want to every time we visit.  If we just have time for one stop in Tillamook we visit the Blue Heron French Cheese Company.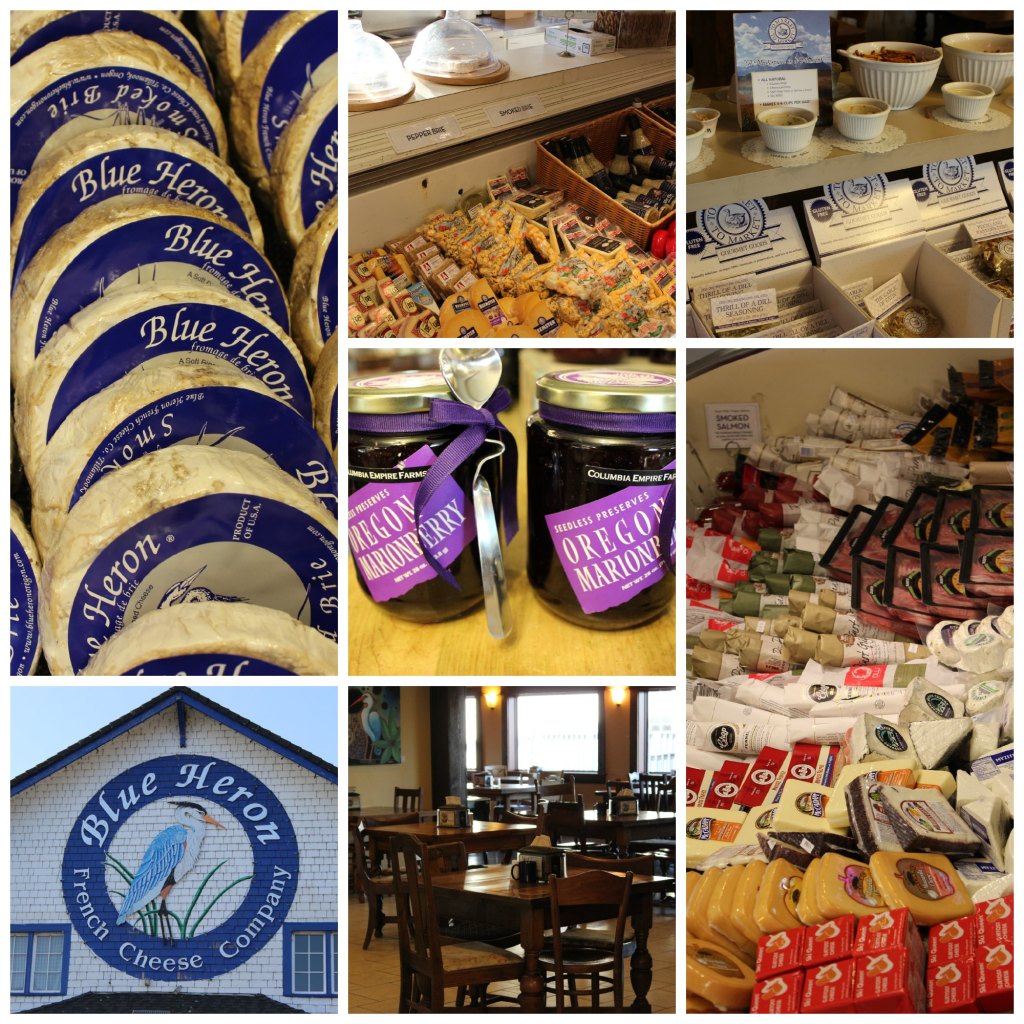 I can think of about 50 great reasons to spend an hour or an afternoon here but let me just give you one:  Blue Heron embodies the spirit of eclectic food culture in Oregon.  They are serving up the best Brie I have ever had – bar none.  It's so good we drive hours to return again and again and again.
There is a lot to do when we visit so we have a routine.  Usually we are driving up the coast from Newport, OR so our first stop is the bathrooms.  Normally I would not bother to mention these but the people at BH have a knack for hospitality, even down to these little details.  The bathrooms are large, clean, and beautiful.  It's nice they're not a cramped afterthought.  The next order of business is poking around the store.  If you have a chance to stop by before Christmas they have lots of fun gifts for people who love food and cooking.
If we have time to linger, we enjoy the wine tasting.  If you like fruit wines make sure to investigate their stock of Honeywood Wines.  The wines are on the sweet side but many are unique fruit flavors that are not to be missed.  Honeywood dates back to 1933 which makes it the oldest producing winery in Oregon. Amazon
carries some of my favorites including Pear
, Marionberry
, and Raspberry
.  My other favorites including as Honeysuckle Peach, Mead, Muscat and Niagra can be ordered directly from Honeywood. I just noticed some new ones I have not tried yet.  I think another trip to their tasting room is in order!!!  Blue Heron has lots of other fine craft wines from Oregon and beyond if you do not care for fruit wines.
After that we try salsas, jams, syrups, dips, mustard and whatever else is out.  I always make sure we are ready to eat when we arrive.  They have a fun deli counter with lots of gourmet options but we are all about the cheese.  We save the best for last and head to the cheese tasting counter. Jonathan loves their Caveman Blue Cheese.  I am not a blue cheese person.  We try each Brie in order.  In the end,  we always buy the Smoked and the Pepper.  They are superb and I have never found them elsewhere.  Before Blue Heron I didn't care for Brie.  Their representation has converted me into a Brie nut.  Along with our cheese we pick up some fresh french bread and plan to picnic down the road.  If you would like to eat at BH, you can choose between an indoor and outdoor picnic area.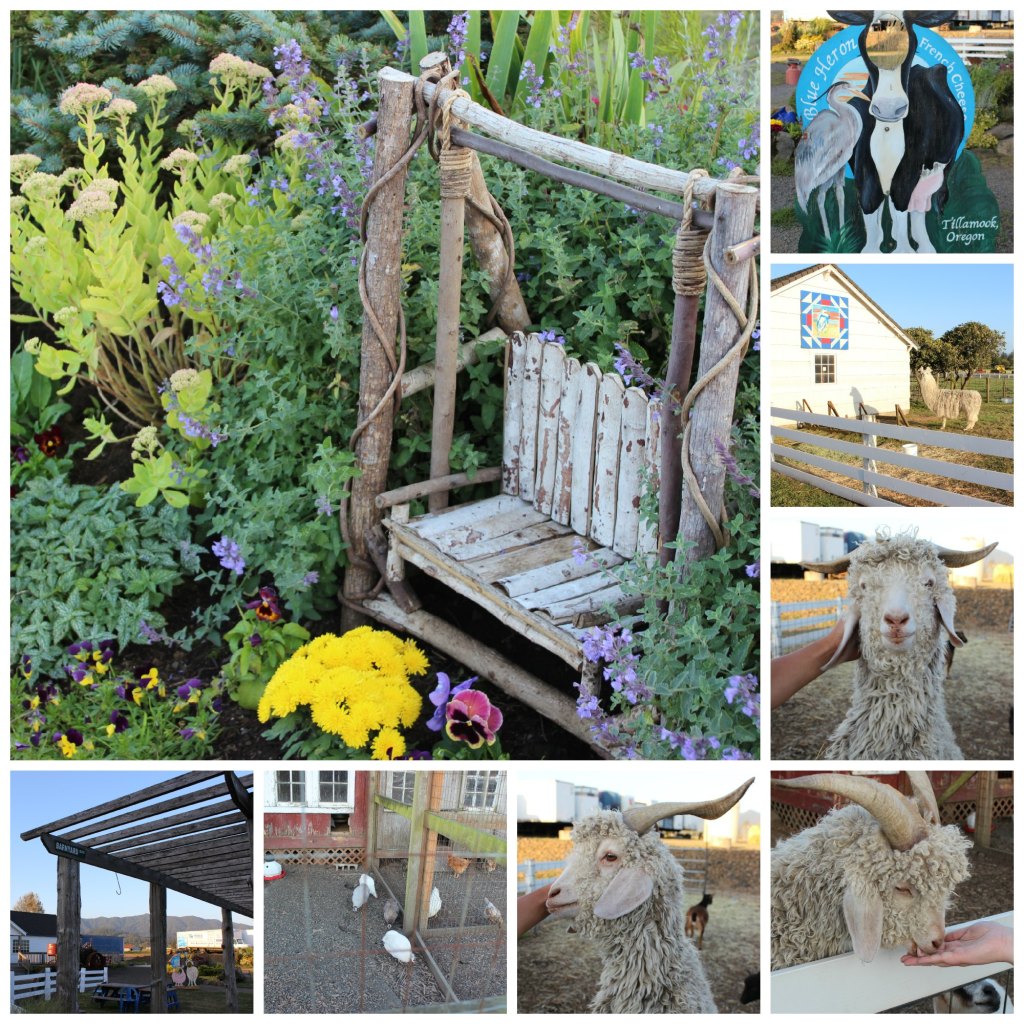 Our last order of business is to buy animal food and head outside to the petting zoo and beautiful gardens.  Every time we visit I think I see something new.  This time I caught a fairy swing in one garden bed among some pansys!  One visit we saw a Highland Cow the day she was due to give birth.  I always feed my favorite sheep!  He is a total clown.
Blue Heron has their amazing Brie available to order online which is easier than traveling hundreds of miles to buy some.  Next time you get a chance to visit the Oregon Coast make sure you take a little time to relax at Blue Heron and enjoy all they have to offer!
If you are new to Brie I recommend The Reluctant Gourmet's post on Brie mold and history.
Reader Interactions