This easy glazed ham has a delicious crust covered in honey, brown sugar and spices. Even a novice cook can bake an excellent ham with this simple recipe.  All the tips you need to pick out a great ham are included.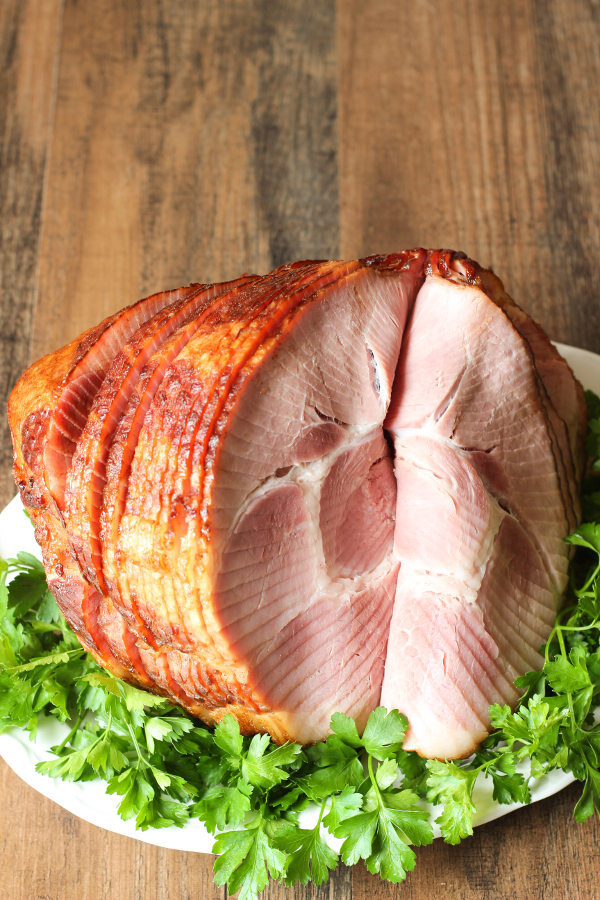 Over the years I have made hams many different ways.  One year I was making our Easter ham and decided I would inject it with the glaze!  At this point Jonathan and I were good friends who cooked together a lot but were not yet dating.  He made some great injected hams so I decided to give it a go.
I was working in my mom's farm house kitchen on the long counter under two big windows.  It was instant disaster.  The very first time I depressed the plunger I hit resistance in the meat.  Glaze EXPLODED everywhere!  All over me, the ham, the counter and both windows.  It was one huge sticky mess.  My memory of the clean up is a bit hazy but I'm pretty sure I called Jonathan and gave him a feisty piece of my mind…
For some crazy reason that was the last time I stuck a needle full of liquid sugar solution into meat.  These days I stick with the simple and delicious double glazing method.  It makes a wonderful ham and I never have to clean up exploded honey and brown sugar.
Honey, Brown Sugar and Cinnamon Glazed Ham
Choosing a Ham:

Water Content - Always read the label before buying a ham. Many have a large amount of water added which means you are buying a lot of water and less meat. For this reason I often choose the Kirkland spiral cut ham at Costco. It is labeled as a "natural juices" ham which means it has less than 8% additional water from the brining process. It is still tender and juicy after roasting. A Cooks ham can contain 23% added water which means that ¼ of your ham is actually water. Also the more water in the ham, the less like lovely ham flavor you get.

Hams come as giant full hams with shank and butt end attached – usually about 15 pounds! Or they come as either shank or butt. The Shank portion has more fat and is easier to carve. Many people prefer the flavor of this because of the additional fat. The butt end is usually leaner but more difficult to carve because of the bone structure. You will have to get in there a bit with your fingers.
Ingredients
1

bone in ham

spiral cut or not, about 7-11 pounds (for larger whole hams, make a double batch of glaze)

1/2

cup

honey

1/2

cup

brown sugar

1

tsp.

ground cinnamon

1/2

tsp.

ground clove
Instructions
Preheat oven to 275 F. Line roasting pan with foil and place a rack on it.

Remove all packaging from ham including any clear plastic over the bone.

Place ham flat / open side down on the rack of a roasting pan. Cover tightly with foil.

Roast at 275 F for 12-15 minutes per pound until the coolest part of the ham is 140 F with a thermometer.

Remove the ham from oven and increase temp to 425 F. Discard the foil covering the ham.

Microwave the brown sugar and honey for 30 seconds. Stir the mixture and add the cinnamon and clove. Microwave another 30 seconds until the glaze is liquid.

Brush or spoon half the glaze over the ham. Bake at 425 F. for 5 minutes. Brush or spoon the rest of the glaze over the ham and bake for 5 additional minutes.

Remove from oven and allow to rest for 10 minutes before transferring to a serving platter.
Notes
Cooking time will very depending on the size of the ham and the type of ham you buy. Leave some extra time to make sure you have enough. If it is done early you can always tent the ham with foil and let it rest for a longer time before glazing it.