This split pea soup is wonderfully savory and only takes 15 minutes of prep!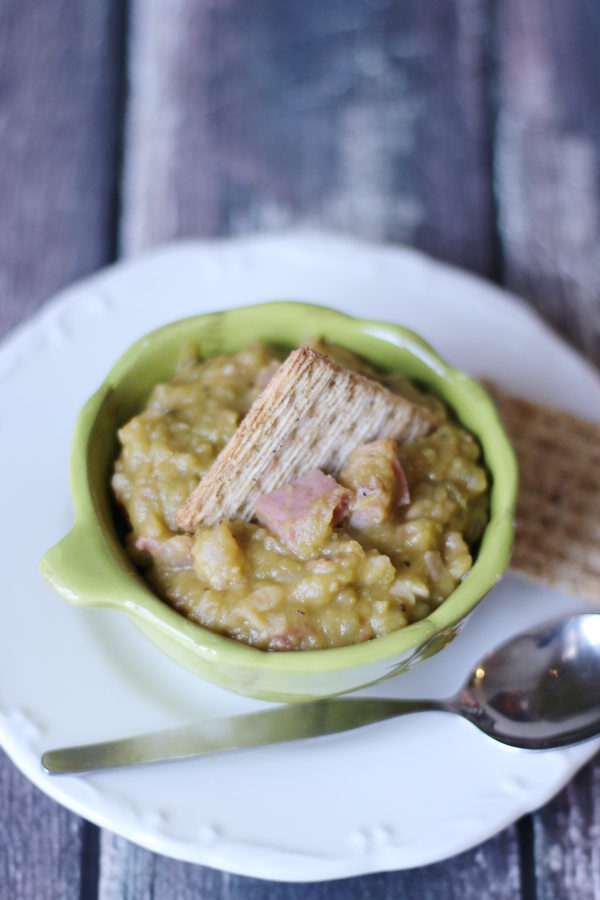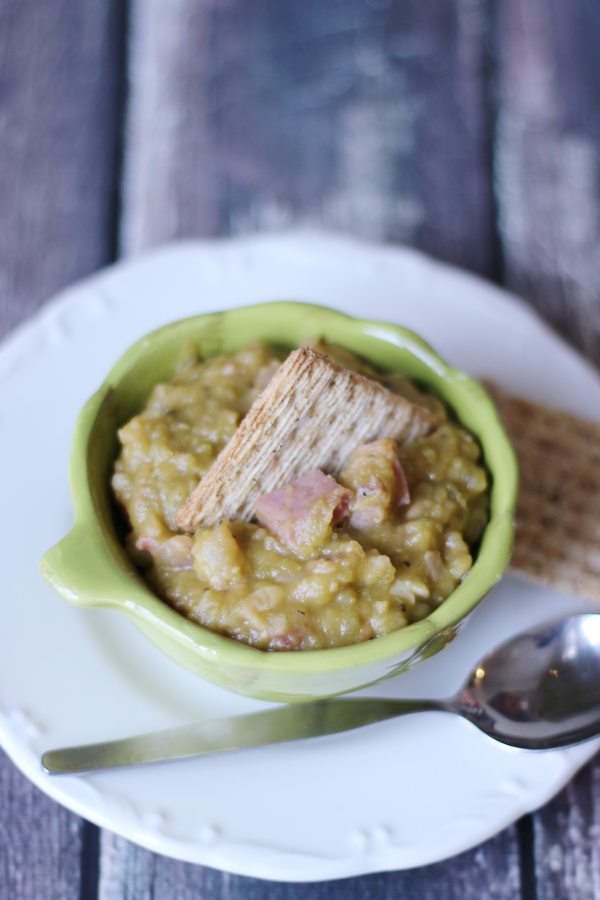 Split Pea Soup
I am married to a true soup lover. Jonathan does not just like soup, it is the food he could not live without. Late night snack time? There is a soup for that. Bad day? There is a soup for that. Breakfast? He has a soup for that too!
The first year we were married he hauled me all over California looking for an Andersen's restaurant for a bowl of his beloved split pea soup, something I did not understand at all. I love peas and green is my favorite color but all of that goes out the window when it comes to split pea soup. It does not matter what kind of split pea soup I try, none of them do it for me.
Jonathan and I have been married 3 1/2 years and I still love him to distraction. No matter how many arguments we have about the stupid, mundane things married people find to fight about he is still my best friend and the epic love of my life.
It is for this love that I make pot after pot of split pea soup. I lovingly stock the freezer and he pulls it out for lunches, snacks, and sick days. The best part is watching his face light up when he sees the ham bone and dried peas in the kitchen. I would happily make split pea soup every day for the rest of my life for that smile!
This recipe is one I developed over our marriage and is now Jonathan's favorite split pea soup. If you don't have a nice ham bone handy I suggest picking up a few smoked ham hocks to use instead. Either will give the soup a wonderful meaty flavor.
Jonathan likes a lot of ham in his soup so I make his with about five cups of ham chunks. Of course then I find him eating the soup with a few more slices of ham on the side. He is the ultimate carnivore. "Normal" people may like some pea with their ham.
Split Pea Soup can become quite thick for various reasons. If you heat it up from leftover I find it has often thickened on sitting. A splash of water will help to loosen the soup up to your desired consistency. Adjust with salt and pepper as needed.
Jonathan's Favorite Split Pea Soup
Ingredients
12

cups

water

1

ham bone

(or use a few smoked ham hocks)

2

pounds

split peas

picked over

1

large

onion diced

or 1/2 cup dehydrated onion

8

stalks

celery

chopped

1

heaping Tbsp.

minced garlic

2

tsp.

smoked paprika

1

tsp.

fresh ground black pepper

1/2

tsp.

red pepper flakes

1/2

tsp.

ground white pepper

2

bay

bay leaves

2

Tbsp.

chicken bouillon

1

Tbsp.

butter

reduces foaming

3-5

cups

diced ham
Instructions
Put everything except the ham in a large soup pot and bring to a boil on high heat.

Reduce heat and simmer until peas are soft, 1-2 hours.

Remove the bay leaves and ham bone or hocks.

Check seasoning for salt and pepper. Add the ham and cook a few more minutes.
Nutrition Disclaimer
MirlandrasKitchen.com is written to share great recipes. While we do our best to provide nutritional information as a general guideline, we are not registered dietitians and the values provided here should be considered estimates – not exact scientific data.