These simple little apple pie roses are a lovely, personal apple pie. They look fancy but the secret is slicing apples thinly and laying them out in a row on a strip of puff pastry. It is easy to assemble and once you roll up it looks magical and beautiful! Serve these for Thanksgiving or anytime you want something extra elegant and lovely.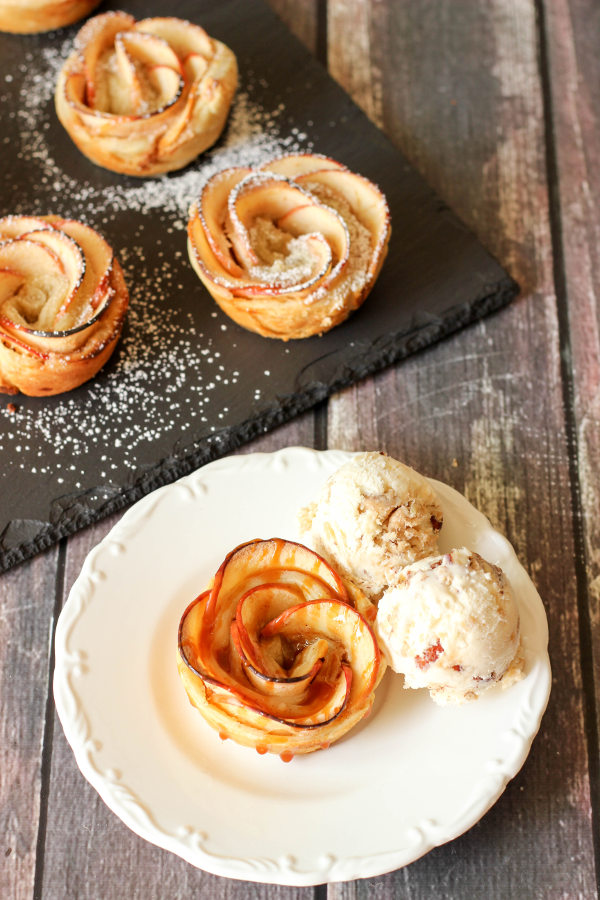 Occasionally I get e-mails from readers asking me to provide a specific recipe or do a post on something. I love those e-mails and do my best to fulfill the requests.
A few weeks ago I started getting totally bombarded to make the popular Apple Roses that are getting attention on the internet right now.
After watching the video, I could see why. They are darling and really not too hard. One person did warn me they had some trouble with the roses sticking to the muffin tins. I found that lining the bottom of the muffin pan and allowing the roses to rest for a few minutes before removing them solved this.
Of course, I just had to give it a bit of a "Mirlandra" touch. The original recipe calls for apricot jam in the pies and honestly Jonathan is not a fan of apricot anything.
I have a bunch of Apple Beer (a non alcoholic artisanal soda) that I have been playing with for a recipe coming next week and somehow I ended up with this magic apple beer cream cheese filling for the pies. I also like a nice salted caramel sauce to finish the pies! This combination does a great job of building layers of flavor into the dish.
I made this recipe twice to try different ideas and give you the best tips I could. The photos are of my 2nd batch. I didn't do anything fancy to get mine to look like this. I just laid everything out, rolled it up and baked it! I believe that cooks of any skill level can get this result at home on their first try.
Enjoy these for Mother's Day, a special dinner party, date night, or just because you can.  If you really want to get fancy, serve these with some butter pecan ice cream!  I have a great recipe for that coming out later this month.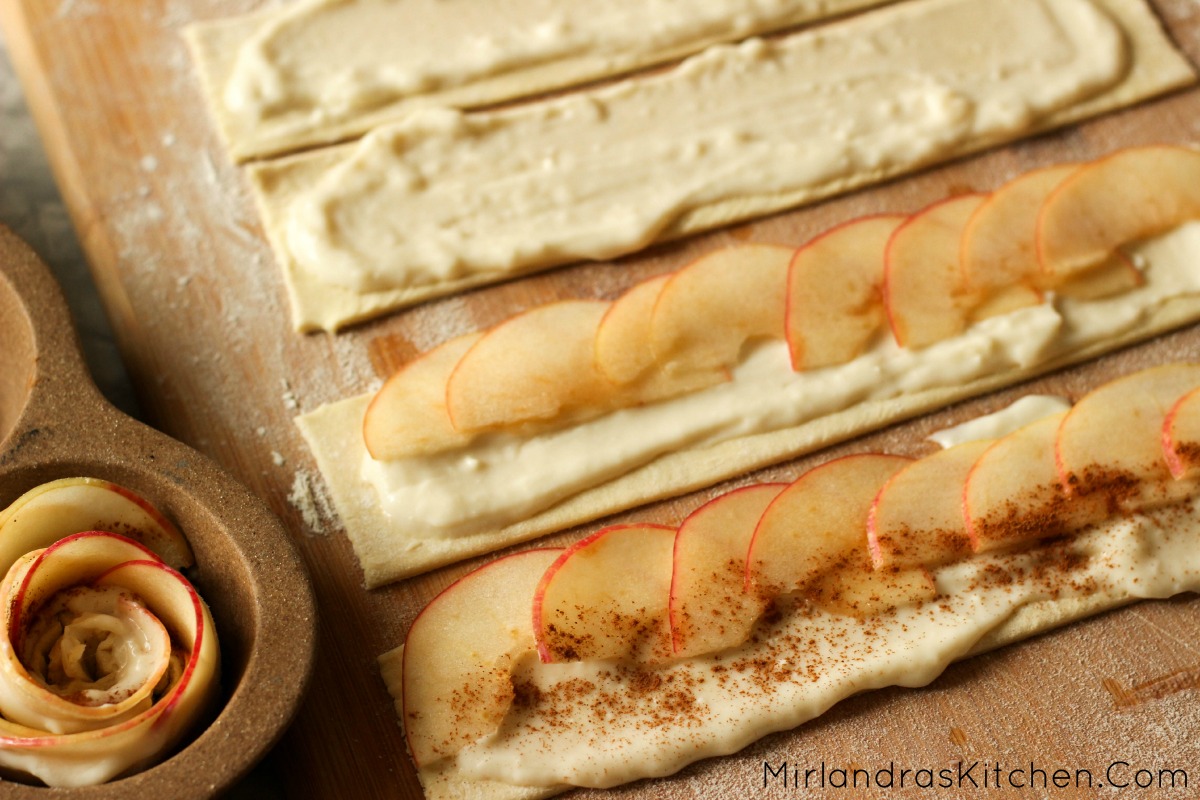 I want to point out a few things about this photo.  These apples are sliced on the thinnest setting on my mandolin and it was just a bit too thin. The apples are also placed a little bit low on the pastry.  Make sure the bottom of the slices lands at the midpoint of the pastry so your pastry can fold up.  If you forget, just scoot the apples up when you are folding.  The method is actually somewhat forgiving!  My final recipe also calls for about half this amount of filling to prevent the pies from becoming to gummy.  Cinnamon is optional but I think it is a nice finish!
Speaking of mandolins, this is a tool every kitchen needs.  Mine is one of the few things I hang on the wall because it is so handy.  This simple one is cost effective and worth investment:
Love apple desserts?  Try my wonderful Apple Crisp.  You can't find a better recipe out there for this classic.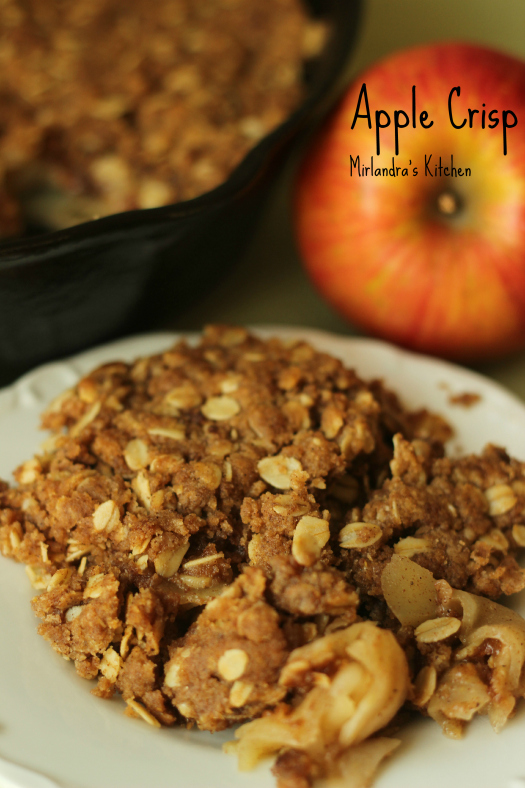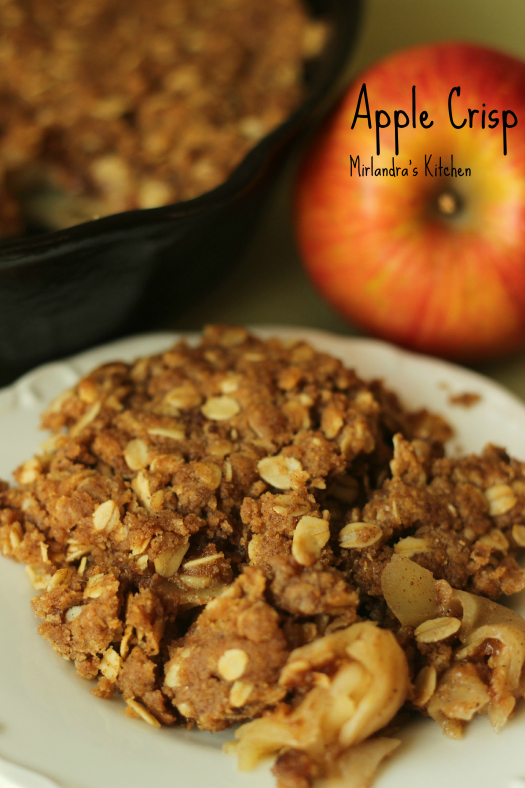 Apple Rose Pie
Ingredients
1/4

cup

sugar

2

teaspoons

corn starch

2/3

cup

non-alcoholic apple beer or apple juice

4

oz

cream cheese

1

frozen puff pastry sheet

thawed

2

uniform apples

preferably with red skin

1

lemon

flour for rolling

cinnamon

optional

powder sugar for decorating

salted caramel sauce for serving if desired
Instructions
Before you begin, thaw the puff pastry according to package directions. This usually takes 40-60 minutes.

Preheat the oven to 375 F. Grease the sides of a muffin tin with butter and line the bottom with parchment paper or the bottom cut out of a paper muffin liner. Set aside.

In a medium sauce pan combine sugar, corn starch, and apple beer. Whisk over medium heat until the mixture comes to a simmer. Cook for an additional 90 seconds until the mixture is thick like syrup.

Microwave the cream cheese for 30 seconds until it is very soft. Whisk it into the apple mixture. Set aside.

Squeeze the lemon into a medium bowl that can go into the microwave. Fill it about half way with water. Slice apples in half from stem to blossom end. Remove the core and the skin around the stem and blossom end.

Starting at the stem end, slice apples about 2mm wide, placing each slice into the lemon water as you cut. The best way to do this is on a slicing tool. (Too thin they are prone to burning, too thick and you can't roll the rose).

Microwave the apples in water for about 3 minutes.

Lightly flower a work surface and roll out the puff pastry until it is about 12" x 9". Cut the dough into six strips about 2" x 9".

Spread a teaspoon of filling over each strip. Reserve leftover filling to serve with pies as desired.

Drain the apples and place a row of slices from left to right across each strip of pastry dough. Each slice of apple is placed so it covers about 1/2 of the slice before it. Place the apples in such a way that the bottom corners of the dough can be folded up to become even with the top corners. See picture for example.

Sprinkle with cinnamon if desired. Fold bottom of pastry up to meet top corners. Gently roll each strip from left to right into a rose shape. Place in prepared muffin tin and bake at 375 for until golden brown and puffed, about 40-45 minutes. If the apples start to singe, try moving the pan to a lower rack of the oven.

Dust with powdered sugar or drizzle with salted caramel sauce and serve hot with or without butter pecan ice cream.
Lightly adapted with great respect from Cooking with Manuela.  Her blog has an excellent video tutorial if you are interested in more instructions.