This 3 Berry Cranberry Jello Salad is an easy holiday side dish full of cranberries, raspberries and cherries with a little sour cream for good measure.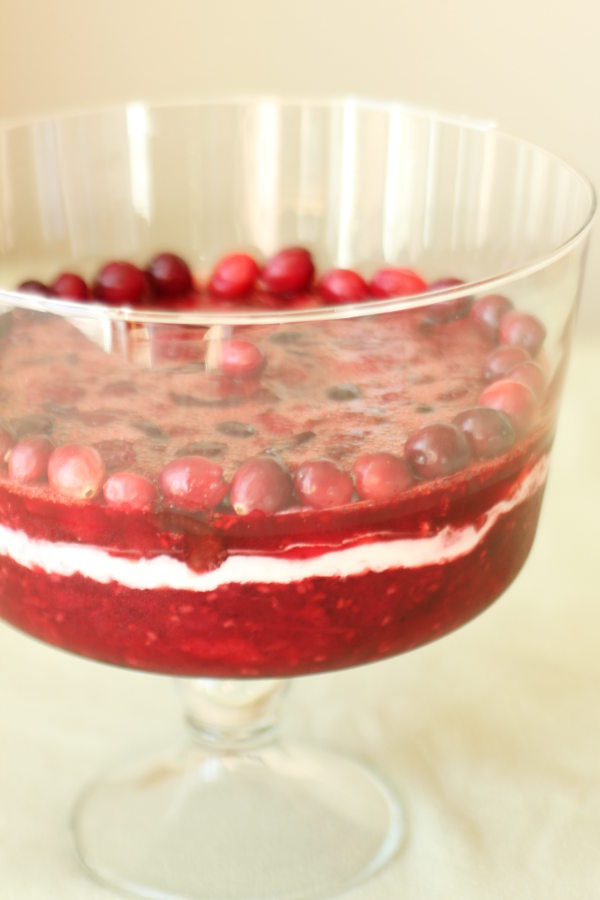 I live 500 miles away from my brother, Merlin. You know what it's like – marriage, life, jobs. Somewhere along the line life gets complicated and you find yourself sending photos back and forth about Dobos Torte instead of cooking cranberry jello salad together for Thanksgiving.
When I told him I was working on this post his response was, " Yum! I love that salad!" That statement could cover the entire family.  We are not a jell-o family in general but when it comes to this salad we all love it.  Over the years I have taken it to various holiday dinners and it is remembered from year to year and requested.  When there are 20 dishes for dinner and somebody remembers the side dish you brought 12 months later I think that says something about a recipe!
Frankly though there is jell-o in it you can't much taste it. The main flavors are cranberry and raspberry with smaller hint of cherry and pineapple. I always serve it for Thanksgiving and Christmas. It is refreshing and fruity which sometimes feels refreshing with all the heavy potatoes and gravy getting passed around.
This year we are headed to Oregon to spend Christmas with my side of the family. Without question this will land on the Christmas Feast menu. Don't you love how food can connect you across the miles?
I hope this salad becomes a family tradition for you too.
3 Berry Cranberry Jell-O Salad
Ingredients
3

oz package

cherry jell-o

any brand

3/4

cup

boiling water

1 3/4

cup

cranberry-raspberry sauce

8

oz

crushed pineapple and juice

1 cup or 1 small can

8

oz

sour cream

3

oz package

raspberry jell-o

any brand

3/4

cup

boiling water

12

oz

frozen raspberries

1

cup

frozen cherries
Instructions
In a medium mixing bowl combine cherry jell-o, and ¾ cups boiling water. Stir to dissolve.

Stir in crushed pineapple with all of its juice and the cranberry-raspberry sauce. Pour into a decorative bowl. Allow to set.

When firm, spread on 8oz of sour cream.

Combine raspberry jell-o, ¾ cup boiling water. Stir to dissolve. Add frozen raspberries and cherries. Pour into pan for top layer. Allow to set.

If desired garnish with fresh raspberries, cranberries, or sour cream. Serve fully chilled and set up.